2000s Class Notes
2000
Nathalie Collard-McCoy LL.M. and Stan McCoy '98 are pleased to announce the birth of their son, Benjamin Kenneth McCoy, on May 27, in Washington, D.C. Nathalie joined Arnold & Porter as a staff attorney in December. Stan continues to serve as assistant U.S. trade representative for intellectual property and Innovation in the office of the U.S. Trade Representative. They reside in Bethesda, Md.

Michael P. Elkon has been recognized as a rising star in Georgia Super Lawyers 2012 in the area of employment litigation. He is of counsel with Fisher & Phillips in Atlanta.

Jon Davidson Levin has joined Maynard, Cooper & Gale in Huntsville, Ala., as a member of the general corporate and government contracts and bid protests practice groups. He previously practiced government contracts law within the intelligence community in Washington, D.C.
In July
Dan Ravicher
was named one of the "Most Influential People in IP" by
Managing Intellectual Property
magazine. He was one of only 15 Americans so recognized. He has brought cases against giant biotech companies, including Myriad and Monsanto (
Organic Seed Growers and Trade Association v. Monsanto
) and drugmakers like Johnson & Johnson (
Public Patent Foundation v. McNeil-PPC
).
Tonya Sulia Goodman has returned to federal prosecution and is an assistant U.S. Attorney in the U.S. Attorney's Office for the Western District of Pennsylvania, assigned to the fraud-public corruption section.
In December 2011
Judson H. Turner
was nominated by Georgia Governor Nathan Deal and later approved by the Board of Natural Resources to become director of the Environmental Protection Division (EPD) of the Georgia Department of Natural Resources effective January 1, 2012.As the state agency charged with protecting Georgia's air, land, and water resources through the authority of state and federal environmental statutes, EPD regulates public and private facilities in the areas of air quality, hazardous waste, water supply, solid waste, surface mining, underground storage tanks, and others.The director of EPD issues and enforces all state permits in these areas and has full delegation for federal environmental permits except Section 404 (wetlands) permits.
2001


Andrew Bell and Betsy Jordan-Bell are pleased to announce the birth of their daughter and first child, Anneliese. She was born on December 30, 2011, in Durham, N.C. "We are so blessed by her arrival!" In August, Andrew and Betsy moved to Washington, D.C., where Andrew continues his Ph.D. in political science (international relations) as a predoctoral fellow at the Institute for Security and Conflict Studies at the Elliott School for International Affairs, George Washington University. His research focuses on the intersection of international humanitarian law, military training, and military operations.
Dave Bell and his wife, Elizabeth, welcomed their third child, Zachary Douglas Bell, in November 2011. In addition, Dave recently started a new job as corporate counsel at Marriott International in their dispute resolution/litigation department.

Ryan Coonerty, former mayor of Santa Cruz, Cal., teamed up with a math professor and a criminologist to launch PredPol.com (Predictive Policing), a startup that gives police departments real time predictions on where and when crime will occur. PredPol uses cloud-based analytics to tell police departments the 500 square foot locations where they should focus resources during a shift to cut down on crime, particularly property crime, gangs, and assaults. A handful of California cities already use the software, and 150 police agencies around the world have expressed interest as well. Studies have shown the software to reduce crime 12-20 percent, and it was chosen by Time magazine as one of the top 50 inventions of 2011.
Coonerty also is the co-founder and chief strategist of NextSpace Coworking + Innovation, which provides physical space and virtual infrastructure for creative collaboration among freelancers, entrepreneurs, and other professionals. NextSpace has six locations across California. PredPol used the NextSpace platform to develop its product. "NextSpace and PredPol are a lot of fun because both are re-envisioning how you do traditional city functions—economic development and public safety—in a new, more innovative way," notes Coonerty.
Gary M. Farmer Sr. LL.M. is listed in Best Lawyers 2013 in the area of appellate practice. He is of counsel with Farmer, Jaffe, Weissing, Edwards, Fistos & Lehrman in Fort Lauderdale, Fla., where he provides litigation support and appellate representation in both civil and criminal cases. Before joining the firm he served as appellate judge for the Fourth District Court of Appeal from 1991 to 2010.
Jason Gabbard reorganized his boutique law firm in 2011 and rebranded it as the Forefront Law Group. The firm employs 12 attorneys exclusively focused on growth stage companies and the institutions and investors that capitalize them, ranging from MBOs to venture capital deals to traditional private equity plays. Forefront currently has offices in New York City and Greenwich, Conn., and is in the process of opening a third office in San Francisco, where Gabbard hopes to recruit a partner-level attorney to build the Bay Area business.
Steven M. Klepper's commentary, "Confirming Consensus Nominees Quickly," appeared in the September issue of The Federal Lawyer. Klepper notes in his piece how the federal judiciary is increasingly overworked, vacancies on the bench go unfilled for longer and longer periods, and the nomination process is bogged down by politization, even down to the district court level. He proposes one way to give some practical relief: "Only a large volume of consensus nominations, coupled with a more efficient process for confirming consensus nominees, can alleviate the crisis of judicial vacancies." He cites one example, in which Fourth Circuit Judge James Wynn's nomination was unanimously reported by the Judiciary Committee, but it took more than six months for the Senate to confirm him by unanimous consent. Wynn's seat had been unfilled for 16 years.
Klepper suggests a way to help de-politicize the judicial confirmation process and clear Senate schedules for matters of real public controversy. He proposes the Senate adopt a rule that whenever the Judiciary Committee reports a nominee without opposition, a voice vote be taken within 48 hours. Such a rule, he argues, would encourage the President to choose nonpartisan nominees with excellent credentials. Ultimately people would have more confidence in the federal judiciary and swifter justice would be served by the courts.
Klepper is a principal with Kramon & Graham in Baltimore, Md., where he focuses his practice on appellate advocacy and insurance coverage. He teaches a course on the history of the Supreme Court at Goucher College.
Monica M. Welt and Babak Djourabchi were overjoyed at the birth of their daughter, Leah Maxine Djourabchi, on October 17, 2011. "She is happy, healthy, and a joy," Monica writes. "We could not feel more blessed!"
2002
Carter Burwell has joined the national security & international crime unit at the U.S. Attorney's Office for the Eastern District of Virginia. He was previously an assistant U.S. Attorney in New York.
Drew Cannady joined the office of chief counsel, United States Secret Service, in 2009, where he practices employment, tort, and constitutional law.
Paul DeLaney joined the Senate Finance Committee at the beginning of the 112th Congress in February 2011 as International Trade Counsel for ranking member Orrin Hatch and the committee Republicans, after having spent three years setting up a new FedEx office in Washington, D.C., working on international trade and commercial advocacy. He handles trade, international economic policy, and investment matters for the committee. He surprised his wife, Meg, by proposing on the Speaker's balcony in the Capitol on May 20, 2011. They were married on April 14 at the Little Sanctuary at St. Albans School on the Cathedral grounds. They live in Washington, D.C.
Bernd J. Hartmann LL.M. just finished his second book on public liability law. Last year he was a visiting professor to Heidelberg University School of Law. He has been teaching classes on German constitutional history and European Union law at the University of Muenster School of Law. Two of his recent articles are forthcoming in an English translation, one on "Self-Interest and the Common Good in Elections and Referenda" with the German Law Journal, the other on the "Alignment of National Government Liability Law in Europe after Francovich" with Springer's ERA Forum.

Afi Johnson-Parris has been named chair of the North Carolina Bar Association law practice management section for 2012-13. Last year she participated in the American Bar Association's national diversity leadership program. Johnson-Parris has a solo practice in Greensboro specializing in divorce and family law.
In July
Ryan M. Malone
received a champion award from the
National Law Journal
. The award honors attorneys who uphold the profession's core values through public service, pro bono efforts, and advocacy for civil liberties.
National Law Journal
specifically highlighted his involvement in the West Memphis Three case that resulted in freedom for his client, Damien Echols, and the other two defendants, and his recent victory before U.S. Court of Appeals for the Fourth Circuit, in which the court held that voter registration records must be disclosed to the public under the National Voter Registration Act. Also in July, Ryan and a team from Ropes & Gray received the Mid-Atlantic Innocence Project's Champion of Justice Award for their work on the West Memphis Three case. Ryan has practiced in the government enforcement group with Ropes & Gray in Washington, D.C., since 2002. He and his wife,
Elizabeth
, live in Washington, D.C., and Dewey Beach, Del.

Lesley Pate Marlin and her husband, Harry, welcomed twin boys, Hunter Peyton and Colby Lyon, on June 5. She is a labor and employment lawyer for General Dynamics Information Technology in Fairfax, Va., and the family resides in Arlington.
Former visiting scholar,
Evandro de Pontes
, published
O Conselho Fiscal nas Companhias abertas Brasileiras
. In Brazil, the oversight authority for corporations falls within the duties and responsibilities of the Conselho Fiscal, a kind of separate board of directors appointed by shareholders. Brazilian law on corporations ensures segregation from the classic board of directors, or Conselho de Administração, which is responsible for the business activities managed by officers on a daily basis.
De Pontes advocates a series of improvements to the law aimed at making the Conselho Fiscal more effective: independence of members, enhanced qualifications and a liability regime are among the changes discussed by the author. The book may be found at www.almedina.com.br.
De Pontes is Professor of Law at the Insper School of Law in Sao Paulo and at the Mackenzie University in Sao Paulo, and vice president at the Legal Department of Barclays in Brazil.
Beth Richardson and her husband, Michael O'Rourke, welcomed a second son, William Erlander O'Rourke on October 4, 2011. "Lan" is named after Beth's father. Big brother Jack enjoys his new playmate.
George P. "Trey" Sibley III has made partner with Hunton & Williams in Richmond, Va., where he is a member of the litigation and intellectual property team, focusing his practice on complex environmental litigation.
Stefan Teichert writes that after nearly a decade of BigLaw life, he has left the billable hours behind and is splitting his time as an advisor with career services at the University of San Diego School of Law and as a trip leader for Backroads, an active travel company focusing on cycling, hiking, and other outdoor adventures.
Amy Trueblood and her husband, Andrew, welcomed a second little boy to the family, Thomas Hillman Trueblood, on January 6.
William J. Zawrotny has been promoted to partner at Jones Day in Atlanta, Ga., where he focuses his practice on mergers and acquisitions, cross-border transactions, and general corporate counseling. He was married to Alene Zawrotny on July 16, 2011.
2003
Andrew G. Beshear was lead counsel in a successful suit his clients, the owners of a truck school in Kentucky, brought against the city of Hillview. The judge ruled that the city breached its contract with Truck America Training over the purchase of land adjacent to the school, and the jury determined that the city had damaged the business in the amount of $11.4 million. It was the largest jury verdict ever rendered in the jurisdiction. Beshear is a member with Stites & Harbison in Louisville, where his practice includes litigation, business and finance, non-profit, environmental, and economic development matters. He was selected for inclusion in Best Lawyers 2013 in commercial law.
Rachel Brewster recently joined the faculty at Duke Law School in Durham, N.C., where she will also serve as co-director of Duke's Center for International and Comparative Law. Her academic focus includes international trade, international relations theory, and global economic integration. She was a visiting faculty member at Duke Law during the fall 2011 semester, when she taught international trade and a seminar on international law and international relations theory. She served as an assistant professor of law and an affiliated member of the Weatherford Center for International Affairs at Harvard University since 2006 and previously was a Bigelow Fellow at the University of Chicago Law School. In 2008 she was legal counsel in the office of the United States Trade Representative, where she worked on legal issues relating to U.S. agriculture subsidies and domestic cap-and-trade proposals.

J. Dalton Courson was named one of the best LGBT litigators under 40 in 2012 by the National LGBT Bar Association. The award, given at the annual Lavender Law Conference and Career Fair held in Washington, D.C., in August, goes to outstanding lawyers who have demonstrated a profound commitment to LGBT equality. He was also honored as a Leader in the Law for 2012 by New Orleans CityBusiness. At this year's ABA meeting, Courson was reappointed to serve as co-chair of the American Bar Association section of litigation LGBT litigator committee. He was also appointed as the section of litigation's liaison to the ABA commission on sexual orientation and gender identity. Courson is a member with Stone Pigman, where he has a litigation and trial practice with a focus on insurance coverage, creditors' rights, and bankruptcy and business litigation.
Timothy Howell has been elected partner at Cahill Gordon & Reindel in New York City, where his practice focuses on finance and capital markets. He and his wife, Liz, live in Brooklyn with their daughter, Mary (5), and son, Grover (4).
Nick Landau and Blair Lanier '05 are living happily in Birmingham, Ala., with their 3-year-old daughter, Indira, and their newborn son, Wyatt. Nick is a patent attorney with Bradley Arant Boult Cummings. Blair is an IP valuation and licensing consultant to the Medici Portfolio.
Aaron Lawlor and Hiren Patel are celebrating the five-year anniversary of the company they founded, Aphelion Legal Solutions.Aphelion provides e-discovery consulting, document review, contracts management, and legal staffing services domestically and offshore.The company has offices in Ashburn, Va., where Lawlor works, Houston, Tex., where Patel works, and Chennai, India. Learn more at www.aphelionlegal.com.

Ryan Shores was named one of five Rising Stars by Law360 in the field of competition law in 2012. He is a partner with Hunton & Williams in Washington, D.C., where he focuses his practice on antitrust, intellectual property, and other complex commercial litigation.
Andrew Toebben has been named a "Fast Track" lawyer by The Recorder, a California provider of legal news. All honored attorneys practice in California and are in their first ten years out of law school. Toebben is a partner with VLP Law Group, where he chairs the corporate, securities, and M & A groups. His practice focuses on counseling high-tech startups, venture capitalists, entrepreneurs, and angel investors. He has structured more than 40 emerging technology businesses and has handled more than 100 company and investor-side transactions.
In addition to his leadership role at VLP, Toebben maintains a commitment to community service and pro bono work. In 2008 he took a leave of absence to serve as deputy director of voter protection in Virginia for Barack Obama's presidential campaign. He sits on a number of non-profit boards and traveled through India on an economic development tour with the Los Angeles Chamber of Commerce in April.
Toebben is head of the hiring committee for VLP. He has vowed that UVA will overtake Stanford and the University of Chicago as the most represented law school in the firm, and is interested in bringing in a few more partner-level UVA Law attorneys.
2004
Meghan M. Cloud has been named a Virginia Super Lawyers Rising Star for 2012 in the area of civil litigation defense. She is counsel with McGuireWoods in Charlottesville.
Nuala E. Droney has been appointed by Connecticut Governor Dannel P. Malloy to the board of directors of the Connecticut Housing Finance Authority. The CHFA is a quasi-public housing agency that works to expand affordable housing opportunities for Connecticut's low- and moderate-income families and individuals. Droney is with Robinson & Cole in Hartford, Conn., where she is a member of the litigation section. She focuses her practice on complex litigation in federal courts, including antitrust, patent, trade secret, trademark, unfair trade practices, fraud, and contract disputes. Connecticut Super Lawyers has named her a rising star in business litigation for the past two years.
Steven M. Haas is a partner with Hunton & Williams in Richmond, Va., where he is a member of the corporate team. He focuses his practice on mergers and acquisitions, corporate law, and corporate governance.

Fraser Reid and his wife, Christy, welcomed their daughter, Celia Frances, on April 8. Fraser is "sleeping less, but is much happier." He and his family have moved to Mobile, Ala., where he has joined McDowell Knight Roedder & Sledge.
Bryan Rhode has been appointed a commissioner to the Virginia Department of the Alcoholic Beverage Control Board.
Christopher Richardson is moving back to the Houston, Tex., office of Vinson & Elkins after almost six years in the firm's Hong Kong office. He focuses his practice on international energy transactions.
Michael Signer married Emily Lorraine Blout at the Clifton Inn in Charlottesville on March 30. A.E. Dick Howard '61 led the ceremony. Emily is studying for a master's in strategic security studies at the National Defense University at Fort McNair in Washington, D.C. Michael owns Madison Law and Strategy Group, a law firm in Arlington, Va., and is a visiting professor of government and international affairs at Virginia Tech.



Kathryn Morrison Sneade and Brad Sneade welcomed Dylan Michael on February 11. Dylan joins his big sister, Cayley (3).

Tigerron A. "Tiger" Wells graduated from the Riley Institute's Midlands Diversity Leadership Initiative, a statewide leadership program in South Carolina, in June. His group created a Web-based resource for companies targeting and recruiting diverse candidates to the state's Midlands region. The new Web site provides links to organizations, activities, and resources that show how the area has embraced diversity. Wells is also a graduate of the Leadership Columbia class of 2011. He is a shareholder with Haynsworth Sinkler Boyd, where he is a member of the public finance team. He advises clients, including towns, cities, counties, and school districts, on how to issue bonds as a way to finance capital projects.
In June Robin Zimmerly Meidhof accepted a position as a legal and policy advisor for Commissioner Tony Clark, who is in his first term on the Federal Energy Regulatory Commission, having been nominated by President Obama and sworn in on June 15. Clark, a Republican, has a five-year term that expires June 30, 2016. Meidhof previously served for three years as a prosecutor in FERC's Office of Enforcement.
2005
Katie Bagley and her husband, John Glenn, welcomed their first child, Magdalena Marie, on September 26.They live in Washington, D.C., where Katie works as an appellate attorney for the U.S. Department of Justice tax division.
Travis Batty and Jasmine Mitchell were married on July 28 at King Family Vineyards in Crozet, Va. The groom's "crew" included fellow classmates Peter Patterson and David Thomas. Batty is an associate with Sidley Austin in New York City, where he focuses his practice on capital markets and other commercial transactions.
Brett A. Bush has joined Iseman, Cunningham, Riester & Hyde as associate attorney in Albany, N.Y., where he focuses his practice in the areas of health care law and business transactions. He also advises clients regarding liquor licensing matters before the New York State Liquor Authority. Previously he was with Drinker, Biddle & Reath.
Scott Carr and his wife, Sarah Waziruddin, welcomed their first son, Zain Patrick Noor Carr, who was born on Christmas Day 2011. Scott is an associate at Carroll Burdick & McDonough in San Francisco.
Blair Lanier and Nick Landau '03 are living happily in Birmingham, Ala., with their 3-year-old daughter, Indira, and their newborn son, Wyatt. Blair is an IP valuation and licensing consultant to the Medici Portfolio. Nick is a patent attorney with Bradley Arant Boult Cummings.
Clinton S. McHugh passed away suddenly on July 17 while hiking in the Colorado Rocky Mountains. He was in the process of completing a master's of Public Policy/Public Administration at Northwestern University. Following Law School, he was an associate at Kirkland & Ellis and Skadden, Arps, Slate, Meagher & Flom in Chicago. He served as general counsel for the Rapid Transit Authority in Chicago until June, when he and his wife, Susan, relocated to Greenwood Village, Colo., to begin a new chapter in their lives together. He is survived by his wife; his parents, Dr. Carl and Linda McHugh; and his brother, Colin (Amber) McHugh. To all who knew him, Clinton expressed his spirituality as a truly kind, loving, and giving young man. He felt a strong affinity for nature and spent as much time as possible engaged in outdoor activity—bicycling, hiking, kayaking, swimming, and photography.
Daniel V. Shapiro has joined the United States Attorney's Office for the District of New Jersey as an assistant U.S. Attorney in the criminal division.
2006

Trevor McFadden and Kelly McFadden '08 joyfully announce the birth of their daughter, Kathryn Rose ("Katie"), on July 17.
Jim Mitre has been honored as one of the 99 most influential foreign policy leaders under the age of 33, or the "99 Under 33," by the Diplomatic Courier and Young Professionals in Foreign Policy. He was noted as a practitioner who "changes foreign policy from the inside through extraordinary professionalism and skill."
Mitre is a foreign affairs specialist in the office of the Secretary of Defense, where he is responsible for defense strategy and strategic analysis. He has been at OSD since 2007, working on the U.S. global defense position and strategic guidance documents. Mitre has toured the U.S. embassies in Nairobi and Kabul through the Presidential Management Fellowship Program and graduated from the Department of Defense Executive Leadership Program. Before joining OSD, he co-founded and worked as an analyst at the SITE Institute, a counter-terrorism research organization.
John Sherman recently published his first novel, Before the Flood, in which a young man claims to be the Second Coming of Christ and begins to convince the skeptical journalist covering his story (see In Print). Sherman is an investment banker with Edgeview Partners in Charlotte, N.C.
Nimer Sultany LL.M. graduated from Harvard Law School last May with a doctor of juridical science degree. During 2012-13 he will be the Baldy Postdoctoral Fellow in Interdisciplinary Legal Studies at the Baldy Center for Law & Social Policy, SUNY Buffalo Law School.
Ilana Yergin-Doniger and her husband, David, welcomed their son, Harrison Asher Yergin-Doniger, in April. "Harrison is a complete joy, and we couldn't be any more grateful that he is a part of our lives," she writes.
2007
Everton E. Morris assumed the role of general counsel of K4 Solutions, Inc. on May 1. Based in Falls Church, Va., K4 Solutions provides contract administrative, financial, and information technology services and expertise to departments and agencies throughout the federal government.
Chris Nasson is prosecuting white-collar crime as an Assistant United States Attorney for the Eastern District of Kentucky.
Aaron Peskin and his wife, Lexi, welcomed their first child, Charlotte Temple Peskin, on February 17.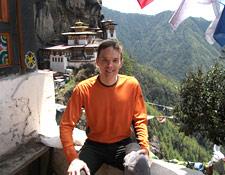 Matthew Sait LL.M. co-presented a three-day training course on legislative drafting for lawyers of the Royal Bhutanese Government in Thimphu in April. Bhutan is located in the Himalayas, bordered in the north by China (Tibet) and in the east, south, and west by India. It has been a monarchy since the start of the last century and recently became a democracy, with its first elections held in 2008 and its next elections due this year. The training was part of an Australian Agency for International Development project aimed at developing various aspects of the law and justice sector in Bhutan.
Sait has been drafting legislation with the Australian Government's Office of Parliamentary Counsel in Canberra since 2004.
Adam B. Schwartz has joined the major crimes and narcotics section of the U.S. Attorney's Office for the Eastern District of Virginia in Alexandria. He was previously with the U.S. Attorney's Office for the District of Columbia.
Anika Steffen and her husband, Justin, welcomed their daughter, Arianna, in February. Anika has opened a photography business, Anika Steffen Photography, www.anikasteffenphotography.com.
Jackie Wernz and her husband, Matt, welcomed their first son, Isaiah David, on January 30.
2008
Kelly McFadden and Trevor McFadden '06 joyfully announce the birth of their daughter, Kathryn Rose ("Katie"), on July 17.
Edward A. Mullen is an associate with Reed Smith in Richmond, Va., where he has an administrative and legislative practice before Virginia state agencies and the general assembly. He was named a rising star by Virginia Super Lawyers 2010-12 in administrative law and was recognized by Virginia Business Magazine as a Legal Elite for legislative, regulatory, and administrative law in 2011. He and his wife, Jennifer, have had two children since graduation, Edward Huff Mullen II ("Huff") and Davis Cole Mullen.
Natalie Shonka recently received the Spirit of Volunteerism Award given by the Downtown Evening Soup Kitchen in New Haven, Conn. The award recognizes businesses, groups, and individuals who lead effective workplace volunteer efforts linked to their business objectives. Once a month Shonka leads lawyers and staff from Wiggin and Dana in preparing and serving free meals for the community at the soup kitchen. Shonka is an associate in the firm's litigation department.
Reginald Wiliamson writes, "Patricia and I are proud to report the birth of our first son, Reginald Ashton Williamson, Jr. 'Ash,' who was born August 20. We are both enjoying practicing in Atlanta." Patricia Williamson is practicing real estate with Schreeder, Wheeler & Flint, while Reginald is in the construction and infrastructure group at Kilpatrick, Townsend & Stockton. "We are looking forward to seeing our friends and classmates at our 5th this spring."

Jacob S. Woody has joined Brown Greer as senior counsel in Richmond, Va., where he interprets and applies complex settlement agreement provisions and creates and maintains systems that ensure quick and accurate claim determinations.
2009

Orran L. Brown Jr. has joined Brown Greer as senior counsel in Richmond, Va., where he designs mass claims programs; interprets complex settlement agreement provisions; researches and drafts memoranda to settled parties, settlement neutrals, and courts; and interfaces with counsel for settled parties.
Sarah Copeland will marry Ryan O. Dean on May 25, 2013. She is with Carr McClellan in Burlingame, Calif., where she focuses her practice on estate planning and trusts & wealth transfer.

Nicole Eason has been selected to participate in the 2012 Dallas Association of Young Lawyers Leadership Program. Participants learn about the city of Dallas, its politics, and service opportunities with local non-profit organizations. They also take part in a community service project that benefits the Dallas area. Eason is with Bell Nunnally, where she is a member of the bankruptcy and financial restructuring and litigation practice groups. She focuses her practice on bankruptcy and business related litigation, including representation of banks, debtors, secured and unsecured creditors, DIP lenders and equity holders in bankruptcy cases in a range of contested matters and adversary proceedings.
David John Madgett is currently serving as a judge advocate for the U.S. Air Force and was appointed chief of justice for the 319 Air Base Wing at Grand Forks Air Force Base in North Dakota.
2010
Saira K. Najam clerks with federal district judge Barbara M.G. Lynn in the Northern District of Texas. Saira and Samir celebrated the birth of their daughter, Inaya Sufi Najam, on January 25.
Corrie Sirkin and her husband, David, are pleased to announce the birth of their first children, twin boys, Cole and Chase Sirkin, on May 11.
Nick Timmons and his wife, Megan, welcomed a daughter, Harper Ann, on April 7. Timmons is an associate in the corporate finance division with Stinson Morrison Hecker in Kansas City, Mo.
W. Thomas Worthy was promoted to deputy executive counsel in the office of Governor Nathan Deal of Georgia. Worthy practiced law for a year in Birmingham, Ala., before joining Deal's in-house legal staff as public safety policy advisor in September 2011. Among other responsibilities in his new position, Worthy will have a large role in facilitating the needs of the criminal justice reform council.
2011

Lynzi Archibald has joined Miller & Martin as an associate in the litigation department in Chattanooga, Tenn.
Anna L. Craft is an associate with Bradley Arant Boult Cummings in Birmingham, Ala., where she is a member of the litigation practice group. Previously a summer associate at the firm, she also served as a clerk with the Shelby County District Attorney's Office in Columbiana, Ala.

Daniel J. Gocek has joined Jaeckle Fleischmann & Mugel in Buffalo, N.Y., where he is an associate in the tax and employee benefits property practice groups. He will focus his practice in tax planning and consulting, including federal, state, partnership, and corporate taxation, as well as employee compensation and benefits matters.
2012
Elizabeth W. Chan is an associate with Hollingsworth in Washington, D.C., where she practices in the toxic torts and products liability groups. She was a summer associate with the firm.
Elizabeth C. Josephs has joined Bradley Arant Boult Cummings in Birmingham, Ala., where she will serve as a member of the litigation and intellectual property practice groups. She was a summer associate with the firm during Law School.
Emily C. Lechner won the 2012 Sidney M. Perstadt Memorial Award given by the American College of Employee Benefits Counsel in its annual writing competition. She was honored for her winning article, "'Equitable' Relief Under ERISA: Where the Court's Interpretation Stands and the Need to Redefine Its Analysis to Reflect the Trust-Law Basis of ERISA" at the college's annual dinner in Boston, Mass., on September 15.

International alumni in Brazil, from left to right: Cláudia Politanski; Carmen Tiburcio; Ramom Rotta; Luís De Chiara; Pedro Paulo Barreto (crouched); Renato Polillo (center); Fernanda Nardy; Bruno Furiati; Ivon Pires; Fabio Rezende ; and Leonardo Cruz
Renato Polillo LL.M. and 14 other LL.M.s gathered in Sao Paulo this summer. Among them was Ivon Pires '82, S.J.D. '86, (the Law School's first Brazilian LL.M. student). The next alumni meeting was set to take place in Rio de Janeiro in November. Polillo has become a "UVA ambassador" in Brazil. He was recently invited to speak to Brazilian students at the University of Sao Paulo Law School and at another, FAAP, about getting an LL.M. degree at the Virginia. Polillo is with Veirano Advogados (www.veirano.com.br), where he focuses his practice on international and domestic arbitration.
Sean Michael Solomon has joined Bradley Arant Boult Cummings in Birmingham, Ala., where he will serve as a member of the bankruptcy, restructuring, and distressed investing practice group. He served as an intern for Judge Thomas A. Varlan of the Federal District Court in the Eastern District of Tennessee.