Class Notes
Send Us Your News
We welcome submissions for inclusion in Class Notes. Submit online, mail to UVA Lawyer, University of Virginia School of Law, 580 Massie Road, Charlottesville, VA 22903; or fax to 434-296-4838. Please send your submissions by March 1 for inclusion in the next issue.
1948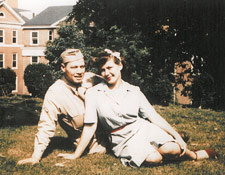 Helen Mackler's children, Vicki, Fred, and Andrea, wrote with the sad news of Helen's recent passing. They sent an excerpt of a letter their mother had written on the occasion of her granddaughter's application to the University, "I fell in love with UVA when I was 10 years old, when I first went to visit my brother, Fred Coleman Mackler, who was an undergraduate at the time …" Helen received her own acceptance letter to UVA Law while attending University of California - Berkeley. "I ripped open my acceptance letter from the law school and began jumping up and down with joy. At that time, most law schools were not accepting women. … I couldn't get behind the wheel of my old Model T Ford and drive cross-country to Charlottesville fast enough."
G. Kenneth Miller passed away on November 12, 2010, at the age of 89. Prior to attending the Law School, he served in the U.S. Army Air Corps during World War II, from Africa to Italy, France, Belgium, and finally Germany with General Patton's 3rd Army. He was a forward radar controller whose job it was to guide aircraft to their targets, and for this he developed innovative techniques. At the end of the war and on the way home he and his buddies played a lot of poker, from which he won $9,000—enough to pay his way through Law School, buy a car, a house, and get married to Mary Miller.
He was a regional JAG officer during the Korean War, after which he joined May, Miller, and Parsons in Richmond, Va., where he became a partner and completed his law career.
Donald C. Wells has retired after serving one year as a law clerk for the Maryland Court of Appeals in 1949 and 55 years at his office in Old Town Alexandria, Va., at 123 S. Royal Street. His brother, Richard E. Wells, was in his graduating class and was an attorney in New Orleans until his death in 1967.
1949
When he's not advising clients on foreign trade and investments, Frank Warren Swacker enjoys reading and writing full-length plays for the stage. In May, just in time for his 90th birthday, an e-book entitled Murder Trilogy, which contains three of his two-act murder mystery plays—Arbitrating Murder, Who Murdered the Chairman?, and Spreading Murder and Happiness—was released. The e-book offers synopses of the plays so producers and directors can efficiently select the one that most interests them. Swacker grants acting schools royalty-free production licenses to his plays until their respective copyrights expire.