The Patent Puzzle | A Brief History | Privatize the Process? |
Open Source and Patent Collaboration | The View from the Bench

Privatize the Process?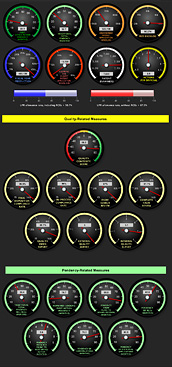 The "dashboard" on the PTO website showing current status of patent review.
Larger view
Nobody really disputes that a strong patent system is vitally important, or that the PTO is overburdened. But instead of expanding the PTO, Professor John Duffy has proposed giving it a new role overseeing and certifying private firms that review applications and issue patents. "The Patent Office gives us basically an expert opinion about validity, and the courts give some degree of deference to the opinion," he says. "Currently, the government has a monopoly on that, and it works about as well as any entrenched monopoly. In our current system, inventors contact the PTO – essentially a professional office that is in the business of giving expert opinions – and request about 20 hours of work to produce an expert opinion. The agency then tells inventors that they can get that 20 hours of work done in two, three years. That's insane. We should not accept that."
Such a system would need strong government regulations to maintain strict standards. "You would have to make sure there's not a race to the bottom where firms get more business because they approve everything," says Duffy.
Duffy's and Michel's views reflect differences on infrastructure, but not about the ultimate goal. "Everybody agrees that we'd be better off with a system that is faster and produces higher quality," says Duffy. "My point is that if you want speed and efficiency, a large government bureaucracy should not be your immediate choice. I think Judge Michel is being more realistic in thinking that outsourcing is not now politically possible and the only solution is to expand the size of the bureaucracy. In the short run, I think he may be right about that, but I'm an academic so I get to think about the possibilities for truly novel long-run reforms."