2000s Class Notes
2000
Saralisa G. Brau is a principal author of Antitrust and Healthcare: A Comprehensive Guide, published in July by the American Health Lawyers Association. The book is a practical guide to the application of antitrust laws to different segments of the health care industry. Brau is a deputy assistant director with the health care division of the Federal Trade Commission's Bureau of Competition in Washington, D.C., where she leads investigations and litigation involving alleged violations of antitrust laws by health care providers and pharmaceutical companies.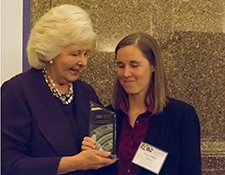 PHOTO credit: Jack Cushman Shanna M. Cleveland received the 2013 Margaret H. Marshall Award from the Boston chapter of the American Constitution Society for Law and Policy at its annual Constitution Day ceremony in September. The award recognizes her work in securing the shutdown of polluting coal plants in two communities in the state plagued with air pollution and associated health problems. Cleveland is a senior attorney at Conservation Law Foundation.
Ryan Clinton was recognized by Texas Lawyers as a legal leader on the rise. He has handled high-profile cases, including representation of an international oil-and-gas royalties dispute, and Texas A&M in litigation arising from the 1999 collapse of the Texas Aggie bonfire. Clinton's work to reform animal shelters was featured in the April issue of Texas Rising Stars. He recently spoke at the University of Washington School of Law's annual Animal Law Conference about why we need to change the way we think about animal shelters. "Our job," he explains, "is to demand that animal shelters actively compete in the marketplace for new pets. When they do, pets leave alive." Clinton is a partner with Hankinson in Austin, where he practices complex civil-appellate litigation.
Eric J. Conn and his wife, Hillary Webber, will welcome their first child in February. Eric, who is head of the national OSHA practice group at Epstein Becker & Green, based in the firm's Washington, D.C., office, was recently appointed to the firm's labor & employment steering committee, a part of the firm's management structure. He is also in the final stages of an appointment to D.C.'s Board of Occupational Safety & Health.
Chrissy (Emmons) Eisenhard and her husband, Kurt, and two children, Madeleine Anne (5) and Reid Frederick (3), relocated to Boulder, Colo., in 2012. Chrissy is chief operations counsel and chief compliance officer for WhiteWave Foods, the maker of Horizon organic milk, Silk plant-based beverages, and International Delight creamers. She and her family recently spent some quality time with Andy Wright and his son, Garrett, on St. Simons Island.
Joe Geever
started work with the Surfrider Foundation in California soon after graduating, fortunate to find work that involves his lifelong love of our coasts and oceans. He has worked on a range of issues from coastal zone management to the establishment of marine protected areas—special places in the ocean similar to those in our National Parks System. Geever is currently working on "integrated water management," multi-benefit reforms for how we manage our freshwater resources. Perhaps most importantly, he adds, he finally found the love of his life, Gordana, and they married in April.
E. Perry Hicks
has been appointed vice-chair of the business law section's subcommittee on investment securities for the ABA. The subcommittee focuses on the parts of the Uniform Commercial Code dealing with investment securities and related investment property transactions and is actively engaged in issues faced by practitioners and scholars in this area of the law. Hicks is a partner in the banking and finance practice with Mayer Brown in Charlotte, N.C.
Kandice Kerwin married Tucker Hull in the Wren Chapel at the College of William & Mary on July 28, 2012. On April 20, 2013, they welcomed Cooper Ryan Hull to the world. Cooper joins big brothers Jason (7) and Augustus (5). Kandice is a member of McNees Wallace & Nurick in Harrisburg, Pa., with a practice focused on commercial and real property litigation. Tucker practices commercial litigation with PepperHamilton, and at home they enjoy debating obscure points of civil procedure.
Rohit Kumar is leaving his post as Deputy Chief of Staff to Senator Mitch McConnell after more than 13 years on Capitol Hill. The news of his departure from Capitol Hill was covered in a front-page story in the Washington Post and generated an interview with ABC News. After taking a few months off to spend with his wife, Hilary, and daughter, Kiera (3), he joined PwC in October as a principal and co-leader of the tax policy service.
Kevin P. McCart joined Husch Blackwell in Washington, D.C., as partner in the white-collar criminal defense and government compliance, investigations & litigation groups. He previously served as an active-duty Army judge advocate and most recently was a partner at Patton Boggs.
Nate Pietila recently relocated to Orange County, Calif., where he continues to practice aviation law with Aero Law Group PC based in Bellevue, Wash. He has recently spoken at a number of seminars throughout California on FAA and tax issues facing owners and operators of business and private aircraft. He, his wife Kara, and son Jonathan (3) celebrated the birth of their daughter, Anneke, in May.

Francesca Ugolini received the 2013 Arthur S. Flemming Award for Legal Achievement at George Washington University in June. The award is given for exceptional contributions to the federal government. Ugolini is an appellate attorney who presents complex issues involved in federal tax cases, which in turn enables judges to understand the government's positions. Her efforts have saved the government more than one billion dollars in tax revenue. She is in the tax division with the Department of Justice.
Andrew Wright finished up two years at the White House as associate counsel to the president and moved south to the low country to become associate professor of law at Savannah Law School. He recently taught his first section of criminal law, and will soon teach criminal procedure and presidential powers. He spends most of his non-work time chasing after his extremely busy two-year-old son, Garrett.
2001
Christian Atwood has been named a 2013 "40 under 40" award winner in the legal advisor category by The M&A Advisor. The award is given to emerging leaders in the M&A, financing, and turnaround industries. Atwood is a partner with Choate, Hall & Stewart in Boston, Mass., where he focuses his practice on private equity and mergers and acquisitions.

Tillman J. Breckenridge has been named chairman of the appellate law section of the National Bar Association and elected to the NBA's board of governors. He is counsel and member with Reed Smith and leads the appellate practice in the Washington, D.C., and Richmond offices.
Ryan Coonerty is co-author of The Rise of the Naked Economy: How to Benefit from the Changing Workplace, a new book published by Palgrave-Macmillan about the changing nature of when, where, and why we work (see In Print). Coonerty is co-founder and chief strategist of NextSpace Coworking + Innovation, which provides physical space and virtual infrastructure for creative collaboration among freelancers, entrepreneurs, and other professionals.
L. Dwight Floyd has been named director of knowledge management for Parker Poe Adams & Bernstein. In this recently created position he will meet with practice group leaders, attorneys, and staff members in Parker Poe's five locations, establishing efficient and effective processes for making the most of the collective knowledge of the firm.
Steven M. Klepper published an article entitled "The Practical Implications of Recusal of Supreme Court Justices: A Response to Professor Swisher" http://digitalcommons.law.umaryland.edu/endnotes/24/ in the online companion to the Maryland Law Review in January. He is a principal with Kramon & Graham in Baltimore, where he focuses his practice on insurance coverage and appellate advocacy. He has been listed as a rising star in Maryland Super Lawyers for three consecutive years and teaches a course in the history of the Supreme Court at Goucher College.

Joshua N. Silverstein
was recently recognized among "20 Under 40" shaping business today by South Jersey Biz magazine. He is a partner with Stradley Ronon in Cherry Hill, N.J., where he focuses his practice on mergers and acquisitions, transactional health care and insurance matters, and general corporate counseling.
2002
Natasha M. Cavanaugh is associate general counsel at the Bill and Melinda Gates Foundation, where she provides legal services to support college-ready education and post-secondary success.

Michael L. Whitlock
has joined Bingham McCutchen in Washington, D.C., as partner in the antitrust, competition, and trade regulation group and the white-collar investigations and enforcement group. He previously worked as a trial lawyer in the antitrust division of the U.S. Department of Justice, where he focused on prosecution of price fixing, bid rigging, and market allocation conspiracies, as well as prosecuting and investigating other federal offenses, including bribery and fraud.
2003

Elaina Blanks was elected to the Virginia Bar Association board of governors and began her term in January as the chair-elect for the Virginia Bar Association young lawyers' division. Her term as chair will begin in January 2014. She is a general tax attorney with Norfolk Southern Corporation. On October 19 Eliana married Trevor O. Green, a local law enforcement officer, in Chesapeake, Va.

J. Dalton Courson was honored in June with the Louisiana State Bar Association's Human Rights Award in recognition of his efforts in promoting diversity in the legal profession. He is co-chair of the LGBT litigator committee of the ABA section of litigation and a volunteer with the New Orleans Pro Bono Project. He is a member with Stone Pigman Walther Wittman, where he has a litigation and trial practice with a focus on insurance coverage, creditors' rights, and bankruptcy and business litigation.
Stacey (Rose) Harris was named a partner at DiMuroGinsberg, a litigation firm in Alexandria, Va., where she has practiced general and complex litigation for the past five years.In July Stacey and her husband,Daniel, welcomed their second child, a son, Jonah Grayson.
Matthew Houtsma was promoted to associate area counsel, Denver, in the IRS office of chief counsel. As AAC, Matthew oversees a group of attorneys litigating cases in tax court and advising the government on various tax questions.

Larae N. Idleman joined Obermayer Rebmann Maxwell & Hippel in Philadelphia, Pa., as associate in the labor relations & employment law department. She focuses her practice on counseling management in all aspects of labor relations and employment law.

Jeffrey P. Kapp was named of counsel with Radler White Parks & Alexander in Portland, Ore., where he focuses his practice on corporate law and real estate. Previously a partner with Robinson, Bradshaw & Hinson in Charlotte, N.C., he was recognized as a rising star in real estate law in North Carolina Super Lawyers 2013.
Sheryl Koval Garko has joined Fish & Richardson in Boston, Mass., as of counsel in the IP litigation group, where she focuses her practice on patent, trademark, copyright, trade secret, and false advertising litigation. She was previously counsel at Goodwin Procter.
Andreas Stargard
writes that "after some tumultuous times in the last couple of years at Howrey (R.I.P.)" and a stint at Baker Botts, he is with Paul Hastings in Brussels, where he is a partner in the antitrust/competition-law practice group. "Please contact me and catch up, or better yet come and visit."
2004
In May Sarah Baker became Dr. Jill Biden's new policy director. She was previously the U.S. senior associate for the pro bono department and member of the white-collar criminal defense and government investigations group at Hogan Lovells. While there she worked on a range of issues, including health care fraud, civil rights, housing discrimination, hate speech, and immigration.
Meghan M. Cloud has been named a Virginia future star in benchmark litigation for 2013 and a rising star in Virginia Super Lawyers 2013 in civil litigation defense and personal injury defense-products and utilities. She is counsel with McGuireWoods in Charlottesville.
Michelle Levin was promoted to partner at Steptoe & Johnson in New York City, where she is a member of the litigation department. Her practice focuses on white-collar criminal defense, regulatory enforcement proceedings, and internal investigations.
Kevin Alden Maxwell and his wife, Whitney, welcomed their second child, Finley Collins, in September. Finley joins her brother, Tristan Alden. Kevin serves as assistant general counsel for Mueller Water Products, Inc. in Atlanta, Ga.

Ilse C. Scott has joined Michelman & Robinson in San Francisco, Calif., as associate in the commercial and business litigation department. She has focused her practice on business litigation and intellectual property matters involving trade secrets, real property, business torts and copyright and patent infringement. She was previously with Fitzgerald Abbot & Beardsley.
Gavin White
has joined Skadden, Arps, Slate, Meagher & Flom as partner in the tax group in New York City.
2005
Marcus D. Brown has been honored as a rising star by Texas Monthly magazine. He is an associate with Winstead in Dallas, in the labor, employment & immigration practice group.

Brooke Everley has been recognized as a rising star in Alabama Super Lawyers 2013 in estate planning & probate. Her practice includes estate and gift planning, estate and trust administration and probate, business succession planning, and general business and corporate law. She is with Red Mountain Law Group in Birmingham.

Scott P. Horton served as co-chair of "Wines in the Wild," a fundraiser to benefit the Buffalo Zoo's Adopt an Animal Program that took place in July. He is a member of the Buffalo Zoo's ProZoo Board, which organizes several major fundraisers each year. In May he gave a presentation on "Employment Practices and Social Media" at the New York State Bar Association continuing legal education seminar, and in September he presented a talk entitled, "We're Going to Court … What Happens Now?" at the New York State Society for Human Resource Management Conference. Horton is a partner in Jaeckle Fleischmann and Mugel's labor & employment and e-discovery & records management practice groups.

Chi-Yu Liang has been elected partner in the wealth-planning department of Withers Bergman in New York City. Her practice focuses on personal tax and trusts and estates planning for high net worth individuals and families.
2006
Kate Duvall has been selected to receive the 2013 Carol S. Fox Making Kids Count Award from Voices for Virginia's Children. An attorney with the Legal Aid Justice Center's JustChildren Program in Charlottesville, she represents children in the juvenile justice system, helping them with re-entry planning, access to school, mental health treatment, and other issues. She has also helped with successful lobbying for positive changes in the juvenile justice system.
James Graves III was selected for membership in the 2013 class of Leadership Mississippi, a program designed to expose Mississippi leaders to other communities, allowing them to create the bond of fellowship and networking that extends beyond other Leadership Mississippi participants.Class members participate in special projects and learn leadership skills designed to provide the tools necessary for improving their communities and the state. Tiffany M. Graves is executive director and general counsel of the Mississippi Volunteer Lawyers Project in Jackson.She began working at MVLP as general counsel in October 2011 and assumed the duties of executive director in March 2013.MVLP provides legal assistance to low-income Mississippians through pro bono attorneys. In January, Tiffany was selected as one of the top ten "Up-and-Coming" young attorneys by Portico Jackson magazine.In May, she received two honors: the "Outstanding Woman Lawyer Award" from the Mississippi Women Lawyers Association and the "Pro Bono Award" from the Capital Area Bar Association.
Nimer Sultany LL.M. graduated from the S.J.D. program at Harvard Law School, served as a postdoctoral fellow at State University New York Buffalo Law School, and is now a lecturer in public law at the School of Oriental and African Studies at the University of London.
2007
Nathan Cherry and Melissa McWilliams Cherry '09 welcomed their second son, Andrew Stafford Cherry, on July 23.The Cherry family is enjoying Houston, Tex., where Nathan is with Barclays' energy investment banking group.
Rebecca Clifford was named a Super Lawyers rising star for 2013. She is an associate and member of the litigation and intellectual property practice groups with Irell & Manella in Newport Beach, Calif.
Melany Grout was profiled in the August issue of O magazine in a new feature called, "Globe Trotter for Good." The piece describes Grout's work for the past two years with impoverished girls in West Bengal, India, where they have been seen as burdens, not contributors to their family. Since 2011 the Girls Project has helped more than 7,000 girls in 299 rural communities by teaching them skills that provide a livelihood and informing them about their rights to the land. The project helps keep girls in school and reduces the number of children subject to trafficking and child marriage. Grout is a land rights attorney with Landesa, a nonprofit in Seattle, Wash., that is working with the government of India to expand the project to reach 35,000 girls this year.

Shannen L. Naegel has joined Belin McCormick in Des Moines, Iowa, as a shareholder in the corporate group. She will focus her practice in corporate and commercial law; taxation, trusts and estates; and nonprofit organizations and charitable giving. She was previously with Akin Gump Strauss Hauer & Feld in Washington, D.C.
Elizabeth Leighton Stieglitz was born on July 29 in Arlington, Va., to Albert B. Stieglitz, Jr. and his wife, Amanda."Mom, Dad, and sister Caroline are doing great," writes Albert.
2008
Lisa M. Lorish has been named a rising star in business litigation in Virginia Super Lawyers 2013. She is an associate and member of the energy litigation group with McGuireWoods in Charlottesville, where she practices in the business and securities litigation department. She focuses her practice on commercial litigation, energy law, and financial services litigation.
James Parker and his wife, Katie, had their first daughter, Aubrey Evangeline, in December 2012. Soon after her birth, James moved to a new position as staff attorney at the U.S. Sentencing Commission.
J. Ben Segarra has joined Maynard Cooper & Gale as the senior maritime associate in the Mobile, Ala., office.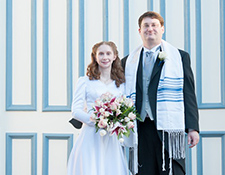 Rebekah Shapiro
married Alexander Gorelik on November 12, 2012, in San Mateo, Calif. She is an attorney at Wild, Carey & Fife in San Francisco, specializing in professional liability defense. She is also a contributing editor of the new Rutter Group practice guide, Claims and Defenses, which was written to assist in-house counsel and general practitioners preparing and responding to California common law causes of action. She conducted her first trial, solo, in April 2012. Alex is a graduate of the University of Chicago Booth School of Business. The couple resides in Burlingame.
2009
Thomas M. Coatsworth has been promoted to counsel with BrownGreer, a claims administration services provider located in Richmond. He helps lead a team that is responsible for complex data analysis reporting for a significant class action settlement.
Sarah E. Klapman
is an associate in the litigation department with Miller & Martin in Atlanta, Ga., where she concentrates her practice in business litigation and white-collar criminal defense. She was previously a staff attorney with the Federal Defender Program.
2010
Dane M. Dunson has joined Carlton Fields as an associate in West Palm Beach, Fla., where he practices in the business litigation and trade regulation practice group. He was previously an associate with Butler Pappas Weihmuller Katz Craig.
Jennifer Long Ligon has joined McCandlish Holton in Richmond, Va., as an associate in the health care group, where she concentrates her practice on transactional and regulatory matters for hospitals, long-term care providers, and physician groups.She also advises clients on corporate, employee benefits, and tax matters.She was previously with Willkie Farr & Gallagher in New York City.On October 13, 2012, she married Chad Ligon in Gwynn, Va.
Jordan E. McKay has joined MichieHamlett in Charlottesville as an associate in the commercial litigation group. He was previously a special assistant to the U.S. Attorney for the Western District of Virginia.
Stephen Murphy has joined the trusts and estates group at McGuireWoods in Charlottesville. His practice focuses on estate planning, trust and estate administration, real estate, and business law. He is a lecturer in law at the Law School, where he teaches trust and estate administration. He is also an adjunct professor of law at the Washington & Lee School of Law, where he teaches a seminar on the interpretation of statutes and regulations.
Chris Schoen recently joined Wyche as an associate in Greenville, S.C., where he focuses his practice on litigation.He previously served as a law clerk to the Honorable C. Weston Houck, U.S. District Judge in Charleston.
Jonathan Wolfson's
wife, Kendall Wolfson, a Double 'Hoo, published her first book this fall. Sweet Dreams UVA is a rhyming bedtime book for children based on Margaret Wise Brown's classic, Goodnight Moon (see
In Print
and www.sweetdreamsuva.com). The Wolfson family lives in Richmond, where Jonathan is an associate with McGuireWoods.
School Justice Project From Idea to Reality
– by Rebecca Barns
Before entering Law School, Claire Blumenson '11 joined Teach for America and taught third and fourth grade at a high-performing charter school for boys in Brooklyn, New York. That experience made her keenly aware of the children who fell behind, the ones who needed special help to get back on track and stay out of trouble.
At Law School she concentrated her coursework on child advocacy, juvenile justice, and education law. She worked with the Child Advocacy Clinic and set her focus on the link between juvenile justice and access to education.
Following graduation, a two-year Equal Justice Works fellowship sponsored by Greenberg Traurig in Washington, D.C., shaped Claire's idea of the kind of lawyer she'd like to be. Through the fellowship she worked with the Juvenile Services Program at the Public Defender Service for the District of Columbia, providing post-disposition special education representation for those 18-21 year olds placed in D.C.'s secure juvenile facility.
To Claire, this older student group experienced unique special education issues and had even greater need for legal recourse. "The courts aren't set up to help them," Claire says. "Court-appointed special education lawyers are usually for younger students. Those kids are the ones most people think about in traditional special education or juvenile justice reform movements. There's nothing warm and fuzzy about a 20-year-old man in detention who needs legal help." These students, mostly black males, fall through a gap in the legal system, and Claire has set her sights on closing it.
This summer, she won a fellowship that turned her ideas into reality. The Black Male Achievement Fellowship, established by Echoing Green and Open Society Foundations, is dedicated to improving the life outcomes of black men and boys in the U.S. It provides seed funding ($70,000 per partnership over 18 months and a health care stipend) to promising social entrepreneurs in this field.
The fellowship has been life changing. It has enabled Claire to co-found and launch a nonprofit legal services organization called School Justice Project, www.schooljusticeproject.org, where she and co-founder Sarah Comeau serve as co-executive directors. SJP provides no-cost special education legal representation to D.C. court-involved youth ages 17-22.
These older students face a number of difficult challenges. Many are sent to long-term detention facilities in far-flung states—Arizona, Utah—making it difficult to address their educational plight. It becomes almost impossible for them to get the credits required to graduate from high school. In addition, older students receive inadequate special education facilities and few, if any, options upon their release. Claire works one-on-one with her clients to find out exactly what they need, legally and practically. Even after finding the right school, sometimes a Metro card is all it takes to get them where they need to be, and they don't have one. Often simple, practical things like that can make a real difference.
In October SJP was awarded a partnership with Fair Chance, a D.C. nonprofit that assists community-based organizations in a number of important ways, including strategic planning, fundraising, outreach, and communications. Such support will enable SJP to build its capacity in D.C., eventually expand into other states, and offer education rights training for students, attorneys, probation officers, and judges.
"The past two years have been an unbelievable time in my life," says Claire. "To see firsthand how direct legal work can change individual lives and also change the system—I knew all of this theoretically, but it's an amazing experience to walk with a client into a new school that's right for him, where he can thrive."
2011
John A. Lanier is director of the Ray C. Anderson Foundation, a not-for-profit organization that strives to create a more sustainable world through the funding of innovative projects that advance sustainable production and consumption. The foundation is named after his grandfather, who was a pioneer in industrial ecology. Lanier was previously with Sutherland, Asbill and Brennan, where he worked with Atlanta-based nonprofits, including the Ray C. Anderson Foundation.
Sean Patrick Murray handles felony and juvenile cases as a public defender in Montezuma County, Colo. "Much of the time my clients are Navajo, Ute Mountain Ute, and Southern Ute native Americans. It truly feels like I'm fighting apartheid out here," he writes.
2012
Christine Ryu and George Naya are pleased to announce their engagement. The two met as 1Ls and will return to Charlottesville to wed next April. Both currently reside in New York City, where Christine is an associate in the antitrust practice at Linklaters and George is an associate in the global securities group at Milbank, Tweed, Hadley & McCloy.

Holly R. Vradenburgh has joined MichieHamlett as an associate in Charlottesville, where she concentrates her practice on personal injury and products liability. She was previously an assistant commonwealth attorney.
2013

Rishi M. Diwan has joined Armstrong Teasdale in St. Louis, Mo., as an associate in the financial and real estate services group. He practices transactional law with a focus on real estate.

Patrick J. Mulligan has joined Maynard Cooper & Gale as an associate and member of the labor and employment practice group in Birmingham, Ala.