CHILD ADVOCACY

15 Years of Fighting for Children in Virginia Rethinking Success at Law Schools
By Brian McNeill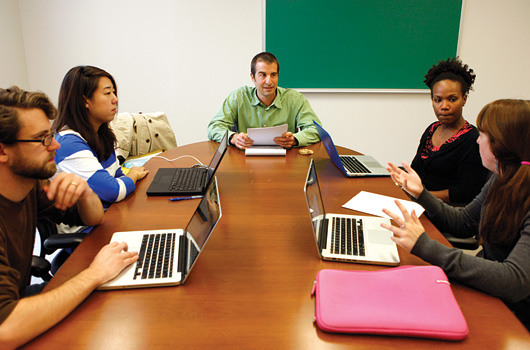 Claire Blumenson '11, who earned a master's degree in teaching and served with Teach for America before attending UVA Law, continued to build her career around helping children by taking the Child Advocacy Clinic in law school.
"It gave me really great practical skills," said Blumenson. "I wish I could have taken three years of the Child Advocacy Clinic."
For Blumenson and many other former clinic students, the course was a formative experience that continues to influence their careers working on behalf of children. Twelve graduates who took the course returned to the Law School this fall to celebrate the 15th anniversary of the clinic and speak at conference marking the occasion, "Fighting for Children: Education, Advocacy and the Law," on Oct. 18 and 19.
Blumenson said her experience in the clinic — in which law students work with the Legal Aid Justice Center's JustChildren Program to represent low-income children in Virginia — provided her with an education that helped inspire her career.
Blumenson recently co-founded a nonprofit organization called the School Justice Project, which provides no-cost special education legal representation to court-involved 17- to 22-year-olds in Washington, D.C. (See related story in 2011 Class Notes.)
"I think about the Child Advocacy Clinic constantly because everything we do is so similar to the work that [clinic instructors Angela Ciolfi '03 and Kate Duvall '06 were] doing," she said. "You see how to build a case over time. You learn lawyering skills, as far as case management and organization. And you're learning it all within Legal Aid, which is really great."
The conference covered topics such as emerging constitutional theories for the protection of children and strategies to break down the school-to-prison pipeline. It also featured panels aimed at law students interested in working in child advocacy or public interest careers, as well as those interested in pro bono work at law firms.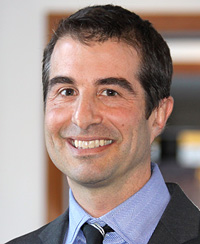 Clinic director Andy Block
Martha Levick, deputy director, chief counsel and co-founder of the Juvenile Law Center in Philadelphia, delivered the keynote address, "The Same, Only Different: The Re-emergence of Constitutional Rights for Children."
"I am thrilled that so many of our former students are doing this work," said Andy Block, director of the Child Advocacy Clinic. "It was a great opportunity for current students to meet these amazingly talented attorneys and get some wisdom and inspiration as they think about their futures."
Since the Law School and JustChildren launched the course in 1998, the clinic has directly represented between 200 and 300 young clients on issues ranging from criminal appeals to educational concerns, and its policy work has helped hundreds more across Virginia.
One former client participated in the conference.Whitney Shelton was originally tried as an adult in 2003 for her participation, with two adult, male co-defendants, in a series of crimes including robbery, abduction and carjacking. Under a plea deal, Shelton, then 16, received a blended sentence of both juvenile and adult time.
After Shelton's family contacted the clinic with concerns about her treatment nearly two years into Shelton's sentence, students successfully fought to improve conditions at the juvenile prison, and to suspend Shelton's adult prison sentence.
Shelton, they found, was a model prisoner who felt sincere remorse for her actions, graduated from high school while incarcerated, was taking college classes and appeared to pose no risk to the community. Although the students and their supervising attorneys presented substantial evidence of her progress and lack of risk, her sentencing judge rejected the request for suspending her adult time and sent her to adult prison when she turned 21.
After more than two years of effort, Block and the clinic students had one chance left to shorten her sentence — they wrote to then-Gov. Timothy M. Kaine in April 2009 and requested that he grant Shelton a conditional pardon.
"Like many children who commit crimes, and many young people generally, Whitney Shelton is not the same person she was when she committed her offenses six year ago," the clinic wrote to Kaine. "She has grown up. She has changed. She is remorseful for her actions. What is more, she has been punished and is not a risk or threat to the community should she be granted the opportunity to return."
Kaine ultimately agreed, releasing Shelton from prison just before Christmas in 2009, subject to certain conditions, including 10 years of probation.
Shelton, who is now 27, has since earned a two-year degree in mechanical engineering and is preparing to move to Texas to pursue a four-year degree.
"I almost felt safer in the arms of the law students because they were eager to learn and fight and get to the bottom of everything they possibly could," Shelton said. "The students were just willing to do anything and everything. They just diligently fought so hard."
Block said the key to the clinic's success has always been the people — the supervising attorneys, students and the clients.
"We have had great faculty and adjunct supervisors at JustChildren, most of whom now are former clinic students themselves, and talented and hardworking students who get moved and inspired, I think, by the children they represent," he said.
Clinic alumna Jeree Thomas '11 joined JustChildren as a Skadden Fellow that fall, and now is a staff attorney with the organization. In the last two years she has helped incarcerated children get access to appropriate educational services in juvenile facilities.
"We've actually had some success making sure that youth in correctional centers receive the education they are entitled to under the law," Thomas said. "Now youth in some of our deep-end juvenile facilities have access the educational services even when they are placed in restrictive behavioral units."
In the clinic and as a summer intern for the JustChildren Program, Thomas explored different areas of law that affect children, including special education cases, such as representing a child with disabilities who was facing discipline issues. And she also worked on the case of Edgar Coker, a young man who was falsely accused of rape at the age of 15.
"When I started my summer as an intern, the first memo I wrote was whether or not we could file a habeas [petition] in that case," she said.
At the upcoming conference, Thomas appeared on the panel, "Bringing Them Home, Keeping Them Home: Deinstitutionalizing Children."
Janet Van Cuyk '04, another clinic alumna who appeared on that panel, is the legislative and research manager of the Virginia Department of Juvenile Justice, a role that includes providing information to Virginia lawmakers on the impact of juvenile justice legislation.
Prior to enrolling at UVA Law, Van Cuyk worked in a juvenile correctional center as a rehabilitation counselor, running aggression management groups and facilitating basic counseling for committed youths. She then earned a master's degree in social work in 2001 and interned with the Richmond Court Service Unit of the Department of Juvenile Justice, where she saw how the state provides services to juveniles before and after being committed.
"I fell in love with the court process and went to law school thinking that I would become a [guardian ad litem] or juvenile attorney," she said. "But I chose this path because I saw that it [involved] a macro influence on juvenile justice policy in the state."
While in the Child Advocacy Clinic, she was able to explore a different aspect of juvenile justice.
"Prior to law school, I had only seen the direct care perspective providing services and supervision to at-risk youth versus the advocacy perspective," she said. "It was a great experience. The focus at that time was on special education law. I got to advocate for folks seeking appropriate [individualized educational programs] and educational services in public schools which can have both an individual and a systemic impact."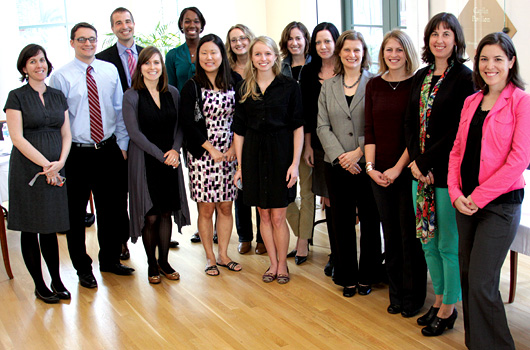 Alumni involved in the Child Advocacy Clinic returned to Charlottesville for the clinic's 15th anniversary and to take part in the "Fighting for Children" conference.
Dan Hausman '12, a currentPowell Fellowworking as a staff attorney for the Chicago Medical Legal Partnership for Children, spoke at the conference as part of a panel on "Breaking Down the School-to-Prison Pipeline."
At the Medical Legal Partnership, Hausman helps children younger than kindergarten age get referrals from hospital sites and connects with families to represent the children, often on education and other issues that benefit from early intervention.
"Their families are ill-equipped to help them when they're struggling to get by every day," he said. "Getting them the right services can make a huge difference."
Before attending UVA Law Hausman taught government and psychology at a high school in Northern Virginia. At the Law School, he took a number of education law courses in addition to the Child Advocacy Clinic.
He said he wanted to bring the same level of organization he saw in the clinic and at the Legal Aid Justice Center to his current job.
The clinic, he added, provided the ideal training ground because of the individual attention and feedback students received.
"You were able to work on cases in the way that you'd ideally like to be able to do every case," he said. "It doesn't always work that way because here I've got a million cases, but it's good to know what you're working towards."
Third-year law student Shannon Parker enjoyed the clinic so much during her second year that she worked with Block to create an additional opportunity to take part in the clinic during her third year as well. Parker and two other classmates are taking advantage of the third-year option now.
"My experiences in the clinic have been incredibly useful for my career," Parker said. "I have been exposed to a variety of legal issues that children face. My specific interest is to represent kids in abuse and neglect cases, and oftentimes my clients will face legal issues outside of the abuse and/or neglect. By having some experience with education law, immigration law and the juvenile justice system, I can provide more comprehensive and holistic representation for my clients."
When asked how the clinic has evolved over the last 15 years, Block said that clients like Whitney and students like Parker are what the clinic has always been about.
"The clinic has always had two primary goals: creating opportunities and second chances for our clients, while at the same time challenging our students and giving them the skills and experiences necessary to become great lawyers and advocates for children," he said.