WORLD WISE

Professors Circle Globe to Bring Insights to UVA Law

By Eric Williamson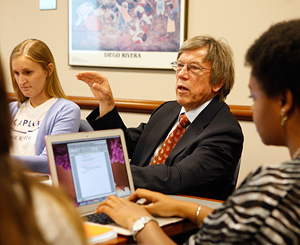 Hans Jarass, a professor at the University of Münster, taught European Union Law here this fall.
Each year an infusion of international experts who teach at the Law School — from such nations as France, Germany, Australia, and Israel — helps ensure that graduates will thrive in an increasingly globalized market.
"Our international visitors greatly enrich the students' experience," said Dean Paul G. Mahoney. "Understanding how another legal system approaches a problem is not only useful when your practice crosses borders, but helps you understand your own legal system better."
Among the several visitors this year, the University of Münster's Hans Jarass and Matthias Casper taught the fall course European Union Law.
"I often tell students it's not only important to specialize in areas you can apply directly, but also to be able to handle problems that are based in law that are unknown, where there are no easy solutions available," Jarass said. "If you only work in your own law, you think it can only be done like that."
Jarass directs the ZIR Research Institute for German and European Public Law at Münster, where he is a retired faculty member. The Law School has a broader exchange program with the German university in which UVA professors also teach in Germany. In May, UVA Law professors Kerry Abrams and Brandon Garrett taught a two-week course there on current issues in American law.
"My goal is not so much that students learn a lot of different facts, but that they get a feel for where European Union law differs from their own law, and how it's similar," Jarass said. "And if they encounter a case where European Union law is involved, they can handle that."
International professors teach courses on current global legal trends, and often from direct experience. Timothy J. McEvoy, who has taught the fall short course Globalization and International Civil Litigation at the Law School since 2001, currently practices international law in Melbourne, Australia.
"In my private practice as a barrister in Australia, I often advise corporations on private international law issues involving provisional and protective measures, and judgment enforcement," McEvoy said. "Judgment recognition, and enforcement more generally is becoming a hot topic, particularly in the U.S. in the context of the Chevron litigation … The course is really a strong blend of the law in this area and its practical application."
McEvoy was awarded an S.J.D. here in 1999. While completing his degree, he served on a special commission of Australian delegates to the Hague Conference on Private International Law, which drafted recommended guidelines for handling jurisdiction and foreign judgments in civil and commercial matters.
McEvoy said he hopes that his students will "take away a robust understanding of some of the traditional principles of private international law and how they apply in the context of the rapidly changing global business environment."
Other classes, such as the fall short course International Banking Transactions, focus not just on how to think like an international lawyer, but on specific obstacles law graduates may encounter.
"My class is case-study based, with a clear split between how an investment or transaction is supposed to work and what legally can go wrong," said Christof Fritzen, a former managing director at Deutsche Bank who is teaching the course.
Fritzen said his students are typically second- and third-year students focusing on business law or current lawyers pursuing an LL.M. degree. He said he emphasizes to his students the importance of understanding the fundamentals of international banking products and transactions because they are integral to the laws governing them.
"We as lawyers don't have enough education on the commercial side — not to mention on the math side and on reading balance sheets," Fritzen said. "What's your legal reason worth if you don't know how the legal instrument is supposed to work?"
Short courses conducted abroad are also an important part of the Law School's international education.
Professor Gil Siegal, who lives most of the year in Israel, teaches the weeklong January Term course Israeli Health Law and Bioethics, which includes field trips to the Israeli Supreme Court in Jerusalem and the Chaim Sheba Medical Center near Tel Aviv. In Israel, Siegal directs the Center for Health Law and Bioethics at Kiryat Ono College, where most of the classes for the J-term course take place.
Marie Goré, a professor of law at the University of Panthéon-Assas (Paris 2), teaches the J-term course French Public and Private Law. UVA Law students who travel to Paris for the class learn about the origins of French law and the basics of French contracts and torts.
Second- and third-year students may also study abroad for a full semester in one of eight international exchange programs or through a dual degree at Sciences Po in Paris, and have the option of planning their own study-abroad venture.
Current students say their international law classes have been a valuable form of preparation that will give them added confidence when they enter the legal workforce full-time.
"Last year, I took Justice [Richard] Goldstone's class on the international criminal justice field, and this semester I am taking European Union Law," said Melissa Reilly-Diakun, a third-year student who said she wants to pursue a career in international law. "Each of these classes has been valuable not just for the subject matter, but for an opportunity to explore the law from a mindset other than that of an American schooled in an American law school."
Sam Shirazi, a second-year law student in the European Law class, agreed. "With the increasing globalized nature of business and commerce, I think learning more about different legal systems around the world is crucial for any law student," he said.