We welcome submissions for inclusion in In Print. Submit online, mail to UVA Lawyer, University of Virginia School of Law, 580 Massie Road, Charlottesville, VA 22903; or fax to 434-296-4838.

Please send your submissions by April 1 for inclusion in the next issue.

Non-Fiction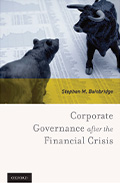 Corporate Governance After the Financial Crisis
Stephen M. Bainbridge '85
Oxford University Press
In the past decade, economic crises resulted in two important statutes that affect corporate governance. In the wake of the dotcom bubble, Congress passed the Public Company Accounting Reform and Investor Protection Act of 2002 (the Sarbanes-OxleyAct). That act targeted basic aspects of corporate governance. Later, when the housing bubble burst and the subprime mortgage crisis erupted, the United States suffered the worst economic downturn since the Great Depression. In reaction, Congress passed the Wall Street Reform and Consumer Protection Act of 2010 (the Dodd-Frank Act), which made great changes in the way finance is regulated.

Previously, the states held more say in the regulation of corporations. But increasingly, the federal government is involved in this domain. In Corporate Governance After the Financial Crisis, Stephen Bainbridge assesses whether changes brought about by Congress have actually improved corporate governance and whether increasing federal involvement will lead to better outcomes. He covers corporate fraud and disclosure, executive compensation, shareholder activism, corporate democracy, and the decline of U.S. capital market competitiveness.

The author is William D. Warren Distinguished Professor of Law at UCLA, where he teaches business associations, advanced corporation law, and a seminar on corporate governance.
International Human Rights Law Sourcebook
Alice Beauheim Borene '09
American Bar Association
International Humanitarian Law (Law of Armed Conflict) Sourcebook
Alice Beauheim Borene '09
American Bar Association

The International Human Rights Law Sourcebook explains the current laws and rules governing human rights policy, and will serve as an invaluable resource for activists and others interested in promoting human rights. The volume brings together important human rights documents that provide access to current laws and international rules, including the Universal Declaration of Human Rights, the International Covenant on Civil and Political Rights, and United Nations documents.

The International Humanitarian Law (Law of Armed Conflict) Sourcebook is an excellent reference that gathers key source documents on international humanitarian law for lawyers, policymakers, nongovernmental organizations, military leaders, and academics around the world.

Beauheim Borene is an attorney and expert on human rights, intelligence issues, civil liberties, privacy, and counterterrorism. While in Law School, she interned with the Office of the Prosecutor of the State Court of Bosnia-Herzegovina assisting in building war crimes cases.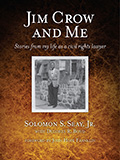 Jim Crow and Me: Stories From My Life as a Civil Rights Lawyer
Delores R. Boyd '75 and Solomon Seay Jr.
NewSouth Books
Solomon Seay was one of only ten black lawyers in Alabama when he began to practice law in 1957. He was a civil rights lawyer working through the turbulent times of Jim Crow South. His memoir is presented in a collection of powerful vignettes, including dramatic courtroom scenes and well-drawn descriptions of the personalities he dealt with in and out of the courtroom: victims, heroes, and the oppressors.

For two decades Seay fought for justice in a system stacked against him, a trailblazer for black lawyers during that time. He was the son of a mother who taught school and a father who was a preacher of the liberation gospel, a man who was a mentor to Martin Luther King Jr. and Fred Gray Sr., an icon of civil rights law and law partner of Seay's. His parents always put a high value on education and reinforced the idea that everyone should have equal rights and opportunities—even when equal justice for all seemed like a distant dream. No other lawyer in Alabama worked harder to do away with segregation in public schools.

Boyd interviewed Seay for an archival project, and after hearing his stories about his law practice, convinced him that they should be told to a larger audience. She helped shape his recollections into the 26 narratives in Jim Crow and Me.

Delores Boyd practiced law in Montgomery, Alabama, before serving as a municipal court judge and a U.S. Magistrate Judge. She is currently a mediator.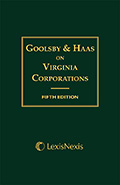 Goolsby & Haas on Virginia Corporations, Fifth Edition
Allen C. Goolsby '68 and Steven M. Haas '04
LexisNexis
This is the definitive guide to Virginia corporate law. The authors present a clear and comprehensive treatment of the role of boards of directors, including the risks and responsibilities involved. They also highlight the complex balance of power between corporate boards and shareholders, and how their relationships are changing.

Goolsby and Haas explain how some recent shifts in the balance could be signs of trouble on the horizon. The strengthening of shareholders' authority and reduction of the authority of the board of directors, for example, make directors mainly agents of shareholders, and that tends to improve short-term, rather than long-term, results. On another front, Congress and federal regulators are getting involved in matters that used to be handled by the state. They also cite the "fuzzing up" of the corporate mission, which has traditionally been to develop sustainable profit for long-term owners, when corporations are expected to be environmentally sustainable.

The pace of change in corporate law and corporate governance in the past 25 years seems to be accelerating, Goolsby and Haas note, and some of the changes could have negative effects on corporate boards, turn the focus toward short-term results, and get in the way of pursuing sustainable wealth. "Boards and management must do a better job of defending our traditional model of corporate governance," they write. Their book provides an in-depth analysis of corporate governance in Virginia—and a gaze into its future.
The authors' knowledge of corporate law and corporate governance is unparalleled. Allen Goolsby was the lead drafter of Virginia's current corporate code. He oversaw the General Assembly's overhaul of the Virginia Stock Corporation Act in the mid-1980s and led the crafting of updates to the statutes in the following decades. Goolsby's original work, Goolsby on Virginia Corporations, was published in 2002. This latest 5th edition, co-authored by fellow UVA alumni Steven Haas, adds Haas's expertise as a leading attorney in the field of mergers and acquisitions and corporate governance.
"The fingerprints of our dear friend and mentor, Mike Dooley, run throughout," notes Allen Goolsby.

The author is special counsel and Steven Haas is a partner at Hunton & Williams.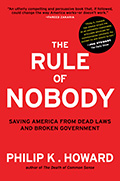 The Rule of Nobody:
Saving America from Dead Laws and Broken Government
Philip K. Howard '74
W.W. Norton & Company
The Rule of Nobody opens with a straightforward example of how regulation can get in the way of common sense. In 2011 in a New Jersey township, a tree fell into a creek and caused flooding. It was a Class C-1 creek that required approval before a tractor could pull the tree out. The flooding continued. Twelve days and $12,000 later a permit granted the right to remove the obstruction.

The author argues that obstruction is the norm in American governance, and people in positions of power are unable to get things done. "Nothing much works," he writes, "because no one is free to make things work." Of course laws can help prevent fraud or help ensure that a factory is safe. But it doesn't make sense when myriad laws dictate written contracts or exactly how factories should be built. Innovation and practical solutions are grinding to a halt in America, he warns, and we are paying a heavy price. "Philip K. Howard has always struck me as an eminently reasonable, articulate advocate for commonsense solutions. No wonder no one listens to him," quips Jon Stewart of The Daily Show.

Howard, who advises political leaders on legal and regulatory reform, including Vice President Al Gore and a number of governors, proposes that nothing less than a remaking of American government will solve such serious and pervasive problems. Simplified, adaptable codes must be established, he explains, and a "Bill of Responsibilities" added to the Constitution to mend the problems within the executive, legislative, and judicial branches of government. He sets forth his proposed amendments to the U.S. Constitution in the appendix of this book.

"Amid the liberal-conservative ideological clash that paralyzes our government, it's always refreshing to encounter the views of Philip K. Howard, whose ideology is common sense spiked with a sense of urgency," notes a review in the The Wall Street Journal.

Philip Howard is a partner with Covington & Burling in Manhattan. In 2002 he formed Common Good, a nonpartisan national coalition aiming to restore common sense in America. This is his fourth book.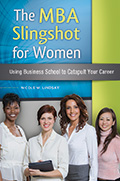 The MBA Slingshot for Women:
Using Business School to Catapult Your Career
Nicole Lindsay '00 JD/MBA
Praeger
Even though women have been in the workforce for decades and attended the top graduate schools for years, they fill just 15 percent of corporate boards and a mere 3 percent of CEO positions. Are there career roadblocks in their way, or are they undercutting their own advancement somehow?

"There is much that women can do in business school to close the gender gap in pay, access, and satisfaction," writes Nicole Lindsay in the introduction to The MBA Slingshot for Women. The author, an expert in career development and diversity in graduate management education, presents a roadmap for how women can make the most of their graduation school experience to get the most from their professional careers.

The MBA Slingshot for Women is divided into four themes: how to maximize social networking in graduate school; how to deal with the kinds of issues women face as they get ahead; how to use connections to advance a career; and how to create an effective personal brand.

The author is director of leadership development for the ZOOM Foundation in Connecticut and founder of DiversityMBAPrep.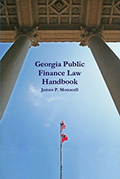 Georgia Public Finance Law Handbook
James P. Monacell '78
Available on Lulu.com
Georgia Public Finance Law Handbook is an essential resource for attorneys on the subject of bonds and public finance in Georgia.

The book includes guidance on the constitutional, statutory, and case law pertaining to the issuance and usage of debt and other public financing by municipalities, counties, districts, and other authorities in Georgia. Tax-exempt financing and other tax-advantaged financing, historical development, case law, statutes, the Constitution, regulatory issues, and procedural requirements are also addressed.

James Monacell heads the bond and public law practice at Smith, Gambrell & Russell in Atlanta, and is a frequent lecturer on public law and finance. He has practiced in this field for more than 35 years.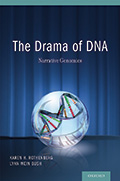 The Drama of DNA:
Narrative Genomics
Karen H. Rothenberg '79 and Lynn Wein Bush
Oxford University Press
The human genome was first sequenced a decade ago. In the wake of that accomplishment, scientists and healthcare workers struggle to deal with the challenging issues that inevitably come up when new technology and everyday life intersect.

Recent advances in the technologies for analyzing the human genome and reading the sequence of DNA have enormous implications for understanding human health and disease. How will the wealth of this new information, which yields information not just about individuals but also blood relatives and ancestors, be shared?

In The Drama of DNA: Narrative Genomics, the authors present dramatic narratives that bring to life these complex issues in a way other methods cannot. The response they received to a short play they wrote and presented at a conference on genomic research inspired them to write a number of additional ones on a range of issues involving genetic science. A number of their vignettes are compiled in this book.

These dramatic narratives create a way for lay readers, scientists, and healthcare workers to better understand the kinds of challenges that lay ahead in the rapidly developing field of genomics.

Karen Rothenberg is an advisor to the director of the National Human Genome Research Institute, visiting scholar at the department of bioethics at the National Institutes of Health, Marjorie Cook Professor of Law and founding director of the law and health care program at the University of Maryland Carey School of Law, and visiting professor at Johns Hopkins Berman Institute of Bioethics.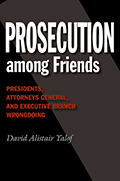 Prosecution Among Friends:
Presidents, Attorneys General, and Executive Branch Wrongdoing
David Alistair Yalof '91
Texas A&M University Press
Political scientist David Alistair Yalof examines a fundamental question about our democracy: Can politically appointed, high-ranking Justice Department officials properly investigate wrongdoing within their own administration? Or should they call for an independent counsel?

As the highest-ranking law enforcement officer, the Attorney General of the United States has to hold colleagues—even the President—accountable. When allegations arise, the Attorney General must make sure that even those who appointed him to his position are investigated thoroughly.

Yalof analyzes a number of cases of real or alleged corruption in the executive branch that happened from the Nixon administration to that of George W. Bush. The cases range from the well known and highly publicized Watergate and Whitewater scandals to others that never drew nearly as much attention. Can the executive branch guarantee due process when it's charged with investigating and prosecuting accusations of its own corruption? When the media and the public get involved, the task can be daunting.

In all of these cases, large and small, the Attorney General and other officials in the executive branch had the task of assessing the case and deciding the path to take going forward. In only a handful of cases was an independent counsel called in.

The author is associate professor of political science at the University of Connecticut.

FICTION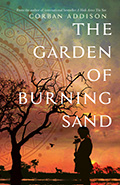 The Garden of Burning Sand
Corban Addison '04
Quercus Publishing
In Zambia a little girl named Kuyeya is the victim of sexual abuse on the streets of Lusaka. She has Down's Syndrome and lives in a culture in which special needs children, often neglected and cast off by their families, are usually easy prey for predators.

No doubt Kuyeya would have been just another silent victim if Zoe Fleming, a smart and determined human rights lawyer, had not taken up her case and taken the tortuous path to its conclusion. Fleming, an American, had just begun to settle into a new life in Zambia, far away from her estranged father and her own difficult past.

Tradition conspires to protect Kuyeya's abuser, and Fleming engages the help of Zambian police officer Joseph Zabuta, who she convinces to let her shadow him on the case. The case becomes much more dangerous when they find a violent connection between the little girl and a powerful Zambian family. As danger mounts during their investigation, Zoe and Joseph Zabuta are drawn together, and she has to face the past she could never really outrun.
The Garden of Burning Sand moves from the impoverished streets of Zambia to the offices of the powerful in Washington, D.C., to breathtaking Victoria Falls, a gripping story that grabs readers and carries them along while bringing to light a terrible social injustice.

This is Corban Addison's second novel. His first, A Walk Across the Sun, portrayed the harsh reality of human trafficking. He hopes his writing will create awareness of social injustice and help increase support for the work that seeks to end it.

See http://corbanaddison.com.
The Target
David Baldacci '86
Grand Central Publishing
In David Baldacci's latest entry in the Will Robie series, the President of the United States orders the assassination of the leader of North Korea. If the attempt fails and he's found out, the President's decision could lead to impeachment.

To improve the odds for the mission's success, he selects highly skilled assassins Will Robie and Jessica Reel for the deadly assignment. The two will follow orders—if conscience and scruples don't get in the way. If and when they complete their task against incredible odds, they, too, must be eliminated—the President and his entourage think it's too risky to let them go free.

The shady director of the CIA puts Robie and Reel in a high-tech training facility called the "burner box" in an attempt to break them down both mentally and physically. Surviving the burner box is by no means the most difficult part of the many tests they face, and sudden plot twists propel readers with a kind of g-force through their harrowing adventure.

"Baldacci knows how to get readers to turn the pages," notes one reviewer, "and he's in top form here."

David Baldacci's novels have been translated into 45 languages and sold in more than 80 countries. He and his wife, Michelle, have established the Wish You Well Foundation, a nonprofit that supports programs to support literacy in the United States.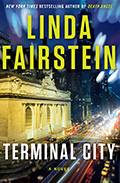 Terminal City
Linda Fairstein '72
Dutton

Linda Fairstein's latest Alex Cooper thriller takes place in and around the Grand Central Terminal in New York City.

When a young woman's body is discovered in the tower suite of the Waldorf Astoria, NYPD detectives Mercer Wallace and Mike Chapman race to the crime scene to investigate. Soon after they arrive they're joined by Alex Cooper, the assistant district attorney for the sex crimes unit. Within days another murder takes place. With the imminent arrival of the President of the United States for a meeting at the UN, the pressure is on to bring the perpetrator to justice.

Working side-by-side in their race against time to find the killer, Alex and Mike have another challenge—how to handle their relationship, which seems to be turning into something more than they ever planned for.

Grand Central Terminal, nicknamed "Terminal City" in its early days, has hidden staircases, towering catwalks, and rooms never meant to show up on a blueprint that make great hiding places for criminals. As with her other detective novels set in New York City, the author instills this one with a vivid sense of place. In Terminal City, she describes Grand Central in vivid detail and reveals fascinating and little-known facts about the site and its history.

"The tour of Midtown, both above and below ground, is alone worth the price of admission," notes a review in Publishers Weekly.

Fairstein's decades-long career as chief of Manhattan's sex crimes unit is the inspiration for Alex Cooper's character.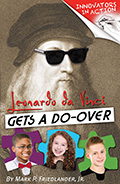 Leonardo da Vinci Gets a Do-Over
Mark P. Friedlander, Jr. '57
Science, Naturally!
Nothing brings history alive like going to the places where history happened. And what if one of the most brilliant men who ever lived stepped out of his century to come along? That's what happened when three American middle school students and their teachers experience the adventure of their lives on a school trip to Florence, Italy.

Soon after they arrived in the city, they spot a tall, bearded man dressed in 16th century clothes walking through the famous Piazza della Signoria. He must be a reenactor, thought their history teacher, who impulsively decided that bringing him along would help make Renaissance history come alive. The man called himself Leonardo and insisted that he was the real Leonardo da Vinci. He didn't remember dying, he said, and had a feeling he'd been born centuries too early.

He'd come back to invent something new for the betterment of humans. But he wanted 21st-century guides to learn what the modern world really needed before he could set to work. Max, Tad, and Gina teach Leonardo about modern science, art, math, and culture, and Leonardo gives them an insider's perspective on life, art, and scientific innovation in Renaissance Italy.

Together they time-travel, a fascinating journey every step of the way.

Leonardo da Vinci Gets a Do-Over, part of the Innovators in Action series, will appeal to upper elementary and middle school students and immerse them in a fun blend of social studies, science, art, engineering, math, and history. "A fascinating and well-written story," notes Daniel Bisaccio, Director of Science Education at Brown University.

Mark Friedlander is in private practice in McLean, Va. He has written more than a dozen non-fiction books.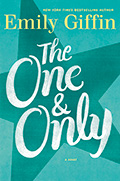 The One & Only
Emily Giffin '97
Ballantine
In her seventh novel, Emily Giffin writes about the complicated and sometimes terribly conflicting ways we can feel about love and loyalty.
The One & Only is set in Walker, Texas, a little college town where banners and flags festoon every porch on game days and people tend to plan their lives around the football season. The game itself is nearly a religion.

Shea Rigsby has spent her whole life in Walker steeped in the hometown team. Her best friend was the head coach's daughter, Lucy, whose passion for the game has never held a candle to Shea's.

Shea stayed in town to go to college and has had a job in the athletic department for years. At 33, she had always been surrounded by the familiar, which seemed good enough to her. Happy enough with the status quo, she never questioned the choices she had made—until a tragedy shakes up the order of things. Now she finds herself in conflict with the people she has always counted on, because they are standing in the way of what she now realizes she wants more than anything else in the world.

Emily Giffin was an athletic manager for the basketball team at her alma mater, Wake Forest. In The One & Only she shares an insider's perspective on the hard work, the team effort, the great coaching, and devoted fans it takes to make a great sports program. Her passion for college sports comes through on every page.

"I've read all of Emily Giffin's novels, but The One & Only is my favorite," writes Ralph Sampson, NBA Hall of Famer and three-time college player of the year. "Emily conveys all the emotions and heart in sports while creating colorful characters you really want to pull for. I would have loved to have Coach Carr and Shea on my team."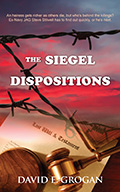 The Siegel Dispositions
David E. Grogan '87
Camel Press
After serving 22 years as a Navy JAG, Steve Stilwell begins his second career as a civilian attorney with what seems a routine update of a will. The will is for Felix Siegel, a 70-year-old professor and Auschwitz survivor. Siegel's adopted daughter, Michelle, will inherit his fortune—that is, what's left after the first $1.5 million goes to three of his wartime friends.

Before long, Felix Siegel dies a violent death, and the mundane business of updating the will has taken a frightening turn. Stilwell sets out to find the friends named in the will, and discovers that two of them have already died under suspicious circumstances. German police investigating the murder of one of the friends are convinced that Michelle was involved.

Stilwell looks for answers and for the third beneficiary. There's a cold-blooded killer out there, it seems, and the attorney's life and the life of the missing beneficiary are dangling in the balance.

The Siegel Dispositions is David Grogan's first book, and the first in a series of mystery/thrillers featuring attorney Steve Stilwell. The author's 26-year career in the Navy, including his tours of duty as a Navy JAG, inform his writing.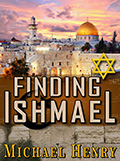 Finding Ishmael
Michael Henry '74
Henry and Henry Books
As this thrilling story begins, a Louisiana oilman named Liam Connors receives a letter from an old friend from college days he hasn't heard from in 25 years. Ike Palmer, who left the U.S. long ago to live on a kibbutz, exhorts Liam to come to Israel. "I've found an ancient document in the desert that will change the world, and you're the only person I can trust with it." Intrigued, Liam and his girlfriend, Mimi, extend their planned vacation in Italy to travel to Jerusalem.

They meet in Jerusalem's Old City, and Ike tells them about the desert cave in which he found a jar and an ancient parchment scroll. The text contains an unedited version of Genesis that denies Islam's claim to the Promised Land. An archaeologist vouches for the scroll's authenticity, and the contents have the potential to turn the Middle East upside down.

That night Mimi is kidnapped while walking alone in the city, and Ike disappears with the scroll. Mimi's kidnappers demand the Ishmael scroll in exchange for her safe return, and Liam scrambles to find Ike and the document, desperate to save the life of the woman he loves.

Finding Ishmael takes readers on a harrowing chase through the storied landscape of Old Jerusalem, down narrow dusty streets, across the desert, and into the minds and hearts of the people who would stop at nothing to lay final claim to it.

This is Michael Henry's seventh novel. He served as a district attorney for 22 years before he turned to writing full time.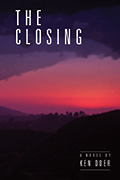 The Closing
Ken Oder '75
Skipjack Publishing
Nate Abbitt was a successful prosecutor who lost his wife, his career, and his self-respect because of his drinking. By the time he got sober he was on his own, and criminal defense was the only work he could find. His client, Kenneth Deatherage, is clearly an even more hopeless case. He faces the death penalty for the rape and murder of a young woman, and the evidence against him seems overwhelming. Deatheridge claims he was falsely accused and that the judge and his first lawyer conspired against him.

When Abbitt's appointed to represent Deatherage in an appeal, it looked like a straightforward case in which he'd merely be going through the motions; his client seemed headed for the electric chair. But his investigation found corruption within the county justice system, and suddenly his life is in danger, too. He finds himself fighting for justice and the redemption that could help win back his wife.

This legal thriller focuses on corruption in the justice system. "Whatever side of the issue you are on, The Closing should inform your view about capital punishment," writes one reviewer.

The Closing is set in rural Virginia in the 1960s, and was inspired by a death penalty appeal Oder worked on decades ago. This is the first novel in the author's Whippoorwill Hollow series, each volume of which is set in the Blue Ridge Mountains near the Shenandoah National Park.