Theory and Practice
Paul G. Mahoney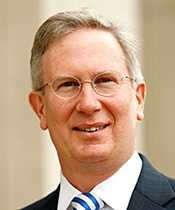 What should law schools teach? The question is as old as law schools themselves. Thomas Jefferson wanted his Law School to train citizen lawyers capable of self-government. To that end, his plan for the curriculum included not just the complexities of doctrine, pleading, and procedure, but broad training in political philosophy and government similar to what Jefferson himself had received under George Wythe's tutelage. The curriculum took a more practical turn beginning in the 1840s under Professor John Barbee Minor. Minor created a two-year program in which the first year was devoted to topics that "form an essential part of a liberal professional education" while the second focused on "the study of the theory and practice of Law, as a profession." The combination of theory and practice has characterized the Law School's curriculum ever since.
In recent years, the profession has pushed law schools to offer more "experiential learning" such as clinics and simulation-based courses. The American Bar Association now requires that a student earn six credits in skills courses in order to graduate. Both New York and California are considering additional requirements in order to sit for their bar exams. The possibility that there may be multiple and conflicting state-level requirements presents a challenge for national law schools like Virginia as well as for the ABA. We have long had a system in which holding a degree from an accredited law school enables a graduate to sit for the bar in any state; that system may be coming to an end.
Putting aside the administrative challenges, how much should law schools focus on experiential learning? At Virginia, our approach has been enabling. We recognize that our graduates go on to careers in large, small, and medium-sized firms; in litigation, transactional, tax, and other practice areas; in government agencies and nonprofits; in finance, management, and academia. Our goal has been to make it possible for each student to assemble a program of training that works for him or her.
As part of the menu, we offer an extraordinarily wide range of clinical programs. We are fortunate, thanks to our alumni, to have the resources to make these deep and meaningful learning experiences, whether the student is representing a child with special educational needs, arguing a case before a federal appellate court, or shaping environmental regulation through the notice and comment process. We also offer a vibrant externship program to give students who may want to practice in government agencies or nonprofits a look at what that practice entails.
But clinics and externships, attractive as they are for many students, are not the best option for every student. That is why our approach has not been merely on experiential learning, narrowly defined, but on contextual learning. We try to ensure that every single graduate understands the practical settings in which particular legal questions arise and can see them not as abstractions but as problems to be solved for a client as part of that client's pursuit of a broader set of goals.
That was the animating concept behind the Principles and Practice courses that Bob Scott designed. They put practitioners in the classroom with members of our faculty to teach substantive law in context. It was also the motivation behind the Law and Business Program that John Jeffries inaugurated as well as the Law and Public Service Program that we introduced during my deanship.
The Law School's curriculum must stay abreast of developments within legal practice while providing essential training in the methods and style of legal reasoning so that every graduate of the Law School, regardless of career path, will be able to say that the education provided here contributed substantially to his or her success. I hope you enjoy reading about how we try to achieve that objective today.