Externship Program Puts Students in Offices

While still a law student, Sam Shirazi '15 was interested in taking on public service work for the federal government. He fulfilled that goal with a semester-long externship at the Securities and Exchange Commission in Washington, D.C. "I also wanted exposure to financial regulatory work after taking Banking and Financial Institutions Law during my second-year. Being able to spend that semester at the SEC in the Division of Economic and Risk Analysis really gave me a feel for what it was like to work there."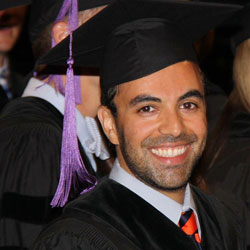 Sam Shirazi '15
Shirazi says his fall externship was a more rewarding experience than a summer internship because there were fewer interns at the agency and he had more ownership over the work as a third-year student. "I was also able to apply what I learned in my externship when I came back for my last semester and took Administrative Law."
In its third year, the Law School's Externship Program is a strategic way for students to apply the legal theory they've learned to the actual practice of law—while still in school. Students earn academic credit while working in the public sector, year- or semester-long positions under the supervision of a lawyer.
The Externship Program includes three options: full-time externships that can be undertaken anywhere in the world under the supervision of a faculty member; the UVA Law in D.C. program; and part-time externships closer to the Law School, traditionally in Charlottesville, Richmond, or D.C.
"There are externship possibilities almost everywhere," said Director of Externships A. Sprightley Ryan. "It's getting credit for working, in a framework that fosters academic reflection. I would have loved to have done that in law school," Ryan said. "You're not only getting solid training, you're also getting to know people who practice in that area of law. It's a terrific opportunity to learn not only about the substance of an area but also how lawyers in that area approach their work."
This fall, 13 third-year students are working full-time in Washington, D.C., and taking an evening seminar as part of the UVA Law in D.C. program. They're at diverse agencies, from the Department of Justice's Antitrust Division, to the Administrative Conference of the United States, to the Department of Defense General Counsel, to the White House Office of Personnel.
Four are working full-time in other locations around the country, including the World Bank's Multilateral Investment Guarantee Agency and the Justice System Integrity Division of the Los Angeles District Attorney's Office.
Nine students have part-time externships and work ten hours a week, in offices such as the National Women's Law Center, UVA's Office of University Counsel, and the Lynchburg Public Defender's Office.
"There is a strong academic component to all three types of externships," Ryan said. The externships supplement students' academic learning and help them grow as professionals, explore specific areas of legal practice, learn to work under supervision, receive feedback, develop interpersonal and professional skills, and define their career goals.
"We think it's important for the students to develop as professionals," Ryan said, "and the academic part of their externship work allows them to step back and reflect on their experience and think about what kind of lawyers they want to be."
One of the measures of the program's success is that government agencies and non-profits far and wide contact Ryan for potential externs. "I am inundated with requests from potential externship hosts eager to have UVA Law students."
In Their Own Words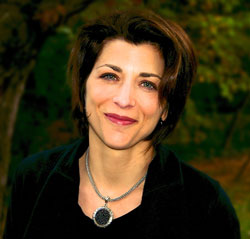 Mary Rouvelas '96
As deputy chief counsel in the Arlington Office of the Chief Counsel, Department of Homeland Security, David J. Kelly has supervised several UVA Law students in the Externship Program.
"Through the UVA Law in D.C. Program, I have been fortunate to supervise multiple UVA externs at the Arlington Office of the Chief Counsel, Immigration and Customs Enforcement (ICE). I am impressed with the school's ability to provide motivated students eager to take on real-world challenges.
"The UVA externs assist assistant chief counsels representing ICE in removal proceedings before the Department of Justice's Executive Office of Immigration Review.
"The UVA course component of the Externship Program adds another dimension to the experience. The entire office has benefited from the enthusiasm the UVA externs have brought to the office."
As senior counsel for the American Cancer Society Cancer Action Network, Mary Rouvelas '96 supervised an extern in the fall of 2014. "She was dedicated and hardworking; the Externship Program appeals to students who want 'real life' work experience and I think it provides just that.
"Students can do a great job on substantive research but also can be better on the details—we filed a brief in a [Washington} D.C. Circuit en banc proceeding that had much better citations for having a current [law journal] articles editor reviewing it before submission."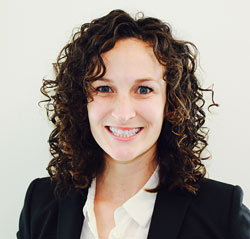 Emily Ponder '14
"I will be posting for a UVA Law extern for next fall," she added.
Emily Ponder '14 found the externship experience to be incredibly valuable. "I spent the fall of my third year in New York City at the Legal Aid Society. The externship program gave me the opportunity to explore a new area of law—public defense—that I hadn't been able to experience during my two summers.
"Being able to work full time gave me the opportunity to work very closely with my supervising attorneys, handle a lot of substantive projects, and spend a lot of time in court and with clients—all in the city I where I eventually wanted to practice.
"The skills and relationships I developed during this semester were fundamental to shaping my professional goals and in building my resume to eventually land a public interest job in New York. I'm now working as a civil defense attorney at the Neighborhood Defender Service of Harlem and still draw on my experiences gained during my externship and communicate with my old supervisors all the time."