We welcome submissions for inclusion in In Print. Submit online or mail to UVA Lawyer, 580 Massie Road, Charlottesville, VA 22903.

Please send your submissions by March 25 for inclusion in the next issue.

Non-Fiction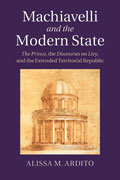 Machiavelli and the Modern State:
The Prince, the Discourses on Livy, and the Extended Territorial Republic
Alissa M. Ardito '07
Cambridge University Press
Machiavelli and the Modern State presents a reinterpretation of the history of republican political thought and Niccolo Machiavelli's place in it. Alissa Ardito gives insights to the meaning of his writings by putting them in their historical context—a period of great political upheaval in Italy. She applies Machiavelli's political thought to the challenge faced by James Madison and the other Founding Fathers when they set about creating a republic out of 13 sprawling colonies.
Readers might think James Madison and Niccolo Machiavelli would have little in common, but as Ardito explains in Machiavelli and the Modern State, these two men are connected in important ways. Both were visionaries and pragmatists seeking the answer to the same challenge of improving and modernizing republican government. Her work explains why Machiavelli deserves to be recognized as the first modern political theorist to see the possibility of a republic that extends over expansive territory. "A sophisticated contribution to the never-ending challenge of interpreting Machiavelli's seminal ideas," writes Jack Rakove of Stanford.
Alissa Ardito is a visiting fellow at the MacMillan Center at Yale University.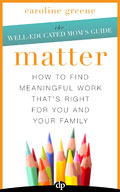 Matter: How to Find Meaningful Work That's Right for You and Your Family
Caroline Greene '05
Difference Press
When Caroline Greene left her law practice to be a stay-at-home mother, she set out to find meaningful work that was right for her and for her family life. Her story is one of transformation that entertains as well as informs.
Motherhood can seem like one endless to-do list, with sleep and dreams left behind. Sometimes the really important things—like building a life that you love—get left off the list altogether. Greene urges mothers not to wait until their children are older, or their husband's career is established. Finding a life you love should be a priority, and your family will be happier when you are fulfilled in that way.
For working mothers who struggle to achieve a balance between their career and home life, or mothers interested in transitioning back into a day job, Matter is a straightforward guide to help women find the path that's right for them.
The author shares insights from her own life and work and includes practical
tools to help readers discover what they really want, overcome common obstacles, describe their ideal job, and make connections that can help make it happen.
Caroline Greene is a life coach, www.carolinegreenecoaching.com. This is her first book.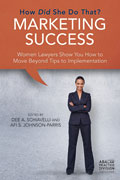 Marketing Success: How Did She Do That?
Women Lawyers Show You How to Move Beyond Tips to Implementation
Afi S. Johnson-Parris '02 and Dee A. Schiavelli, Editors
American Bar Association
Successful lawyers must include business development and marketing in their practice, and such skills take trial and error to find what works best. Women lawyers in particular may need coaching in how to identify and make the most of their strengths to create a successful law practice. In Marketing Success: How Did She Do That? Johnson-Parris takes the best tips on how to do this and carries them forward to show how to apply them successfully.
Key topics covered in the book include how to use software, mobile applications, and social media to improve your reach; how to use public speaking to increase your profile, how to network most effectively, and how to turn good prospects into clients. The book features the stories of how 46 successful women lawyers—solo practitioners, small firm lawyers, partners in large firms, as well as women who transitioned to law-related careers—made the most of creative marketing techniques to build their client base. Their anecdotes are informative and inspiring.
Afi Johnson-Parris practices family law in Greensboro, N.C.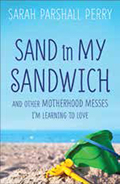 Sand in My Sandwich: And Other Motherhood Messes I'm Learning to Love
Sarah Parshall Perry '99
Revell
Before she married and had children, Sarah Parshall Perry described herself as high- achieving, high-strung, and very, very orderly: taxes complete in January, spice jars organized alphabetically, vacuum tracks in the carpet.

Then came marriage to a wonderful man and the birth of their three children, Noah, Grace, and Jesse. Perry's carefully planned life turned to chaos. Two of her children are autistic, and have brought challenges she never imagined. Their unpredictable impulses are almost impossible to control, at times leading to embarrassing or even dangerous situations.
Perry describes their lives with unflinching honesty and sharp humor.
Though driven at times to her wit's end, she manages to find strength just when she needs it. Throughout the book, she includes passages from the Bible that reflect her faith and sense of purpose. Sand in My Sandwich will be a source of encouragement for all families living with disabilities. This is the author's second book.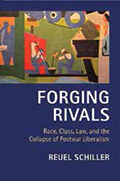 Forging Rivals: Race, Class, Law, and the Collapse of Postwar Liberalism
Reuel Schiller '93
Cambridge University Press
In Forging Rivals, Reuel Schiller examines the conflicts between labor lawyers and civil rights lawyers in San Francisco from the 1940s through the 1970s. He explains how the goal of promoting economic equality and ethnic, racial, and religious pluralism led to a contentious relationship and the end of progressive politics in the last third of the 20th century.
Schiller includes five stories from 1945 to 1975 involving conflict between African American civil rights organizations and labor unions. By using this narrative style, he makes the abstract ideas such as conflicts within liberalism and group rights versus individual rights easy to understand.
Forging Rivals tells the fascinating story of how labor lawyers and civil rights lawyers started out as allies and ended up as bitter rivals. "Elegantly written, deeply researched, and convincingly argued," writes Michael Klarman of Harvard Law School (and formerly UVA Law).
Reuel Schiller is a professor of law at the University of California, Hastings College of the Law in San Francisco, where he teaches American legal history, labor law, and administrative law.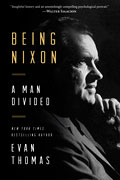 Being Nixon:A Man Divided
Evan Thomas '77
Random House
In Being Nixon, Evan Thomas presents a three-dimensional portrait of our most controversial president. Moving past the cartoon version of "Tricky Dick," Thomas delivers a balanced picture of the dark and light sides of the strange and brilliant man. His in-depth research included interviews with 35 Nixon aides and review of recently released tapes and archival material.
Nixon's formative experiences growing up, his lifelong battles with enemies real and perceived, his role in the modern Republican party, and landmark policy making both foreign and domestic are part of this insightful character study and engrossing political biography. "[Thomas] has rendered a new Nixon who, in vital and unexpected ways, is very different from the character about whom, for the past 70 years, so much has been said and written," notes political historian Michael Beschloss.
Evan Thomas was a writer, correspondent, and editor for 33 years at Time and Newsweek and is a frequent commentator on TV and radio. This is his ninth book.
Fiction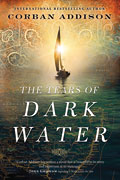 The Tears of Dark Water
Corban Addison '04
Thomas Nelson
Sometimes a work of fiction provides invaluable insight into the kinds of complex issues involved in international politics. Corban Addison's extensive firsthand research in Somalia and Washington, D.C., brings authenticity to the setting, the action, and the characters in The Tears of Dark Water.
When a father and son on a sailing trip are accosted by pirates in the Indian Ocean, an experienced U.S. hostage negotiator is called in, with tragic results. The pirates are captured and extradited to stand trial in the U.S. A young pirate named Ismail who is identified as the perpetrator seems to be motivated by more than just anti-American extremism.
Ismail is silent about his motivations to protect his sister, Yasmin, who is plotting her own daring escape from a radical Islamist leader named Najiib. Ismail's American defense lawyer suspects there are complex motives for Ismail, and she sets out on a journey of discovery from the Somali immigrant community in Minneapolis to a refugee camp in Kenya to a village outside Mogadishu.
At its core, this novel is about individuals and their relationships, set against an epic tragedy of our time. "A fast-paced thriller that puts its humanitarian moral at the forefront," says Kirkus Reviews.
Corban Addison is an attorney and activist whose novels address modern human rights issues. This is his third book.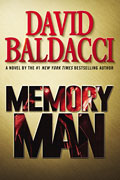 Memory Man
David Baldacci '86
Grand Central Publishing
Amos Decker's pro football career ended soon after it began, when the impact of a helmet-to-helmet collision sent him to the sidelines for good. His injury had a remarkable effect on his brain; he could never forget anything.

Years later, the towering athlete became a police detective. One night he came home from a stakeout and walked into a horrific scene. His wife, daughter, and brother-in-law had all been murdered, each in a different way. He barely survived in the aftermath, no longer able to hang onto his job or his house. Sometimes he took on small jobs as a private investigator just to get by.

A year after the murders, when a tragic event takes place in town, he's called back to help investigate. He also throws himself into finding out what happened to his family on that terrible night. His memory brings everything back in excruciating detail. Why, he wonders, does he see it all in a terrifying shade of blue? He will have to endure all of this to get to the truth. "It's big, bold and almost impossible to put down," says a Washington Post review of Memory Man. "Highly entertaining."
David Baldacci's novels have been translated into more than 45 languages and sold in more than 80 countries.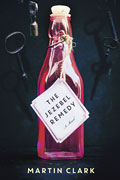 The Jezebel Remedy
Martin Clark '84
Alfred A. Knopf
Lisa Stone and her husband, Joe, are law partners in rural Henry County, Virginia. Most of their cases are routine domestic disputes and personal injury cases, interspersed with walk-in visits from their most eccentric client, Lettie VanSandt. When Lettie dies in a mysterious fire, the Stones wonder if she could have been cooking meth in her trailer. In time they have reason to suspect that her death might not have been an accident after all.
The Stones become involved in settling Lettie's complicated estate and find themselves in the midst of a corporate conspiracy that threatens their careers. As they work side by side, Lisa wants above anything else to keep Joe from knowing one secret that she hoped she could hide from him forever. His discovery of it could change everything.
"Not only do the frequent plot twists keep the reader glued to the page, but Clark's depiction of life in rural Virginia and the depth and sensitivity of his character portrayals make the book memorable for much more than its clever legal machinations," notes the review in Library Journal.
Martin Clark is a Virginia circuit court judge. This is his fourth book.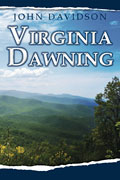 Virginia Dawning
John E. Davidson '96
JGL Publishing
On a beautiful spring morning in Jameston County, Virginia, Dr. Luke Andrews kisses his wife, Sarah, goodbye and drives into town to evaluate a defendant's competency before an arraignment and bond hearing. The arrested man, Hiram Legrand, is a rough character accused of kidnapping a child whose whereabouts were still unknown.
Legrand resents his arrest and the examination of his sanity and threatens to hogtie Luke's children and let them rot in a cellar. A cunning criminal suspected in a trail of awful crimes, he manages to escape from jail. He is clearly a dangerous man. Luke and his wife, with two children of their own, soon find their family in the middle of an unspeakable nightmare, face-to-face with evil.
Told in first-person narrative that alternates between Luke and Sarah, Virginia Dawning is a fast-paced thriller that draws on themes of faith and love.
John Davidson practices law in Charlottesville. This is his first book.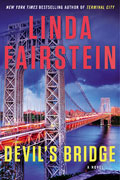 Devil's Bridge
Linda Fairstein '72
Dutton
In Devil's Bridge, Linda Fairstein's 17th novel featuring New York Assistant District Attorney Alexandra Cooper, a paralegal takes Cooper's files on a sex trafficking case and delivers them to the defendant. There's a suspicious link between that theft, a couple of shady characters, and Paul Battaglia, the DA.
Tension builds to a high pitch when someone kidnaps Alex. Her romantic partner, the smart, appealing NYPD homicide detective, Mike Chapman, takes over in first-person narrative. This is the first time Fairstein's readers get a deeper look into Chapman's character and his perspective on Cooper. His search for Cooper takes him to the George Washington Bridge, where danger waits along its lofty expanse. Readers who have come to delight in Fairstein's delivery of interesting historical details along with a fast-past thriller will not be disappointed.
The author's own decades-long career as chief of Manhattan's sex crimes unit is the inspiration for Alex Cooper's character.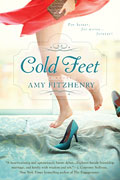 Cold Feet
Amy FitzHenry '08
Berkley/Penguin Random House
A week before she's set to marry Sam, a charming, sensible man, Emma Moon takes off with her best friend, Liv, on a road trip in search of her father, who she'd never known. If she could find him, she might find the answers to questions she'd always had about herself. Was she the kind of person meant for marriage? She wanted to believe she was, but worried she might be doomed to repeat her parents' mistakes.
Emma's relationship with her mother, Caro, is polite but always teetering on the edge of uncomfortable. Caro's a high-powered lobbyist whose work on Capitol Hill is her life. Everything else comes second, including her daughter's wedding rehearsal dinner, which she'll miss because of a Congressional hearing.
Emma's father, Hunter Moon, left home when she was just six months old. Finding him will stir up her emotions in ways she can't predict, but that's a risk Emma meets head-on. How will her past shape her future? Will she be happy in a lifelong marriage with the man she loves? Or will she keep running?
Cold Feet explores friendship, family, and commitment with wit and humor.
"A heartwarming and uproariously funny debut," writes one reviewer.
Amy FitzHenry practices law in Los Angeles, Calif. This is her first novel.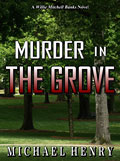 Murder in the Grove
Michael Henry '74
Henry and Henry Books
In Michael Henry's latest novel, former district attorney Willie Mitchell Banks moves from Yaloquena County, deep in the heart of the Mississippi Delta, to Oxford, with the notion that retirement will bring relaxation and a life of leisure. He's just settling in when he's asked to investigate a murder that took place decades ago on the campus of the University of Mississippi in the Grove, a shady tract of towering oaks, elms, and magnolias.
The murder was carried out during the 1962 riot that occurred in protest of James Meredith's enrollment in Ole Miss. The killer of a 22-year-old student used the riot to cover up the crime, which involved a former Miss Mississippi and a founder of the White Citizens' Council with ties to the Dixie mafia.
Before he knows it, shrewd, wise-cracking Willie Mitchell is knee-deep in the mystery that surrounds the case and following the loose ends that could lead to finally solving it.
Murder in the Grove is Michael Henry's eighth novel. He served as a prosecutor and district attorney before turning to writing full time.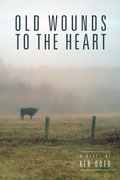 Old Wounds to the Heart
Ken Oder '75
SkipJack Publishing
The second Whippoorwill Hollow novelopens in the Shenandoah National Park, on Thanksgiving morning of 1967.
The morning mists are still rising in Whippoorwill Hollow when two aging friends find themselves staring at each other: one pointing a gun and the other beaten and chained to a tree. Their love for the same woman has buckled under the weight of a long-held secret—until now.
Out of the blue mountains of Virginia comes a 1960s American tale bound with the regrets people carry to their graves and a tumultuous chance at redemption. Three friends decide if their hearts will lock them into old wounds or lead them to new love.
". . . masterfully crafted, brimming with the sort of spellbinding wisdom that takes your breath away. Cast from characters who could easily be our friends and family, this story confronts the darker side of human nature with unflinching precision. It reveals that the line dividing right from wrong isn't always clearly defined, that an undeniable symbiosis exists between joy and heartache, " writes Daniel Wimberley, author of The Pedestal.
Ken Oder grew up in White Hall, Va., a farm town of about 50 peo­ple at the foot of the Blue Ridge Mountains. He and his wife moved to Los Angeles in 1975 and raised their family there while he practiced law and served as an executive until he retired.