Learning by Doing
Clinical Offerings Engage Students
Today's UVA Law students enjoy an array of clinics and courses that offer a wide range of practical training options. Virginia's 19 clinics, many of which offer contact with clients, build experience with real-world problems.
Students also advance their skills through courses in public speaking, trial advocacy, and professional responsibility, as well as extracurricular moot court and mock trial competitions.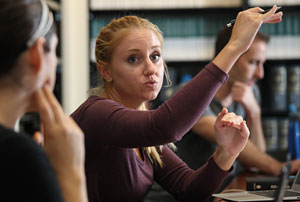 Under the supervision of an attorney, students perform the lawyer functions associated with their cases, including client and witness interviews, factual development, legal research, preparation of pleadings and negotiation. Students with third-year practice certification may also be responsible for courtroom advocacy.
Here are additional UVA Law clinic offerings not mentioned in other stories in this issue.
Appellate Litigation Clinic
The clinic offers hands-on practice of appellate litigation through actual cases before various federal circuit and/or state courts of appeals. Students handle primary responsibility for work on at least one appellate case during the course of the year. Students also work together as a small law firm to provide secondary-level assistance to each other.
Clinic students identify the issues to be raised on appeal through factual analysis and legal research, prepare opening and reply briefs persuasively advocating for the client's position on those issues, and, in a number of cases, personally present oral argument on the issues to the appellate court.
Criminal Defense Clinic
Students gain first-hand, experience-based study of the processes, techniques, strategies, and responsibilities of legal representation at the trial level.
Each student represents defendants in actual criminal cases pending in the local courts under the direct supervision of a local criminal defense attorney. The students themselves—not their supervising attorneys—perform all of the lawyering functions associated with their cases, including interviewing, investigation, research, plea negotiation, and courtroom advocacy.
Entrepreneurial Law Clinic
The clinic provides instruction and practical training on advising startup companies and drafting basic corporate documentation. Students work with entrepreneurs starting new companies, such as Darden Business School students who have been accepted to participate in the Darden Business Incubator.
The students take the lead role in working with the entrepreneurs, including conducting interviews, performing research, providing a legal plan for the business, identifying documents to be drafted and drafting documents.
Environmental Law and Conservation Clinic
Students represent environmental nonprofits, citizens' groups, and other community organizations seeking to protect and restore the environment. The clinic works closely with lawyers at the Southern Environmental Law Center, a preeminent environmental public interest law firm headquartered in Charlottesville.
Students participate in a range of activities on environmental matters. They comment on administrative rules, participate in permitting proceedings, advocate before state administrative agencies and boards, and contribute to factual investigations and litigation. The clinic explores the limits of the law in protecting natural resources and examines cooperative and innovative ways of protecting and restoring the environment.
Family Alternative Dispute Resolution Clinic
Focuses on mediation as an alternative dispute resolution method to resolve conflicts involving families and children.
Students serve not as attorneys representing clients, but as mediators assisting the parties to develop mutually agreeable resolutions to their disputes. After completing mediation training, students co-mediate cases with court-certified family mediators associated with the Mediation Center of Charlottesville. Most of the disputes being mediated involve child custody and visitation, although some also include child and spousal support issues.
First Amendment Clinic
Conducted in conjunction with the Thomas Jefferson Center for the Protection of Free Expression and the Washington, D.C. office of Baker Hostetler, the clinic offers students the opportunity to gain practical legal experience involving timely free speech and press issues. Students conduct legal research, meet with clients and co-counsel, and draft legal memoranda and briefs. Assignments involve both appellate-level and trial-level litigation, but more frequently the former, including the U.S. Supreme Court.
Immigration Law Clinic
The clinic, a partnership with the Legal Aid Justice Center, is more than free counsel for qualifying clients, but also a community service providing an orientation to basic rights and available services to walk-ins and the wider community. For example, the clinic not only is taking some of the new "Dreamer" cases of undocumented youth, but coordinating a community outreach effort.
Clients come from diverse backgrounds and frequently have unusual factual scenarios that bring them to the doors of Legal Aid. Women victims of violence are a priority with the clinic and can qualify for asylum and other special remedies such as through the Violence Against Women Act (VAWA) and U visa petitions.
Innocence Project
Students investigate and litigate wrongful convictions of inmates throughout the Commonwealth of Virginia. Some of the cases have forensic evidence (usually DNA) that could be tested, and some are non-DNA cases.
Although the clinic has a mandatory classroom component, most time is devoted to casework—interviewing potential clients and witnesses, general investigation, reviewing case files, collecting records, searching court files and drafting pleadings. Students likely visit inmates at correctional centers, and conduct investigation in a wide variety of socioeconomic settings accompanied by a clinic professor, private investigator or, in some instances, another student.
International Human Rights Law Clinic
Students gain first-hand experience in human rights advocacy, working in partnership with nongovernmental organizations, human rights practitioners, and law firms in the United States and abroad.
Clinic projects are selected to build the knowledge and skills necessary to be an effective human rights lawyer; to integrate the theory and practice of human rights; and to expose students to a range of human rights issues. Students collaborate on two or more projects in small teams, and have direct contact with the partner-clients.
Nonprofit Clinic
Students in this clinic advise and work directly with local nonprofit boards on a "legal health checkup" and other matters such as initial formation, establishing tax-exempt status, charitable solicitation, state/local taxation, contracts and ongoing legal compliance.
Patent and Licensing Clinic
The clinic involves instruction and practical training in patent drafting as well as the negotiation and drafting of patent and software license agreements. Students participate in class sessions covering these topics and are assigned to one or more significant drafting and counseling projects in one or both of these two areas.
The clinic also covers evaluation of inventions and computer software for patentability and commercial value; counseling of UVA faculty inventors regarding patentability, inventorship and the patenting process; preparing, filing and prosecuting provisional U.S. patent applications; dealing with patent examiners; and researching current issues in the fields of intellectual property and technology transfer. Students help resolve disputes with licensees and possible infringers where appropriate.
Prosecution Clinic
This course exposes students to all aspects of the prosecutorial function.
Through a combination of classroom lectures and discussions, readings, guest speakers, and a field placement in one of several local participating prosecutors' offices, students explore a range of practical, ethical, and intellectual issues involved in the discharge of a prosecutor's duties and responsibilities, including the exercise of discretion in the decision to initiate, prosecute, reduce, or drop charges, and sentencing; interaction between prosecutors and investigative agencies and law enforcement personnel; dealing with victims and other witnesses; and relationships with defense counsel.
Ethical issues addressed may include: exculpatory evidence, duty not to prosecute on less than probable cause, cross-warrant situations, witness recantation and preparation, and improper argument at trial.