Theory vs. Practice: A False Dichotomy?
The bar and the academy do not fully appreciate what each can contribute to the education of law students.
The academy sometimes undervalues the intellectual challenge of practicing law. Lawyers are constantly making judgments in order to serve their clients well. This is true whether a client is large or small. It might involve a complex commercial transaction or it might focus on how to question a particular witness.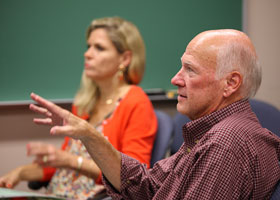 As lawyers progress in their careers, they encounter more challenging issues and develop their judgment-making skills. In contrast to a new lawyer, an experienced lawyer forming a judgment is likely to identify more factors to weigh, think more broadly about potential consequences, and see effects farther into the future. Clients value the enhanced judgment-making abilities of experienced lawyers.
Similarly, the bar undervalues scholarship. Practicing lawyers sometimes comment that law review articles are too theoretical or seem unrelated to the real world. Caught up in the immediacy of their clients' needs, the world of scholarship can seem distant and unhelpful to the practicing lawyer.
This perspective fails to see the value of scholarly articles, which can resemble a thoughtful discussion that takes place over time and at a different level than standard legal argument. Articles often address how an area of law should develop to meet future challenges while remaining faithful to the law's underlying principles and values. They can illuminate tensions among competing values that the law aims to advance.
Scholarly works are considered by those engaged in fundamental law reform efforts, such as the development of model or uniform laws, or the development of Restatements of the Law. And occasionally courts, including the U.S. Supreme Court, cite scholarly articles that have helped make sense of challenging legal questions facing our society.
Law students benefit educationally by studying scholarly analysis of legal issues. Their education is also enriched by beginning the career-long process of developing good judgment in client-related situations, whether in simulation courses or clinical courses.