Ready for Risa
Dean Risa Goluboff is already spreading a message about what it means to be a lawyer educated at the University of Virginia.

By Mary Wood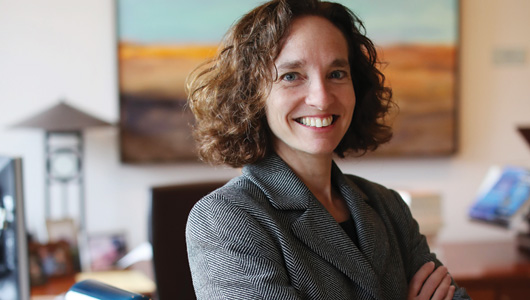 Just a few weeks into her new role as dean, Risa Goluboff rewrote one of the most famous lines in law school history. ''Look to your right, look to your left," Goluboff told first-year law students at this year's orientation, beginning a line that normally ends with a gloomy prediction that some students will drop out. Instead, she continued, "These are going to be your friends, your colleagues and your networks."
Goluboff is setting the stage for students—and the world— to understand what's special about being educated at the University of Virginia School of Law.
"UVA is unique in its diversity—in people's viewpoints, politics, ideology, where they come from, in race, gender, sexual orientation and ethnicity," she said in an interview. "It's a challenge in any institution to maintain community, collegiality and dialogue in the face of difference. If you asked anyone in this building, they would say that's what we try to do, and that we succeed unbelievably well."
Goluboff began her new role as the school's 12th dean in July, a job she repeatedly describes as a "privilege," after serving on the faculty for 14 years. She is the first woman to serve as dean in the almost 200-year history of the Law School.
"UVA Law is a joyous place and a humane place, and I'm excited to model those values as the dean," Goluboff said.
Goluboff's credentials are hard to match: She earned an undergraduate degree from Harvard University, a J.D. from Yale Law School and a Ph.D. in history from Princeton University. She clerked for Judge Guido Calabresi of the U.S. Court of Appeals for the Second Circuit and for U.S. Supreme Court Justice Stephen G. Breyer (both of whom sing her praises; see "Judging the New Dean"). She has written two books recognized as significant contributions to civil rights and legal history, "The Lost Promise of Civil Rights" (2007), which received the James Willard Hurst Prize and the Order of the Coif award for best book in the legal field, and "Vagrant Nation: Police Power, Constitutional Change, and the Making of 1960s," published this year. Her additional honors include UVA's All-University Teaching Award, a Guggenheim Fellowship, a Fulbright Scholarship and a fellowship from the American Council for Learned Societies.
She also crisscrossed the South for the "Let's Go" travel books as an undergraduate, making her perhaps the most knowledgeable law school dean about where to get the best barbecue and fried catfish below the Mason-Dixon Line on a $40-a-day budget.
"I think Risa is a perfect choice as dean for UVA," said James Ryan '92, a former UVA Law vice dean and professor who now serves as dean of the Harvard Graduate School of Education. "She combines a first-rate intellect, incredible scholarly talent and phenomenal teaching with a completely winning personality and great sense of humor. She is both rigorous and empathetic, aspirational and realistic, and she has a compelling vision for how the law and lawyers can promote social justice. She both models and embraces the unique culture of UVA Law. Most of all, she is curious about the people around her and interested in their stories and how she can be of service."
Former Dean John C. Jeffries Jr. '73, who chaired the search committee for the new dean, said there were several strong candidates for the deanship, but Goluboff stood out "because of her national reputation as a scholar and because of her lively and engaging personality."
"She will be a strong voice in representing the Law School's interests, both within the University and across the nation," Jeffries said.
A Scholar of Law—and of Lawyers
The youngest child of a clinical psychologist and an advertising creative director, Goluboff grew up in New York as a third-generation Brooklynite.
She became interested in civil rights history and law, inspired by legal heroes such as Clarence Darrow and Thurgood Marshall, and motivated by the racial tension she saw in New York, at a time when protests in the city would interrupt school more often than snow days.
For her undergraduate thesis, she spent a semester living on Johns Island in South Carolina in an historically African- American community, collecting oral histories and volunteering with a local organization. Nearing graduation from college, she realized she didn't want to choose between studying history and law, so she chose both, pursuing a J.D. and a Ph.D. in history.
"Studying the Southern civil rights movement exposed me to the power of lawyers as well as the power of grassroots organizations," she said. "Law isn't something 'out there' that exists in a vacuum outside of human control. The law is what people make it."
Human enterprise is an idea she has continually come back to in her scholarship—not only lawyers shaping law, but everyday people shaping law, an undergirding theme in her two books. Through her scholarship, she explored "how crucial lawyers are to the efficacy of regular people to having their voices heard, to achieving their goals and to helping them make change in the world. And so I became not just a scholar of the law, but a scholar of lawyers."
Empowering Students and Faculty
As a professor, Goluboff said, she loves leading students to "a-ha moments"—and realizing them herself.
"I don't think teaching is a one-way street, that I impart wisdom to my students and they abide it," she said. "We need to educate our students—and I think we do educate our students— not to be passive recipients of information, but to empower them to understand the role they play in the legal process, the legal system and our governance structures."
Goluboff threw out the ceremonial first pitch at the
North Grounds Softball Invitational in April.
Goluboff said she sees her new role as further enabling her to invest in students.
Among her goals as dean are ensuring that every eligible applicant is able to attend the Law School regardless of means, and that each can pursue the career of his or her dreams—whether in the private sector or the public interest. "The Law School is unique in providing unparalleled access to all three postgraduate types of practice— private firms and businesses, public interest jobs and clerkships," she said. "I'm committed to finding ways to expand those opportunities even further."
Goluboff is equally committed to making sure that each law student graduates as fully prepared as possible for his or her career path of choice, as well as finding new ways to educate students about the responsibilities and the opportunities that come with their law degrees.
"Life is long, and law school is comparatively short," Goluboff said. "It is critical for law schools both to prepare our students for their first jobs and anticipate what they will need to know 10, 20 and 30 years into their careers. So our role is to prepare them as lawyers, and also help them conceive of themselves as holders of the public trust and as future leaders in their own right."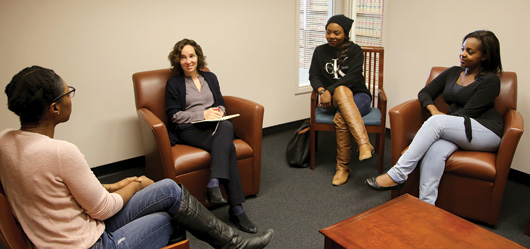 Goluboff meets with members of the Black Law Students Association.
According to Goluboff, that requires not only the black- letter, "thinking-like-a-lawyer" analytical training that is the bedrock of legal education, but also a broad base of external perspectives—from fields like economics and history— as well as experiential and professional skills training so that graduates can hit the ground running.
UVA Law's community spirit is also key to preparing students to be good lawyers, Goluboff said.
"It's not only that we enable students to be happy while in law school, and then they go off and have great careers, it's that their happiness while in law school—which is made possible in large part by our shared values of humanity, community, collaboration and dialogue—makes possible those phenomenal careers," she said.
She noted that UVA Law students go on to become leaders of nonprofits and public interest organizations, prominent government officials, managing partners in law firms, and CEOs and in-house counsel at very high rates.
"That's because in addition to teaching them analytical reasoning and how to take depositions, we've taught them how to work in teams, how to respectfully disagree and how to think big," Goluboff said.
She said she is continually impressed by the kindness of UVA's students.
"When I was pregnant with my first child, my students had a whole plan in case I went into labor during class. They knew who was going to call the ambulance, who was going to find my husband [Professor Richard Schragger], and who was going to stay with me," she said. "They cared about me, just as they care about each other and this whole community. That's a hallmark of who our students are."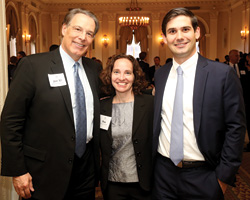 Goluboff met with alumni, including James
Rutherford '81 and his son, Winthrop Rutherford '15,
at a reception in New York in March.
That commitment to one another is the linchpin not only of the student experience at UVA, Goluboff said, but also of the productivity and reputation of the faculty.
"Our intellectual community is unparalleled in its openness to all ideas and methodologies, and its commitment to true dialogue," she said. "The traffic in ideas that is a regular and crucial part of the Law School enables our faculty to produce scholarship of the highest quality.
"We've always prided ourselves on nurturing junior scholars on our faculty and leaders among our students," Goluboff said. "It turns out that we also nurture leaders from within our faculty."
In the past four years, a number of leaders in higher education have come from the UVA Law faculty. In addition to Goluboff and Ryan, Elizabeth Magill '95, a former vice dean at UVA Law, became dean of Stanford Law, and former professor Jennifer Mnookin became dean at UCLA School of Law.
"I don't know if you can point to any other institution and find four deans emerging from a five-year cohort," Goluboff said. "That's a remarkable testament to our culture."
Goluboff said she plans to continue to nurture this culture of collegiality as well as promote the school's stellar academic reputation. She has already increased support for faculty scholarship and travel and for a broader array of conferences and speakers at the Law School.
Supporting the UVA Law Family
Now that her role at the school has changed, Goluboff has shifted from often starting her mornings writing alone to frequent meetings with the UVA Law community. She's traveling across the country to meet with alumni this fall.
"I was a happy scholar, but I'm an extrovert, so I'm happy to have days full of meeting and talking with people," she said.
One of the things that makes her happiest, she said, is having a sense of ownership of the community.
"They're all my students now, and they're all my alumni," she said. "I am so proud to call the UVA Law family my own."
As the University's bicentennial approaches, the Law School is gearing up for a capital campaign that will focus on student scholarships and financial aid. Blair Wimbush '80, chair of the Law School Foundation Board of Trustees, said he's happy to have Goluboff at the helm.
"We know that resources geared directly toward making legal education affordable for the best students in America is important, and Risa will play a significant role in allowing us to address that," Wimbush said. "The dean plays the critical role in that because she will provide the link between all of the folks aligned in support of legal education at UVA—the faculty, the students, staff, the central administration and alumni all interact with and through the dean. Having someone who's smart and warm and engaging doing that is a great asset for ensuring we can make that happen."