1990s Class Notes

---
1990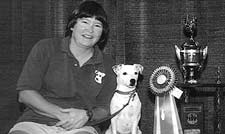 Sharon Aizer '90 with her dog, Dixie. Courtesy Great Dane Photos.
Sharon D. Aizer and her Jack Russell terrier Dixie won the 12-inch Pre-Elite Division at the 2002 North American Dog Agility Council's Championships, earning Dixie the title of Grand Champion. When she isn't playing with Dixie, Aizer continues to practice as a sole practitioner in Shakopee, MN.
Tracey Beck and his wife Kathy write that they were blessed with an early Christmas present when their second daughter, Alexandra Leone, arrived December 2. She joins big sister Lauren Marie, 2. The family lives in Chester, NJ. Beck is senior counsel with Kraft Foods in East Hanover, NJ. He can be reached at Tracey.Beck@kraft.com.
Gerard St. Ours continues to work at Johns Hopkins University in Baltimore, MD, where he serves as associate general counsel. He focuses on employment and labor matters and student and faculty issues. He, his wife Barbara, and their daughters, Molly, 4, and Rachel, 2, recently moved to the Greenspring Valley area to "a nice old house with a big front porch." St. Ours writes, "We are enjoying the change."
1991

Cheryl Hesse and her husband, Donald Fong, welcomed baby number three in May 2002. "Conner Matthew is thriving despite overzealous affection from his brother and sister," Hesse writes. "Our lives are very full!"
Melissa Jones Pelczynski, her husband Tony and her son Ben, 2, welcomed baby Maura Hope on October 2. The family lives in Valrico, FL, just outside Tampa, while Tony works for U.S. Central Command. They plan to move to Huntsville, AL, in July.
1993
Lorrie Lizak Hargrove and her husband David announce the birth of their second son, David "Lleyton," born November 19. Lleyton joins big brother, Paul Michael, who turned 2 in September. The Hargroves live in Birmingham, AL.
Mike Hirshland reports that the Hirshland family continues to expand as it settles into New England life in Wellesley, MA. In December of 2001, Henry, 7, Maggie, 5, and Olive, 3, welcomed baby sister Lucy to the world. "Lucy, now 11 months, is up and walking and defending herself against her (sometimes) well intentioned siblings," Hirshland wrote in October. He continues to enjoy life as a venture capitalist at Polaris Venture Partner, while his wife Adria '91 has her hands full on the home front.
Amy Yager Jenkins and Matt Jenkins announce the birth of their second child, Jenna Virginia, born September 3. Amy is a partner with Nelson Mullins Riley & Scarborough LLP in Charleston, SC.
Bill Kincaid and his wife Missy celebrated the birth of their daughter Sydney on June 9 in Fayetteville, NC. Kincaid reports that Sydney and Missy are both doing well, and that 3-year-old Emory is a model big brother.
Kevin M. Rose has started a solo practice in Harrisonburg, VA. Rose previously was a partner with Wharton Aldhizer & Weaver PLC, where he had practiced since graduation. Rose's primary areas of practice are environmental law, construction law, eminent domain, and general civil litigation. He and his wife Karen have two children, Lucy, 7, and Lettie, 5. Karen is a doctoral student in UVA's nursing program.
After practicing in Florida and California, Christopher Scott and his wife Susan are happy to have returned to Virginia, where Scott has joined Wilcox & Savage in Norfolk of counsel. Much to their delight, the couple is expecting their fourth child and first daughter in February.
1994

Zeb Anderson practices in the areas of employment and commercial litigation as a partner with Smith Anderson Blount Dorsett Mitchell & Jernigan LLP in Raleigh, NC, where he lives with his wife, Deanna Davis Anderson.
Lorie Almon Bompey and Mitchell Bompey are happy to announce the birth of their son, Wilton Samuel, on April 5, 2002.
Pascale Bissainthe Centola and her husband Mark welcomed their first child, Isabelle, on August 18. The family lives in Vienna, VA. Pascale serves as senior vice president and general counsel-commercial finance for GE Healthcare Financial Services in Chevy Chase, MD.

John S. Decker was elected to the partnership of Vinson & Elkins LLP on December 2. He practices in the energy practice area of the firm's Washington, D.C. office, representing companies in regulatory and transactional matters.

Alexander S. Glovsky has been elected partner of Nutter McClennen & Fish LLP in Boston. Glovsky's practice focuses on corporate and securities law, including mergers and acquisitions with both private and public companies. A fourth-generation attorney practicing in Massachusetts, he lives in Ipswich with his wife Cheryl and sons Nicholas and William.
Ann Hebert became a partner at Akin, Gump, Strauss, Hauer & Feld LLP in Houston, TX, on January 1. She practices commercial litigation. In April 2002 she married Robert Stephens.
Rebecca Cole Moore and Randy Moore report "a big year for the Moore family!" Randy became a partner with Alston Bird in January 2002, and Rebecca was elected a partner with King & Spalding beginning in 2003. Both practice in Atlanta. "Most importantly, we gave birth to a healthy, bright-eyed boy named Nathan on July 4 and have been enjoying parenthood immensely," they write.
Jeffrey L. Schultz married Claudia Fonrodona Parra on August 18 in Aruba, West Indies. They now reside in Cambridge, MA, where Jeff is in his first year of the MPA program at Harvard's Kennedy School of Government.
Craig Silliman still works with WorldCom "despite the tribulations," he writes. He lives with his wife, Kate Ransom-Silliman, and two sons, Ransom, 4, and Gabriel, 2, in Washington, D.C.
1995

Andrea Hanneman Boyack celebrated the birth of her first child, Bowen Richard Boyack, on January 16, 2002.
Jennifer Eilers Klepper and her husband Bryan welcomed their second child, Audrey O'Donovan Klepper, into the world on January 12. The Klepper family lives in Sherwood Forest, outside Annapolis, MD.
Bradley P. Williams recently became a partner with Baker Botts LLP in Dallas, TX. He practices in the intellectual property practice group.
Tull R. Florey became a partner with Baker Botts LLP effective January 1. He practices corporate and securities law in Houston, TX.
Jeffrey Goss is happy to report that, effective January 1, he was elevated to the partnership of Crosby, Heafey, Roach & May PC in Los Angeles. His firm combined practices the same day with Reed Smith LLP. Thus he is now a partner with Reed Smith Crosby Heafey LLP, where he represents clients in entertainment and complex commercial litigation matters in the firm's Century City office.
Janice S. Johnston continues to live and work in New York City as a television news producer for ABC's Good Morning America. She was honored in 2002 for her stories on Alzheimer's disease and on special-needs adoption, as well as sharing two awards ABC News won for its coverage of the September 11 events. She also received her first Emmy nomination as a producer of Good Morning America's "Super Baby Tuesday-Live Births," which covered several births live on the air, a first-time event for network television.
Norah Dabney Molnar and her husband Yancy welcomed their first baby, Bryce Oliver Molnar, on August 16.
Andy Zappia has been elected to partnership with Nixon Peabody LLP. His practice focuses on intellectual property and franchise law. He lives in Rochester, NY, with his wife Tanya and their son Peter Justin, born September 9, 2001.
1996

John Calkins has been promoted to counsel with Bingham McCutchen LLP, where he focuses on intellectual property litigation, prosecution, and counseling in the firm's San Francisco office.
Robert P. Howard, Jr., and his wife Susan announce the birth of Thomas Robert on January 4, 2002. Howard has been promoted to partner with LeClair Ryan PC in Washington, D.C. His practice focuses on securities litigation, compliance, and enforcement. The family lives in Falls Church, VA.
Kevin Mottley and his wife Tricia celebrated the birth of their second child, Sarah Ann, on November 1, 2001.
Simon Scott and his wife, Blythe Sadler Scott '98, moved to a home in Norfolk about two weeks after their third child, Jessica Jean, was born. Simon writes, "Super mom is already back at work with Shaheen & Shaheen PC, focusing on real estate. Ashley Brynne, 4, and Davis Ellison, 2, are really enjoying the new addition and the new house."
Richard S. Starling married Debra Seymour of Charlotte, NC, on January 12, 2002. The couple was expecting their first child, a boy, on January 25, 2003.
1997

Jeffrey A. Bartos and his wife Sheryl welcomed their second daughter, Sarah Gabrielle, on August 15. Sarah and big sister Emily are doing well.
Ned Durden reports that he and his wife Laurie have a daughter Jane who is 19 months old.
Emily Clayton Feder and Greg Feder just bought a house in Arlington, VA, after a long 18-month search. They report that the house is perfect and they love it. They celebrated with an open house and visited with fellow law alums Josh Nickerson and Katie Helne Nickerson '96, Cathy Ziobro, Bob and Ellie Swennes Kennedy, and David Pearson and his wife, Debbie. Emily currently works as a legal recruiter for Mazie & Company in Washington, D.C. She reports the lack of billable hours and completely flexible schedule are much to her liking. Greg still practices as a financial services and e-commerce associate at Mayer, Brown, Rowe & Maw in Washington, D.C., and loves every minute of it. They hope to hear from other classmates at gandem@att.net.
Bob and Ellie Swennes Kennedy welcomed their first son, Michael, on July 11. The family is now living in Kensington, MD. Bob still practices with Hughes, Hubbard & Reed LLP. Ellie was planning to return part-time to Hogan & Hartson LLP after a six-month maternity leave.
Jennifer McClellan has joined Verizon Communications as regulatory counsel in Richmond, VA. She was previously an associate with Hunton & Williams. McClellan also serves as vice chair of development and organization for the Democratic Party of Virginia.
Tara Castro Narayanan has been named president-elect of the Barrister's Club in San Francisco. A division of the Bar Association of San Francisco, the Barrister's Club is comprised of attorneys in their first 10 years of practice who are committed to professional growth and community service, and who serve as advocates for its members. Narayanan practices complex commercial litigation as an associate with Carroll, Burdick & McDonough LLP in Walnut Creek, CA. She will begin her six-month term as Barrister's Club president in July.
1998
Mark B. Arthur joined Fralin, Feinman, Coates & Kinnier PC as an associate in Lynchburg, VA, in October.
Nancy Epstein married Josh Korff on September 1 in Cleveland, OH. Law School alumni in attendance included bridesmaid Elizabeth Stockman, as well as John Frutkin and Mike Levy. The new Nancy Epstein Korff practices as an associate with Sidley, Austin, Brown & Wood LLP, while Josh is a partner with Kirkland & Ellis. The couple resides in New York City.
Brian D. Flagler became vice president and general counsel of Multnomah Publishers Inc., a leading Christian book publisher, in October. He, his wife Amy, and one-year-old son Patrick have moved to Sisters, OR, a small resort town in the Oregon Cascades.
Gary M. Gansle recently received the Bar Association of San Francisco's Outstanding Volunteer in Public Service Award for the second year in a row for his legal work with nonprofit organizations. Gansle has also been recognized within his firm, Wilson Sonsini Goodrich & Rosati, for establishing and managing an international employment law training practice that has taken him across the United States and Canada to as far away as Bangalore, India. Gansle and his life partner, Jeff Ramsden, continue to reside in the San Francisco Bay Area.
After three years in the Navy Judge Advocate General Corps, Jim Livesay now practices as a civilian lawyer with Osborne/Craig PLC, a small firm in Manassas, VA. He specializes in family law. "I'd be happy to discuss either practice as a military JAG, or as a lawyer in the small firm environment with any UVA Law students or alumni," he writes. He and Tracey Howard Livesay live in Woodbridge, VA.
Joe Palmore finished his clerkship with Justice Ruth Bader Ginsburg of the U.S. Supreme Court in July. He has joined the litigation group at Sidley, Austin, Brown & Wood LLP in Washington, D.C.
Blythe Sadler Scott and her husband, Simon Scott '96, moved to a home in Norfolk, VA, about two weeks after their third child, Jessica Jean, was born. Simon writes, "Super mom is already back at work with Shaheen & Shaheen focusing on real estate. Ashley Brynne, 4, and Davis Ellison, 2, are really enjoying the new addition and the new house."
Richard Traynor writes he has had a "busy year." He was married in Dallas, TX, in October of 2001 and moved back to New Jersey to continue his land use practice with Porzio, Bromberg & Newman PC in Morristown, NJ. At the time he wrote he and his wife Amy were expecting their first child.
1999

Stephen Keeley joined Tabet, DiVito & Rothstein LLC in October in Chicago. He practices complex commercial litigation.

Send Us Your News
Tell us the important things that happen in your life! We welcome submissions for inclusion in Class Notes. Submit them online; E-mail them to lawalum@virginia.edu; mail them to UVA Lawyer, University of Virginia School of Law, 580 Massie Road, Charlottesville, VA 22903; or fax them to 434/296-4838. Please send your submissions by February 1, 2003 for inclusion in the spring issue.
Pre-1960
1960s
1970s
1980s
1990s
2000s
LL.M.