Class Notes
Send Us Your News
Tell us the important things that happen in your life! We welcome submissions for inclusion in Class Notes. Submit them online; E-mail them to lawalum@virginia.edu; mail them to UVA Lawyer, University of Virginia School of Law, 580 Massie Road, Charlottesville, VA 22903; or fax them to 434/296-4838. Please send your submissions by June 15, 2003 for inclusion in the fall issue.
Robert E. Goldsten has created and chairs the newly organized General Funding Corporation based in Washington, D.C., specializing in financing developers of single-family housing.
1941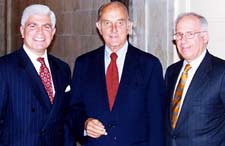 Pictured from left: NYCLA President Michael Miller, Louis Auchincloss, and Faniel J. Kornstein, chair of the Law & Literature Committee.
The New York County Lawyers' Association presented Louis Auchincloss with its inaugural Law and Literature Award in October. Although a practicing attorney most of his life, Auchincloss has authored more than 50 fiction and nonfiction books, including The Rector of Justin, The Partners, Tales of Manhattan, and Manhattan Monologues. He is recognized as the chronicler of the patrician class of the twentieth century. As The Chicago Sun-Times noted, "There is no novelist now writing who knows and delineates the civilized rich, the East Coast establishment … with more breadth and understanding than Louis Auchincloss." The New York Review of Books commented, "He is the only one who tells us how our rulers behave in their banks and their boardrooms, their law offices and their clubs … things that we don't often meet in fiction."
1948
Last summer, at age 83, S. Eason Balch and his wife Betsy traveled 6,300 miles through the Deep South from Alabama to Texas, through the Southwest from New Mexico to Utah, up to the mountains of Montana and Wyoming, through the farmlands of Nebraska and Kansas, down through Missouri and Illinois, and back to the South again in Kentucky and Tennessee. They did all of this in 33 days, visiting national parks such as the Petrified Forest, the Grand Canyon, and Yellowstone National Park, and other sites such as Westminster College in Fulton, MO. They have four children and nine grandchildren, aged 33 years through 19 months.
1952

Since retiring in 1995, Richard N. Harris has been teaching Virginia and American history to adults and school children at the Richmond History Center in the Valentine Museum and the Virginia History Center at the Virginia Historical Society in Richmond, VA. Harris majored in history at Hampden-Sydney College before attending the Law School.
1957

E. Jackson Boggs recently stepped down as president and chairman of the board of his 180-lawyer firm (now called Fowler, White, Boggs, Banker PA) and has been given the title chairman of the firm.
Charles Peters retired in 2001 after 32 years as editor of the Washington Monthly. That same year he was selected for the Hall of Fame at the American Society of Magazine Editors. In 2002 Peters taught in the graduate school of journalism at Columbia University as the Times-Mirror David Laventhal Visiting Professor. Currently Peters serves as Public Scholar of the Woodrow Wilson Center in Washington, D.C. He continues as president of Understanding Government, a foundation dedicated to better reporting and scholarship about government.
Arthur Taylor, chairman of the YMCA Camping Services Board of Managers, was presented with the YMCA of Greater New York's Order of the Red Triangle in April 2002. This honor is the YMCA's highest volunteer service award. Taylor is the executive vice president and general manager of MG North America Holdings, and has volunteered with the YMCA for over 40 years.
1958
Robert K. Dorsey of Las Vegas has retired.
Bayard "Bob" Hochberg has retired from active practice of law after 45 years in the Baltimore-Towson, MD, area and has moved back to Charlottesville with his wife Arlene. He can be reached at 434-978-4822 and arlbob@earthlink.net.
Karl H. Velde, Jr., still enjoys managing municipal bond portfolios. He reports he has a "great group of clients" and sees "no reason to retire." He writes, "After all, it was John Pershing's seminar, third year, that got me started on this career 45 years ago."
1959

James H. Harvell III retired February 28 after more than 31 years as a General District Court Judge for the Seventh Judicial District of Virginia in Newport News, VA.
Pre-1960
1960s
1970s
1980s
1990s
2000s
LL.M.