Latham '83 Enjoys Olympics Role

Up to his ankles in mud in Mad Bowl in 1983, Bob Latham played rugby for fun. Then in his third year at the Law School, he never dreamed that his love of the sport would one day earn him a spot on the board of directors of the U.S. Olympic Committee (USOC).
These days, Latham is a Dallas-based civil litigator and a partner at Jackson Walker LLP who was elected to the U. S. Olympic Committee board in 2000. As a rugby player who competed at the highest level until 1995 and still plays in masters-level events, he is one of the sport's strongest advocates. In fact, one of his missions on the board is to lobby for the recognition of rugby as an Olympic sport.
Latham says that adding new sports to the Olympics is a complicated process. "There are fourteen or fifteen other sports also seeking to be included," he commented. "But support for rugby has reached such a credible level that the USOC welcomed me, as a representative from the sport, to the board."
According to Latham, rugby was an Olympic sport until 1924, when the atmosphere surrounding, and perhaps the results of, the France-USA gold-medal match—won by the Americans in Paris—soured the Olympic Committee on the rowdy sport. He hopes that today's committee is ready to give rugby another chance. "There are plenty of skilled American players out there who would love to have the chance to defend our country's title in the 2008 Olympics," he said with a smile.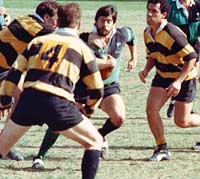 Bob Latham playing the game he loves.
But he is quick to acknowledge that the 117 USOC board members do much more during meetings than lobby for their favorite sports. Created by federal legislation to be the moving force behind the Olympic movement in the United States, the USOC has a broad mission. It is charged with training U.S. teams and underwriting their expenses in the Olympic and Pan American Games, operating three training centers, approving team selections, and supporting the bids of U.S. cities to host the Games.

Latham acknowledges that his legal training serves him well when, for example, the board determines how to implement fair drug-testing policies for athletes. Yet he sees his role on the board as "an extracurricular job" made easier by understanding Jackson Walker colleagues who are also encouraged to pursue their passions. "The support the firm gives to attorneys in their pursuits outside the law makes it a much more interesting place to work," he said.
Latham's excitement about his involvement with the USOC is contagious. "The Olympic Games are a real feel-good event and people like to have a connection with them," he noted. "I believe they are the greatest peaceful cultural gathering on the planet."