Friends See Napolitano '83 Sworn in as Governor of Arizona
When Janet Napolitano '83 was sworn in as Governor of Arizona on January 6, she looked out at hundreds of her constituents. Mixed in with the crowd of Arizonian citizens were several familiar out-of-state faces: those of eight of her Law School classmates.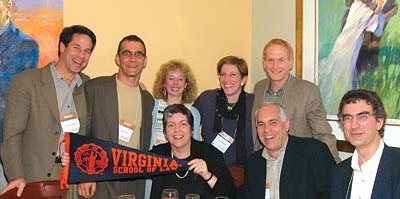 Arizona Governor Janet Napolitano '83 (holding the UVA Law School pennant) with some of her classmates on the eve of her inauguration.
As soon as he learned that Napolitano won her bid for governor, Kent Alexander '83 called his long-time friend to offer his congratulations and to say that he was considering heading to Phoenix for her inauguration. Napolitano encouraged him. "The more the merrier!" she said. He e-mailed some other old friends from Law School who he thought would be game for an inauguration trip-and every one of them showed up.
They traveled from Washington, D.C., Philadelphia, Colorado, Seattle, San Francisco, Atlanta, and Los Angeles, meeting in Phoenix the night before the ceremony. All were invited to a pre-inauguration dinner for Napolitano's family and friends. The group included members of the Class of 1983: Alexander, Steve Edelson, Alice Hill, Mark Kantor, Joan Markman, Elaine Meltin, Dave Mushinski, and a member of the class of 1984: John Youkilis.
Napolitano's ties to Alexander, Mushinski, and Kantor were forged as the four spent two of their Law School years as housemates at a 300-acre Albemarle County estate called Broom Hollow. Serendipity played a part in fostering the friendship between Napolitano and Alexander, when then U.S. Attorney General Janet Reno chose both for her advisory committee made up of 15 of the total 93 U.S. Attorneys.
After serving as U.S. Attorney, Napolitano was elected the first female Attorney General of Arizona in 1998. As a Democrat she now faces a challenge in governing a state with two Republican houses and a deficit of more than $1.3 billion. [See related Class Note on Mark Winkleman '83.]
Los Angeles Superior Court Judge Alice Hill was a member of the group of friends showing Napolitano support. "I can attest that in addition to being a legal genius," said Hill, "she has remarkable personal and political courage and the ability to get things done even when the odds are heavily against her. She is also a lot of fun. In short, Arizona is one lucky state."
The Law School will also benefit from Napolitano's experience in public service when she delivers the keynote address at the Fourth Annual Conference on Public Service and the Law in Charlottesville on March 14.
After her inauguration speech, the group met up with Napolitano for the post-inaugural celebration at the Phoenix Science Museum. They so enjoyed their Arizona get-together that they are hoping to regroup with many more members of the Class of 1983 in Charlottesville for their 20th reunion in May. Governor Napolitano's reservation is already in.