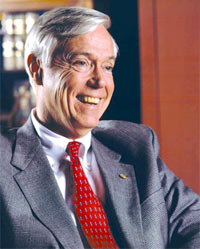 IN SEEKING A NEW SPEAKER, the second most powerful position in state government behind the Governor, the House of Delegates needed someone who could restore dignity to the office.
Log Cabin Lawyer: William J. Howell '67 Quietly Leads Virginia's House of Delegates
• Cullen Couch
High above the banks of the Rappahannock River, a two-story log cabin stands in a grove of trees. The wide river meanders below, and the remains of an old church watch over a graveyard just up the street. It's a rainy day in winter, and inside the cabin a warm fire crackles in the hearth. William J. Howell '67 (R-Stafford), the Commonwealth's Speaker of the House of Delegates, has just finished repacking the last remnants of the Christmas decorations that adorned his office during the holidays. He is in his shirtsleeves, but when visitors arrive, he puts on and buttons his coat. Speaker Howell is courtly; a quiet gentleman.
And that's just what the General Assembly needed most after the former Speaker of the House Vance Wilkins resigned in the spring of 2002 in the face of mounting criticism over a sexual harassment claim. During his tenure, Wilkins had earned a reputation for being autocratic and divisive. In seeking a new Speaker, the second most powerful position in state government behind the Governor, the House of Delegates needed someone who could restore dignity to the office and also replace Wilkins' abrasiveness with civility and quiet persuasion. Much to Bill Howell's surprise, his colleagues turned to him.
Serving as "Speaker wasn't something that I was seeking or ever had any inclination of wanting to do," said Howell. "I was really quite content with my lot in life prior to being Speaker. But when it became apparent that we were going to have a new Speaker, of course I immediately began thinking, who would be good? Then a couple of people whose opinions I value called to suggest that I consider doing it. My wife and I talked about it, prayed about it, felt led to do it, and so we did. It's worked out very well."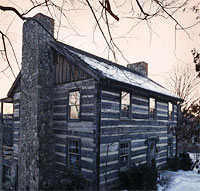 Howell has lived in Falmouth, Virginia, with his wife Cessie for 30 years. They have two grown sons, Bill and Jack, and five grandchildren, all of whom live in the state. Howell is a sole practitioner specializing in estate work. He is proud of his work as a lawyer, and values it most for the flexibility and financial wherewithal it gives him to pursue his love of legislative work. First elected to the House of Delegates in 1988, he calls himself a "citizen-legislator" who has been interested in politics his entire life.
"I grew up in Alexandria—this was before the Beltway, but it was inside where the Beltway was going to be—so you talked about politics as dinner table conversation," Howell recalled." My parents were both New Deal Democrats and I grew up in that mode. In college, I wanted to decide where I was politically so I read a lot one summer, everything from Barry Goldwater to Hubert Humphrey and things in between trying to figure out what I was. I evolved from a Roosevelt Democrat to a Reagan Republican over a long period of time."
With a chuckle, Howell adds, "as Winston Churchill once said, 'to be conservative at 20 is heartless, and to be a liberal at 60 is plain idiocy.'"
Active Opponent of Tax Increases
Howell wears his conservative credentials gently. He is not one to engage in the mean-spirited rhetoric that so often consumes political debate. But make no mistake; Bill Howell is a dedicated anti-tax conservative. His zeal for restricting growth in government is as ardent as any of his more vociferous colleagues in the Republican Party, though he freely admits that other members of his own party disagree. They question his fundamental belief in the benefits of enforcing fiscal restraint on government, but he is not swayed.
"I have members of my own caucus who say, 'Bill, you're kidding yourself if you think we can fix these problems just with growth in the economy. We're going to have to add new taxes.' They honestly, sincerely, believe that. But my approach is that we can't allow government to keep growing at eight percent a year. We've got to get a handle on growth in government—whether it's through public-private partnerships, privatization, outsourcing, or whatever. We should not just unquestionably accept that constant growth in the size and cost of government is inevitable."
At the time of this writing, Howell was girding for a budget battle in the General Assembly that would pit his anti-tax forces against Governor Mark Warner and supporters—some of whom are in Howell's own party—of the Governor's proposal for tax reform. According to a study commissioned by Howell, the Governor's plan would cost the Commonwealth $10 billion and 28,000 jobs in 2006. The Governor's study, done by his Planning and Budget office, predicts the opposite: a spurred economy and job growth. Though Howell's party overwhelmingly controls the House of Delegates, the Republican moderates are the wild card. The pundits can't predict which side will win.
"This is going to be a heck of a session," said Howell. "I hope we don't come to this, but you see this happen in other states where they can't resolve their differences by the end of the session and they don't have a budget. But we have got to have a budget, and I'm hopeful we'll be able to work through it. I respect the Governor, but there is just a basic philosophical difference. I understand where he is coming from and I hope he understands where I'm coming from."
While Howell is a firm opponent of tax increases, he recognizes that government has a responsibility for maintaining a strong higher education system, an efficient transportation network, and other fundamental infrastructures that the Commonwealth's citizens and businesses depend upon. But rather than raising taxes to do that, Howell believes "it's vital to keep taxes low and spur economic growth and growing state revenues to help meet pressing public needs." He also would find savings by eliminating unnecessary or wasteful spending in government and relying on what he calls "public-private partnerships." Howell believes that "by bringing together the creativity and innovation of the private sector to help accomplish public needs, such partnerships help deliver infrastructure and other projects in a more timely and cost-effective manner."
Supporting Financial Self-Sufficiency and the Charter University Concept
The University of Virginia, Virginia Tech, and William & Mary are testing the political waters on a "charter university" plan to increase their autonomy from a state government that has steadily diminished its financial support for their operations. Under the plan, each university would take less money from the state in return for increased control over personnel, purchasing, and construction operations, and earn the right to set their own tuition. This charter concept borrows heavily from the Law School's own Financial Self-Sufficiency agreement with the University. According to Leonard Sandridge, Executive Vice President and Chief Operating Officer of the University of Virginia, the Law School's Financial Self-Sufficiency agreement "ought to apply to the entire institution." (see Opinion, page 81)
Howell, who supports the Law School's Financial Self-Sufficiency, sees the "charter" idea as an example of the type of public-private partnerships that can work in supporting higher education. Nevertheless, he notes that the concept will need to be fleshed out and fine-tuned more before state lawmakers agree to it.
"The University is kind of taking the lead on this pilot project," he says. "It would basically remove a lot of the restrictions on their operations and allow them to operate more efficiently and need less money from the state. Primarily, the two things that jump out are tuition and out-of-state enrollment. That is, of course, the big sticking point with the legislature. They don't want these universities to go private or say they're going to take 60 percent of their kids from out of state to make more money. But it's equally important to remove many of the regulations on these universities that make no sense at all."
As an alumnus, as a citizen, and as a legislator, Howell supports the Law School and believes it brings great benefit to Virginia. In turn, he feels the Law School has its own obligation to the state.
"I like to look at the University of Virginia Law School as the law school. Clearly it's the premier law school in the Commonwealth and one of the premier ones in the country. As such, I think the Commonwealth has an obligation to continue to support it however it can. If not financially, certainly in other ways, and I think we do. I think the obligation that the Law School has is to continue to give preference to Virginia students to the extent that they can and continue to work with the legislature on those kinds of things."
Looking Back
"I LIKE TO LOOK AT THE University of Virginia Law School as the law school. Clearly it's the premier law school in the Commonwealth and one of the premier ones in the country. As such, I think the Commonwealth has an obligation to continue to support it however it can.
Howell remembers his Law School years fondly, naming Professors Tom Bergin, Neil Alford, and Hardy Cross Dillard as representative of the outstanding faculty of that time. He acknowledges that he wasn't the best student while he was at the Law School. "I probably didn't take law school as seriously as I should have but, even so, it was just such a wonderful experience. I got a really good education there; top flight professors and the students were really sharp.
"The Dean did a nice little reception for me last year down in Richmond and I told the group that here's proof that you can still do something even if you're in the bottom third of the class."
Almost four decades later, Bill Howell has certainly done that. He now stands at the top of his class as the Commonwealth's 54th Speaker of the Virginia House of Delegates.