1970s Class Notes

Kenneth M. Greene has been selected to Business North Carolina's "Legal Elite" in the practice areas of bankruptcy law and business law as announced in the January 2006 edition. In addition, he was selected as a Super Lawyer in the practice area of banking law in the 2006 edition of North Carolina Super Lawyers. Greene practices in Greensboro, N.C. with Carruthers & Roth.
1971



Aubra Anthony writes that Jim Rubright '72 is the newest officer of the American Forest & Paper Association. Rubright is CEO of Rock-Tenn Company in Norcross, Ga. Anthony just ended his term as chairman.



Meade Whitaker, Jr. is serving as the 2005 Chairman of the Board of Trustees of the Alabama Real Estate Research and Education Center at the Universxity of Alabama. Established in 1996, the center is a state-of-the-art comprehensive research and education facility designed to support Alabama's professional real estate community and the state's overall economic development efforts. Whitaker is a partner in the Birmingham office of Bradley Arant Rose & White. His practices focus primarily on commercial real estate, including the acquisition, development, financing and leasing of commercial real estate projects. Whitaker is also listed in the 2006 edition of Best Lawyers in America in the real estate category.



J. Warren Wood III has become of counsel to the firm of Greenbaum, Rowe, Smith & Davis in Woodbridge, N.J. He concentrates his practice in international and domestic alternative dispute resolution, general corporate and securities matters, non-profit organizations, and health care law.

1972

Aubra Anthony '71 writes that Jim Rubright is the newest officer of the American Forest & Paper Association. Rubright is CEO of Rock-Tenn Company in Norcross, Ga. Anthony just ended his term as chairman.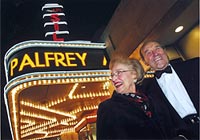 "Mrs. Palfrey at the Claremont," a film produced by Lee Caplin, debuted at the 2005 Virginia Film Festival in Charlottesville. The screenplay for the film was written by Caplin's mother, Ruth Sacks Caplin. Ruth is the wife of Mortimer '40.

Quarles & Brady announced Gerald E. Connolly as one of its Milwaukee-based real estate law attorneys elected by his peers for inclusion in Best Lawyers in America 2006. Because listings are based on the votes of other lawyers and cannot be solicited, inclusion in Best Lawyers is considered a particular honor.
Howard Gordon is listed in the 2006 edition of Best Lawyers in America in the field of real estate, for which he has been listed since 1995. Gordon is a member at Williams Mullen in Norfolk, Va.



Edward W. Wellman, Jr., of Parker Poe Adams & Bernstein was listed in the 2006 edition of Best Lawyers in America for his focus on corporate law in Charlotte, N.C.


1973

Brendan P. Bovaird is of counsel at Hunt & Ayres in Philadelphia and also serves as Acting Executive Director of Philadelphia Volunteer Lawyers for the Arts where he is a member of the Board of Directors. Bovaird also serves as a director of the Philadelphia Shakespeare Festival and Young Audiences of Eastern Pennsylvania.

Ed DeSear is a partner in the New York office of McKee Nelson, founded by his UVA tax professor, Bill McKee. The firm's primary practice areas are tax and structured finance, his specialty. DeSear hopes to convince his son, a school teacher and 2000 graduate from Columbia, to try law school, possibly at UVA.

Teri Noel Towe joined Princeton University's Arthur Mendel Music Library in presenting "A Special Symposium in Celebration of the Centenary of Professor Arthur Mendel and the Sixtieth Anniversary of The Bach Reader." Towe contributed to the event with a presentation entitled, "Music is Something People Do": Arthur Mendel, Music 303, and the Indispensability of Recordings.

1974

Claire Guthrie Gastanaga was elected to serve as national Vice President for Public Policy for the National Association of Women Business Owners for 2005–2006. Gastanaga lives in Richmond.

George G. Lynn was selected by a peer review survey for inclusion in Best Lawyers in America 2006 for his practice in antitrust law at Maynard, Cooper & Gale in Birmingham, Ala.

Paul F. Mickey, Jr. joined the Washington, DC office of Steptoe & Johnson as a partner in the employment law group. Steptoe's chairman said Mickey "has a long and outstanding record of professional accomplishments and is well known and widely respected as one of the top lawyers in this region."

Thurston Moore, managing partner of Hunton & Williams in Richmond since 1991, has been elected Chairman of the firm's Executive Committee. Moore is a partner in the firm's business practice group.



Lamb McErlane announced that James C. Sargent, Jr., chairman of the firm's litigation department has been appointed to the Appellate Court Procedural Rules Committee of the Pennsylvania Supreme Court. As cases develop and new legislation is passed in Pennsylvania, members of the Appellate Court Procedural Rules Committee make recommendations to the Pennsylvania Supreme Court on ways to adapt and update the rules of appellate procedure.

Kevin J. Walsh was recently a featured speaker at the Fundamentals of Reinsurance Litigation and Arbitration Conference sponsored by Mealey's. Kevin is a partner at the New York office of Lord, Bissell & Brook.

Robert P. Wax has been named to Best Lawyers in America in the alternative dispute resolution category. From his office in Hartford, Conn. he is a full-time arbitrator/mediator of complex commercial and energy cases nationwide.



Harold "Stormy" Wheeler passed away unexpectedly on December 8. He was 60. For more than 30 years, Wheeler was one of the most prominent lawyers in the Chicago legal community, focusing his practice in commercial and reinsurance litigation and arbitration, most recently as a partner at Butler Rubin Saltarelli & Boyd. He was involved in many community activities, including serving on the Chicago Board of Prevent Child Abuse America. He is survived by his wife of 23 years, Mary A. Martin; their three children, Ryan, Jenny, and Amy Wheeler, and two sisters.

1975

Herb Beskin has been appointed a Chapter 13 Bankruptcy Trustee for the Western District of Virginia.



Glenn R. Croshaw, of Willcox & Savage, served as one of three co-chairs leading Virginia Governor Tim Kaine's transition team. Croshaw is currently a member of the Virginia State Crime Commission, and he served as a member of the Virginia House of Delegates between 1986 and 2000. He also chairs the firm's government relations practice, which specializes in state and local government issues.

Mike Faherty has retired from the Gloucester School Committee. He is thinking more and more about full-time retirement, but with one freshman in college and another senior in high school, it remains only a thought.



Caine O'Rear was included in the 2006 Best Lawyers in America for his practice in commercial litigation and construction law at Hand Arendal in Mobile, Ala.



John S. Oyler was named as a 2006 "Super Lawyers" by Law & Politics Magazine. The annual honor goes to attorneys based on peer recognition and professional achievement. Oyler has an automotive dealership law practice at McNees Wallace & Nurick in Harrisburg, Pa.

The Honorable John Charles Thomas, former Justice of the Supreme Court of Virginia, has been named a member of the Court of Arbitration for Sport, based in Lausanne, Switzerland. The members of the Court include lawyers and former jurists from around the world. CAS is an independent arbitral institution created in 1983 to settle sports-related disputes involving drug violations and rules of international sporting federations. It hears cases arising from most world-class sporting competitions and has global jurisdiction. The Court has offices in Lausanne, Switzerland; Sydney, Australia; and New York City, and establishes ad hoc offices in Olympic host cities, as required. Thomas, an authority in dispute resolution, is Chief of the Appellate Practice Group at Hunton & Williams in Richmond. He joined the law firm 30 years ago and during his legal career has served as a Justice, an arbitrator, a mediator, and a law lecturer. Thomas joined the more than 170 CAS international arbitrators in June and soon will begin hearing disputes involving the world's elite athletes. He is a member of the London Court of International Arbitration, The International Bar Association, and the American Arbitration Association: Board of Directors, Executive Committee, Law Committee, Commercial Panel, and International Panel of Arbitrators.

Robert W. Webb, Jr. is the new chairman of Troutman Sanders in Atlanta. Former Georgia Governor Carl E. Sanders assigned this position to Webb after announcing his retirement from the firm he founded. After joining Troutman Sanders in 1975, Webb has served as a managing partner.

1976



Walter Bardenwerper was profiled in the September 2005 issue of the Legal Times. He is Vice President and General Counsel of Watson Wyatt Worldwide in Arlington, Va. His daughter Nelly is the class of 2008 at UVA Medical School.

Peter E. Broadbent, Jr., has been elected chairman of the Business Law Section of the Virginia State Bar. He was also recognized again by Virginia Business in its annual survey as one of the Virginia "Legal Elite" in the field of business law. Broadbent practices business, intellectual property and communications law as a partner with Christian & Barton in Richmond.

S. Miles Dumville is the managing partner of the Richmond office of Reed Smith.

In April, Thomas L. Higginson, Jr., and a Vietnamese friend, Kim Faulkner, opened a medical clinic in a remote area of the Mekong Delta in Kien Giang Province, Vietnam. The clinic, which they gave to the Vietnamese government, is expected to treat several thousand cases a year, primarily women before and during childbirth, infant maladies, cases of dengue fever, and accident victims. Higginson and Faulkner will shortly open a private orphanage near the provincial capital, to be managed by Faulkner and her sister-in-law, and may build a larger facility in the future. They are planning to bring a number of the children to Saigon to be operated on by a stomatological team from Houston for cleft lips and palates.

James Hingeley was inducted as a Fellow of the Virginia Law Foundation in 2005. Fellow selection is limited to one percent of Virginia lawyers and recognizes excellence in the practice of law and public service.

Daniel J. Hoffheimer published "The Ohio Slayer Statute, Common Law, and ERISA Preemption," in the November-December 2005 issue of Probate Law Journal of Ohio, with co-author Julia B. Meister.

Thomas W. McCandlish is Chairman of McCandlish Holton, headquartered in Richmond. McCandlish Holton recently added an office in Shanghai to serve the firm's growing China practice. McCandlish Holton became one of the first 12 U.S. law firms to open an office in China when it opened its office in Guangzhou in 1995. McCandlish Holton's China Practice assists U.S. and European companies in trade, direct procurement, and direct investment in China.

Luther T. Munford now chairs the Eisenberg Prize Committee of the American Academy of Appellate Lawyers. The $2,000 annual prize goes to the best article written on appellate practice or procedure. Munford works in the general litigation practice group in the Jackson, Miss. office of Phelps Dunbar. He also teaches an Appellate Practice and Procedure course as an adjunct professor at Mississippi College School of Law.

Ann Margaret Pointer has been named to the 2006 edition of Best Lawyers in America for specializing in labor and employment law at Fisher & Phillips in Atlanta. Pointer has represented management in labor and employment matters for more than 29 years and is also an adjunct professor at the Emory University Law School. She has been selected as a "Georgia Super Lawyer, Employment Litigation" since 2004.

John Vering was recently selected as a Missouri/Kansas Super Lawyer and for inclusion in Who's Who Legal USA — Management Labor and Employment 2006.

M. Hamilton "Tony" Whitman, Jr., Maryland lawyer and a principal in Ober | Kaler, has been inducted as a Fellow of the American College of Trial Lawyers. Fellowship in the college is by invitation only, and is extended to certain experienced trial lawyers who have demonstrated exceptional skill as advocates and whose professional careers have been marked by the highest standards of ethical conduct, professionalism, and civility. Whitman, Ober/Kaler's Admiralty practice chair, was also selected for the 2006 edition of Best Lawyers in America.

1977

J. Herbie DiFonzo has been appointed Director of the LL.M. Family Law Program at Hofstra University in New York. In October, he delivered the University Distinguished Faculty Lecture, "The Surprising Unreliability of DNA: A Tale of Bad Labs and Good Statutes of Limitations."

Lawyers Weekly featured an article on Gloria C. Larson and her accomplishments as chair of the Massachusetts Convention Center Authority in Boston.



In December, John F. Meck became a partner with Pittsburgh's Eckert Seamans Cherin & Mellott in their tax, estates, and trust department. He was also selected for inclusion in Best Lawyers in America 2006.



Robert M. Morgan is still in Herndon, Va. at Perot Systems and on the pro bono side, serving as general counsel and a board member of the National Wildlife Refuge Association working to protect some 550 refuges run by the Fish and Wildlife Service.

1978

Bob Barry, a member of Kaufman & Canoles in Norfolk, Va. has just completed a successful, two-year term as chairman of the Virginia Bar Association's Labor Relations and Employment Law Section. Barry has been named to Best Lawyers in America and has consistently been chosen by his peers to Virginia Business Magazine's Legal Elite for labor and employment law. Barry has also served the Law School Foundation as class manager for the Law School's class of 1978 since graduation.

Mary Bland Love still practices medical malpractice defense in Jacksonville, Fla. where she also serves as chair of the Judicial Nominating Commission for the Fourth Judicial Circuit. She has completed the nomination process for a Duval County Judge and a Fourth Circuit Judge and is "excited to have only one more county judge selection process to go."

Robinson, Bradshaw & Hinson announced Edwin F. Lucas was recently selected by his peers for inclusion in Best Lawyers in America 2006 for his practice in public finance law. Lucas is with the firm's Charlotte, N.C. office.

Joe Ryan has been practicing law in Columbus, Ohio at Porter Wright Morris & Arthur for 27 years. He will serve as Director of the International Association of Defense Counsel Trial Academy at Stanford Law School this summer.

1979

Robert G. Dykes announced his retirement from Vorys, Sater, Seymour and Pease in Columbus, Ohio at the end of 2005. While relinquishing most law-related positions, he will retain inactive membership in the American College of Trust and Estate Counsel. He writes that he is grateful to the Law School for the educational experience that enabled him to participate in the opportunities afforded him in the legal profession. He will now pursue his investment interests.

Michael Haaren, co-founder and COO of Staffcentrix, co-authored The 2-Second Commute, recently published by Career Press. (See In Print section). A primer for "free agents" who would like to work from home, the book is based on groundbreaking virtual career training programs that Haaren co-developed for U. S. military spouses and which are now available at some 50 military installations internationally. An expert on virtual services and advocate of stronger families through home-based careers, Haaren appears often in such media as Forbes, Fortune and The Wall Street Journal. His company, Staffcentrix, was recently awarded a contract by the Department of State to train Foreign Service spouses as "virtual professionals."
Quarles & Brady announced Ely A. Leichtling as one of five of its Milwaukee-based labor and employment law attorneys selected by peer review for inclusion in Best Lawyers in America 2006. Because listings are based on the votes of other lawyers and cannot be solicited, inclusion in Best Lawyers is considered a particular honor.
A. Inge Selden is included in Best Lawyers in America 2006 for his specialty in commercial litigation at Maynard, Cooper & Gale in Birmingham, Ala.
Roy L. Smart III was selected for inclusion in Best Lawyers in America 2006 listing for his specialty in corporate law with Parker Poe Adams & Bernstein in Charlotte, N.C.

After 20 years with the corporation, Elaine Whitbeck was recently promoted to Senior Vice President, Chief Legal Officer/General Counsel and Corporate Secretary of Alcon Laboratories, Inc., where she is responsible for all legal matters. Alcon is the world's largest ophthalmic pharmaceutical company and its stock is traded on NYSE.
Jack H. White has been appointed Senior Vice President and General Counsel of the Domestic Telecom division of Verizon Communications. He will be based in Verizon's newly opened corporate headquarters in Basking Ridge, N.J., but he and his wife Marianna, plan to maintain their family residence in Northern Virginia, where their two sons, Ian and Winston, attend school.
UVA Lawyer Home