1990s Class Notes
James Patrick Guy II has been appointed to chair the section council of the administrative law section of the Virginia Bar Association. Guy is a partner in the Glen Allen office of LeClair Ryan's government relations & regulated industries group. He has over 15 years experience representing electric, natural gas and telecommunications interests in regulatory, transactional, corporate and legislative matters. He also coordinates the firm's energy practice area and formerly served as team leader for the firm's administrative law and government relations team.

Judy Little, a specialist in corporate finance and securities law, has returned to Haynes and Boone's Houston office as counsel. Little has extensive experience inside the energy industry, representing public and privately held companies in mergers, asset purchases, and stock purchases and sales.

Portland attorney Jane Paulson is a new member of the American Board of Trial Advocates (ABOTA). She was elected to the national lawyers association by the group's national board. The organization's president cited Paulson for her high personal character, honorable reputation, and proficiency as a trial lawyer. Paulson is the third woman attorney from Oregon elected to ABOTA. Paulson was selected by her peers for inclusion in the 2006 edition of Best Lawyers in America. Her father and law partner, Chuck Paulson, has been listed in the resource book for over 20 years.
Keith Rapp is now the Vice-Chief Judge for the Court of Civil Appeals in the Oklahoma State Supreme Court.
Ronald J. Tenpas began his service in Washington, DC at the Department of Justice as Associate Deputy Attorney General in November. Acting Deputy Attorney General Robert D. McCallum, Jr., appointed Tenpas and commented, "I have worked with Ron during his service as United States Attorney and know him to be an outstanding lawyer and scholar. I am pleased that he is willing to take on new responsibilities as Associate Deputy Attorney General." Tenpas has served the Southern District of Illinois as the U.S. Attorney since November 2003. Tenpas has served on the Attorney General's Advisory Committee, a group of U.S. Attorneys who advise the Attorney General on policy matters. Tenpas also serves as Vice-Chair of the AGAC's Sentencing Subcommittee.

1991


Cozen O'Connor in Philadelphia has named Sarah E. Davies as hiring partner for the firm. As a member who previously served as chair of the diversity committee and as director of the nationally recognized summer program, Davies will be responsible for hiring firm attorneys at all levels in all offices and overseeing the summer associate programs in each office.
Ann G. Fort was elected to partner at Sutherland Asbill & Brennan in Atlanta in 2005. Fort practices in the intellectual property group, where she handles disputes involving patent infringement, technology licensing, trade secrets, and unfair competition.
Todd Graves plans to resign as U.S. Attorney for the Western District of Missouri in April to open the law practice of Graves, Bartle and Marcus in Kansas City, Mo.
Michael P. Routch has joined the Hollidaysburg, Pa. office of the State College law firm McQuaide Blasko. Routch practices real estate, civil litigation, business law and workers' compensation and lives in Duncansville with his wife Shari Routch and daughters Kendall (9) and Sydney (6).
1992

William M. Bosch has joined the Washington, DC, litigation department of Steptoe & Johnson as partner. Bosch concentrates his practice on complex litigation with a particular emphasis on issues involving commercial disputes and intellectual property. He currently serves as lead counsel in a series of cases in state and federal courts in three states.
Neil MacBride has become Vice President, Legal Affairs for the Business Software Alliance, a Washington, DC trade association of software firms and their hardware partners. MacBride, who previously served as chief counsel to Senator Joseph R. Biden, Jr. (D-Del.), will oversee BSA's domestic and global anti-piracy enforcement and compliance programs.

Brent M. Milgrom, Jr. was selected for Best Lawyers in America 2006 listing for his focus in corporate law with Parker Poe Adams & Bernstein in Charlotte, N.C.
Scott Vance was recently elected to the KPMG partnership in the Washington, DC office's national tax practice. A KPMG principal, Vance provides income tax accounting services. He joined KPMG in 2002, and lives in Arlington, Va. with his family.

1993

Gregory D. DiMeglio, former senior counsel for the U.S. Securities and Exchange Commission, Division of Enforcement, has joined Stradley Ronon Stevens & Young as a partner in the firm's Washington, DC, and Philadelphia offices, and a member of its securities litigation and investment management groups. DiMeglio's SEC experience will strengthen the firm's securities litigation and regulatory enforcement practice. He will advise Stradley Ronon clients on regulatory inquiries, investigations and enforcement actions by the SEC and the various industry self-regulatory organizations.
Blackwell Sanders elected Peter J. Enko as partner to the firm, effective in January. Enko joined the firm's corporate department in 1998. His practice focuses primarily on the healthcare industry, and he works extensively with hospitals, physician practice groups and other healthcare providers on transactional, operational and regulatory matters.
Bill Kincaid continues work as the Associate General Counsel at the University of Arkansas. In May he chaired an event marking the centennial of the Washington County Courthouse. This year his son Emory started first grade at the neighborhood elementary school, and his daughter Sydney attends pre-school.

1994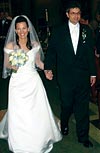 Anil Adyanthaya married the former Amy Thompson on May 7, 2005 in Brookline, Mass. His essays have appeared on the op-ed pages of the New York Times, Boston Globe, Richmond Times-Dispatch and Washington Examiner. Adyanthaya reports he was a contestant on ESPN's sports trivia game show, "Stump the Schwab."


Stewart M. Brown married Sara Margaret Burt of Santa Maria, Calif. in November.
Lois Casaleggi is now the Director of Career Services at the University of Chicago Law School, where former UVA Professor Saul Levmore is the dean. Previously, Lois served as the Assistant Dean for Career Services at the University of Illinois College of Law.
In the fall of 2004, Chris Dong was promoted to major in the U. S. Air Force Reserve JAG Corps. Dong continues work at the FBI Office of General Counsel and is currently doing a detail to the Department of Justice's Office of Immigration Litigation.
Michael W. Fleming was named partner with Williams Mullen in Richmond, where he will work closely with the firm's business, e-commerce and multistate corporate compliance & public policy groups. Fleming will focus his practice on the law and policy of wireline communications.
Clarke Futch became the proud parent of twin girls Annabelle Courtney and Ellery Stuart on July 18. The family lives in Greenwich, Conn.
Todd Peppers is in his fourth year of teaching in the Department of Public Affairs at Roanoke College in Salem, Va. and remains of counsel with the Atlanta law firm of Hawkins & Parnell. He is the author of a forthcoming book on Supreme Court law clerks, titled Courtiers of the Marble Palace: The Rise of the Supreme Court Law Clerks. (See In Print section.)
Cary Pugh left the Office of Chief Counsel in May to join Skadden, Arps as counsel in its tax department in Washington, DC.
Robin Spencer and Ted Jennings proudly welcomed the arrival of their little red-haired daughter, Afton Elsie Spencer Jennings, who was born on November 23. Robin is a partner in the litigation and intellectual property groups of Schiff Hardin in Chicago, where she focuses her practice on franchise, dealer and distribution litigation. Ted is a litigation partner with Ball & Jennings in Chicago. And their dog, Nate, is a lab mix who is begrudgingly giving up the baby role in the family.
Carole (Yeatts) Timberlake married Brent Timberlake on August 28 in Richmond, and again on September 3 in Bermuda. Carole is the Senior Manager for Marketing and Client Services for Troutman Sanders in Richmond.

1995

Sean Coleman joined Integrated Financial Settlements to assist in management, administration, and operations of a company they acquired in Atlanta. Coleman is also now COO of IFS, which currently owns four other firms in the business of specialized insurance brokerage.
Joyce M. Lee (publishing as Joyce Lee Wong) is pleased to share favorable reviews for her young adult novel, Seeing Emily (Abrams Nov. 2005). Publishers Weekly critiqued, "In a highly visual, eloquently wrought first novel, Wong conveys a Chinese-American girl's coming of age." Kliatt called the book "Heartfelt; sure to attract young adults who are close to the immigrant experience, especially Asians whose parents try to keep them attached to traditional ways." The Bulletin of the Center for Children's Books reviewed, "…expressive and accessible, using careful images to explore the intangible of Emily's emotions." Kirkus Reviews noted, "Writing in free verse laden with Chinese images, Emily charts her progress from childhood to first romance to discovering her real self. The poetic form proves the perfect vehicle for Emily's unique voice. Sensitive and finely crafted."
In January 2005, Maureen E. Reilly was promoted to Senior Counsel at SunGard Data Systems where she represents and advises the company in employment law matters at the corporate headquarters in Wayne, Pa.

1996



Bianca Alexander writes that she is still working as an inspirational TV host and conscious living expert on TV and for Urban Living Magazine. Her new book is being shopped by a New York literary agent. She hopes "the Girl's Guide to Leaving Your Corporate Job and Living the Life of Your Dreams" will be published this fall. Follow developments at www.BiancaAlexander.tv.
Scott Ballenger and Paul Sheridan were both elected partners in the Washington, DC office of Latham & Watkins.

Michael L. Davitt recently joined as a partner in Jones Day's Dallas office where he practices securities and shareholder litigation & SEC enforcement and trial. His practice focuses on a variety of areas of commercial litigation.

Mark T. Goglia became a partner with Jones Day in the firm's Dallas office. His practice focuses on mergers, acquisitions, and dispositions involving public and privately held companies, as well as public and private equity transactions. His client roster includes Albertson's, Hoover's, Alon USA Energy, and Kaiser Aluminum Corporation.
Michael A. Gruin joined as an associate at Stevens & Lee in Harrisburg, Pa. His practice areas include public utility law and state and local taxation.
Daniel Hatcher was quoted in a February 17 New York Times article "Welfare Agencies Seek Foster Child's Assets." Hatcher, a law professor at the University of Baltimore, is author of an article on the same subject that is to be published in The Cardozo Law Review. At issue are states that routinely take a foster child's social security monies. "The practice is not the result of deliberative policy discussions regarding how to best serve children in foster care,'' said Hatcher. "It is simply an ad hoc reaction by underfunded state agencies… The Social Security benefits are treated as a funding stream,'' Hatcher said, "rather than as an opportunity to provide any special services or to give children savings for the perilous months after they turn 18, when many fall into crime or homelessness."
Mohammed Hill married Esther Cheung of Piedmont, Calif. on September 24 in Sacramento.
Rob Kole was named a Massachusetts Super Lawyer in 2005 and was recently elected an equity partner of Choate, Hall & Stewart in Boston.
Jamie Baskerville Martin and her husband Alton Martin '92, an associate general counsel at the University, live in Kent's Store, Va., between Richmond and Charlottesville. Jamie and Alton welcomed son Thaddeus into the world on April 13, 2004. Jamie is a partner with McCandlish Holton in Richmond, where her practice focuses on representing hospitals and physician groups in regulatory, transactional, and appellate litigation matters. Jamie was voted by her peers to the Virginia Business Legal Elite in health law and was recently listed in Best Lawyers in America. In May 2005, the Martins visited Jason Morgan and his family in Hingham, Mass. Jason and his wife Jennifer have three children and Jason is a partner in a Hingham firm. The Morgans have been serving as a foster family for Catholic Charities, providing a home for infants while adoptions are finalized. Jamie has also kept up with Mary German Manley. Mary and her husband Mark recently moved to Charlottesville, and they have two young children.
Tally Parham has recently joined the law firm of Venable in Baltimore and would love to catch up with any classmates in the area.

Eric C. Perkins has been named Chief Legal Officer for Investment Properties of America, a real estate development and syndication company headquartered in Richmond, Va. He had been a principal with Hirschler Fleischer in Richmond, specializing in real estate syndications, franchising, and tax-exempt organization law.
With experience in a broad range of corporate and securities work and in areas of mergers and acquisitions, and diversities, David S. Phillips joined the Atlanta office of Jones Day as a partner, specializing in private equity.
Russell S. Post has become a partner at Beck, Redden & Secrest in Houston. Board-certified in civil appellate law by the Texas Board of Legal Specialization, his practice focuses on civil appeals in both state and federal court.
Lt. Col. Tristan B. L. Siegel joined the newly-formed Washington, DC office of Gray Plant Mooty as a senior attorney and counsel in the franchise litigation group, where he will become a partner after one year with the firm. Siegel represents Dunkin' Donuts, Baskin-Robbins, Cold Stone Creamery, and other large franchise clients.

Victor S. Skaff III, partner with Gentry Locke Rakes & Moore in Roanoke, Va. has been named to the 2005 Virginia Legal Elite by Virginia Business Magazine. Skaff was named in Legal Services/Pro Bono. The Virginia Legal Elite are chosen through a survey conducted by Virginia Business and the Virginia Bar Association. More than 5,500 lawyers are polled to nominate lawyers who have demonstrated exceptional levels of expertise in their areas of practice.

1997

Jeffrey Bartos was promoted to Division Vice President with Toll Brothers. In his new position he is responsible for all land acquisition and homebuilding operations in Delaware, the Eastern Shore of Maryland, and portions of Pennsylvania.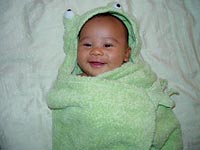 Benkai Bouey and his wife, Theresa, welcomed their second child, Caeleb Edward, into the family on June 22. Big sister, Kaiya Elizabeth, who will be four in June, is absolutely smitten with her little brother. The family continues to reside in Los Angeles.
Michelle Campbell announces her recent marriage to civil rights attorney Robert Vance. In attendance was Yared Getachew '98 and well wishes from Salmon Shomade. Michelle opened her own practice in Philadelphia, concentrating in criminal defense, domestic relations, and employment. She can be contacted at attorneycampbell@yahoo.com.
Yost Conner has been promoted to the position of counsel at Patton Boggs in Washington, DC and also joined the editorial board of Shopping Center Legal Update.
Gregory Feder was a panelist at the American Conference Institute's "Ensuring Privacy and Security of Consumer Information" conference in January in New York. Feder is an associate in the Financial Regulatory practice at Mayer, Brown, Rowe & May where he provides compliance and transactional advice to banks, securities firms, and other financial institutions. He and Emily Feder recently celebrated their fourth wedding anniversary in Bermuda and live in Arlington, Va. with their cat, Byrt.

1998

In February, Christopher Brearton was one of 14 elevated to partner at O'Melveny & Meyers. He is a member of the firm's transactions department's entertainment & media practice and is a resident of the Century City office in Los Angeles.
Kate (Walther) Carey and Jay Carey '99 live in Arlington, Va. and work in Washington, DC. Kate is a trial attorney at the Department of Justice. In November, Jay left McDermott Will & Emery's Trial Department to specialize in government contracts work at McKenna Long & Aldridge. In 2004, the Careys had a son, Liam. Liam is friendly with other UVA Law toddler offspring including Miles and Nate Hagedorn, Elliott Eaton, Miles Linde, and Luke Murphy. The Careys frequently see nearby UVA Law grads who include Andrea (Becker) Looney, Laura (Schuler) and Bill Hagedorn, Tom McCarthy, Stephen Propst, Mike Murphy, Mark Churchill, and Selena Linde '97.

Parker Poe Adams & Bernstein announced Brian Darer as a partner in the firm. Darer is a member of the commercial contracts practice group in the Raleigh, N.C. office. He focuses his practice in the areas of construction law, bankruptcy, reorganization and creditors' rights issues.
Consistent with UVA's strong tradition of commitment to public service, Gary M. Gansle has been awarded the Bar Association of San Francisco's "Outstanding Volunteer in Public Service Award" for the fifth consecutive year. Gary's pro bono work consists primarily of providing employment law counseling and training to San Francisco Bay Area non-profit organizations. Over the years, Gary has also helped successfully litigate a class action challenge to restrictions placed on recipients of certain welfare benefits and has jointly developed an electronic employment law self-audit program to assist pro bono clients with improving compliance with state and federal employment laws.

Earsa Jackson, an associate in Strasburger and Price's Dallas office, was elected as an associate to the Patrick E. Higginbotham American Inn of Court. The American Inns of Court is a society of attorneys, law professors, judges and third-year law students designed to encourage the exchange of ideas in order to raise the standard of the legal profession.
Matt Nelson joined Boston-based Cambridge Associates in 2005, where he is a specialist consultant advising endowments, foundations, and families on their venture capital and private equity investments. He lives in Providence with his wife Kim and young daughter Eliza.
Amy Williams-Derry recently left Earthjustice to join the complex litigation group at Keller Rohrback's Seattle office where she prosecutes class actions.

1999



Maynard, Cooper & Gale in Birmingham, Ala. announced Janell M. Ahnert as one of the firm's new shareholders. Ahnert practices in the firm's labor and employment practice group. Her practice encompasses all facets of employment law, including defending employers accused of discrimination under federal and state discrimination laws.
Jennifer (Jewell) Black and her husband Kevin were blessed with twins last summer. Kyle Patrick was born on June 18 weighing 7 pounds 9 ounces, while his sister Katherine Annette was born on June 19 weighing 7 pounds 4 ounces.
Jay Carey and Kate (Walther) Carey '98 live in Arlington, Va. and work in Washington, DC. Kate is a trial attorney at the Department of Justice. In November, Jay left McDermott Will & Emery's Trial Department to specialize in government contracts work at McKenna Long & Aldridge. In 2004, the Careys had a son, Liam. Liam is friendly with other UVA Law toddler off-spring including Miles and Nate Hagedorn, Elliott Eaton, Miles Linde, and Luke Murphy. The Careys frequently see nearby UVA Law grads who include Andrea (Becker) Looney, Laura (Schuler) and Bill Hagedorn, Tom McCarthy, Stephen Propst, Mike Murphy, Mark Churchill, and Selena Linde '97.
The Texas Rising Star Super Lawyers 2005, a special excerpt to the Texas Monthly, published a feature article, "Growing Up Nebraska," discussing the life and career of Stephanie L. Chandler. As a Rising Star, Chandler meets the criteria of being under the age of 40 and practicing law for less than 10 years. Fewer than 2.5% of lawyers in Texas receive this honor. This press follows Chandler's recognition in previous San Antonio publications which named her as one of "40 Rising Stars Under 40" and one of "13 under 30" great lawyers.
Jonathan C. Day, an attorney at Dobrowski in Houston, was selected as a 2005 Texas Rising Star Super Lawyer in a special excerpt to the Texas Monthly. As a Rising Star, Day meets the criteria of being under the age of 40 and practicing law for less than 10 years. Fewer than 2.5% of lawyers in Texas receive this honor.
On November 19, Courtland Kelly Grynwald "married a wonderful man," Mathew Grynwald on Trunk Bay Beach on the beautiful island of St. John, U.S. Virgin Islands. The couple enjoyed a wonderful week with lots of friends and family there to help celebrate. They elected to take a delayed honeymoon, joining an organized two-week Edelweiss motorcycle tour in New Zealand in February. Together they rode on both islands from Auckland to Christchurch, taking rest days in Wellington and Queenstown and staying in other smaller towns along the way. For Courtland, "New Zealand was gorgeous, the tour was excellent, and we had a fantastic time. There's no better way to see that country than from the back of a bike!" Courtland also changed jobs in June and is now a legal recruiter for the largest Texas-based recruiting firm, Prescott Legal Search where she can be reached at 214-210-2934 or cortland.grynwald@prescottlegal.com.
Logan Johnson, an associate at Vinson & Elkins in Houston, was selected as a 2005 Texas Rising Star in a special excerpt to the Texas Monthly. As a Rising Star, Day meets the criteria of being under the age of 40 and practicing law for less than 10 years. Fewer than 2.5% of lawyers in Texas receive this honor.
Virginia Governor Tim Kaine appointed Nicholas A. Kessler to serve as Deputy Commissioner of the Virginia Employment Commission. Kessler previously served in the "Kaine for Governor" Campaign in the political office and later in the transition office prior to the Governor's inauguration.
The New York State Bar Association awarded Michael C. Rakower the 2006 Outstanding Young Lawyer of the Year Award. Dedicated to public service, Rakower's career has developed from his dedication to pro bono work, which recently led him to open a solo practice in Manhattan. As a young attorney, practicing less than ten years and demonstrating a commitment to public service, Gordon Mehler nominated Rakower for this award noting, "He has eschewed large salaries and the comforts of working at a well-established firm in exchanged for the opportunity to represent individuals in need of his personal representation."
Sanctuary for Families' Associates Committee awarded Edward H. Sadtler with the Award for Excellence in Pro Bono Advocacy at an awards ceremony and benefit in New York City. Sadtler is a partner with Kirkland & Ellis and introduced the firm to Sanctuary's immigration work and established a similar summer program, which has run for two summers and assisted ten battered women.

Miller & Martin associate James Woodward was welcomed to member status in the firm's Atlanta office. He concentrates his area of practice in public finance, involving taxable and tax-exempt financings for healthcare, multifamily and single-family housing, manufacturing, water and other public projects on behalf of governmental, 501(c)(3) entities and private business organizations.
UVA Lawyer Home