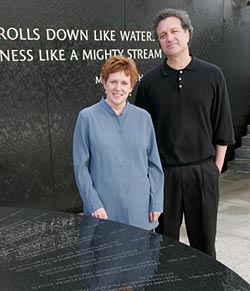 Mary Bauer and Richard Cohen in front of the Civil Rights Memorial. The memorial honors the achievements and memory of those who lost their lives during the Civil Rights Movement. Created by Maya Lin, the black granite memorial is located across the street from the Southern Poverty Law Center in Montgomery, Alabama, and is just around the corner from the church where Dr. Martin Luther King, Jr. served as pastor during the Montgomery Bus Boycott in 1955-1956, and the capital steps where the Selma-to-Montgomery voting rights march ended in 1965.
Virginia Alumni at the Ready on Civil Rights
Denise Forster
J. RICHARD COHEN '79 AND MARY BAUER '90 go to work each day in a fortress of a building. Six stories high, with its own 24-hour-a-day security force and underground parking garage, the building reveals how seriously their employer guards the safety of staff and visitors. They don't work at the latest secret federal government site. The Southern Poverty Law Center fights a battle on a far different front, but it is a struggle that is vitally important to the people it represents.
Appropriately housed in a building in downtown Montgomery, Alabama, birthplace of the nation's civil rights movement, the Center guards civil rights for exploited, abused, and often overlooked members of society. Started in 1971 as a small civil rights firm by lawyers Morris Dees and Joseph Levin, the Center staff has grown to more than 100 attorneys and civil rights advocates. Its first president and present-day board member is civil rights leader (and retiring University of Virginia professor) Julian Bond.
Leading the Center's charge today are Cohen, who serves as president and chief executive officer, and Bauer, director of the Center's recently established Immigrant Justice Project. By the nature of their work, Center employees are targets of protests and violent acts by hate groups. The SPLC's initial offices were torched in 1983—burned by members of the Ku Klux Klan, who fittingly climbed into the building via underground sewers. More than 25 people have been incarcerated over the years for threatening the security of Center staff. Now, visitors are issued photo IDs and must be escorted by a security guard or employee at all times. A statement attributed to founder Dees subtly refers to the controversy: "Our work is not always universally embraced."
Despite security concerns, the advocates are more active than ever. Initially engaged in litigating civil rights violations, the Center's mission has expanded. Cohen oversees the fights on all fronts: hate group intelligence, civil rights litigation, and migrant worker justice. "My charge is to expand the Center's programmatic work. In the last year we have doubled the size of our legal staff."
Reading the Center's case docket exposes the raw underbelly of today's civil rights frontier. Each case is listed by its agenda area: hate groups, immigrant rights, juvenile justice, education, institutionalized persons, First Amendment, health justice, racial justice. Some cases have been in the courts for decades; regrettably, new ones are added routinely. "Lawsuits have a way of putting some things on the public agenda in a way that nothing else can," says Cohen.
Among the SPLC's flagship offerings are its Teaching Tolerance materials for school students and citizens seeking ways and ideas to end racism, tolerance.org. Their Intelligence Project monitors hate groups and tracks extremist activity throughout the United States. A very visible achievement across the street from their current headquarters is the Civil Rights Memorial. Maya Lin designed the elegant and somber commemorative and it quickly became one of Montgomery's most prominent civil rights monuments. The Center's former offices were converted to a Civil Rights Memorial Center, featuring state-of-the-art exhibits and an original film honoring those who fought for civil rights during the tumultuous movement (1954–1968). As president, Cohen has his hand in each of these undertakings, and more.
Cohen Takes the Helm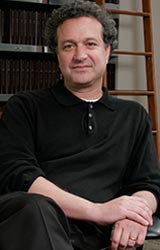 Richard Cohen '79
Cohen has a Bible within reach. It is an unexpected but well-worn reference tool for the man who has slain dragons disguised as neo-Nazis or Alabama state troopers. But Cohen finds it worthwhile to seek out the specific Biblical verses cited in the Center's latest batch of hate mail—something he's gotten a lot of since taking on Alabama Chief Justice Roy Moore, whose effort to keep a giant monument to the Ten Commandments in the state judicial building was all over the news.
"It's awfully strange to get hate mail and threats that cite the Bible," he said, dismissing any danger. His attitude is summed up by what he terms his favorite New Testament mandate: "Faith without works is dead" (James 2:26). Cohen has been working for his faith in civil rights since he left the Law School.
The Richmond native practiced law with civil rights attorney Charles "Chuck" Morgan, Jr., in Washington, DC, as the firm took on a variety of controversial cases.
After seven years in DC, Cohen was ready for something different. At the urging of colleagues, he met with civil rights champion Morris Dees. In 1986 he moved to Montgomery to join the SPLC as legal director. Two months later Dees asked Cohen, 31 years old, if he felt confident enough to argue United States v. Paradise at the Supreme Court. The Justice Department wanted the Court to reverse a lower court order requiring Alabama state troopers to promote one black trooper for each white trooper promoted (until fair tests were developed), arguing that the one-black-for-one-white promotion plan violated the Equal Protection Clause of the Fourteenth Amendment.
In a 5-4 opinion, the Court upheld the promotion plan; the young Cohen and the black troopers had won. The Court found that the promotion plan did not impose an "absolute bar" to white advancement, was narrowly drawn to include only specific ranks of officers, and was "required in light of the department's long and shameful record of delay and resistance" in complying with past judicial decisions. (Courts first found the department's practices unconstitutional in 1972.)
Cohen fought important civil rights battles in his 17 years as general counsel for the Center. He clearly loves the contest. "A lawsuit summons people before a neutral arbiter and forces them to answer. That is an incredible thing, and lawyers are incredibly powerful people by virtue of being able to summon people and make them accountable to the law. It's the thing that makes our country great and has moved the social agenda."
In a 1997 interview with American Lawyer, Cohen said one of his most memorable cases was a civil suit the Center brought on behalf of the wife and six children of a black man who died while in police custody in Hemphill, Texas. Though the lawmen were acquitted of murder, Cohen won a monetary judgment for the family in 1989 (the amount is under seal), and collected evidence that was later used to convict the police officers on civil rights charges. "That case taught me how precious justice is," Cohen said. "Justice is not something that's inevitable. It's easy to lose sight of that. We tend to think things will work out in the end. That's false … and dangerous.
"The people and hate groups we monitor and [fight] through our Intelligence Project are really the most ardent opponents of the Fourteenth Amendment in our country. Through the years we have filed a series of lawsuits against some of the leading hatemongers of America and have been pretty successful. I sat in court next to the head of the Aryan Nations. I spent a lot of time in court with the late Dr. William Pierce, the head of the National Alliance, the leading neo-Nazi organization in the country, and author of The Turner Diaries, the book that was the blueprint for the Oklahoma City bombing. I had a trial against Dr. Pierce in the mountains of North Carolina one time, and I can tell you he is cold. Very cold."
In 2001, Cohen and the SPLC lost a case at the Supreme Court that he believes punctuates the demise of private civil rights enforcement. Alexander v. Sandoval decided private plaintiffs could not enforce what were called the disparate impact regulations under Title VI. Private enforcement of those regulations had been commonly accepted in the federal courts for the better part of two decades, including by the Supreme Court, although they had not squarely faced the issue. "Every court of appeals that had considered the issue ruled that you could enforce those laws," says Cohen, "but as part of the federalist revolution, Sandoval was among the long line of cases that have reversed that trend. So for those reasons, among others, we pursue some of our work in other ways."
Cohen laments the significant changes to the legal landscape in the last decade. "Litigation is not as powerful an engine for social change as it once was. To one degree a lot has already been done in the courts, of course. But the courts are increasingly hostile to civil rights plaintiffs. My guess is we would lose Paradise today, 6-3 or 7-2. So, even in my short lifetime of the law there has been tremendous change."
As president, Cohen guides the SPLC staff to meet those changes head-on. "For most of our existence the Southern Poverty Law Center didn't lobby. Because we recognize that we have to pursue a multi-pronged strategy to bring about social change, the Center opened an office in Mississippi and now employs lobbyists in Mississippi and Alabama. We have to go to the legislature, to the policymakers, and make our case. The Center is always seeking ways to increase its impact," said Cohen.
Bauer Heads Up Immigrant Justice Project


Mary Bauer '90
Cohen and the Center recruited Mary Bauer in 2004 to direct the new Immigrant Justice Project, a program designed to protect some of America's most invisible people: migrant workers. Bauer writes that nearly all undocumented migrant male workers in the United States are in the work force—a higher rate than that of U.S. citizens. She contends that these workers pay "far more in taxes than they receive in benefits," citing findings from the National Research Council.
"We filed two lawsuits yesterday for Katrina workers in New Orleans—migrant laborers who were being cheated out of their wages," Bauer said in early February. She had recently returned from Washington, where she lobbied Department of Labor officials about their failure to enforce laws in the Gulf Coast, because, as Bauer puts it, "you can't sue everybody. If the federal government were more vigilant in its enforcement, we would have less of a problem in New Orleans.
"It's terrible there. Every immigrant worker we talked to, and there are thousands there, all have a story of not getting paid or even worse. When they complained about not getting paid, an employer might call the police or immigration control, or maybe even beat them. It is like the Wild West. By lobbying, we are trying to put pressure on the Department, because if the government came in and said, 'We're watching you,' that would have a deterrent effect."
Cohen praises Bauer's strengths and credits her for the Center's immediate impact. "We initiated the program because there was a crying need for representation for migrant workers. But it is clearly Mary's strong leadership and great expertise that have made the program a success so quickly," Cohen said.
Bauer has worked in public service since graduating from the Law School. "My father was in the military, so we lived overseas when I was kid. We lived in Panama and Colombia; I had gone to school and learned Spanish—which is one reason I became interested in immigrants in the U.S."
Bauer oversees five lawyers working on an array of cases. "We have four class-action lawsuits now against forestry companies. The South is full of pine plantations where companies grow trees to make paper and wood chips. We have a new lawyer who is starting a project on sexual harassment and discrimination against immigrant women in nine states in the South.
At times, the Center has dealt with cases involving indentured servitude. "Our staff members spend a lot of time in Guatemala. After we filed one case, threats were made against our client's family in Guatemala. So we brought our client's wife and sister-in-law, these two indigenous women, to the United States. We had a hearing for a protective order. Until then the furthest they had been in their lives was a half-hour away from their village. These women came to the United States and appeared at the hearing wearing their indigenous garb and flip-flops. It really made a difference to the judge to see that these women actually felt that it was serious enough that they should come to the United States to make an impassioned plea."
Bauer blames the country's immigration system for many of the injustices facing migrant workers. "Our current system has created a two-tiered society, wherein immigrants are routinely subjected to dangerous working conditions and low pay. The solution is not to blame the victims; the solution is to fix the system."
It is easy to underestimate the aggregate gains throughout years of civil rights litigation when victory is a moving target. Given the changes over time to the legal landscape and to public perception, there are few sure outcomes. What is sure is that Richard Cohen and Mary Bauer are on the frontlines of a battle they consider to be far from over.