Loan Forgiveness Helps Alumni Pursue Career Dreams
Denise Forster
Many of them speak for those in need, some work in underserved areas of Virginia. But regardless in what capacity they serve the public, UVA Law graduates eligible for the school's loan forgiveness program universally sing its praises. While their jobs vary in nature, they share one unfortunate reality: they earn lower salaries than what associates can at a firm.
A nationwide survey conducted in 2004 by the National Association for Law Placement reveals salary information for entry-level attorneys in the public sector, as well as public interest organizations. At the time of the survey, the median salary for a first-year associate ranged from $65,000 (firms of fewer than 25 attorneys) to $120,000 (firms of 500 attorneys or more), with a median of $95,000. In comparison, entry-level public interest lawyers earn just $34,000 for civil legal services organization attorneys to $40,574 for state prosecuting attorneys.
This disparity makes the need for the Virginia Loan Forgiveness Program glaringly obvious. A young public interest lawyer simply can't afford student loan payments at a median, annualized rate of nearly $11,000. The same holds true for young associates practicing in small firms in mostly rural areas of Virginia.
Virginia's program makes these relatively low-paying careers a viable option for cash-strapped graduates. The program, funded primarily by alumni gifts, presumes that graduates who earn less than $35,000 per year are unable to pay any of their Law School education loans. They receive 100 percent assistance for the year. Those who earn $35,000 or more are presumed able to pay one-half of their [adjusted gross] income above $35,000. "Simply put, the program facilitates entry into low paying public service careers," said Kimberly Emery, Assistant Dean for Pro Bono and Public Interest and co-director with Molly Bishop of the Law School's Mortimer Caplin Public Service Center.
The program defines public service employment broadly to include jobs worldwide with federal, state, or local governments, legal aid offices, prosecutors, public defenders, public interest organizations, and legal reform groups that qualify as nonprofit organizations. (The majority of the 80 or so alumni enrolled in the VLFP work as public defenders or prosecutors). Recent graduates in private practice in the Commonwealth of Virginia are also eligible for loan assistance because they are likely to be practicing in an underserved area and therefore performing a public service. Graduates are eligible for the VLFP for up to ten years.
Profiled on these pages are three alumni grateful for a program that is allowing them to pursue their chosen careers.
One Environmental Battle at a Time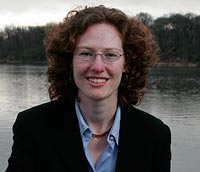 Sandra Nichols
Sandra Nichols found herself applying to Law School while fulfilling her Peace Corps assignment in a small rural town in a remote area of the West African nation of Ivory Coast. It was a challenge for her to convince the villagers that she was not too old to go to school in America and difficult for her to explain why she had to write significant essays for law school applications.
A strong woman who downplays the difficult, Nichols '03 doesn't flinch when recalling the scope of the work she did in the Ivory Coast—digging wells for water disposal, removing garbage, rehabilitating a school, educating villagers. To those villagers, the work Nichols accomplished was as important as the advocacy she now undertakes as an environmental lawyer. Nichols is comfortable tackling the important issues at stake in both scenarios.
Knowing that she wanted to go to work in public service after law school, the Virginia Loan Forgiveness Program was especially attractive to Nichols when choosing to attend UVA Law. "It's a very good program. It's a reason to choose to attend UVA as opposed to another school if you know you want to do public interest work," she said. "There's no way I would be able to afford working at this job without it—not with my loans. I'm extremely appreciative."
Now a lawyer with the Montgomery, Alabama office of WildLaw, a private, nonprofit environmental firm, Nichols strives to enforce environmental laws involving national forests, water quality, and community protection throughout the South. "Environmental protection is a basic right for everybody," she said. "But the way decisions are made often doesn't give appropriate weight to environmental considerations."
Even when environmental laws exist they may not be followed or enforced. Nichols worries about efforts to reform or weaken some laws out of existence. She is hopeful about a legislative taskforce looking at reforming Alabama's open-records law. "I'm on the taskforce and have a great opportunity to contribute to a new piece of legislation that will greatly improve public access to information," she said.
One of the recurring issues around environmental law involves public notification—or the lack of it. Time and again Nichols sees cases where a party isn't concerned with its obligation to provide an opportunity for community discourse on a project. On a recent case concerning the construction of a new Montgomery Intermodal Transportation Center, Nichols worked with four client groups to ensure a public dialogue took place. "The city's position was 'If we don't have to do what the public says, why should we even hold the meeting?'"
Nichols has the opportunity to work on almost every kind of environmental project because WildLaw takes cases that affect national policy. Last year she testified on the National Environmental Policy Act before a congressional committee. While Congress was considering reforming the law, Nichols argued that better enforcement of the existing NEPA was needed. "Federal land managers need to be educated about the Act's true intention. When people really understand it, it works better. I felt strongly that the committee be made aware that better public participation initially makes for better projects and fewer problems ultimately."
WildLaw attorneys have the ability to choose from a broad range of cases to work on. "I've worked with small communities on pollution issues, on national forests issues, even endangered species issues," Nichols said. She recalled a recent conversation in which a concerned citizen alerted her to a proposed coal mine slated to be located in a residential area, in spite of the community's recently completed comprehensive development plan calling for moderate growth. "He sounded so desperate." Nichols is researching the case to see if it's one she'll take on.
One case Nichols finds riveting involves a proposed damming of one of the last free-flowing rivers in the state. "If you can call a government project a boondoggle, this one's a boondoggle." The dam will supposedly feed a city's water supply—for a community that's not growing and that doesn't use the existing supply to its capacity. Additionally, the river is extremely polluted from runoff from surrounding chicken farms.
"It's hard to understand what their motivations are. It would be an opportunity, theoretically, to bring more industry to the area. But in reality the water won't be clean enough for them to use for anything. And the costs of building the dam go back onto the users who buy water from that supply system."
The dam project has been controversial since it was first proposed in the early 1990s. Eventually a permit was granted to build the dam, but WildLaw sued because the city's environmental analysis was incomplete. "We represent a big coalition, including the Alabama Rivers Alliance and an organization called Wild South. It's a great issue because of the broad base of support for our side." WildLaw and other river advocacy agencies are waiting for the Army Corps of Engineers to decide whether they will grant the permit.
Nichols thrives on these crusades. "I've been involved in both the legal and community organizational angle. The Army Corps would not hold a public hearing, so we organized our own. It was a packed house, with a lot of press. Almost everybody at the meeting was opposed to the project. We even uncovered some dissension between the city and counties involved. Their walls are beginning to crack," she said enthusiastically.
As a law student, Nichols was able to get hands-on experience in environmental work. "My classmate, Jessica Troell, and I went to South Africa for a semester and worked on the issue of public participation in resource management, specifically water management. The new South African constitution very clearly laid out people's rights to resources, right to housing, right to water, right to a clean environment." The project combined areas of the law most important to Nichols.
Although Nichols clearly revels in the environmental work she is doing, she hopes to incorporate human rights work into her practice in the future. While in law school she volunteered with the International Rescue Committee and took human rights courses under Professor Rosa Brooks that furthered her interest in the relationships between both areas of law.
Whichever fields of law Nichols decides to explore, her focus will remain the same: helping her community. "I have the good fortune to work in an area that I believe in and in which I have control over what I work on. Most everything I spend a significant amount of time on is rewarding."

A "Thank-You" for the VLFP
February 4, 2006

Dear Mr. Ibbeken,

Having recently received my 2006 Virginia Loan Forgiveness disbursement, I wish to thank you personally for your role in providing such generous assistance to those Law School alumni dedicated to working both in the public service sector and in low paying jobs in the private sector within the Commonwealth of Virginia. Although I am currently employed by a for-profit firm in Charlottesville, I conceive of the law as a public service profession and strive by my labors not only to advance the interests of my clients but also to serve the public and the judicial system with diligence, competence, and humanity.

To give this statement the benefit of context, permit me to share with you something from my brief experience as an associate at Scott Kroner, PLC. I occupy about 40 percent of my time assisting with and managing the collections practice of one of the firm's partners. One of my tasks as a collections attorney is to perform debtor interrogatories. Before I started at the firm, I must say I found the idea of collections work to be quite uninspiring, given my earlier aspirations to work in the field of First Amendment constitutional law (which aspirations I continue to cultivate for the future). Yet not long into my practice, I discovered that collections work offers me regular and unexpectedly powerful opportunities to reach out to touch the downtrodden of society who, due to poor choices and adverse circumstances, find themselves on the receiving end of a warrant in debt.

In only five months, I have often had occasion to behold the gentle and calming effect of kindness upon the attitudes of the debtors I have interviewed. Many have entered the conference room desiring to be contentious and expecting me to take their wallet. However, as I have applied myself to treat them with compassion and understanding—listening to their stories, empathizing with their hardships, and dignifying their desire to pay their debts, while eliciting the information about their assets and income sought by my clients—I have been privileged to watch a transformation occur in their demeanor.

It is old news that much of the public holds the modern legal profession in low esteem. Perhaps this is natural, for we are the gatekeepers and custodians of an imperfect and fundamentally adversarial system of justice. I, however, believe that every attorney can and should apply himself to brighten the public's dim opinion of lawyers by acting in all respects with honesty, consideration, and rectitude while serving his clients' interests. Moreover, I believe that, for those of us working in the private sector, our goal should not be profit but service, from which profit will inevitably result.

That is not to say that the renovation of public opinion will be easy. The pursuit of idealism in the practice of law is often, and quite sadly, corrupted by the beguiling influences of money and power. This is hardly a new phenomenon. Yet its distastefulness is made all the more unfortunate by the fact that so many young attorneys who enter law school with dreams of making a difference in society through public service employment leave law school saddled by debt so enormous that employment in large, profit-driven firms appears the only option if such debt is to be repaid and a reasonable standard of living maintained. This is where programs like the Virginia Loan Forgiveness Program are, in my mind, truly a gift from above. If not for VLFP, I am sure that I would have felt tremendous pressure to follow many of my peers into big city firms where the lures of wealth and prestige so often blind the eyes of otherwise decent attorneys to the command of service. That is not to disdain large firms or to suggest that I could not have adopted a service mentality while laboring on behalf of a megacorporation; only to say that I am inexpressibly grateful for the opportunity to stay in Charlottesville and work at a small, family-oriented law firm where an attitude of public service is naturally expected and encouraged.
Please accept my heartfelt thanks for your hand in extending financial support to me through the Virginia Loan Forgiveness Program. It is a monumental blessing to be so supported by the Law School community.
Warmest Regards,
Corban A. Klug '04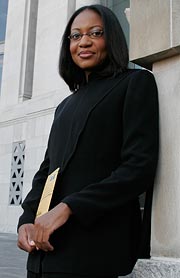 Terrica Redfield
Facing Justice and the Death Penalty

Andrea Lawhon
Since a revealing encounter inside Chicago's Cook County Jail, Terrica Redfield '02 has had a heightened awareness of injustice within the penal system. She sees it daily in her work defending the rights of those facing execution throughout the Deep South. Her passion for the work has earned her a fellowship for 2006-07 from Reprieve, an international organization in the United Kingdom dedicated to providing frontline assistance to people facing the death penalty.
After law school, Redfield completed a two-year fellowship with the Fair Trial Initiative in Durham, North Carolina, where she worked on trial level capital cases throughout the state. She is now a staff attorney with the Southern Center for Human Rights in Atlanta, where she represents people facing the death penalty at trial, on appeal, and in the post-conviction review process. She works closely with civil rights advocate and litigator Stephen Bright. The SCHR, founded by Bright, is a non-profit, public interest law firm dedicated to enforcing the civil and human rights of people in the criminal justice system in the South.
Redfield's fellowship from Reprieve awards her £20,000 to underwrite the cost of her job at the SCHR. For Redfield, this support will help cultivate her career choice bringing advocacy skills to an area with real need.
The financial pressures of Redfield's work are further relieved by the Virginia Loan Forgiveness Program. "It's wonderful, wonderful, wonderful!" exclaims Redfield about the repayment plan that helps young lawyers pursue a career in public service by easing the burden of graduate school loans. Through its assistance, the VLFP allows Redfield to remain focused on her work. "I would want to pursue this path regardless of the loan repayment, but it would be much more of a struggle, more of a decision about whether I could even afford to do so. The loan repayment removes that concern and allows me to focus on doing what I feel like I am supposed to be doing."
Raised in McComb, Mississippi, Redfield attributes her desire to work for social justice to her Southern roots and family history. "My grandmother and great-aunt were the first blacks to register to vote in Liberty, Mississippi, and I have always been amazed by their bravery. At the time, they could have been killed or assaulted and not many people would have cared. The fact that they took that risk is continually amazing, and I think maybe I have some of their spirit in me."
This spirit carried into Redfield's undergraduate days at Mississippi's Tougaloo College. An undergraduate research fellowship with the American Bar Foundation first introduced her to criminal defense work. The program included a tour of the Cook County Jail. She remembers how "walking through the jail and looking at the inmates made me feel like I was going to the zoo. I felt like we were violating some inmates' privacy. There was something very unsettling about that experience for me, but more than that, I noticed that there were so many African-American men. I thought 'There has to be something wrong here,' but I did not know exactly what."
Redfield's confusion turned to disbelief as some law students in her group requested jailers to allow fighting amongst the inmates for their personal amusement. "I was shocked at the inhumanity of such a request, that they could devalue people's lives to that extent or even thought it was an appropriate request to make." Redfield was further unsettled upon realizing that some of inmates had not yet even been convicted and thought, "Here are future leaders of our communities and of our nation, and if they have this sort of attitude about people in jail or prison, then we are in trouble."
Had she felt unclear about what path to pursue in life, Redfield's visit to the jail turned her passion for social justice firmly toward a legal career in criminal defense. Few of her classmates in the Law School shared Redfield's interest in this field, specifically the death penalty. Nevertheless, she felt encouraged by the school's professors and related programs. "Many people supported my interest in death penalty work while I was at the Law School. I think it's become even more supportive as the years go by, but I also think that is true at UVA about all public interest."
Redfield remains true to her lifelong philosophy. "I always said if I was going to do something with my life it should be something where I could make somebody else's life better." Her passion to help others, the spirit of her family history, and her legal experience have given her the opportunity to do just that.