Upcoming Alumni Events
Join Us
May 5-7
Law Alumni Weekend 2006 events in Charlottesville
Return to the Law School & Charlottesville for your class's reunion
Info at: www.law.virginia.edu/reunions
May 6
Annual Meeting of the Law School Alumni Association
Meeting at the Law School includes State of the Law School Address by Dean Jeffries
June 12
Washington, DC Alumni Luncheon
Join other DC Area alumni for a luncheon at Hotel Washington
June 21
Richmond Alumni Reception
Join Dean Jeffries for a reception at the new Troutman Sanders Building
July 13-16
LL.M. European Reunion
LL.M.s and other European Law Alumni gather in Zurich for a weekend of reunion events. Contact: Dr. Adrian Dörig, LL.M. '96, adoerig@vischer.com
July 13
Washington, DC Alumnae Reception
DC-area alumnae network and meet other women graduates at a reception on the rooftop of the Jones Day offices.

Philadelphia Reception

Professor Lillian R. BeVier met with Philadelphia Law Alumni for a cocktail reception on November 17 at the National Constitution Center, Delegates' Restaurant.

Boston Luncheon

Dean John C. Jeffries, Jr. '73 met with Boston area alumni at the Omni Parker House Hotel in early October.

Providence Reception

Stephen A. Cardi '66 hosted the Dean and Providence area alumni at The University Club in early October.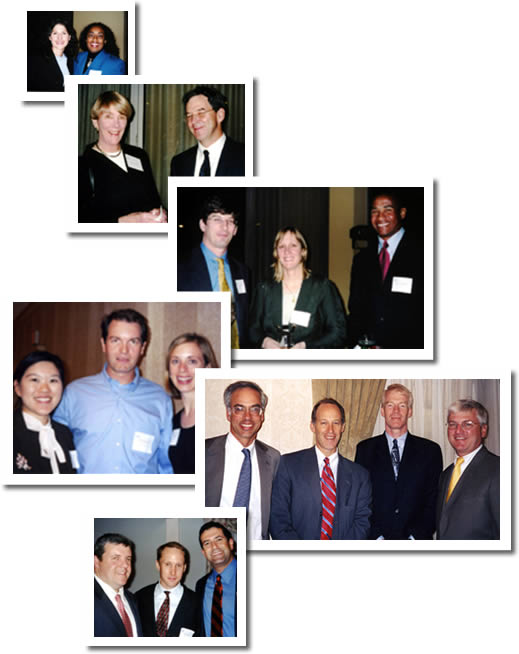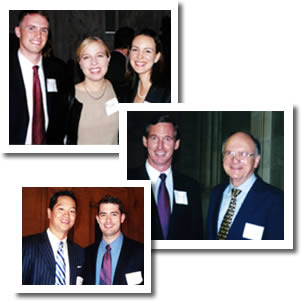 Washington, DC Donor Recognition Reception

More than 150 alumni met in the Caucus Room of the Russell Senate Office Building in mid-October for a donor recognition reception.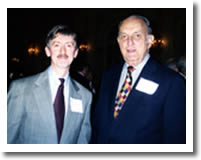 Annual NY Luncheon
Renowned author and 2005 National Medal of the Arts Recipient Louis S. Auchincloss '41 was the featured speaker at a spring New York Law Alumni Luncheon at the Yale Club.
Photos from top to bottom: 1997 Classmates Jennifer Selber and Michelle Campbell in Philadelphia; Professor Lillian BeVier with John Osborn '83 in Philadelphia; Lewis Rosman '93, Julie Kitze '89, and Zane Memeger '91 in Phildelphia; Ruth Ma '03, Lloyd Dahmen '05, and Amy Dachtler '04 in Boston; 1983 Classmates meet up in Boston: Bob Jarhling, Kevin Brill, Dustin Hecker, and Jim Campbell; John McLoughlin '97 and Bill Olinger '96 with Rob Masri '96 in Providence; 2004 classmates J.P. Cooney, Sarah Baker, and Julie Ann Perschbacher; J. Warren Gorell, Jr. '79 and Professor A.E. Dick Howard '61; 1998 Classmates David Chung and Ray Krncevic; Wilder Knight '85 and Louis Auchincloss '41.