Faculty Briefs

In March, Ken Abraham spoke at a conference in Washington, DC, on "Catastrophic Risk Insurance: The Search for a Long-Term Solution." The conference was convened in the wake of public policy issues raised by Hurricane Katrina. Abraham was on a panel analyzing the proper balance between public and private expenditures for reducing the risk and dealing with the consequences of catastrophic natural disasters such as hurricanes, earthquakes, and floods.

Michal Barzuza will be publishing her paper "The Market for Corporate Law" in the Journal of Institutional & Theoretical Economics (with Oren Bar-Gill and Lucian A. Bebchuk). The paper develops a model of the competition among states in providing corporate law rules. The analysis provides a full characterization of the equilibrium in this market. Competition among states is shown to produce optimal rules with respect to issues that do not have a substantial effect on managers' private benefits, but not with respect to issues (such as takeover regulation) that substantially affect these private benefits. The authors analyze why a dominant state such as Delaware can emerge, the prices that the dominant state will set, and the profits it will make. The results of the model are consistent with, and can explain, existing empirical evidence. Finally, the analysis highlights the importance of the rules governing reincorporation and the potential benefits of giving shareholders the power to make reincorporation decisions.

Lillian BeVier received this year's University of Virginia Alumni Association Distinguished Professor Award. This all-University award recognizes exceptional teaching by a professor who has demonstrated concern for students and contributed significantly to University life. (more)
BeVier was also on a panel that addressed the question "Who is the press?" at the Federalist Society Lawyers Convention in November. BeVier argued that bloggers ought to be permitted to claim the "media exemption" from campaign finance regulations ("McCain-Feingold"). BeVier also participated in a symposium on reporter's privilege at Ohio Northern University Law School on March 24. She talked about the press-accountability issues that recognizing the privilege raises.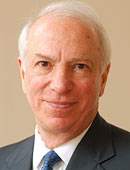 In October, Richard Bonnie '69 presented "Pandemic Flu: Legal Challenges" to the Virginia Public Health Association, Charlottesville, and in December presented the keynote address, "Reforming Civil Commitment: Serving Consumers' Needs While Protecting Their Rights," at The Chief Justice's Conference on Reforming the Civil Commitment Process in Richmond.
In January, he served on Virginia Governor-elect Tim Kaine's Policy Transition Team on Health and Human Services. Also in January, he presented at Grand Rounds for the UVA Department of Neurology on "Termination of Life-Sustaining Treatment of Patients in a Persistent Vegetative State."
In March, Bonnie presented "Alternative Legal Frameworks for Organ Donation" at the Conference on Organ Donation sponsored by Institute for Practical Ethics in Charlottesville, and "The Challenge of Increasing Deceased Organ Donation" at Medical Center Hour, UVA Medical School.
In April, a committee of the National Academy of Sciences, Institute of Medicine, on which Bonnie served, released a report evaluating various proposals for increasing the rate of deceased organ donation and proposing an "ethically acceptable strategy" for doing so.
In May, Bonnie will present "Facilitating Advance Planning for Long-Term Care" at the Third Conference of the Max Planck International Research Network on Aging held in Charlottesville. Bonnie is a member of MaxnetAging, a partnership between the Max Planck Society, the University of Virginia, and the Karolinska Institute in Stockholm. Also in May, he will present "The Right to Vote and the Legal Relevance of Declining Mental Capacity" at the Annual Scientific Meeting of the American Psychiatric Association in Toronto, and "Mental Disability and the Death Penalty: Emerging Issues" at a forum convened by the American Bar Association in Washington, DC.

The National Association of Women Lawyers (NAWL) named Anne Coughlin as co-chair of the Committee for the Evaluation of Supreme Court Nominees. The committee reviews and evaluates the qualifications of each presidential nominee to the United States Supreme Court with an emphasis on laws and decisions regarding women's rights or that have a special impact on women. Members of the committee are appointed by the president of NAWL and include a distinguished array of law professors, appellate practitioners, and lawyers concentrating in litigation, with diverse backgrounds from around the country and who work in a variety of professional settings. Founded more than 100 years ago, NAWL has members in all 50 states and engages in a variety of programs and activities to advance its mission.

Risa Goluboff published a comment in a forum in the Law and History Review on an article by James Henretta about Charles Evans Hughes. Her comment was titled "Deaths Greatly Exaggerated." Goluboff is serving on the program committee for the American Society for Legal History 2006 Annual Meeting. She gave a Legal Studies Colloquium at Stanford Law School and commenting on Akhil Amar's new book, The American Constitution: A Biography in a panel discussion at the Law School. Goluboff will also be on a panel at the Miller Center's American Political Development conference commenting on Thomas Sugrue's new book, Sweet Land of Liberty.

Mitchell Kane '96 presented "Risk and Redistribution in Open and Closed Economies" at a University of Pennsylvania Law School faculty workshop in March and at a New York University tax colloquium in April. This paper argues that under the normal operation of accepted international tax instruments, certain jurisdictions systematically tax away part of the upside gains on risky investment, while other jurisdictions systematically bear a part of the downside cost of losing investments. This leads to a phenomenon that Kane calls divergence, which appears to redistribute large sums across nation states in ways that have not been previously appreciated.
He also presented "Ownership Neutrality, Ownership Distortions and International Tax Welfare Benchmarks" at the University of Pennsylvania Law School tax policy seminar in April. The paper analyzes the empirical and theoretical arguments for adopting international tax welfare benchmarks that are keyed to ownership distortions.
It concludes that existing empirical evidence does not provide a good indication of the magnitude of ownership distortions, as compared to locational distortions. The paper's chief theoretical contribution is to describe the many tax and non-tax features of the global economy that can lead to ownership distortions.

Michael Klarman spent the 2005-06 year visiting at Harvard Law School. In October, he presented his article "Brown and Lawrence (and Goodridge)" at a Harvard Law School faculty workshop and constitutional law conference. In November, Klarman participated in a panel at the annual conference of the American Society for Legal History, titled "Author Meets Critics: From Jim Crow to Civil Rights." In January, he taught a 12-hour seminar on Early American Constitutional History to California state judges in Monterey in their Continuing Judicial Studies Program. In February, Klarman presented his book project "Backlash" to a faculty workshop at Northeastern University Law School. He presented the same manuscript at a legal history workshop at Yale Law School in March and to another legal history workshop at Boston University School of Law in April. Also in April, Klarman participated in a panel at Harvard Law School titled "Courts and Social Reform Movements" and presented his chapter on "Scottsboro" at a conference there marking the publication of Criminal Procedure Stories (edited by Carol Steiker). In May, Klarman gave a talk on his book, From Jim Crow to Civil Rights, at the Social Law Library in Boston, and in June is giving a book talk at the New York Historical Society. Also in May, Klarman plans to take part in a daylong seminar with Florida state judges titled "Judicial Independence in American History."
In April he attended Opening Day at Fenway Park.
West Publishing Group recently contracted with Doug Leslie to acquire his self-created archive of CaseFiles. Leslie will be the editor in chief of a newly created division within West. In Leslie's CaseFile method, students read a fictional fact pattern and analyze it through the framework of precedents included in each day's reading. Leslie spends class time asking students to apply the precedents to the fact pattern by making "on the one hand/on the other hand" kinds of arguments. Each day's lesson is a self-contained segment of the course.
Initially, West plans to publish the CaseFiles Leslie has created in contracts, property, employment law, and labor law. But West is seeking law professors from around the country to author CaseFiles in new courses. As editor in chief, Leslie will provide new professors guidance on authoring CaseFiles to ensure that each accomplishes the goals of the method. Ultimately, West plans to publish CaseFiles for the entire law school curriculum, and hopes to have a CaseFile circulation equal to that of its two series of traditional casebooks, the Foundation Press Series (navy blue covers), and West Group Series (brown covers). Speaking on the magnitude of this deal, Dean John C. Jeffries, Jr. '73, said, "This may be the only really significant innovation in the design of teaching materials that I've seen in the 30 years I've been in the business."

In November, Elizabeth Magill '95 received a scholarship award from the American Bar Association's Administrative Law Section. The award recognized her University of Chicago Law Review article, "Agency Choice of Policymaking Form" as the best article published in the field of administrative law in 2004. In January 2006, along with Professor Steven P. Croley of the University of Michigan's Law School, Magill presented "An Empirical Picture of the Administrative State," the results of their research about the nature of agency decision making and how that has changed over time. In April, Magill presented a paper at the Law School and at Princeton. The paper is one part of a larger project she has been working on during her fellowship at Princeton about the creation of a new generation of health, safety, and environmental agencies in the 1960s and 1970s and the implications of that new regulatory regime for law.

Anup Malani is visiting at the University of Chicago Law School. He has six new working papers: "Incentives to Surveil and Report Infectious Disease Outbreaks," (with Ramanan Laxminarayan); "Valuing Laws as Amenities;" "Addressing the Supply of New Antibiotics;" "The Role of Medicare in Regulating Antibiotic Use;" "Physiological Placebo Effects Mediated by Expectations" (with Dan Houser); and "Why Are There No For-Profit Charities?" (with Eric Posner). He has two forthcoming publications: "Identifying Placebo Effects with Data from Clinical Trials" in the April Journal of Political Economy and "Habeas Settlements" in the Virginia Law Review. Malani also has two new papers under review at journals: one at the Journal of Legal Studies titled "Forget Quality. Do Non-Profits Even Signal Their Status?" (with Guy David) and the other at the Journal of Econometrics titled "Patient Enrollment in Medical Trials: Selection Bias in a Randomized Experiment."
Malani also received a grant from Pfizer to study statistical methods for estimating heterogeneity in treatment effects.
Malani presented the physiological placebo effects paper at the American Economic Association meetings in January 2006 and the UVA General Clinical Research Center conference in November. He also presented the surveillance paper at University of Chicago, the World Bank, Resources for the Future, and University of Illinois-Chicago. He will present it at the WHO in Geneva, Switzerland, later this spring. He also presented the law as amenities paper at Northwestern University, University of Chicago, and University of Illinois-Chicago, and will present the for-profits charities paper at the American Law and Economics Association meetings in May. Malani presented a paper on non-profit advertising at the Midwestern Law and Economics Association meetings in October.
Malani was selected to participate in a Robert Wood Johnson Foundation grant for studying antibiotic resistance, is also on the steering committee of the University of Chicago Pharmaceutical Policy Program funded by Merck, and was selected to be a core member of the DEEP-C lab at Princeton/Resources for the Future. The lab is sponsored by the McDonnell Foundation and studies infectious diseases. Finally, Malani is organizing a conference on medical malpractice at the University of Chicago Law School in May.

In 2005, David Martin participated in several projects for the Migration Policy Institute, headquartered in Washington, DC, where he serves as a Nonresident Fellow. His work included the publication of a monograph titled "Twilight Statuses: A Closer Examination of the Unauthorized Population." The Institute also published his book, The United States Refugee Admissions Program: Reforms for a New Era of Refugee Resettlement, which was based on a lengthy study that the U.S. Department of State had chartered to consider difficulties that had arisen in the refugee program since September 11, 2001. A book-launch event in Washington, DC included commentary by government officials and persons active with refugee assistance organizations. Martin also presented his report's conclusions to a Washington meeting of the Board of Overseers of the International Rescue Committee, chaired by Tom Brokaw, and to a Plenary Session of the Joint National Conference of Episcopal Migration Ministries and Church World Service.
In the fall, Foundation Press published Immigration Stories, co-edited by Martin and Peter Schuck of Yale University, one in a series of volumes that tells the litigation and political history as well as the human stories that lie behind well-known cases often taught in law school courses. The book includes Martin's chapter on two asylum cases based on the threat of female genital cutting, titled "Adelaide Abankwah, Fauziya Kasinga, and the Dilemmas of Political Asylum." Martin also published "A New Era for U.S. Refugee Resettlement" in the Columbia Human Rights Law Review, and "Offshore Detainees and the Role of Courts after Rasul v. Bush: The Underappreciated Virtues of Deferential Review," in the Boston College Third World Law Journal.
Martin served as a faculty member for the Federal Judicial Center's National Symposium for United States Court of Appeals Judges in Washington, DC in November. He presented sessions on changes in U.S. immigration laws, including coverage of the REAL ID Act, enacted in May 2005.
Martin completed a two-year term as Vice President of the American Society of International Law in 2005, but continued to serve on committees preparing for the Society's centennial observances this year, as well as on the search committee for a new executive director for the Society. He served as a commentator on a new book by Noah Pickus on immigration and American civic nationalism, in a session held at the Woodrow Wilson International Center for Scholars in Washington, DC in September. Later that month he took part in a conference at New York Law School titled "Immigration Law and the Federal Courts." In March, Martin gave an invited lecture co-sponsored by California Western School of Law and two research institutes of the University of California-San Diego, on the topic "Are Birthright Citizenship and Dual Nationality Good Ideas?" In April he participated in Lewis & Clark College's 44th annual International Affairs Symposium on "Pledges of Allegiance? Identity in a Changing World." His session involved a debate with Professor Stanley Renshon of the City University of New York on "Immigration and Identity," including the issue of dual nationality.

Since June, Tom Massaro has been a co-investigator on a project to help build an infrastructure for providing psychosocial support for HIV/AIDS orphans in Botswana. Four faculty members from the University have teamed with three colleagues from the University of Botswana to do a field study of the needs of the orphans and their caregivers. The team has developed a caregiver's manual to help the caregiving community deal with the challenges it faces.

In February Paul Mahoney gave the Judge Ralph Winter Lectureship on Corporate Law and Governance at Yale Law School. A video of the lecture, "Did the SEC Improve Corporate Disclosure?" is available online at the Yale Law School Center for the Study of Corporate Law. Former law clerks and students of Judge Winter established the lectureship to support lectures on corporate law and governance and related topics and to commemorate the judge's foundational corporate law scholarship and distinguished career as a jurist.
Last fall, Richard Merrill traveled to China to assist the Chinese in their development of a new food safety law under the auspices of the Yale Law School's China Law Center (headed by Paul Gewirtz), which also organized a similar session on the law of defamation in which Ken Abraham participated in 2004.

The John D. and Catherine T. MacArthur Foundation awarded the University of Virginia a $4.5 million grant for the final phase of the Research Network on Mandated Community Treatment, a three-phase study on legally mandated treatments for people with mental disorders.
Directed by John Monahan, a nationally recognized expert on mental health disorders, the study seeks to provide scientifically sound evidence for developing effective policies and practices on whether, and how, to mandate such treatments. The network members represent the fields of psychiatry, psychology, sociology, social work, economics and law. "The MacArthur Foundation founded this research network to fill a critical information gap in mental health law and policy," said Jonathan F. Fanton, president of the MacArthur Foundation.
Begun in 2001, the network addresses an urgent national need. As involuntary treatment for mental disorder has shifted away from closed institutions to the open community, the issue of mandating appropriate care is often framed in terms of public safety and has stirred intense debate among policymakers. "It is regarded in some quarters as a violation of civil liberty," Monahan said, "but I believe that if done right, offering people 'a deal' can be an effective and ethical way to get some patients the treatment they really need, but otherwise might not receive."

Caleb Nelson received the Paul M. Bator Award given annually by the Federalist Society for Law and Public Policy Studies. This award recognizes a young academic, under the age of 40, whose life, work, and ideals most closely embody those of the late Paul M. Bator, a legendary professor who taught a generation of law students at Harvard and the University of Chicago. Nelson, who said that he is "thrilled and honored" by the award, adds that the award is especially meaningful to him because Professor Bator was a leading figure in Nelson's own field of federal courts. Nelson received the award at the Federalist Society's National Student Symposium at Columbia Law School in February.

In January, Jeffrey O'Connell lectured on "Giving Economist Julian Simon His Due" at a symposium sponsored by The Liberty Institute of New Delhi. The Institute will publish the text of the lecture with the symposium papers.
In February an article by O'Connell and co-authors Jeremy Kidd and Evan Stephenson, "An Economic Model Costing 'Early Offers' Medical Malpractice Reform: Trading Noneconomic Damages for Prompt Payment of Economic Damages," appeared in the New Mexico Law Review.
This spring, a chapter by O'Connell and John Linehan titled "The Rise and Fall (and Rise Again) of Accident Law: A Continuing Saga" appeared in the volume Law and Class in America: Trends Since the Cold War (Paul Carrington & Trina Jones, eds., New York University Press). Also appearing this spring is an article by O'Connell and John Linehan in the Gonzaga University Law Review titled "Neo No-Fault Early Offers: A Workable Compromise Between First and Third-Party Insurance."

In May 2005, Dotan Oliar participated in the Stanford/Yale Junior Faculty Forum at Stanford Law School in which the best 14 papers by non-tenured faculty in a wide variety of legal topics are selected. Oliar's paper was selected to the intellectual property session and he presented his research on the Origins and Meaning of the Intellectual Property Clause.
In August Oliar participated in a week-long cybercamp in St. Helena, Calif., co-sponsored by the Berkman Center for Internet & Society at Harvard Law School and the Berkeley Center for Law and Technology at the University of California at Berkeley School of Law. He presented a working paper on Indirect Liability in Copyright Law.
In June 2006, his article "Making Sense of the Intellectual Property Clause: Promotion of Progress as a Limitation on Congress's Intellectual Property Power" will be published in the Georgetown Law Journal.
In December the Ford Foundation announced that Robert O'Neil will be serving for the next two years as the coordinator and program director of its Difficult Dialogues program, which is making $100,000 grants to 27 colleges and universities to address campus tensions (racial, religious, gender, sexual orientation, and others) across the country. Also in December, O'Neil addressed the University of Michigan's Faculty Senate on issues of tenure and academic freedom. In January he was a panel member (speaking on academic freedom in clinical legal education) at the AALS annual meeting, followed by a keynote address at the American Council on Education Fellows annual Professional Development Program. He delivered a speech to a conference on academic freedom in February at the University of Colorado-Boulder, and another at a similar conference in March at Brooklyn College. In March he spoke at the spring workshop of the National Association of College and University Attorneys in San Francisco, and served this year once again as a judge of the annual Scripps-Howard Journalism Awards.

Dan Ortiz submitted an amicus brief on behalf of AARP and others in Wisconsin Right to Life v. Federal Election Commission, a case before the Supreme Court concerning campaign finance. In this case, WRTL argued that although the Bipartisan Campaign Reform Act of 2002 ("McCain-Feingold") restricted corporations and unions from running certain broadcasting advertisements within the days preceding a federal primary or general election, corporations and unions should be able to run individual ads that otherwise would be covered if they fell within a category WRTL described as "grassroots lobbying." Ortiz also submitted an amicus brief on behalf of The Reform Institute, Thomas Mann, and Norman Ornstein in LULAC v. Perry, the Texas redistricting case now before the Supreme Court. This brief laid out the anticompetitive effects that gerrymandering typically leads to.

In March, Margaret (Mimi) Foster Riley spoke on "Regulation and Oversight of Stem Cell Research" at a conference entitled The New Medicine: The Ethics and Policy of Regenerative and Replacement Therapy, sponsored by the University of Virginia School of Medicine. In May she will speak on "Regulation of Embryo Donation: Lessons from the British Experience" at a Science, Technology, and Adoption conference at New York Law School.

Richard Schragger presented "Can Strong Mayors Empower Weak Cities? Considering The Power of Local Executives in a Federal System" at UCLA and the University of Oregon this spring and presented it at a symposium titled "The Most Dangerous Branch? Mayors, Governors, Presidents and the Rule of Law" at the Yale Law School in March. The paper will be published in the Yale Law Journal in October. The paper suggests reasons for the historic weakness of the office of the mayoralty and argues that a strong mayor may be able to amass power on behalf of her city by challenging the current relationship between local governments and national and state governments.

Stephen Smith '92 was a panelist at the Lindquist & Vennum Symposium at the University of Minnesota Law School speaking on "The Future of the Supreme Court and Beyond: Institutional Reform and Beyond." He also presented a paper titled "The Supreme Court and the Politics of Death" which will be published in the May issue of the Minnesota Law Review. At faculty workshops at Columbus School of Law, Catholic University of America, Pepperdine School of Law, and the University of San Diego Law School, Smith presented "'Innocence' and the Guilty Mind." Smith was also a moderator on a criminal law panel at the UVA Conference on Public Service and the Law, and was a named signatory on an amicus brief on the winning side in Rumsfeld v. FAIR urging the Supreme Court to uphold a congressional mandate that law schools give military recruiters equal access to the on-grounds recruiting process.

Chris Sprigman has a new paper with Kal Raustiala of UCLA titled "The Piracy Paradox: Innovation and Intellectual Property in Fashion Design" that he presented in April at a conference at MIT. The paper has been selected by the Berkeley Center for Law and Technology at Boalt for inclusion in their Law and Technology Scholarship paper series.

Paul Stephan's '77 article "Process Values, International Law, and Justice" was published in Social Philosophy and Policy and his "Global Governance, Antitrust, and the Limits of International Cooperation" was published by the Cornell Journal of International Law. Stephan authored and submitted an amicus brief to the Supreme Court in the combined cases of Sanchez-Llamas v. Oregon and Bustillo v. Johnson. Stephan wrote the brief on behalf of various law professors and supported the position of the Commonwealth of Virginia in arguing that the Vienna Convention on Consular Relations does not provide a private remedy when police fail to inform a foreign subject who has been arrested of his right to contact his consul, and that the interpretation of the Convention propounded by the International Court of Justice was not binding on U.S. courts. In November Stephan spoke at the annual meeting of the American Association for the Advancement of Slavic Studies on Democracy and Liberalism in Russia.
Stephan gave a reprise of this performance at the Rotunda, along with UVA colleagues Allen Lynch of the politics department and Hugh Ragsdale of the history department. His upcoming speaking engagements include a presentation at Vanderbilt Law School as part of a Roundtable on Current Issues in International Law and participation in a panel at the Annual Meeting of the American Society of International Law on the significance of decisions of the International Court of Justice in U.S. law.

In September 2005, Rip Verkerke was appointed a Master in Robinson-Smith v. GEICO, an overtime pay collective action being litigated in the federal district court in Washington, DC. Verkerke prepared recommended findings of fact and conclusions of law on five remedial issues in the case. He read briefs and prepared a memo for the parties indicating his tentative conclusions and framed a number of questions for oral argument.
In March, Verkerke traveled to the University of Melbourne to teach a short course on behavioral economic analysis of law, to present a paper at a faculty colloquium sponsored by the Centre for Employment and Labour Relations Law, and to collaborate with Colin Fenwick, the director of the Centre, on a research project concerning Australian labor law reform.

In October, G. Edward White delivered the Monsanto Lecture at Valparaiso Law School. The topic was "A Customary International Law of Torts." White argued that the Court's recent decision in Sosa v. Alvarez-Machain, which held that the Alien Tort Statute creates an opportunity for American courts to find a limited number of torts in violation of customary international law, sits uneasily with Erie v. Tompkins, which maintains that there is no "general federal common law." Prior to Erie, customary international law was regarded as "general" law, applicable in both federal and state courts. After Erie, federal courts are bound to follow state law in most cases. At the same time international law has increasingly been treated as an area in which the federal government has a distinctive interest and concern. This seems to raise two questions: what sort of "law" is customary international law under the Alien Tort Statute, and, if it is post-Erie federal law, is it binding on the states (under the Supremacy Clause) or, if it is state law, is it binding on the federal courts? White discussed this apparent conundrum and argued that any customary international law of torts derived from the Alien Tort Statute should be treated as the equivalent of pre-Erie "general law," which could be applied by both federal and state courts, with no obligation to follow each other's decisions.
In November, White presented "The Internal Powers of the Chief Justice: The Nineteenth-Century Legacy," at a symposium at University of Pennsylvania Law School. The paper explores the origins of two powers habitually associated with the Chief Justiceship: the power to set the agenda of the Court and the power to assign opinions when the Chief votes with the majority. White concludes that the first of those powers seems to have been a function of the Chief Justice's "special seniority," where, by virtue of his position, he presides over the Court and organizes its docket. The second power, however, was not exercised in the 19th century in the same way it has been exercised on modern Courts. This is because the Court's earlier deliberative process was much more informal, with justices who "dissented" often silently acquiescing in an opinion of the Court; that opinion, once assigned, not being circulated among justices; and the Chief Justice having the option to write opinions in all cases, regardless of his vote. Assignments only became important once the Court's docket became sufficiently crowded that some distribution of opinion assignments was necessary to ensure that the Court completed its business. At that point Chiefs became more conscious of making a roughly equal distribution of assignments. But the circulation of opinions and the public recording of all the votes of the justices in all cases did not appear until the 1940s. Hence any understanding of the history of the Chief Justice's internal powers requires attention to the radical changes in the protocols of the Court's internal deliberative process.
Both the lecture and paper will be appearing in subsequent issues of the Valparaisoand University of Pennsylvania Law Reviews.
Professor Edwin S. Cohen '36 (1914–2006) Honored at Memorial Service
Edwin S. Cohen '36, Joseph Hartfield Professor of Law Emeritus, died January 12 at his home in Charlottesville. He was 92.
The Law School hosted a memorial service for Professor Cohen on Saturday, February 18 in Caplin Pavilion. The ceremony honored Cohen's life and focused on his public service in government and as a teacher. Keynote speaker Michael Graetz '69, a former student and protégé of Cohen's at the U.S. Department of Treasury, and now Justus S. Hotchkiss Professor of Law at Yale University joined Dean John C. Jeffries, Jr. '73; Caplin Drysdale co-founder Mortimer Caplin '40; former law partner Don Schapiro; Cohen's former Treasury assistant F. David Lake, Jr. '67; his daughter Wendy Cohen, and his son Edwin C. Cohen '67 to reflect on Professor Cohen's career and professional life. More than 150 former students, colleagues, friends, and family attended.
Born September 27, 1914 in Richmond, Professor Cohen was a 1933 Phi Beta Kappa graduate of the University of Richmond. After graduating from the Law School in 1936, he went to work for Sullivan & Cromwell, where he began to specialize in taxation and investment matters and afterwards gave lectures on the subjects. In 1949 he formed the New York firm Root, Barrett, Cohen, Knapp and Smith with some of his former law classmates and continued doing tax work for the mutual fund industry. He remained with that practice until 1965.
Cohen had always been interested in teaching, and in 1963, Dean Hardy Dillard offered him the opportunity to teach law at his alma mater. For two terms he commuted from Manhattan to Charlottesville twice a month to teach a tax course. After the second course he was offered a visiting professorship, and a year later, an appointment to the faculty. In 1968 he was named to the Joseph M. Hartfield Chair. Shortly after he joined the law school faculty, he led an effort to conform the Virginia income tax to the federal tax, simplifying the tax life of millions of Virginians. Much later he was instrumental in the founding of the Virginia Tax Review and the Virginia Tax Study Group which meets semi-annually at the Law School.
In 1969 the Nixon administration designated him Assistant Secretary for Tax Policy to work with Secretary of Treasury David M. Kennedy and Under Secretary Charles E. Walker. In 1972 he was appointed Under Secretary of the Treasury and served in that position until his resignation in 1973. In recognition of his distinguished service, Cohen was awarded the Treasury's highest honor, the Alexander Hamilton Medal.
After his stint in the Treasury Department, Cohen resumed teaching at Virginia and practicing law with Covington & Burling in Washington, DC. Later he became partner and senior counselor at the firm until his retirement in 1986.
According to an obituary written by Adam Bernstein in the Washington Post, Professor Cohen played a major role in the formation of modern tax policy and contributed heavily to the Internal Revenue Code of 1954, a massive overhaul of the federal income tax system. He continued teaching at the Law School until 2005.
At the memorial service, Graetz referred to Professor Cohen's well-known sense of humor, citing his memoir, A Lawyer's Life: Deep in the Heart of Taxes, and saying "Eddie and I never saw each other without laughing together. Edwin Cohen was a genuinely funny man. He had a remarkable sense of humor. He loved humor in any form, but most especially he loved doggerel, and he loved the pun."
Calling Cohen "an unflappable optimist,"Graetz said "Eddie's passions, his energy, his courage, and his sense of humor should inspire young lawyers to … worry less about their security, to think less about the BMW payments, and instead to take some chances.
"Like his career itself, Eddie's optimism should stimulate the coming generation of lawyers to pursue similarly broad and fulfilling professional lives. But to make it happen, they must be very clear about their goals and muster great energy and courage. Serendipity is not likely to suffice. I hope Eddie's life will also inspire people in positions of power at law firms and on law faculties to strive to ensure that the kind of rewarding, multi-dimensional career that he so enjoyed will remain possible for the generations of lawyers who follow."
Cohen was survived by his wife, Helen, who passed away on March 23. She was 92. They are both survived by three children:Edwin C. Cohen '67 of New York, New York; Roger Cohen of Denmark, Maine; and Wendy S. Cohen of Charlottesville.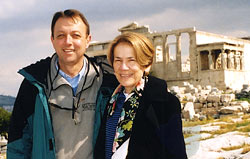 Bob and Elizabeth Scott Turn the Page
Looking for "one last adventure" before they retire, Bob and Elizabeth '77 Scott are leaving Charlottesville for New York City and Columbia Law School. Bob will be the first director of the new interdisciplinary Center for the Study of Contracts and Economic Organization, and Elizabeth will take a chaired professorship in the law school where she will continue her work on juvenile justice issues."
My personal reaction is sadness at losing daily contact with good friends," said Dean John C. Jeffries, Jr. '73. "Bob and Buffie Scott have been mainstays of the Virginia faculty for many years, and they will be sorely missed."
In turn, the Scotts hold special regard for Dean Jeffries. "John has been just fabulous. He has treated both of us extraordinarily generously and has done a superlative job as dean. We feel a real sense of appreciation for how Virginia, through its leaders, has dealt with us over the years."
The Scotts have been at Virginia for 32 years, Bob as teacher and dean and Elizabeth as a student and then faculty member. "We have an incredible investment in this place and a son who's a first year law student [Adam], so we're very tightly linked here," said Bob. "But we're empty nesters now, and somehow we both have an intuition, a gut feeling, that this would be an exciting change in what otherwise would be a winding down of a career that typically occurs when you're at our stage. Those are the kind of positive characteristics or considerations that led us to do this."
Bob recalls fondly his experience as dean of the Law School. Among other things, it revealed the singular culture of Virginia. "I would talk to fellow deans and hear all the agonies they had in dealing with obstinate, obdurate faculty and rebellious students and difficult staff members, and I just had none of that. I mean, it was just a remarkable ten years in terms of the congenial and collegial relationship that I had with everybody at the Law School. I think it's just a reflection of the really unique character of this institution."
Though relocating to New York, the Scotts plan to maintain their close relationship with Virginia. "Our loyalty and our affection are very strong," said Elizabeth, "and we will continue be a part of this institution. I'm on the Foundation Board and will be involved in the Law School in that role. We anticipate that we will return often to Charlottesville and that we will continue to have close relationships with our colleagues and friends here."