Not Just Another Summer Party
Roger S. Goldman '80 and Scott D. Michel '80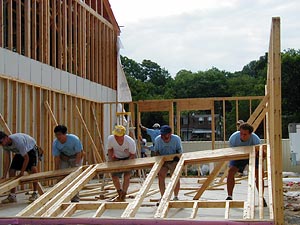 Scott Michel among Caplin & Drysdale colleagues at a build day.
Beginning in the fall of second year, most students at Virginia Law—and other law schools—search for summer associate positions at law firms in cities throughout the U.S. When they show up the next summer, they enter a firm that has probably thought as much about how to entertain them as how to keep them busy. What then starts is, in part, a well-planned social campaign to encourage these law students to think favorably toward the firm such that they might accept an offer of post-graduation employment.
Years ago—yes, even before we were second years—law firms started to spend substantial sums on their summer programs, with fancy meals, evenings at the ballpark or theatre, weekend touring and gatherings, and large, sometimes over-the-top, parties. These events can make the firm seem enticing and enable the summer associates to get to know people at the firm, but they are all about indulging the young lawyers-to-be.
Five years ago, it occurred to us that law firms could direct some of their recruiting energy and budget toward a community service project that would accomplish some of the same objectives as, well, another beer party. This was the spark that led to Buildable Hours—a 501(c)(3) organization we founded in 2001, and that last year received the National Association for Law Placement's Award of Distinction for Innovation.
The Buildable Hours concept is simple: step 1, the law firm makes a contribution to the local affiliate of Habitat for Humanity; step 2, with the law firm staff in charge of the summer program, we coordinate the participation of the summer associates and others in a Habitat "build" day; step 3, the day arrives and everyone helps build a home for a family accepted into the Habitat program. (And everyone gets a cool T-shirt courtesy of our sponsors at LexisNexis.)
We started modestly in Washington our first year, with 12 firms participating and contributing more than $60,000 for Habitat in DC. Word spread quickly, though, and during summer 2005 we had programs in eight cities, with dozens of firms participating and donating more than $600,000 to local Habitat affiliates. Hundreds of summer associates, lawyers, and staff from these firms got hot and sweaty hanging siding, framing walls, landscaping yards, painting walls, and yes, doing windows. For many of our firms, participation in Buildable Hours has become the highlight of their summer program, far outshining the traditional social schedule.
Buildable Hours marries three concepts: 1) community service through Habitat, 2) team building, and 3) summer recruiting. The phrase "win-win" may be overused, but if there is ever an example, this is it.
Community Service through Habitat—Buildable Hours is not formally part of Habitat, but we are proud to have become a major partner with many local Habitat affiliates. Most people are familiar with the Habitat concept—individuals or families apply to become a Habitat homeowner, and if selected, put in 300 hours of "sweat equity" helping build the house, sign a mortgage with Habitat on which they are required to make modest payments, and eventually move into a home in a neighborhood that is likely safer and more conducive to raising children than where they came from. Since its founding in 1976, Habitat has made more than 200,000 families new, proud homeowners, one home and one family at a time.
Habitat works hard at these projects, from acquiring the land to the delivery of keys to the new owner. It receives donated construction materials and relies on AmeriCorps and other skilled volunteers to supervise construction. But it also needs motivated construction hands every day, and that is where our summer associates and colleagues come in. The product of all of these efforts is a new home for a family that needs one.
Team Building—Law firms are inherently hierarchical organizations: partners, counsel, associates, managers, staff, etc. It is sometimes difficult for firms to plan events that allow members of these well-defined groups to participate together without a bit of stiffness or distance.
At a Buildable Hours day, the boundaries disappear at 8:30 a.m., when team assignments are made. The senior partner will stand on scaffolding with the junior employee in the copy room and a summer associate from UVA. They will measure and mark, then two of them will hold up a piece of siding while the third one hammers it in. The same scene is repeated inside with paintbrushes or drywall, or outside with shovels and rakes. These activities require cooperation, respect, and trust. While the borders may reappear the following morning, a little soreness might be a pleasant reminder of the previous day when everyone was on par, and the volunteers will have the common bond of their shared experience helping out for a good cause.
Summer Recruiting—Face it, those summer parties can get old, even for the bright and youthful law students they are aimed at enticing. Events blend together, and when it is back to class in the fall they are largely forgotten (absent some kind of, ahem, unfortunate incident).
No one forgets his or her Buildable Hours experience. For most participants, it is the first time they have performed any serious construction work. (Note, no experience is necessary—site managers are used to supervising even the likes of the two of us.) The participants see the progress toward building a home for a deserving family; they can visualize where the kitchen table will go or which bedroom will be for the children. Often, one can also see completed Habitat homes at the build site, and witness the true miracle of the program. There are tricycles and soccer balls in the yard, basketball hoops on the side, and the kids come home from school around the time work is done for the day. If you are someone responsible for recruiting, isn't that an image you would like to have a young, energetic potential associate link with their summer at your firm?
We are looking to expand to new places, and to bring in new firms in cities where we have a program in place. For information, feel free to email either of us or check our website, www.BuildableHours.com. Your summer associates will thank you, as will your community.
Roger S. Goldman '80 and Scott D. Michel '80 co-founded and direct Buildable Hours.

Goldman is a partner in the Washington, DC office of Latham & Watkins and has practiced law with the firm since 1981. His practice centers on False Claims Act and white collar criminal litigation with an emphasis on health care fraud defense.
Scott D. Michel is a member in Caplin & Drysdale's Washington, DC office, and has been at the firm since 1981. His practice consists of representing individuals and corporations in criminal tax fraud cases, civil tax examinations, and white-collar criminal matters. He is the former Chair of the ABA Tax Section's Committee on Civil and Criminal Tax Penalties, and is its current Vice-Chair for Legal Developments.