Faculty Briefs

Kerry Abrams has two articles coming out in the summer: "Immigration Law and the Regulation of Marriage" in the Minnesota Law Review, and "Immigration Status and the Best Interests of the Child Standard" in the Virginia Journal of Social Policy and the Law. The latter was part of the "Welcome to America: Immigration, Families, and the Law" symposium that Abrams helped organize last March and that was put on by the Center for Children, Families, and the Law. In the fall, Abrams was named co-director of the center, an interdisciplinary joint project with the University's Department of Psychology.


In December, Margo Bagley published "A Global Controversy: Biotechnology Patents and Morality," a chapter in Intellectual Property and Information Wealth: Issues and Practices in the Digital Age (Praeger 2006). In October, Bagley was a panelist for the Federal Circuit Bar Association's panel at the Law School, "Appellate Advocacy before the Federal Circuit." In January, she taught International Patent Law and Policy for four weeks as a visiting professor at the National University of Singapore. In March, she delivered a talk, "Issues in Patenting Life," in the ethics lecture series "Is Nature Ours? Ethics, Economics, and the Environment" at Agnes Scott College in Atlanta; and at the policy speaker series at the University of Florida's Center for Information Research Technology in April. Also in April, Bagley spoke at North Carolina Central University School of Law's "Stem Cells: Diffusing the Rhetoric" symposium on the topic "Stem Cells and Patents: Issues and Opportunities."



Michal Barzuza will deliver a presentation in May to the annual conference of the American Law and Economics Association titled "Lemon Signaling in Cross-Listings." She was a commentator on Paul Mahoney's paper "The Public Utility Pyramids" at a faculty retreat in January. She organized a conference in law and finance at the Law School in March, where she presented "Lemon Signaling in Cross-Listings."

In November, Tomiko Brown-Nagin was a panelist on the American Constitution Society's Supreme Court Press Briefing "Parents Involved in Community Schools v. Seattle School District" and "Meredith v. Jefferson Country Board of Education" in Washington, D.C., and in December published an op-ed piece on the cases in the Richmond Times-Dispatch, "Cases Are a Referendum on Segregation History."
In January, she presented a workshop on teaching remedies at the American Association of Law Schools annual meeting, and "Atlanta's Response to Brown" at the American Historical Association annual meeting. In February, she presented a paper, "The Student Movement's Challenge to Pragmatism and Legalism, 1960–1961," at a Fordham Law School faculty workshop. She also was a panelist at a UVA Law Public Service Conference session on affirmative action in K–12 education; in addition, she moderated a panel during the conference on the future of educational vouchers after Katrina. In March, she presented a paper, "The Uneasy Alliance between Civil Rights Lawyers and Demonstrators, 1961–1964," at an Emory Law School faculty workshop. In April, she gave a talk, "Education Reform in the Post-Civil Rights Era," at the National School Boards Association's annual meeting in San Francisco. She also participated in a planning session for a conference on law and social movements at Harvard Law School in April.

At the faculty retreat in January, Jon Cannon presented a paper on the Supreme Court's recent decision on the jurisdictional scope of the Clean Water Act. A revision of the paper, "Words and Worlds: The Supreme Court in Rapanos and Carabell," will be published this summer in the Virginia Environmental Law Journal. Cannon is co-editor of a book, Reclaiming the Land: Rethinking Superfund Institutions, Methods and Practices, published in February. The book includes a chapter by him on new management approaches to site remediation titled "Adaptive Management in Superfund: Thinking Like a Contaminated Site."

Michael Collins has published several recent works, including "Justice Iredell, Choice of Law, and the Constitution" in Constitutional Commentary (2006); "Jurisdictional Exceptionalism" (Feb. 2007) in UVA Public Law and Legal Theory Working Paper Series and forthcoming in the Virginia Law Review (2007); The Law of Civil Procedure (2d ed. 2006) (with J. Friedman and J. Landers); and Section 1983 Litigation in a Nutshell (3d ed. 2006).

In November, Anne Coughlin gave a lecture, "Doing the Police in Different Voices," as part of the Hoffinger Colloquium at New York University School of Law. In February, she presented "Interrogation Stories" at a public theory workshop at Harvard. Coughlin has also been named co-chair of the National Association of Women Lawyer's Supreme Court evaluation committee.

In April of 2006, Kim Forde-Mazrui commented on two book chapters written by professors Michael Klarman (Virginia) and Bernard Harcourt (Chicago) at a conference at Harvard Law School commemorating the publication of Criminal Procedure Stories (Carol Steiker, ed., 2006). In June, Forde-Mazrui gave a presentation on diversity in law school admissions at the annual meeting of the Law School Admission Council in Toronto, as well as a presentation, "Do Specific Rules Reduce Discretion?: The Case of the Peremptory Traffic Stop," at the Association of American Law Schools midyear meeting on criminal law and procedure in Vancouver.
In September, Forde-Mazrui delivered the keynote speech, "Seeking Political Common Ground: A Conservative Case for Affirmative Action," at UVA's Office of Equal Opportunity Program's networking forum. In October, he delivered a lecture at Arizona State University's Sandra Day O'Connor College of Law titled "Contemporary Lessons from Black History: Interracial and Same-Sex Marriage Compared." Also in October, Forde-Mazrui participated in a debate at the University of Michigan over the proposed amendment to Michigan's constitution to ban affirmative action.
In November, the Center for the Study of Race and Law, which Forde-Mazrui directs, and the law firm of Hunton & Williams co-sponsored a conference at the Law School titled "Race and Gender Diversity in the Legal Profession: What's at Stake and What Will It Take?" See "Conference Examines Diversity in the Legal Profession" at www.law.virginia.edu/html/news/2006_fall/racelawconf.htm

Brandon Garrett is working on a draft titled "Judging Innocence," which he presented both at the first annual Conference on Empirical Legal Studies as well as at the NYU criminal law lunch. It has been accepted for publication in the January 2008 Columbia Law Review. Garrett is also writing an "In Brief " piece for the June Virginia Law Review called "When Organizations Do Federal Time."



In May, Risa Goluboff's book, The Lost Promise of Civil Rights, was published by Harvard University Press. She has already presented the book at a conference of the Penn Legal History Consortium and the University of Chicago's history department. This spring, Goluboff published an article titled "Race, Labor, and the Thirteenth Amendment in the 1940s Justice Department" in the University of Toledo Law Review as part of a symposium on the Thirteenth Amendment, and published an article on civil rights in the 1940s in Historically Speaking. Finally, Goluboff is co-chair of the program committee for the 2007 annual meeting of the American Society for Legal History, which will take place in Tempe, Ariz., in October.

In March, A. E. Dick Howard '61 traveled to Budapest to give the Arpad Goncz Lecture at the Hungarian Academy of Sciences. His subject was "How Constitutional Ideas Travel," with particular attention to the revolutions of 1848 in Europe (including Hungary) and to the making of constitutions after the collapse of communism in 1989. Arpad Goncz, to whom the lecture was dedicated, fought against the Nazis, was imprisoned by the communists, and was the first president of Hungary in the post-communist era. When Goncz was president, Howard hosted Goncz's visit when he spoke at Monticello and at Montpelier.
Also in March, at Charles University in Prague, Howard gave a lecture, "The Constitutional Coast of Bohemia," in which he considered constitutionalism in Czechoslovakia (including Woodrow Wilson's policies and the making of the Czechoslovak Constitution of 1920) and developments in the Czech Republic and the region since the time of Vaclav Havel and the velvet revolution.
In March, he gave a paper, "The Influence of American Constitutionalism Abroad," at a conference at the Embassy of Poland in Washington, D.C. Co-sponsored by Catholic University, the conference was titled "Constitutionalism and Human Rights in Europe and America."
While in Prague, Howard also presented "The Road from Monticello: Thomas Jefferson and the Influence of the American Constitutional Experience in Other Lands" at a conference in the Archbishop's Palace in Prague titled "The Call for a New World Order," which was partially organized by Monticello. Closer to home, Howard gave the Distinguished Constitutional Law Lecture at Wake Forest Law School, "The Struggle for the Supreme Court: From the Warren Court to the Rehnquist Court."
In April, Howard traveled to Richmond to keynote the Rule of Law Conference at a joint meeting of British and American lawyers under the auspices of the American Inns of Court. At the conference, he talked about the Virginia Company Charter of 1606 and its place in Anglo-American jurisprudence. The Rule of Law Conference marks the 400th anniversary of the settlement at Jamestown in 1607.
In June, at the Fourth Circuit Judicial Conference, Howard will organize and moderate a panel discussion of important decisions of the United States Supreme Court during the Court's 2006–2007 term. The panel discussion will follow remarks by Chief Justice Roberts.
Finally, Howard, along with Michael Klarman and G. Edward White, was among the constitutional law scholars interviewed by New York's Channel 13 for a four-part series on the Supreme Court. The series was broadcast nationally on PBS in January and February.

In November, Deena Hurwitz participated in a workshop in Istanbul, organized by the Open Society Justice Initiative (OSJI), titled "Promoting Clinical Legal Education in the Middle East and Central Asia." She gave presentations titled "Designing a Clinical Curriculum: Academic Requirements, Teaching Methodology, and Evaluation," and "Engaging Law Students in Delivering Legal Services: Organization, Practice Supervision, and Learning from Practice." In March, she traveled to Lebanon to participate as a trainer in the first Clinical Legal Education Teacher Training Workshop, part of a joint OSJI, Holy Spirit University of Kaslik Law Faculty, and Public Interest Advocacy Centre initiative. In January, she gave a talk to the Charlottesville Albemarle Bar Association titled "Detention, Interrogation, and Prosecution of Terrorism Suspects: Legal Issues and Policy Challenges."
Hurwitz is co-organizing a three-day seminar to be held at the Law School in May titled "Applying International Humanitarian Law to Today's Conflicts." The seminar is for policy makers, practitioners, and other professionals whose work has an effect on the development and/or application of international humanitarian law. It is co-hosted by the Law School Human Rights Program, the International Committee of the Red Cross, and the Judge Advocate General's Legal Center and School.

Mitchell Kane '96 taught a course, Extreme Poverty and the International Tax System, in the January term at Harvard Law School. The course examined the various ways in which the developed world may seek to augment the flow of capital to the developing world. Beginning with an examination of the different reasons wealthy nations may have for attempting to reduce extreme poverty in the developing world, the course first considered the pitfalls of the two major ways in which direct state-to-state transfers of capital can occur presently: foreign aid and sovereign aid. The course then explored the ways in which taxation has traditionally been used as an indirect means of spurring economic development. The course concluded with a study of a number of novel development financing techniques.

In the fall, Michael Klarman appeared on "A Different Perspective" on WJAB Radio in Huntsville, Ala., where he discussed his book, Jim Crow to Civil Rights. He also was a panelist at the Law School's event on Virginia's same-sex marriage amendment sponsored by the Lambda Law Alliance, Virginia Law Democrats, and the ACLU; and appeared at a Federalist Society event at the Law School on Supreme Court nominations in response to a presentation by Leonard Leo. In the fall, Klarman also taught a two-week short course, Race and the Constitution in American History, at Yale Law School.
In the January term, Klarman taught a course on constitutional theory at Harvard Law School. He also participated in a Federalist Society-sponsored debate with Judge Michael McConnell on the original understanding of the Fourteenth Amendment with regard to school segregation. Also in January and February, Klarman, along with A. E. Dick Howard '61 and G. Edward White, was interviewed for a PBS special consisting of a four-part series on the Supreme Court.
In February, Klarman presented his "backlash" project at Stanford Law School's public law colloquium. The "backlash" project considers the political backlashes often generated by controversial Supreme Court rulings. In March, Klarman presented the same project to a history workshop at Oxford University.
In May, Klarman will give a talk to the board of the NAACP Legal Defense Fund on the topic of the advantages and disadvantages of litigation as a method of social reform. In June, he will be teaching a weeklong course, American Constitutional History from Reconstruction to Brown, to Indiana judges. He also has two books due out this summer: in July, Brown v. Board of Education and the Civil Rights Movement (Oxford University Press); and in September, Unfinished Business: Racial Equality in American History, also published by Oxford University Press.

In December, Elizabeth Magill '95 presented a paper at Georgetown University Law Center about the changes in public law in the 1960s and 1970s. That paper is part of a larger project about that era. In February, she participated in a conference on presidential signing statements at the William and Mary Law School. Magill's presentation focused on signing statements as a presidential method of controlling the exercise of discretion in the executive branch.

Paul Mahoney has a work in progress called "The Public Utility Pyramids." The paper examines the reaction of utility company stocks to the Public Utility Holding Company Act of 1935, which banned "pyramids," or multiple layers of holding companies. He presented the paper last November at Georgetown, in December at Duke, and in February at the University of Missouri. During spring break, Mahoney also traveled to Cambridge as a Herbert Smith Visiting Professor at Cambridge University.
In February, Dan Meador delivered the keynote address at a Los Angeles program on the U.S. Court of Appeals for the Federal Circuit sponsored by the California State Bar Section on Intellectual Property Law.

This spring, Greg Mitchell presented the paper "Unconscious Prejudice and Accountability Systems: What Must Organizations Do to Check Implicit Bias?" at the law and economics workshop at the University of Pennsylvania School of Law and a paper, "Descriptive and Normative Studies of Judicial Behavior," at a conference on the psychology of judging. David Klein of UVA's Politics Department and Mitchell organized the conference, which was funded by the National Science Foundation and was held at the University of Virginia in March. Leading judicial behavior scholars from the fields of law, political science, and psychology participated.

In October, Caleb Nelson presented his article "Adjudication in the Political Branches" as part of the faculty workshop series at Harvard Law School (where he was visiting for the fall). The article is forthcoming in the Columbia Law Review.

In February, Jeffrey O'Connell lectured on reform of medical malpractice law at the 43rd annual UVA Medical Alumni Meeting in Hot Springs, Va. He and a coauthor are engaged in a study of a closed claims study reflecting the costs of O'Connell's "early offers" proposal for reform of product liability claims.

In November, Robert O'Neil spoke at a Harvard conference on academic freedom sponsored by the Institute for Educational Management at the Graduate School of Education. In January, the board of directors of the Association of Governing Boards of Colleges and Universities officially adopted a statement on trustee accountability that O'Neil drafted and guided through several councils and their board.
This being O'Neil's final semester of regular teaching, his major activity has been attending (along with A. E. Dick Howard '61) an international conference held in Prague in March, where he presented a paper titled "Thomas Jefferson's Separation of Church and State." The conference was sponsored by Monticello's Center for Jefferson Studies, Colonial Williamsburg, and the University of Virginia. Also in March, O'Neil gave a lecture, "Academic Freedom in Cyberspace," at an annual conference sponsored by the Wolfe Institute at Brooklyn College.
Earlier this spring, O'Neil delivered an address, "The Study of the Middle East and Islam: Challenges after 9/11," at a conference at Brown University. In May, he will speak at and chair a panel on "National Security and the First Amendment" at the 25th anniversary program for UVA's Center for National Security Law.

Dan Ortiz's new Supreme Court Litigation Clinic had its first case granted by the Supreme Court of the United States. Watson v. United States will be argued by the clinic's cooperating attorney in October. For the latest news on the clinic, check the Law School's news at www.law.virginia.edu.
Ortiz presented a paper on comparative election law at Stanford Law School and is drafting the opening chapter on comparative democracy for a book to be published by the American Bar Association.



George Rutherglen, John Jeffries '73, and John Harrison attended a conference at Boalt Hall in honor of Paul J. Mishkin, a leading scholar of federal courts. They presented two papers, both of which will be published in the California Law Review.

In October, Jim Ryan '92 discussed a chapter of his forthcoming book, Five Miles Away, A World Apart: TJ, Freeman, and the Law and Politics of Educational Opportunity, as part of the faculty workshop series at Harvard Law School (where he was visiting for the fall). In November, Ryan participated as a judge in a moot court session for the Supreme Court argument on the voluntary integration cases.
This March, Ryan gave a talk on Grounds analyzing whether there is a state constitutional right to preschool. In March, he spoke at a meeting of business and community leaders in Richmond on the subject of how to create healthy, integrated schools. In the same month, he also spoke at a student-faculty brown bag lunch at the Law School, sponsored by the Center for the Study of Race and Law, on the future of racial and socioeconomic integration. In April, Ryan was a presenter on one panel and moderator of another at a child advocacy conference at Harvard Law School, and in early May gave a faculty workshop at the University of Chicago, where he again discussed a chapter in his forthcoming book.
John Simmons' sixth book, Political Philosophy, was released by Oxford University Press this past March. Simmons is the University's Commonwealth Professor of Philosophy and a professor of law.

In late fall, Chris Sprigman published "The 99-cent Question," written for a technology law symposium at the University of Colorado Law School and also published in the University of Colorado Journal of High-Tech and Telecommunications Law. The "99-cent Question" asks why virtually all music downloads are priced the same, typically $0.99. Demand for songs varies widely, and economic theory suggests that prices should therefore also vary. So why is the "hit" priced the same as the "dross"? The paper attempts to answer that question by examining the competitive dynamics of the major record companies and music download services.
There has been some follow-up activity on another of Sprigman's articles, "The Piracy Paradox: Innovation and Intellectual Property in Fashion Design." Last fall, the University of Chicago Law School held an online symposium on the article on the Chicago faculty blog. They invited a number of IP scholars to debate the article. In January, the Virginia Law Review did something similar, publishing the essay Sprigman co-authored with Kal Raustiala, titled "Where IP Isn't," that expands on the arguments in "Piracy Paradox," as well as essays by Chicago's Randy Picker and NYU's Rochelle Dreyfus.

Paul Stephan '77, now counselor on international law to the Legal Advisor, U.S. Department of State, presented a paper on the odious debt doctrine at a conference of the European Association of Law and Economics in Madrid. He also attended a conference on the legal aspects of the struggle against international terrorism in Berlin, hosted by the Max Planck Institute for Comparative Public Law and International Law.

In April, G. Edward White presented the paper "Hiss in History" at a conference titled "Alger Hiss and History," sponsored by NYU and Harvard Law School. The conference started with the premise that "as scholars have gained access to archives in the former Soviet Union [and U.S. government agencies], there has been a renewed debate about the Hiss case." Among the other participants were Norman Dorsen of the NYU law faculty; Victor Navasky, editor and publisher of The Nation; and Tony Hiss and Timothy Hobson, Alger Hiss's two sons.
White was also interviewed by New York's Channel 13 for a four-part series on the Supreme Court. The series was broadcast nationally on PBS in January and February. A. E. Dick Howard '61 and Michael Klarman were also interviewed for the special.
Appreciation
John A. C. Hetherington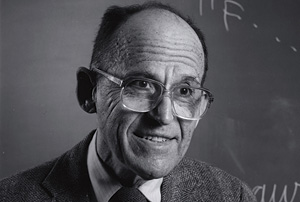 Professor Emeritus John A. C. Hetherington died at the age of 78 on December 10 after a long illness. Hetherington was a Professor of Law from 1971 to 1994, having held the David A. Harrison Chair from 1977 through 1994. Professor Hetherington was born on September 26, 1928 in St. Catherines, Ontario. He received his A.B. degree from Dartmouth College in 1950, and his LL.B. in 1953 at Cornell University, where he served as managing editor of the Cornell Law Review. Three years later, Hetherington graduated from the University of California (Berkeley) with his LL.M. degree.
After graduating from Berkeley, Professor Hetherington clerked for Chief Judge William Denman of the U.S. Court of Appeals for the Ninth Circuit. He later went on to practice at Lundgren Lincoln & McDaniel and Mudge Stern Baldwin & Todd, both in New York City.
After three years of practice, he and his family moved to Madison, Wis., where he began teaching at the University of Wisconsin Law School, first as an assistant professor and then as a professor. Hetherington spent 11 years teaching at the University of Wisconsin before accepting a position at Virginia to pursue his active interest in business associations. He joined the Law School faculty in 1971, teaching courses in commercial law, contracts, corporations, and mutual and cooperative organizations.
While at UVA, Hetherington served on a number of committees including the one overseeing the J.D./M.B.A. combined degree program. Hetherington also spent parts of his tenure as a visiting professor at University of California at Berkeley, Hastings, and Los Angeles, as well as Stanford. In 1985 he was the Marshall P. Madison Professor at the University of San Francisco.
Professor Hetherington retired from the Law School in January 1996. He spent his last semester teaching at Hastings in San Francisco.
Professor Hetherington is survived by his wife, Mavis Hetherington, three sons, and five grandchildren.

Ibbeken Retires after 28 Years Leading Law School Foundation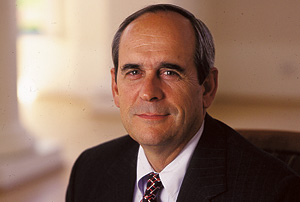 David H. Ibbeken '71 retires this spring after 28 years as president and CEO of the Law School Foundation. Ibbeken helped the Foundation set the bar for all law schools in alumni giving participation and guided the 1992-2000 capital campaign, which at the time was the largest and most successful in the history of legal education.
A 1963 graduate of Princeton University, Ibbeken served as a lieutenant in the Army Artillery at Fort Lewis, Washington, before matriculating at Virginia. He served as an assistant to then Dean of Admissions Albert Turnbull '62, before graduating from the Law School in 1971. Ibbeken then joined Archer, Greiner & Read in Haddonfield, N.J., and later served as vice president and counsel for the Continental Title Insurance Company in New Jersey.
Ibbeken returned to the Law School in 1979 as executive director of the Law School Foundation. In addition to those duties, he taught a Modern Real Estate Practice seminar from 1980 through 1993. Although he stopped teaching to focus exclusively on managing the Foundation, Ibbeken's contributions in the classroom are still remembered through the David H. Ibbeken Research Professorship in Law, established chiefly by his classmates as a rotating chair for scholars of distinction. The capstone of his career in development may have come in 2005, when the American Bar Association Section on Institutional Advancement recognized Ibbeken with its highest honor, the J. William Elwin, Jr. Award. The selection committee commended Ibbeken's "humility, lack of ego, and gentlemanly comportment," and above all praised his record at Virginia, "thereby setting a standard for all."