Governor Janet Napolitano '83 Produces Results That Matter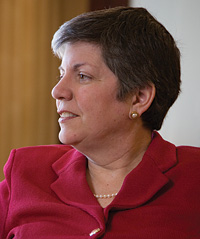 Gov. Janet Napolitano '83
Denise Forster
So much has been written about the contentious relationship between Arizona's Democratic Governor Janet Napolitano '83 and the state's Republican-controlled legislature that it is easy to come away with the idea that political infighting stands in the way of progress. That would be wrong.
The third woman to serve as governor of the fastest growing state in the U.S., Napolitano won her 2006 re-election in a landslide, with a margin of 28 percentage points, clearly picking up the support of many of the state's independent voters during her first term.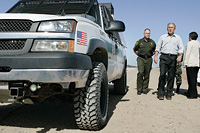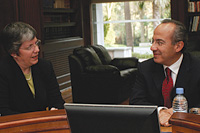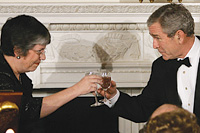 Top to bottom:
President Bush, center, accompanied by U.S. Customs and Border Protection chief patrol agent Ron Colburn, left, and Napolitano, right, tours the fence along the U.S-Mexico border April 9, 2007, in Yuma, Arizona. (AP Photo/Gerald Herbert)
Mexican President Felipe Calderon speaks with Napolitano at los Piños, the official presidential residence in Mexico City, February 9, 2007. (AP Photo/Alfredo Guerrero, Mexican Presidential Press Office)
President Bush and Napolitano offer a toast during the State Dinner in honor of the nation's governors, February 25, 2007, at the White House. (AP Photo/Haraz N. Ghanbari)
"It's interesting to see the rise of independents … as the fastest growing group of voters," she said from her office in Phoenix. "That sends a message about partisanship, doesn't it?"
In addition to retaining the governorship, Arizona Democrats picked up seats in the House and the Senate in last year's election, easing some of the rancor in the relationship between the governor and the legislature. These gains helped Napolitano focus on her priorities for the state and on end results. She is grateful for the improved relationship. "Washington, D.C. created a horrible example," she says, "particularly in the House of Representatives, of partisanship being the sole measure of worth."
Napolitano sees a role for some partisanship, but too much is clearly unhealthy. "It is necessary for us to reach across the aisle to build consensus. In the end, the voters don't care whether you're a 'D' or an 'R'— they want results. What did you do in education, in health care, on job development, to protect the environment? They want to know what you produced besides a fight."
Napolitano understands that neither party has a monopoly on good ideas. "Excessive partisanship is troublesome because it's an artificial limitation on thinking about what's the best idea. And sometimes the best idea requires a compromise to get any of it done."
As governor, Napolitano has the most immediate impact on the quality of life of the state's citizens. "You've got to submit a balanced budget every year. You've got to figure out how to educate the children. You've got to figure out how to provide health care for those in need and for those perhaps not in need but who need health care. You serve as the commander of your National Guard, and you have to make sure that those resources are being deployed appropriately. You must multitask in a variety of different ways and be immediately accountable to the citizens of your state."
Being Accountable
It's mid-March in Phoenix and the 40 appointees in Napolitano's cabinet assemble for their monthly meeting. Everyone in the overflowing boardroom stands as she enters and takes her seat at the head of a large, three-sided dais. The governor has much to report.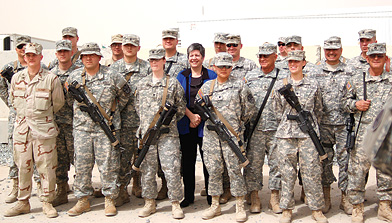 Arizona Governor Janet Napolitano stands among the 1st Squadron of the 221st Calvary stationed in Iraq.
She has just returned from Afghanistan and Iraq the night before, but Napolitano first gives an account of her recent journey to Mexico City, where she met President Felipe Calderon to discuss border security, immigration, infrastructure, and trade issues between Arizona and Mexico. She reports progress on some of the hottest issues affecting their respective constituencies — violence at the border and extraditing drug traffickers to the U.S. for prosecution — and that she now has a better sense of the resources Mexico will commit to these matters.
Next she recounts the recent National Governors Association meetings in Washington, D.C. As the first female and first Arizona governor to serve as its chair in the Association's 98-year history, Napolitano unveiled her year-long chair's initiative, Innovation America, a call to action to keep the country ahead of the competition curve through education. "To be competitive as a nation, we must prepare our young people to meet the real demands of the job market," she says. She notes an urgent need on federal and state levels to fund initiatives enabling schools and students to keep pace with the knowledge-based economy. Since her first term, she has made it a priority to put money into the state education budget to develop a highly skilled, well-educated workforce in Arizona. Innovation America offers a three-part plan to accomplish that on a national level.
Napolitano finally reports on her most recent trip to visit Arizona's soldier citizens in Iraq and Afghanistan. At the invitation of Secretary of State Condoleezza Rice and Secretary of Defense Robert Gates, Napolitano and the governors of Minnesota and Oklahoma met with Iraqi ministers and the American military commander in Iraq, General David Petraeus.
Napolitano visited the troops, donning body armor when appropriate, in the combat zones. She shared meals with troops at the Balad Air Force Base, about 70 miles north of Baghdad. She was briefed on the operations of provincial reconstruction teams that work with Iraqi business, community, and elected leaders engaged in reconstruction projects.
Napolitano's deep respect for the 900 Arizona National Guard troops serving in the theater clearly shows. "It is such a privilege to see these military men and women in person and to personally thank them," she said. "They have sacrificed so much and worked so hard. It is truly humbling, and a genuine honor, to talk to them and spend time with them."
Cabinet member and Arizona's adjutant general, Major General David P. Rataczak, rises in his full military uniform and thanks Napolitano for making the trip — the boost in morale in her wake, he says, was widely felt.
Soldiers in a War Closer to Home
More than 2,400 National Guard troops now man the shared border with Mexico, the frontlines of the war on illegal immigration. While Arizona Republican Party members accuse their governor of being soft on immigration, Napolitano has entered into aggressive law enforcement agreements with the governor of Sonora, Mexico, the state that borders Arizona. She has declared a state of emergency in certain Arizona counties so that troops could man the border. She has worked with President Bush and Homeland Security Secretary Michael Chertoff on the Secure Border Initiative, the nation's comprehensive multi-year plan to secure America's borders and reduce illegal migration. Preferring substance over symbol, she says of the proposed 700-mile U.S-Mexico border fence approved by Congress, "You show me a 50-foot wall, and I'll show you a 51-foot ladder."
All of this has cost a great deal of money. Under the State Criminal Alien Assistance Program the federal government is supposed to reimburse states for the incarceration costs for those illegal immigrants who break Arizona law. Napolitano first sent the federal government an invoice for $77 million. Then she updated it to $195 million. Since 2005, Napolitano has sent a total of seven separate invoices — including late fees — the last one totaling $350 million.
It's not just undocumented workers who ignore the country's borders. Many criminals do so as well. "I have been in the drug tunnels," she told the National Press Club recently, "where cocaine and marijuana by the ton come into our country, and the sewers where children who are crossing the border alone sleep at night; I have seen the campsites strewn with abandoned clothing, human waste, and refuse."
Immigration reform is not simple, but it can be accomplished, and Napolitano believes it can be done on a bipartisan basis. It is going to require an end to the rhetoric, a stop to the politics. "Party to me is important but it's not the sine qua non. In fact, my cabinet now includes as many Republicans as Democrats, and that's been true for a long time. To me, it's who can do the job."
Always looking forward, Napolitano approaches the issues by asking what will Arizona look like and what will it need in 2012 — the state's centennial. Her plan is steadfast: keep an eye on the extended outlook regarding education, health care, infrastructure, and security; manage day-to-day details that move Arizona forward without losing sight of the long-term importance of these issues; and choose people who can help her accomplish that, whether they are Republican or Democrat.