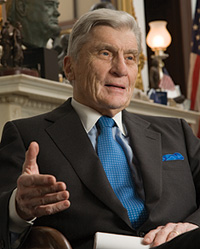 John Warner '53


John Warner '53 Brings Perspective to National Debates
Cullen Couch
Last September, a ferocious debate raged in the Senate over a bill prohibiting the Bush administration from redefining a Geneva Convention article protecting detainee rights. After an anonymous Republican senator used a procedural maneuver to halt debate temporarily, a determined Senator John Warner strode into the rotunda of the Russell Senate building to give a press briefing. Later, he returned to the Senate floor. In a dig at his Republican colleagues, Warner praised the cooperation of Democrats and asked then Senate Majority Leader Bill Frist to persuade the obstructing senator to remove the hold. The debate resumed. In the end, the Senate passed a bill to Warner's liking.
For decades, the American public has watched a stern and articulate John Warner analyze issues surrounding military affairs and national security. A two-war veteran, former Navy secretary under President Nixon, and now the senior Republican and former chair of the Senate Armed Services Committee, Warner's expertise and unflinching critiques yield a credibility unmatched in national politics. People believe him. His opponents trust him. More, they respect him.
WARNER WAS BORN IN 1927 AND GREW UP IN Washington, D.C. His father had settled his family there after serving in World War I as a surgeon treating Allied soldiers and enemy prisoners. He had suffered hearing loss from artillery bombardments and lung damage from mustard gas attacks. Recalling his many discussions with his father about those experiences, Warner told Washingtonian magazine his father "dedicated his life to relieving human suffering," and his ailments showed that war "had a lasting impact." Warner learned early the true cost and nature of war.
When Warner was 17, he enlisted in the United States Navy. World War II was just ending, and upon his discharge from the Navy, Warner enrolled at his father's alma mater, Washington & Lee. He graduated in 1949. Warner began his first year at the Law School and, he says, found it to be "one of the most enlightening years" of his life. But the Korean War began, and Warner again felt the call to serve, this time in the Marine Corps. He served as a ground officer with the 1st Marine Aircraft Wing, returned from active duty, and resumed his studies at the Law School. "It was a bit of a challenge to get my mind oriented toward the life of a student after having served in Korea," says Warner. "Had it not been for the faculty's warmth and interest in me, particularly Dean Ribble, I wouldn't be here as a senator today."
Warner, who graduated from Virginia in 1953, says he owes a great debt of gratitude to its legendary professors, "the Gregorys, the Dillards, the Bucklers. They were a tremendous force upon my life and recognized that I needed a little more inducement and support to buckle down." Warner hoped to be a federal clerk, but Dean Ribble told Warner that since he wasn't Law Review, he likely couldn't be. Nevertheless, Ribble got Warner an appointment with D.C. Circuit Court Judge E. Barrett Prettyman.
"I spent six or eight weeks memorizing every opinion he'd written in the nine years he'd been on the bench. When we met, I said to him, 'If I can't answer any question about any opinion that you've ever written, chuck me out.'" Warner got the job and, to this day, the letter offering it hangs in a frame on the senator's office wall.
Ever since, Warner has approached challenges with a potent mixture of luck, dash, and ability. About the first quality, he is fond of reciting an apocryphal story about Napoleon and his second-in-
command, Marshal Ney, who gave Napoleon a number of suggested replacements for a general who had fallen. Finally, Napoleon replied, "I want none of those. Go back and find me a lucky general."
Warner sees himself as that "lucky general." In 1960, presidential candidate and Vice President Richard Nixon asked then Attorney General William Rogers for names of DOJ attorneys who could work on his campaign. Rogers recommended Warner for his strong communication skills. From that chance opportunity, Warner found his true calling.
"It was my introduction to politics," Warner recalls. "Nixon was looking for people who had the right talents. They wanted me to be an advance man, the individual who accompanies the candidate out into the state and looks after all the details of putting together an event. Fascinating job. Best job for a young person in politics."
The essence of politics, its face-to-face conversations with voters and opponents, attracted the fun-loving, voluble Warner. "The best part is working with the people," he says. "I'll take on any question you want to pitch. That's the way I like politics most of all." And as a man who loves fishing, hunting, and the outdoors, Warner also enjoys traveling through the rural areas of Virginia. "I have found quite a few nice little fishing streams in this state through politics."
He remembers most fondly earlier campaigns, when "blog" wasn't even a word and the best platform to make one's point was the old-fashioned soapbox. "When I campaigned against Andy Miller in my first campaign, we must have debated on soapboxes dozens of times. We didn't have the crescendo of TV negative advertising. We had good old-fashioned political boxing in full view of everybody. Verbal boxing. Those days are gone."
Warner is nearing the end of his fifth Senate term. His office, clearly the epicenter of Warner's life, is a veritable museum of his service to the country. Paintings and photographs fight for wall space with crossed swords, pistols, and plaques. Every mantel, table, and desk displays an eclectic array of statuary, collectibles, and memorabilia. Warner's office desk is purely ornamental. He uses this place for conversation and discussion, not paperwork. A well-worn copy of George Washington's The Rules of Civility sits prominently on a coffee table.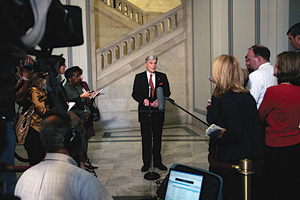 Senator John W. Warner in the rotunda of the Russell Senate Office Building, September 14, 2006, after a colleague's anonymous maneuver temporarily blocked the Detainee Bill. (Jamie Rose for The New York Times)
WARNER ARRIVED IN THE SENATE IN 1978 after beating Virginia's former Democratic Attorney General Andrew Miller by less than 5,000 votes. In but one race since, against future Virginia Governor Mark Warner, he has faced little credible opposition. All the while, he has stayed true to his core principles as a moderate Republican. He is fiscally conservative, socially moderate, and a champion of a strong military. Warner's ability to act clearly and consistently on those principles, and to telegraph that to his constituents, has brought him uncommon popularity for a modern politician.
But along the way, he has infuriated many party activists by his refusal to toe the party line. Warner opposed the Robert Bork nomination in 1987, a signature issue in the party's long battle to reshape the United States Supreme Court. In 1993, he opposed the Republican nominee for lieutenant governor in Virginia. In 1994, he again opposed the Republican candidate for Virginia's other Senate seat, Oliver North, an election drawing intense national interest and producing bitter recriminations within the party. "I voted my conscience for the best interest of the United States and of Virginia," Warner said at the time as quoted in the Washingtonian. "Sometimes that collides with political parties." Party activists tried to derail his candidacy in 1996, but Warner survived.
Warner was also a founding member of the Senate's "Gang of 14" in 2005, opposing his party leadership's plan to use the "nuclear option" to override one of the Senate's most hallowed traditions, the filibuster. He is somewhat pro-choice; he supports some gun-control laws, stem cell research, and environmental safeguards; and he attempted to limit the Bush administration's shortcut of the Geneva Convention in its use of "coercive interrogation" techniques, all minority positions in the party.
As a steadfast centrist who is both charming and powerful, Warner has earned respect from his opponents, inside and outside the party. "He gives his word, and that's it," said Michigan Senator Carl Levin, ranking Democrat on the Armed Services Committee. "I have total trust in him, and you can't ask for more than that." Donald Huffman, former Virginia GOP chairman who also helped lead the North campaign, can't help but like Warner. "Most Republicans recognize the position John Warner has gained in the Senate and are willing to bury their feelings because of where he is and what he stands for."
WARNER WILL NEED EVERY BIT OF HIS ENERGY and enthusiasm to manage the increasingly tendentious relationships cleaving the institution he so clearly loves. The war in Iraq has hammered beyond recognition former alliances in the Senate. Procedural courtesies are increasingly rare. Iraq "permeates everything on Capitol Hill today," says Warner. "It's all-consuming. I've seen World War II, Korea, Vietnam, the Cold War, and have served 29 years in the Armed Services Committee. Iraq is clearly the most complicated I have ever seen. And unfortunately, there's a very strong division in the Senate about what to do." From his perspective, Warner worries deeply about young American soldiers "being thrust into the middle of sectarian violence dating back over a thousand years."
Relations between the branches of government are tense as well. Claiming sweeping wartime powers, the Bush administration has exerted its will over Congress more than any administration in recent history. But Warner, his dark gray eyes full of reverence for his own branch of government, takes a longer, more sanguine view of the power given to Congress by the Constitution. "We're co-equal. I think checks and balances moves a little bit with the different presidencies and the different issues. But Congress still has that power of the purse. And that's an awesome power."
Warner acknowledges a changing world. America must adapt to a new kind of enemy and employ all the tools at its disposal: military, diplomatic, and economic. It is a huge challenge, and one that a man at his age and with all he has done for his country could leave to others. But over the years, the drive behind Warner's devotion to public service has never wavered. It only shifts with the tides of his personal life. Now, with his children grown and successful in their own right, and a proud grandfather, what keeps Warner going? "I look into the eyes of my grandchildren. That's my great motivation."