Class Notes
Send Us Your News
We welcome submissions for inclusion in Class Notes. Submit online, mail to UVA Lawyer, University of Virginia School of Law, 580 Massie Road, Charlottesville, VA 22903; or fax to 434-296-4838. Please send you submissions by September 15 for inclusion in the next issue.
1940
Hugh Meredith writes that shortly after graduation he went to work with Vandeventer and Black, a Norfolk, Va., law firm. In September of 1940 he joined the Naval Reserves. He graduated from midshipman school in 1941 and served for five years as a deck officer in the Navy on various mine sweepers. In 1946 he returned to Vandeventer and Black and practiced for 40 additional years, retiring in 1986.
Alumni Events
The annual spring alumni luncheon held at the Yale Club in New York City was attended by more than 120 alumni and 15 admitted students. Dean Paul Mahoney, in addition to his state of the Law School remarks, commented on the high quality of students being accepted and how fortunate for all that the alumni in attendance can share their personal experiences with the students.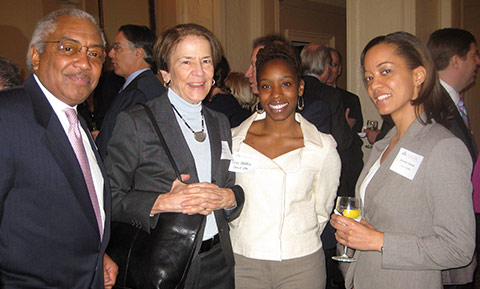 From left: Al Carney '74, Elizabeth Scott '76, Gigi Parris '06, and Jennifer Dacosta '08.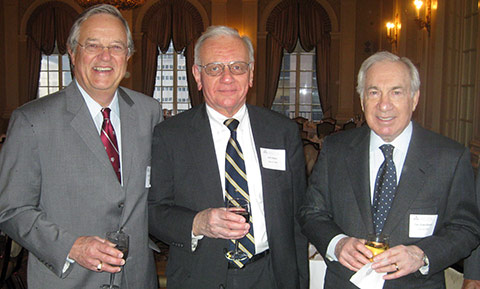 From left: Jack Bissell '65, William Halter '64, and Dan Rosenbloom '54.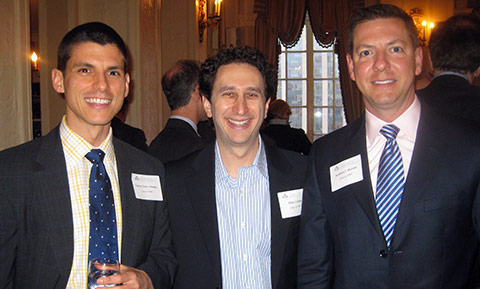 From left: Carlos Cruz-Abrams '02, Allan Cohen '97, and Steve Malone '97.
1949

Mr. and Mrs. Peter J. Rogers celebrated their 60th wedding anniversary with their family in 2008.
1950
James Blackwood Pearson of Baldwin City, Kans., and Gloucester, Mass., passed away January 13. Pearson served for 17years as the United States Senator from Kansas.
During World War II, Pearson was a Navy transport pilot, flying DC 3s from coast to coast, often landing at the Olathe Naval Air Station near Kansas City.
Pearson practiced law in Prairie Village, Kans., before serving as a probate judge. He was elected to the Kansas Senate in 1956, becoming Republican state chairman in 1960. Upon the death of U.S. Senator Andrew Schoeppel, Pearson was appointed to fill the seat in 1962.
Early in his Senate tenure, Pearson earned a reputation for intelligence, wry humor, and independence. Probably his most important political and legislative legacy is to be found in the details of natural gas regulation. He won three general elections by wide margins and retired in 1979.
After retiring from the Senate, Pearson and his wife, Margaret, traveled frequently to Japan and Southeast Asia. Pearson served as a director of the East-West Institute based in Hawaii from 1983 to 1991. He co-chaired a commission to study the structure and procedures of the Senate.
Pearson leaves behind Margaret (Lynch), his children, James, Thomas, William, and Laura, and his sister, Virginia Green.
1953
Senator John W. Warner will be knighted by Queen Elizabeth II at Buckingham Palace this spring in a centuries-old ceremony. British Ambassador Sheinwald made the announcement, saying, "Throughout his long and distinguished career he has been a constant and unstinting friend of the United Kingdom, working with us on issues ranging from defense cooperation to the Northern Ireland peace process."
1955
William Weeks fully retired from law practice at the end of 2005, completing 50 years of practice with three different firms in Boston. "Best regards to all my classmates," writes Weeks.
Charles Wehland retired several years ago. After selling property in central Maryland, the Wehlands purchased a home in Raleigh, N.C.
1956
Mark H. Berliant, a senior partner at Strauss & Troy in Cincinnati, Ohio, has been recognized for his outstanding professional accomplishments and for his noteworthy talent in the law. Berliant was selected for Best Lawyers in America 2009 for an unprecedented 26th straight year. Berliant is one of a very small number of attorneys nationwide who have been recognized in Best Lawyers in America each year from the inception of the award in 1983.
Al Evans continues to recover from his 2006 stroke, bit by bit. Linda Evans says, "His sense of humor is astounding, and many people aren't quick enough to grasp his thinking." The last case on which Evans worked as a defendant's lawyer was dismissed just a few months ago.
1959

W. Shelby Coates is of counsel to the Manhattan firm, Dickerson, Tomaselli & Mullen on Lexington Avenue.
British Prime Minister Gordon Brown bestowed a knighthood on Senator Edward Kennedy on behalf of the Queen of England. In his recent address to the U.S. Congress, Brown described "Sir Edward Kennedy" as "one of your most distinguished senators, known in every continent, and a great friend." He hailed the work of the Massachusetts Democrat on bringing peace to Northern Ireland and expanding access to healthcare and education.