Faculty Briefs

On April 2, Ken Abraham presented a paper, "Custom, Non-Customary Practice, and Negligence," at a Symposium on the Restatement (Third) of Torts at Wake Forest Law School.

Kerry Abrams published an article co-authored with Peter Brooks, Sterling Professor of Comparative Literature at Yale University, entitled "Marriage as a Message: Same-Sex Couples and the Rhetoric of Accidental Procreation" in the Yale Journal of Law & Humanities. She presented "The Hidden Dimension of Nineteenth-Century Immigration Law" at the Boston University Legal History Workshop in October and gave a related lecture to "Women's Work," a University of Virginia women's faculty research lunch group. In March, she presented a paper on family-based immigration law at the Workshop on Comparative Family Law at American University's Washington College of Law.
As co-director of the Center for Children, Families, and the Law, Abrams sponsored a Conference on Law & Emotion: Re-Envisioning Family Law, in September. The conference included talks by well-known legal scholars, psychologists, and lawyers. Several of the talks will be published in an upcoming volume of the Virginia Journal of Social Policy and the Law. In March, she coordinated with the Virginia Festival of the Book to sponsor a lecture and book-signing by Philip Schrag and David Ngaruri Kenney, authors of Asylum Denied: A Refugee's Struggle for Safety in America.
Margo Bagley published "The Need for Speed (and Grace): Issues in a First-Inventor-To-File World" in the 2008 symposium issue of the Berkeley Technology Law Journal.
In October, Bagley presented "Cleansing Patents" at the University of Pennsylvania School of Law in Philadelphia.
In November, she presented "Illegal, Immoral, Unethical …Patentable?Issues in the Early Lives of Inventions" as the 2008 Katz-Kiley Memorial Lecturer at the University of Houston School of Law; "The International Patent System" at the SIPO Intensive Training Program at Cardozo Law School, Yeshiva University in New York City; and "Cleansing Patents" at the IP Speaker Series, also at Cardozo.
In February, Bagley presented "The New Invention Creation Boundary in Patent Law" at the William & Mary School of Law Symposium on Boundaries in IP Law in Williamsburg, VA.

Michal Barzuza presented her paper, "The State of State of Antitakeover Law," to the annual conference of the American Law and Economics Association.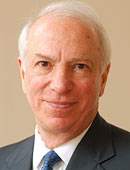 In his role as chair of Virginia's Commission on Mental Health Law Reform, Richard Bonnie '69 spearheaded the second phase of legislative reforms through the General Assembly in January and February. These reforms empower people with mental illness to guide their treatment during a crisis by using advance directives. The previous reforms in 2008, in the wake of the Virginia Tech shootings, had focused on strengthening civil commitment statutes. Bonnie presented the Commission's proposals to a variety of audiences throughout the state, including the Virginia Neurological Society, and the Virginia Association of Local Human Services Officials.

Another important event during this period was the January publication of a book entitled Law Touched Our Hearts: A Generation Remembers Brown v. Board of Education, written in collaboration with Mildred Robinson and published by Vanderbilt University Press. Robinson and Bonnie appeared in variety of forums to speak about the book, including the Library of Virginia in Richmond and the Virginia Festival of the Book in Charlottesville.
Other activities included presentations on mental health problems experienced by service members returning from combat in Iraq and Afghanistan at the annual meeting of the Virginia Bar Association on January 23; on the Supreme Court's decision allowing Indiana courts to disallow a mentally ill criminal defendant from representing himself at trial at the annual meeting of the American Psychology-Law Society in San Antonio on March 6; and on tobacco policy and the Annual Virginia Forum on Youth Tobacco use in Richmond on April 15.
Bonnie was also appointed to serve on the Board on Behavioral, Cognitive and Sensory Sciences of the National Research Council, a component of the National Academy of Sciences.

In April, Darryl Brown '90 moderated a panel at the Texas Tech Law School Symposium on Criminal Excuses and Justifications, and delivered a Hoffinger Colloquium Lecture at New York University Law School. Presently, he is a visiting scholar in residence at the Institute for Criminology at the University of Oxford, in England.

In June 2008, Tomiko Brown-Nagin was a commentator at a meet the author roundtable on Risa Goluboff's The Lost Promise of Civil Right at the Law and Society Association Annual Meeting in Montreal; and a panelist at a session on "The Roberts Court and Equal Protection" at the AALS Conference on Constitutional Law in Cleveland.
Her publications include "One of These Things Does Not Belong":Intellectual Property and Collective Action Across Boundaries" in the summer 2008 Yale Law Journal; and book reviews on Thomas Jackson, From Civil Rights to Human Rights, Martin Luther King, Jr., and the Struggle for Economic Justice (University of Pennsylvania, 2007); Felicia Kornbluh, The Battle for Welfare Rights, Politics and Poverty in Modern America (Univ. of Pennsylvania, 2007); Kris Shepard, Rationing Justice, Poverty Lawyers and Poor People in the Deep (Louisiana State, 2007), in the Journal of Southern History, November 2008.
This fall, Brown-Nagin was appointed Charles Warren Visiting Professor of American Legal History at Harvard Law School.
In October, she presented "Uncovering the Grassroots, Re-imagining the Legal History of the Civil Rights Movement," for the Harvest Lecture at Vanderbilt University School of Law; and In "Courage to Dissent," at a Harvard Law School faculty workshop.
In November, she presented the James H. Thomas Lecture at Yale Law School, "Re-Envisioning the Civil Rights Movement: Courts, Communities, and Legal Liberalism."

Doug Ford contributed to two books published in 2008. Ford authored the chapter, "Inspiring and Inadequate: the Krstic' Genocide Conviction through the Eyes of a Srebrenica Survivor," in International Human Rights Advocacy Stories, of which he was also a co-editor. He was also a legal advisor and contributor to Underground America, Narratives of Undocumented Lives. Ford spoke at several events in support of the book and on the topic of undocumented immigrants, including at the Virginia Festival of the Book.

Brandon Garrett has two articles forthcoming, "The Substance of False Confessions" in the Stanford Law Review ,and "Corporate Confessions" in the Cardozo Law Review. Garrett has posted new data on wrongful convictions at his faculty website.
Garrett's work has been cited in several briefs and amicus briefs on both sides in the case Osborne v. District Attorney's Office of the Third Judicial District.
In March, he presented "Globalized Corporate Prosecutions" to a conference on New Research in Regulation of Corporations, Managers, and Financial Markets at the Washington University School of Law; and "The Substance of False Confessions" at the NYU Goldstock Criminal Law Luncheon.
In May, Garrett presented "Regulation of Industries and Organizational Prosecutions," to the Regulation by Prosecutors Conference at New York University Law School. He presented "Forensic Science and Wrongful Convictions" to the Forensic Science for the 21st Century: The National Academy of Science Report and Beyond at Arizona State University Law School in April; at the University of Chicago School of Law, Crime and Punishment Workshop, in February; and at the Ninth Annual Buck Colbert Franklin Memorial Civil Rights Lecture, University of Tulsa School of Law, in October.
Charles Goetz's Fourth edition of Goetz & McChesney, Antitrust Law: Interpretation and Implementation was published by Foundation Press in November.
Risa Goluboff visited at New York University Law School in the fall and is currently the Stephen and Barbara Friedman Visiting Professor at Columbia Law School. She presented her work on vagrancy, entitled "People out of Place: The Sixties, the Supreme Court, and Vagrancy Law," to faculty workshops at both schools and to the NYU Legal History Colloquium. Goluboff also presented it this spring to the Yale Legal History Colloquium and to the Constitutional Theory Conference at the University of Southern California Law School. She also presented her work on the Thirteenth Amendment to a conference on that topic at the University of Chicago this spring. Finally, in April Goluboff won a Guggenheim Fellowship to support her writing of her upcoming book, People out of Place: The Sixties, the Supreme Court, and Vagrancy Law.

A. E. Dick Howard '61 was a featured speaker at the inauguration of George Washington University's India Project. Paired with Dr. Abhishek Manu Singhvi, a member of India's Parliament, Howard spoke on the Constitution of India and judicial activism in that country's Supreme Court, especially in encouraging public interest litigation and delineating social and economic rights. Papers from the inaugural event will be published in the George Washington International Law Review.
Howard published a paper, "The Road from Monticello: The Influence of the American Constitutional Experience in Other Lanes," in a volume, Religion, State, and Society: Jefferson's Wall of Separation in Comparative Perspective. The paper was among those presented at a conference, "The Call for a New World Order," organized in Prague by Monticello, the University of Virginia, and Colonial Williamsburg.
At Elon University, Howard gave the second Sandra Day O'Connor Lecture. His topic was "The Global Voyage of American Constitutionalism." A year earlier, Howard had given the inaugural O'Connor Lecture, his topic on that occasion being "The Changing Face of the Supreme Court." In addition to the O'Connor Lecture, Howard also gave a series of lectures at Elon's law school on the subject of "Constitutions and Culture." In those lectures he sought to set national constitutions in the context of a country's history, traditions, and culture.
Howard was an adviser to Monticello on their newly opened visitor's exhibit, "The Boisterous Sea of Liberty," as well as on the film that introduces visitors to Thomas Jefferson and his ideas.
Howard assisted the Community Idea Stations, WCVE and WHTJ, in the preparation of their documentary, "Judicial Independence in the New World: The Evolution of Virginia's Early Court System and Its Effect on the Nation." He focused, in particular, on Virginia decisions which, decided before Marbury v. Madison, anticipated John Marshall's articulation of the Court's power of judicial review. The documentary has been shown on public broadcast stations throughout Virginia and elsewhere in the nation.
In Richmond, Howard did workshops on constitutionalism for the "We the People" team at the Maggie L. Walker Governor's School for Government and International Studies. Howard's workshops were designed to help the school's team, which won the state championship, take part in the national competition, organized by the Center for Civic Education.

Deena Hurwitz edited with Margaret L. Satterthwaite and Doug Ford International Human Rights Advocacy Stories (Law Stories Series) (Foundation Press, 2008), and wrote the chapter "Universal Jurisdiction and the Dilemmas of International Criminal Justice: The Sabra and Shatila Case in Belgium."
In February, Hurwitz attended the launch of Musawah, a global movement for equality and justice in the Muslim family. Approximately 250 scholars and activists from 47 countries gathered in Kuala Lumpur, Malaysia, for the meeting, which featured UN Special Rapporteur on Violence against Women Yakin Ertürk as a keynote speaker. Hurwitz participated in a panel on comparative religious perspectives, with a presentation entitled "Engendering Judaism: Jewish Identity, Gender and Human Rights."
In March, she spoke at Yale Law School's Arthur Liman Public Interest Program, Forty Years of Clinical Education at Yale: Generating Rights, Remedies, and Legal Services, Reflections on The Shape of Clinical Education Today.

In addition to continuing his role for the third year as president of the executive committee of the Order of the Coif, Alex Johnson became the chair of the AALS' Committee on Bar Admission and Lawyer Performance.
In October, Johnson was a panelist on Diversity and Bar Admissions at the Bar Exam Passage Conference, ABA Section of Legal Education and Admissions to the Bar and Law School Admission Conference in Chicago; and in February presented "The Re-Emergence of Race as a Biological Category: The Societal Implications–Reaffirmation of Race" as part of the Critical Race Theory Speaker Series at the University of Iowa College of Law (article forthcoming in the Iowa Law Review).
In March, Johnson chaired the Sabbatical Site Inspection Team for Notre Dame Law School for the ABA Section on Legal Education.
In April, Johnson presented a paper entitled, "Preventing a Return Engagement: Destroying the Negotiability of the Mortgagor's Note Via the Unconscionability Doctrine," at Pepperdine Law School as part of a law review symposium, Bringing Down the Curtain on the Current Mortgage Crisis and Preventing a Return Engagement; and was a panelist at the National Conference of Bar Examiner's Annual Meeting to address diversity issues in the legal profession.

In September, Liz Magill '95 commented at the University of Virginia Law Review's Symposium on the Securities and Exchange Commission. The comment offered an administrative law perspective on a paper called "Securities Law and the New Deal Justices."
In March, Magill presented a paper called "Agency Self-Regulation" at a faculty workshop at the Harvard Law School, where she is visiting for the spring semester.

Greg Mitchell and several co-authors published "Strong Claims & Weak Evidence: Reassessing the Predictive Validity of the Race IAT" and "Transparency Trumps Trust" in the Journal of Applied Psychology. Mitchell and Philip Tetlock co-authored a chapter titled "Experimental Political Philosophy: Justice Judgments in the Hypothetical Society Paradigm," for the book New Explorations in Political Psychology (Jon A. Krosnick & I-Chant A. Chiang eds., forthcoming 2009) and a paper titled "Facts Do Matter: A Reply to Bagenstos," that will be published in the Hofstra Law Review. Mitchell also presented a paper to the Law and Economics Seminar at the University of Illinois this spring.

Tom Nachbar organized and participated in a conference on "Establishing the Rule of Law in the Context of Military Intervention," which the Law School co-sponsored with the Georgetown Law Center's Human Rights Institute and the Judge Advocate General Legal Center and School. The conference, which was held at Georgetown, brought together panelists from academia, the military, civilian governmental agencies, and non-governmental organizations to discuss how the military can best work with other agencies to re-establish the rule of law in war-torn countries like Afghanistan and Iraq.

In March, Jeffrey O'Connell lectured on reform of medical malpractice law at the annual meeting of the Health Coalition on Liability and Access in Washington, D.C.
This spring semester, Robert O'Neil is a visiting professor

at the University of Texas School of Law in Austin, teaching Con Law II: Church and State. He continues for another year and a half as director of the Ford Foundation's Difficult Dialogues Initiative.
O'Neil spoke in early February under the auspices of the Boniuk Center at Rice University, later at the annual conference on Community College Law at Valencia (Florida) Community College, and received the first William Kaplin Award given by Stetson University at its annual Higher Education Law Conference in Orlando. In March, he spoke at Colby College in Waterville, Maine, on academic freedom; at the Clinton School and the University of Arkansas-Little Rock on the 45th anniversary of New York Times v. Sullivan; and participated in the annual Cosmos Club Symposium in Washington. In April, he addressed the annual dinner of Friends of the Library at the University of Missouri-Columbia, and before the end of the spring will speak at the annual meetings both of the Association of Governing Boards (San Diego) and the National Association of College and University Attorneys (Toronto).

Dan Ortiz won his first Supreme Court case, Vaden v. Discover Bank, which he argued on behalf of the Law School's Supreme Court Litigation Clinic.
He also published "Get A Life?," in the Georgetown Law Journal; "Democratic Norms, Structures, and Conflict" in International Election Principles; "Constitutional Meaning," in What Should I Read Next?; and "The Difference Two Justices Make: FEC v. Wisconsin Right to Life, Inc. II and the Destabilization of Campaign Finance Regulation" in the Albany Government Law Review.

In November, Margaret Riley spoke at the Food and Drug Administration on "Morality, Ethics and Law: Genetically Engineered Animals and the FDA. In May, Riley is speaking at the National Meeting of BIO in Atlanta on "Challenges and Solutions in Commercializing Genetically Engineered Animals and their Products"; and in July on a panel at the ABA national meeting in Chicago on "Law and Ethics of Genetically Engineered Animals."
Mildred Robinson published (with Richard Bonnie) Law Touched Our Hearts: A Generation Remembers Brown v. Board of Education, Vanderbilt University Press. Her article, "The States' Stake and Role in Closing the Federal Tax Gap," is forthcoming in the Virginia Tax Review.

This spring, George Rutherglen attended a conference on the Thirteenth Amendment at the University of Chicago, where he presented a paper, "The Badges and Incidents of Slavery and the Power of Congress to Enforce the Thirteenth Amendment." He also attended the annual meeting of the Maritime Law Association in New York, where made a presentation on current issues in legal ethics.
Earlier this academic year, Rutherglen published "Public Employee Speech in Remedial Perspective" in the Journal of Law and Politics and "State Action, Private Action, and the Thirteenth Amendment" in the Virginia Law Review. He also has a new edition coming out of his casebook with John Donohue, Employment Discrimination: Law and Theory.

Fred Schauer's article "Why Precedent in Law (and Elsewhere) is Not Totally (or Even Substantially) About Analogy" was published in November in Perspectives on Psychological Science.
In December, his article "In Defense of Rule-Based Evidence Law — and Epistemology Too" was published in Episteme: A Journal of Social Epistemology; and he delivered the Annual Ben Beinart Lecture at the University of Cape Town on the topic of "Democracy and Limits on Political Discourse."
In January, Schauer presented "Was Austin Right After All?: The Role of Sanctions in a Theory of Law" at the General Aspects of Law Lecture Series at the Boalt Hall School of Law at the University of California Berkeley.
In February, he presented "When and How (If at All?) Does the Law Constrain Official Action?" at the Public Law Workshop at the Harvard Law School.
In March, Schauer delivered the annual 'Or 'Emet Lecture at the Osgoode Hall Law School, York University, Toronto, on the topic of "On Law and Coercion"; and presented "Knowledge, Truth, and the Millian Calculus" at a Conference on Unchallengeable Orthodoxies at the Arizona State University College of Law.
Schauer also serves on the board of directors of the MacArthur Foundation Law and Neuroscience Project.

In May, Gil Siegal, Richard Bonnie, and Margaret Riley are hosting a national conference on "Genetics, Ethics & the Law" at the Law School.
In February, Siegal participated as an expert in the review process of the European Community (FP7 framework), and in March lectured at the European Foundation of Genetics, in Bologna, Italy on the legal and ethical framework of genetic research and on biobanks. His article, "An Account of Collective Actions in Public Health" (with Neomi Siegal and Richard J. Bonnie) is forthcoming in the American Journal of Public Health.

Stephen Smith '92 published "Jail for Juvenile Child Pornographers?: A Reply to Professor Leary" in the Virginia Journal of Law & Social Policy; "Proportional Mens Rea" in the American Criminal Law Review; and "Clarence X? The Black Nationalism Behind Justice Thomas's Constitutionalism" in the New York University Journal of Law & Liberty (forthcoming 2009).

Barbara Spellman and Fred Schauer published "Artists' Moral Rights and the Psychology of Ownership" in the Tulane Law Review. Spellman also published with Elizabeth R. Tenney and Robert J. MacCoun "The Benefits of Knowing What You Know (And What You Don't): How calibration affects credibility in the Journal of Experimental Social Psychology.
Spellman was appointed to the National Academies Committee on Behavioral and Social Science Research to Improve Intelligence Analysis for National Security.
In November, she presented "Evaluating Information from Uncertain, Deceptive, and Unreliable Sources" at a workshop series on the law and economics of intellectual property at the Swiss Federal Institute of Technology in Zurich; "Judges, Expertise, and Decision Making" at the Max Planck Institute for Research on Collective Goods, Bonn, Germany; and "Evaluating Witnesses' Believability by Assessing Calibration" at a symposium on Psychology and Law: Emerging Trends Addressed by Empirical Studies at the 49th Annual Meeting of the Psychonomic Society in Chicago (with Elizabeth R. Tenney).
In March, Spellman presented "The Relation Between Counterfactual and Causal Reasoning" at a symposium on Causation in the Law (and in Psychology) at the 2009 American Psychology-Law Society Conference in San Antonio, Texas.

In December, the Virginia Law Review published an article by Chris Sprigman co-authored with Dotan Oliar "There's No Free Laugh (Anymore): The Emergence of Intellectual Property Norms and the Transformation of Stand-Up Comedy." In this article, Oliar and Sprigman examine the norms governing the ownership, transfer, and use of jokes by stand-up comedians, and how these norms govern relations among comics in place of the formal intellectual property law.
In March, the Stanford Law Review published an essay Sprigman co-authored with UCLA Law School professor Kal Raustiala titled "The Piracy Paradox Revisited." This essay refines and extends Raustiala and Sprigman's 2006 analysis ("The Piracy Paradox", published in the Virginia Law Review) of how the copying of fashion designs contributes to the fashion industry's innovation culture.
In May the Journal on Telecommunications and High-Technology Law published Sprigman's article titled "Copyright and the Rule of Reason." In this article, Sprigman suggests ways in which the liability rules for copyright law could be made more efficient, in particular by adopting something like the mix of rules and standards that characterize the law of antitrust.

In December-January, Paul Stephan '77 taught a course on international law in the Supreme Court at the Radzyner Law School, Interdisciplinary Center Herzliya in Israel. He also gave a workshop on his paper, "Symmetry and Selectivity: What Happens in International Law When the World Changes," at Radzyner and also to the Haifa University law faculty. Finally, he gave a panel presentation on "International Economic Law in a Time of Crisis" at the Radzyner Law School.
In February, Stephan moderated the J.B. Moore Society Conference on International Arbitration.
In March, he took part in the annual meeting of the American Society of International Law, having served on the program committee for this session. He moderated a panel on international approaches to the enforcement of the judgments of international tribunals by domestic courts. He also gave a presentation on current issues on foreign sovereign immunity law to the judicial advisory committee of the ASIL, and was elected co-chair of the International Law in Domestic Courts Interest Group of the ASIL and will preside at the interest group's meeting as part of the ASIL annual meeting.

In September, G. Edward White presented at conference at Harvard Law School, "The Origins of Modern American Legal History."
In October, White was honored with the University of Cincinnati College of Law's William Howard Taft Lecture on Constitutional Law. The Taft Lectureship, which dates back to 1986, has featured, among others, Justices Antonin Scalia and Sandra Day O'Connor, and Professors Akhil Amar and Robert Post of Yale Law School. White's lecture was "Revisiting the Central Ideas of the Founding Period."
Also in October, White was a feature panelist on "Presidential Power and the Constitution" at the New York Historical Society. The other panelists were Benno Schmidt, former President of Yale University, Professor Akhil Amar of Yale Law School, and Floyd Abrams.
In March, White presented "Biographical Dimensions of Holmes' The Common Law," to a staff seminar at the London School of Economics and Political Science.
White's article, "Neglected Justices: Discounting For History," is forthcoming in the Vanderbilt Law Review.
White is editor of a new edition of Oliver Wendell Holmes's The Common Law (John Harvard Library edition, Belknap Press of Harvard University Press, forthcoming May, 2009). This edition of Common Law contains an introduction, a bibliographical essay, and an extended chronology of Holmes's life.
In May, at the Woodrow Wilson International Center for Scholars in Washington, D.C., White was chair and commentator of a panel, "Alger Hiss, I.F. Stone, and Counterintelligence," at a program on Alexander Vassiliev's Notebooks and the Documentation of KGB Operations in the United States, 1930–1950.

Law School Professor David A. Martin was named principal deputy general counsel of the Department of Homeland Security by President Barack Obama's administration. He will be working closely with the new secretary of Homeland Security, Janet Napolitano '83, former governor of Arizona.
In his new role, Martin will be the second-highest-ranking lawyer at Homeland Security, which has 208,000 employees. The agency's legal team includes 1,700 attorneys.
"I am very pleased to be invited to serve on Secretary Napolitano's team and to have the chance to help the department address its remarkably broad responsibilities," said Martin.
Martin, who has received a two-year leave of absence from teaching, will take on a legal portfolio that covers the full range of issues the agency deals with, including transportation security, cargo screening, disaster response, immigration and port security. He expects to be closely involved in advising the Homeland Security secretary on immigration issues. Martin previously served as general counsel of the Immigration and Naturalization Service from 1995 to 1998, and is a leading academic expert on immigration and refugee law.
Martin noted that Napolitano was a student in the very first class he taught at Virginia. "I was a rookie professor and she was a rookie law student," he said. "That small section was tolerant of my mistakes and I tried to return the favor. I have always felt especially close to the students in that class."
Martin had kept in touch with Napolitano over the years, and the two of them worked on projects together when he was INS general counsel and she was the U.S. attorney for Arizona.
The class of 1983 celebrated its 25th reunion last year. Martin was invited to the class dinner and sat next to then-Governor Napolitano. "We talked a bit about immigration policy and the political races, but I certainly had no idea I was dining with my future boss."
Martin was named to the Obama transition team in November, where he served on the review team examining the Department of Homeland Security.
Martin is the Warner-Booker Distinguished Professor of International Law at the University of Virginia, where he regularly teaches immigration law and a course in presidential powers. Before joining the Virginia faculty he was special assistant to the assistant secretary for human rights and humanitarian affairs at the U.S. Department of State.

Schauer Charges Students to Ponder Nature of Legal Reasoning
By Ashley Matthews
David and Mary Harrison Distinguished Professor of Law Frederick Schauer asked students to consider what it is to "think like a lawyer" at a Student Scholarly Lunch in February, one month after National Jurist magazine named him as one of the most influential people in legal education. The national publication recognized Schauer for having "influenced legal education in some way that continues to benefit current and future law students."
Schauer's book, Thinking Like a Lawyer: A New Introduction to Legal Reasoning, is now available. Law students, Schauer said, are told from the beginning of their education that they are not in law school to learn legal rules or practical skills, but to learn to "think like a lawyer."
However, there are many scholars who believe there is no such thing as legal reasoning, he said.
"There are a fair number of quite-distinguished skeptics about whether there is anything at all that can be called 'thinking like a lawyer.' Whether there is anything at all that is characteristically legal reasoning, as opposed to good thinking, good reasoning or anything of that variety," Schauer said.
Schauer said one school of skeptics, the pragmatists, believe that legal reasoning should involve taking all factors into consideration and making "the right decision for just this case on just this occasion," he said.
Others contend that what is often called legal reasoning is simply good, moral reasoning, which is not specifically legal at all.
"They would say, 'Yes we want our judges and our other legal reasoners to exercise the best of practical reasoning, we want our judges and legal reasoners to be pragmatic, but we also want this in our physicians, our policymakers, our scientists and everything else,'" Schauer said. "Lawyers are particularly good at it, are trained to be good at it, but it is nothing that is in any way specially, characteristically or distinctively legal."
Finally, legal realists view judges and other legal decision-makers as human beings who exhibit the typical range of virtues and faults. This means that to understand legal reasoning, one must study human nature and the way all people make decisions.
Schauer said his own philosophy is that there is legal reasoning, but it is not entirely specific to the field of law. The concept of precedence, he said, is often used by children: "Why can't I go to a rock concert at the age of 14 if you let my older sister go to a rock concert when she was 14?"
The concept of authority, he said, is displayed by the Catholic church's view of the Pope.
"If there is something that is special about legal reasoning, it is important to recognize that it is not totally, entirely hermetically sealed 'special.' The differences between legal reasoning and ordinary reasoning are not the differences between literary criticism and differential calculus, or the differences between Estonian and English or other things in which there is almost no overlap," Schauer said.
"Most of the things that we do and think about when we do legal reasoning are things that we think about in ordinary life … All of this is to suggest that rules, precedent, authority, sources and a whole bunch of things exist in lots of places outside the law."
However, Schauer said he believes certain types of reasoning are particularly suited, though not exclusive, to legal argument and reasoning.
"In numerous other ways, arguments from precedent, rules, authority, so on, are in my view concentrated in the legal system. In ways that they are present, but not as present in other areas. We always talk about authority; scientists almost never do. In science, one is expected to do one's own research, reach one's conclusion, and the idea that something is right in science just because someone else has said so seems somewhat bizarre to most scientists. So, too in lots of other areas," Schauer said.
A concept that is unique to the legal system, Schauer said, is that some decisions are based not on what is the best result in a particular case, but on what is the right systemic result. Rules and precedent matter, he said, even if they do not create the "right" results in every case.
"To take legal texts seriously, to take the 'writtenness' of law seriously, legal rules seriously, legal precedent seriously, is to do something other than reach the right result in every case and therefore with some frequency, to be willing to accept for larger systemic reasons, reaching the wrong result in a particular case," Schauer said.