OPINION

The Convergence of Massive Fiscal Problems
Richard G. Clemens '65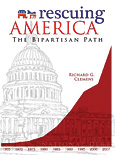 The moment when our nation's political leaders should come face to face with reality and develop real solutions for our country's unsustainable fiscal path is here. By 2030, the age 65 and older population will double to 71.5 million, and the 85 and older population will increase by 125% to 9.6 million. As the baby boomers retire and live longer, Social Security benefit payments will skyrocket. Beginning in 2017, Social Security's annual costs will exceed its payroll tax revenues. In 2025, Social Security's Disability Insurance Trust Fund, which currently covers about 9 million beneficiaries, will be totally exhausted. As of March of this year, only one bill had been introduced in the current session of Congress that proposes a solution for Social Security's fiscal problems.
Similarly, as our population ages, a much greater number of Americans will require costly medical care. The numbers of Americans with chronic illnesses and disabilities are higher for elderly minorities, women, and citizens living at 150% of the poverty level and below. The funding issues with Medicare and Medicaid are far worse than the shortfall with Social Security. A "Medicare funding warning" has been issued for three years in a row by the trustees of the Medicare Trust Funds without any action by Congress. By 2010, the Medicare Trust Fund expenditures are expected to exceed annual revenues. The Medicare Trust Fund will be depleted by 2018. Medicare has about $36.3 trillion in unfunded obligations owing to current generations.
Many of these fiscal problems, exacerbated by our government's recent stimulus and TARP spending, are inter-related and converge, causing massive budget deficits. The national debt now exceeds $10.8 trillion — having more than doubled in the last nine years. Projections show it doubling again within twelve years. Various ideas for tax and budget reform have been presented, such as cutting spending and/or raising taxes, but there appears to be no catalyst or driving force to make needed fiscal reforms happen — especially while the economy is in a serious recession.
Members of Congress and the administration should sit down together and work constructively in a concentrated and bipartisan fashion to address these fiscal problems. I am sure that the American people would applaud such an effort, regardless of their political affiliation. Sometimes presidential leadership has provided a catalyst for necessary change but, most often, it is only a dire situation as when the Social Security Trust Fund almost ran out of money in the 1980s, that triggers necessary reform.
One way for bipartisan action to occur more quickly is for Congress to enact legislation creating a bipartisan commission or task force to address the unsustainable fiscal path caused by the projected rapid growth in spending on Medicare, Social Security, and Medicaid. In a chapter of my book, Rescuing America: The Bipartisan Path, I discussed a number of ways that a bipartisan commission or task force might be useful, such as a requirement that recommendations made by a super-majority of a bipartisan commission to assure the solvency of Social Security and Medicare would have to be voted up or down by Congress within an expedited period. This year, a bipartisan bill called the Social Security and Medicare Solvency Commission Act (S. 246) has been introduced in Congress by Senator Dianne Feinstein (D-California) and John Cornyn (R-Texas) to establish such a bipartisan commission.
The unfunded obligations for Medicare and Social Security increase by about $2 trillion each year that nothing is done. The tsunami of spending on these programs has put us on an unsustainable fiscal path, especially as we grapple as a nation with the current financial crisis. Clearly, these problems are destined to get far worse until fiscal realities and common sense dictate the necessary bipartisan action.
Richard G. Clemens '65 is a retired senior partner of Sidley Austin and the author of the recent book, Rescuing America: The Bipartisan Path.