Non-Fiction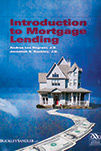 Introduction to Mortgage Lending
Jeremiah S. Buckley '69 and Andrea Lee Negroni
American Bankers Association
Despite the current upheaval in the mortgage industry, mortgage loans remain one of the most important products offered by banks in the United States.
Introduction to Mortgage Lending, now in its third edition, provides a wealth of information for loan officers, underwriters, loan processors, and loan servicing professionals so they can help their customers borrow responsibly. With a record of responsible lending, banks stand to increase their business in mortgage lending. Introduction to Mortgage Lending covers a wide range of topics, including real estate and mortgage law, the secondary mortgage market, appraisals, and mortgage fraud detection and prevention.
Co-author Buckley is partner and co-chair of BuckleySandler in Washington, D.C. He focuses his practice on counseling in the area of financial services, assisting clients with strategic advice on business formation and acquisition, risk management, and matters concerning enforcement of regulations. To order the book, visit http://www.aba.com/Products/PS98_056500.htm.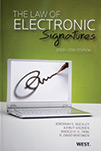 The Law of Electronic Signatures and Records
Jeremiah S. Buckley '69, John P. Kromer '93, Margo H. K. Tank, and David Whitaker
West Group
The Electronic Signatures and Records Act (ESRA) states that "signatures" made by electronic means will be as legally binding as handwritten signatures have always been. The Law of Electronic Signatures and Records explains the impact of, and the liability associated with, electronic signatures and electronic records laws.
The authors summarize the legal requirements involved in the Electronic Signatures and Records Act, UETA, and various state regulations that have made the operating and legal landscapes very complex. Their text explains, for example, how email communication, in some contexts, constitutes a contractual obligation.
Buckley is general counsel of the Electronic Signatures and Records Association, and counsels leading financial and technology firms on emerging laws affecting the electronic delivery of financial services. He played a leading role in negotiations that led to enactment of the E-Sign Act and has served as counsel to the Drafting Committee for Standards and Procedures for Electronic Records and Signatures.
Kromer is co-managing partner of BuckleySandler in Washington, D.C. He is also the chair of the Housing Finance and RESPA Subcommittee of the Consumer Financial Services Committee of the Business Law Section of the American Bar Association and serves on the Advisory Council of the American Association of Residential Mortgage Regulators.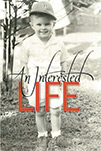 An Interested Life
Earl C. Dudley Jr. '67
Carlyle Classics
In this fascinating memoir, Earl Dudley reflects on the first 67 years of his life.
He was born in Manila in 1941 as WWII raged through Europe. On December 7, 1941, just before the attack on Pearl Harbor, he and his mother were seriously injured when the Japanese bombed the Philippines. Dudley, not quite a year old, probably would have died had it not been for a nurse who revived him by soaking some gauze in whiskey, dabbing it in sugar, and putting it in his mouth. (Decades later, Dudley learned about his near-death experience in a book about military medicine.)
For three years he and his parents were held in a Japanese internment camp. One of his first memories was looking up to see waves of U.S. Army paratroopers coming to rescue his family and 2,000 other prisoners in the largest successful hostage rescue in military history. Throughout An Interested Life the author recounts the story of his life against the backdrop of key events in history, weaving these strands together in a compelling way. He's a survivor, engaged in the world, and you want to know where he's going.
Dudley was in ninth grade in Virginia in 1954 when the Supreme Court handed down its decision in Brown v. Board of Education. The Court's decision seemed "clear and right" to him. When his civics teacher announced a debate on the decision, he was the one who volunteered right away to take the side of the Court.
A decade later, as he entered UVA Law, he knew that most of his friends hadn't enjoyed the experience of law school. Dean Hardy Cross Dillard welcomed incoming students with stirring words, but as Dudley writes, "I kept my skeptical eye on that damned Property course." He was delighted to find that his years in law school were even more engaging and more intellectually stimulating than his years at Amherst. He thoroughly enjoyed the rigor of legal analysis. Ironically, one of his favorite courses turned out to be Property, taught by a professor whose "lightning-fast mind illuminated the kaleidoscopic quality of legal concepts."
Dudley started writing for the Virginia Law Review at a time when it was running so far behind in its deadlines that the publication itself was in jeopardy. He and nine other students worked 80-hour weeks to bring it back on schedule, where, he notes, it has remained ever since.
He describes the invaluable experience of clerking for Chief Justice Earl Warren, who left the writing of opinions largely to Dudley, and he details some of the fascinating and complex cases he handled involving the United Mine Workers, Scientology, and court-ordered medical procedures, just to name a few, while practicing law with top firms Washington, D.C.
After resigning from private practice in 1989, Dudley returned to Charlottesville to teach at the Law School, where he is now professor emeritus.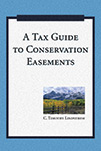 A Tax Guide to Conservation Easements
C. Timothy Lindstrom '72
Island Press
Millions of acres of land in more than 1,500 land trusts have been permanently protected by conservation easements in the U.S. Most land trusts depend on the substantial income or real estate tax benefits allowed by the federal tax code as incentives, but few landowners, advisers, or government officials fully understand the complex requirements for these tax benefits.
A Tax Guide to Conservation Easements is the first comprehensive guide on the subject. The book offers clear explanation of the requirements of the federal tax code and related matters, including the rules that apply to the operation of tax-exempt organizations such as land trusts. Lawyers, landowners, government officials, and anyone else who deals with or has an interest in the growing trend of easements will find this book invaluable. Designed for easy use, A Tax Guide to Conservation Easements includes examples that illustrate different aspects of easements, and topics are cross-referenced throughout the text.
Lindstrom serves as legal counsel to easement donors and land trusts in the U.S. and specializes in federal tax laws pertaining to conservation easements and land trusts. A frequent lecturer on this topic, he has had a key role in creating statutory incentives for voluntary land conservation.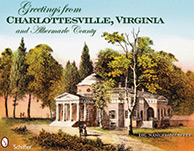 Greetings from Charlottesville, Virginia and Albemarle County
Samuel P. Menefee LL.M. '82 , S.J.D. '90
Schiffer Publishing
Picture postcards can reveal a lot about local history—they are windows to the past that show how buildings, the landscape, and everyday life change over time. Greetings from Charlottesville, Virginia, and Albemarle County features 192 postcard views selected by the author to give a different and delightful perspective on familiar places. Included in the collection are views of Monticello, Ash Lawn, monuments, UVA Grounds, hospitals, schools, and even motels that have made the area unique.
Menefee's captions for the cards include interesting bits of information (the serpentine walls enclosing UVA's gardens were Jefferson's adaptation of English "crinkle-crankle walls."). Messages taken from the back of the cards add an interesting dimension to the time-capsule effect. The reverse of a card of the Madison Hall Y.M.C.A. postmarked 1911 reads, "I ain't having er time, either, for I'm in the midst of those perfectly d---exams. But I shall sing a doxology Sat. morning."
This book is a great resource for amateur historians and deltiologists (postcard collectors) alike, with a brief general history of postcards, a description of the Charlottesville-Albemarle region, a chapter on photographers, including Rufus Holsinger and other lesser-known lensmen, and a value for each card.
Greetings from Charlottesville, Virginia, and Albemarle County will inspire visitors and those lucky enough to live in the area to take a closer look at this unique corner of the world.
Menefee is a member of the Albemarle County Historical Society and has a keen interest in the history of the region.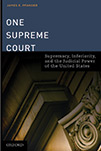 One Supreme Court: Supremacy, Inferiority, and the Judicial Department of the United States
James E. Pfander '82
Oxford University Press
Despite over 200 years of experience with constitutional government, much remains unclear about the power of the political branches to curtail or redefine the judicial power of the United States. Uncertainty persists about the basis on which state courts and federal agencies may hear federal claims and the degree to which federal courts must review their decisions. Scholars approach these questions from a range of vantage points and have arrived at widely varying conclusions about the relationship between congressional and judicial power.
Deploying familiar forms of legal analysis, and relying upon a new account of the Court's supremacy in relation to lower courts and tribunals, James Pfander advances a departmental conception of the judiciary. He argues that Congress can enlist the state courts, lower federal courts, and administrative agencies to hear federal claims in the first instance, but all of these tribunals must operate within a hierarchical framework over which the "one supreme Court" identified in the Constitution exercises ultimate supervisory authority. In offering the first general account of the Court as department head, Pfander takes up such important debates in the federal courts' literature as Congress's power to strip the federal courts of jurisdiction to review state court decisions, its authority to assign decision-making authority to state courts and non-Article III tribunals, its control over the doctrine of vertical stare decisis, and its ability to craft rules of practice for the federal system.
Pfander is a Professor of Law at Northwestern University School of Law. Since 1998 he has served as a consultant to the Federal-State Jurisdiction Committee of the Judicial Conference of the United States, in which capacity he considers the impact of proposed legislation on the jurisdiction of the federal courts. A member of the American Law Institute, he has chaired both the Federal Courts and Civil Procedure Sections of the Association of American Law Schools.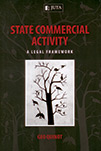 State Commercial Activity: A Legal Framework
Geo Quinot LL.M. '02
Juta & Co
In South Africa there are many legal rules that can apply to state conduct in the marketplace, but there isn't a coherent view of the legal concept of state commercial activity. Without a clear picture of how state commercial activity should be conducted, legal regulation is extremely challenging.
State Commercial Activity: A Legal Framework analyses the state's conduct as a market participant from a legal perspective. It focuses on the judicial control of such state conduct and puts forward a legal framework in which to understand state commercial activity. It is a study of constitutional law and commercial law, which attempts to develop an understanding of a peculiar social practice within a particular legal framework.
This is a book on methodology, not a book on the nuts and bolts of state commercial activity or public procurement regulation. Its premise is that by focusing on the courts' approach to state commercial activity one can develop a theoretical understanding of the conceptualization of state commercial conduct in law. The book primarily deals with South African law, but it also contains comparative perspectives from English, German, and French law. It includes chapters dealing in detail with the court's role as regulator of state commercial conduct, the capacity of the state to engage in commercial transactions, and various ways the courts can exercise their regulatory function in this regard.
The book concludes with an analysis of alternative methods in terms of which South African courts can approach their regulatory function in this field with particular focus on the transformative agenda of the South African Constitution. Peer reviewers give high praise to the author: "[This book] breaks new ground in South African and African law. It contains extensive local as well as comparative research, which enhances its value, and is thorough in its approach."
Quinot is an Associate Professor in the Department of Public Law at Stellenbosch University Law Faculty, South Africa, where he teaches in the areas of administrative law, constitutional law, and public procurement regulation. He is also the author of Administrative Law Cases and Materials (2008).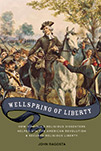 Wellspring of Liberty
How Virginia's Religious Dissenters Helped Win the American Revolution and Secured Religious Liberty
John A. Ragosta '84
Oxford University Press
Before the American Revolution, no colony more assiduously protected its established church or more severely persecuted religious dissenters than Virginia. Both its politics and religion were dominated by an Anglican establishment, and dissenters from the established Church of England were subject to numerous legal infirmities and serious persecution. By 1786, no state more fully protected religious freedom.
This profound transformation, as John A. Ragosta shows in this book, arose not from a new-found cultural tolerance. Rather, as the Revolution approached, Virginia's political establishment needed the support of the religious dissenters, primarily Presbyterians and Baptists, for the mobilization effort. Dissenters seized this opportunity to insist on freedom of religion in return for their mobilization. Their demands led to a complex and extended negotiation in which the religious establishment slowly and grudgingly offered just enough reforms to maintain the crucial support of the dissenters.
After the war, when dissenters' support was no longer needed, the establishment leaders sought to recapture control, but found they had seriously miscalculated: wartime negotiations had politicized the dissenters. As a result dissenters' demands for the separation of church and state triumphed over the establishment's efforts and Jefferson's Statute for Establishing Religious Freedom was adopted.
Historians and the Supreme Court have repeatedly noted that the foundation of the First Amendment's protection of religious liberty lies in Virginia's struggle, turning primarily to Jefferson and Madison to understand this. In
Wellspring of Liberty
, Ragosta argues that Virginia's religious dissenters played a seminal, and previously underappreciated, role in the development of the First Amendment and in the meaning of religious freedom as we understand it today.
Ragosta is an instructor at the Law School and received his Ph.D. in history from the University of Virginia.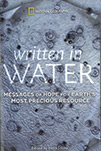 Written in Water: A Message for the Future
Edited by Irena Salina, Essay by Kathy Robb '80
National Geographic
Written in Water: A Message for the Future comprises a collection of essays authored by heroes and leaders in the field of water solutions and innovations—a broad range of people from varied disciplines who have contributed their hearts and minds to bringing awareness to and conserving Earth's freshwater supply. In their own words, authors tell of such tragedies as water slavery, drought, or contamination, as well as their own professional struggles and successes in pursuit of freshwater solutions.
Kathy Robb's essay, "On the Heads of Women," addresses the myriad challenges surrounding the daily quest for water for so many of the world's citizens – mostly the women in the household. "Fetching water far from home can also be more immediately dangerous. Traveling out of their communities across comparatively long distances on foot, women and girls face the threat of sexual attack. … spending 60 percent or more of each day providing water leaves little time for other activities," writes Robb. Delivering fresh water isn't as simple as installing an irrigation system. "For example, establishing a water source on a main road close to home may address the issues of long-distance travel to obtain water and free women to pursue education and income-producing work, but the location in public place may have other issues that are not addressed and that are crucial for these women, such as safety and modesty."
Robb, a partner with Hunton & Williams in New York, focuses on environmental law. She works on water issues under the Clean Water Act, the Endangered Species Act, the Natural Environmental Policy Act, water-related Superfund sites, and more. She founded and directs the Water Policy Institute, which seeks innovative, sustainable solutions to water supply and quality issues. She is co-founder and chair of the Women's Network for a Sustainable Future.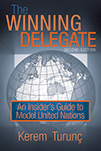 The Winning Delegate: An Insider's Guide to Model United Nations
Kerem Turunc '05
iUniverse, Inc.
Ever since it was founded in 1945, the United Nations has improved lives in many ways within its member nations, which now number 192. Though often criticized for its lack of effectiveness, the UN accomplishes more than any nation could on its own, particularly in working toward peaceful resolution of conflict.
Model UN (MUN) is a simulation of the actual United Nations that gives middle school, high school, and college students an excellent opportunity to act out roles of diplomacy. At Model UN conferences throughout the world, students represent their countries, playing the roles of diplomats, judges, and representatives. It's an educational experience that's challenging and fun.
Kerem Turunc draws upon a wealth of experience in his book. He co-founded and headed his high school model UN team in Turkey, and he was Secretary-General of the Yale Model UN, the largest on-campus Model UN conference for high school students in North America. In The Winning Delegate he presents the background needed for beginners and plenty of tips for even experienced delegates to improve their skills.
The book includes a succinct description of how the real United Nations works and how the Model UN works. Some things are radically different, the author notes: A complex issue that might be debated for months in the UN gets tackled in a weekend with Model UN, and debate in a Model UN is usually more heated than that in the real organization.
Turunc covers how to prepare for a role, including researching, writing papers, and working with a group. He lays out the rules of procedure and how they work, how to choose a conference to attend, how to debate and deliver speeches, and how to write a resolution.
"To this day," writes Turunc in the preface to The Winning Delegate, "I still use the skills I developed or improved thanks to Model UN, skills such as public speaking, negotiation, and research." He currently practices law in London.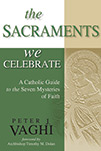 The Sacraments We Celebrate: A Catholic Guide to the Seven Mysteries of Faith
Peter J. Vaghi '74
Ave Maria Press
Monsignor Peter Vaghi's newest book explores the seven sacraments of the Catholic faith and delves into their history, their foundation in scripture, and their symbolic meaning. He reflects on the writings of Benedict XVI and John Paul II, the Catechism of the Catholic Church, and his own perspective as a Catholic priest. "Our faith, often unknowingly, acts as a lens through which we see the world, embrace the world, critique the world, and make efforts to live in a world that can be very challenging," he writes.
The Sacraments We Celebrate follows Vaghi's first book, The Faith We Profess: A Catholic Guide to the Apostle's Creed (2008). Both are part of a series that explores four major aspects of the Catholic faith: the profession of faith, the celebration of Christian mysteries, life in Christ, and Christian prayer.
The Sacraments We Celebrate is an important book for anyone who wants to better understand the roots and meaning of the Catholic faith. "Msgr. Peter Vaghi's clear account of the seven sacraments is doctrinally sound, pastorally perceptive, and spiritually insightful," notes one reviewer.
Vaghi is pastor of the Church of the Little Flower in Bethesda, Md., and a priest in the Archdiocese of Washington. He practiced law before his seminary studies and remains a member of the Virginia State Bar and the District of Columbia Bar. He is chaplain of the John Carroll Society, a group of professionals and businessmen and women that serve the Archbishop of Washington, and participates in an annual Red Mass celebrated for judges, attorneys, and others involved in legal professions.
Fiction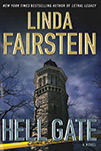 Hell Gate
Linda Fairstein '72
Dutton
In Linda Fairstein's twelfth and most recent addition to her bestselling Alexandra Cooper series, the author deals with two hot and straight-from-the-headlines subjects — human trafficking and political scandals.
When a rusty freighter loaded with illegal immigrants including 30 women runs aground on Rockaway Beach in Queens, Assistant District Attorney Alex Cooper is called to the scene. The women, it turns out, had been kidnapped for American sex trafficking, a multimillion-dollar industry that started hundreds of years ago with the African slave trade. The police are also investigating the case of Congressman Ethan Leighton, a promising politician who fled the scene of a car accident to cover up an extramarital affair.
As the thrilling tale unfolds, Alex discovers that a woman in the wreck is somehow linked to the political sex scandal involving the Congressman, and suddenly the political underworld of New York City is revealed as a dark and foreboding realm.
As in Fairstein's other novels, New York City is front and center in the story. She features three federal mansions that have had real connections to high-profile murders of the period, and the grit and charm of the city comes through on every page.
Of Hell Gate, Kirkus Reviews says, "Thrills, gossip, sex, history, self-righteous indignation and hints of parallels to the contemporary rich and famous, all whipped to a fine frenzy. Fairstein's most potent cocktail since Entombed."
The author served as chief of the SexCrimes Unit of the Manhattan District Attorney's Office for more than 20 years and is one of the world's leading experts on sexual assault and domestic violence. She lives in Manhattan and Martha's Vineyard. Her website is www.lindafairstein.com.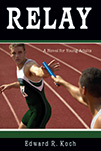 Relay
Edward R. Koch '80
Dog Ear Publishing
In this novel for young adults, the boys' track & field team at Green Ridge High School is aiming to defend the title they won in the state championship last year, but most of the star athletes have graduated. In the wake of their departure, the team is in the position of underdogs.
The coach, Bill Mallory, is confident that the team can compete with archrival Riverside High, but there will be some challenging conflicts to hammer out within the team, and a lot of hard work to be done on the track. Do they have what it takes to pull everything together before the meet?
The author, an experienced track & field athlete, coach, and official, gives readers a sense of what it's like to compete, mind and body, to be the best. His clear, spare prose conveys unmistakable authenticity:
Coming down the final meters, Ted thought the group was a shade quicker than the previous interval. Running the lap at about a sixty-five second pace meant that a tenth of a second equaled only a difference of about a couple of feet. An observer might think it difficult to determine such small gradations without a watch, but experienced runners can often sense it. Moments after crossing the finish line, Ted's hunch was verified as Coach Mallory read 64.6 from his stopwatch, an improvement of two-tenths of a second.
Koch competed for championship teams in high school and college. He has officiated at all levels of the sport, from the 1996 Olympic Games to local youth events sponsored by the New Jersey Striders, a track & field club that he co-founded. He decided to write Relay years ago when he realized that though a lot had been written about other sports, very little fiction had been written about track & field. For more information, and to order the book, see www.edkochbook.com.