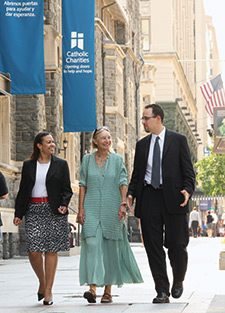 From left: Patrice Hayden '02, Debi Sanders '78, and David Zetoony '03 in front of Catholic Charities in Washington, D.C.


E-mail
Print
Lost in Translation:
Liberty and Justice for All
by Denise Forster
On the heels of national health care reform, the Obama administration appears poised to take on a contentious and vexing issue: immigration policy reform. While some in the administration are laying the groundwork for what they see as an even larger legislative battle than health care reform, others are fighting injustices dealt to the immigrant population on a case-by-case basis. One of the most common of these is notario fraud.
In many countries, notarios are board-certified legal practitioners, a step above an attorney. In the United States they hold no such credentials, and may or may not be genuine notary publics, yet they aggressively advertise and wrongly market themselves as experts on all legal issues, from family law to immigration proceedings or criminal matters. The very thing that leads to rampant legal and illegal migration to America, economic desperation, undoubtedly worsens when an immigrant pays for these fraudulent services.
The notarios prey on a vulnerable group: the more than one million people migrating to the U.S. each year. They often file the wrong forms, neglect to advise their clients on how to explore valid opportunities for asylum, lose affidavits, or simply make errors on or falsify paperwork without the immigrant's knowledge. They typically charge fees of up to $10,000 per applicant or family member. Immigrants are willing to pay, hoping the notarios will help them through the maze of the American immigration system, but instead often wind up paying a much higher price--deportation.
Organizing the Fight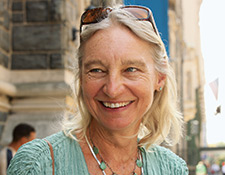 Part of the work of the American Bar Association's Immigration Commission has led to the ABA teaming up with agencies that work with the immigrant population to coordinate the fight against notario fraud. "I've been involved in immigration law for 22 years and it's always been a huge problem," says Catholic Charities' Deborah Sanders '78.
Immigration lawyers, overwhelmed by the problem, file complaints against notarios alleging unauthorized practice of law or ineffective assistance of counsel. None of this has put a dent in the problem. Immigration judges have no real jurisdiction over issues outside of the Immigration and Naturalization Act. States trying to address the issue are buried under the sheer volume of cases and the layers of bureaucracy. Attorneys general offices have to conduct investigations – often after multiple complaints about an individual notario – after which they decide if there are grounds for a case. "By then, nobody's here anymore," says Sanders.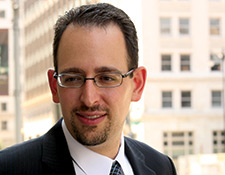 In the summer of 2008, a Washington, D.C., National Public Radio affiliate aired an in-depth report on notario fraud, quoting one immigration attorney who spends 70 percent of her time working to undo the damage done by notarios. In downtown D.C., two Bryan Cave colleagues listened to that report. David Zetoony '03 arrived at his office upset at what he'd heard. A legal resident hired a notario publico to help with his children's residency applications. The father had a green card, but his children live in fear of deportation due to the mistakes of the notario.
"These kids are afraid to go into cars with their friends because if they get pulled over for a speeding ticket, they're at risk for deportation," says Zetoony, touched by the fear this family lives with.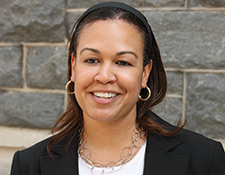 Zetoony sought out his colleague, Patrice Hayden '02, who had also heard the report. "I was listening to the story and thinking, 'What's happened to their future?' They're good students who want to go to college, but they can't because they're afraid they'll get picked up if they walk into the wrong 7-11," says Hayden.
The two antitrust and consumer protection lawyers decided to reach out to the immigration attorneys interviewed in the piece. "We asked if they'd tried fighting notarios under consumer protection law," Zetoony says. None had, but they weren't very receptive. "Some said, 'At this point, we've got caseloads 1,000-people long. We can't stop and devote time to this, but keep us in mind if you have something,'" says Zetoony.
Hayden and Zetoony kept at it, working to connect to the right people. They contacted dozens of attorneys and agencies. "We tried canvassing the public service sector because we didn't know whom to talk to. Finally, someone suggested we call Debi [Sanders] at Catholic Charities."
As a lawyer working in immigration services at Washington's largest social service agency, Sanders has seen or heard of widespread damage done by notarios. She was excited to hear Zetoony and Hayden's concept of battling the problem through consumer protection.
Sanders asked if they wanted to speak at an upcoming ABA conference on immigration fraud in order to provide the attendees with ideas and suggestions on how they might be able to bring lawsuits to stop notarios.
They conducted their research and devised materials. "We both do a lot of FTC-focused work. The Federal Trade Commission Act was the model for many state consumer protection acts," Zetoony explains. "In fact, they're colloquially called baby FTC acts," adds Hayden. They examined the baby FTC Acts and saw that many states granted a private right of action.
When they presented their ideas and supporting materials to immigration lawyers at the ABA conference, they were underwhelmed by the response. The attendees were intrigued, but wanted more -– they wanted case law. Zetoony and Hayden were asked if they had tested their theory. That led to the only logical conclusion.
"We decided that if people need to see that it works, we'll show them," Zetoony says. They went back to Bryan Cave's pro bono committee, this time seeking permission to file cases on behalf of victims. The committee was excited by the potential for new precedent and asked the team to bring three cases, one each in their "tri-state" area: Maryland, Virginia, and D.C.
The Consumer Protection Approach
Bringing a civil suit meant finding a plaintiff. Sanders applauded the effort, but knew firsthand how difficult it might be. While conservative estimates indicate fraud affects one in five immigrants, many fear retribution or removal if they file a complaint. "In the field, you're always having people come to you with these stories and quite often, they don't understand what's going on," says Sanders.
While the three were searching for their first plaintiffs, they teamed up with the ABA to create an online notario fraud clearinghouse, a major component of which is a referral network. "If we can draw in immigration attorneys, who see this every day but might not be able to take the case, or might not be comfortable bringing a civil case in court, they could refer the case to a litigating attorney," says Zetoony. The clearinghouse is an ever expanding resource. It can be found online at FightNotarioFraud.org.
"To be fair, 16 or so states have written laws attempting to regulate notarios, requiring at least a disclaimer on their advertising if they use the phrase notario publico. What we set out to do was to show that even in states that have statutes like that, it is still deception and can be prosecuted successfully," says Zetoony.
Casework
Their first case, Argueta vs. Mejia, was brought as a civil suit in Maryland state court but was moved to federal district court. "The case involved two families who went to an immigration consultant who claimed she could provide an attorney for each case and that she was a notario publica and had a court license," says Zetoony. "The families retained the consultant, paid her thousands of dollars for her advice and services. Only later they discovered that she had no law degree, no court license, and no qualifications to provide legal advice."
The suit alleged that the consultant committed eight violations of Maryland's Consumer Protection Act and 14 violations of Maryland's Immigration Consulting Act. They received a judgment in the suit that includes injunctive relief preventing the notario from providing legal services or advertising that others can provide them, as well as a monetary judgment of $100,000. When the defendant declared bankruptcy, they followed her to bankruptcy court. They negotiated a consent decree where she admitted it was non-dischargeable.
They brought another case in Virginia. The Fairfax County Circuit Court approved a consent decree and permanent injunction in their case. They obtained double recovery for the victim and a 10-year injunction against the consultant.
At the same time that these cases were pending in civil court, plaintiffs in both cases were undergoing immigration proceedings that could lead to their deportation. "Because a civil action against a notario and an immigration proceeding against the victim of a notario can go onat the same time, it's possible that a victim might ultimately be ordered to be removed from the country while they arestilla plaintiff in the civil action," explained Zetoony."Although theoretically the civil actioncan continue, the prospect of having your client and lead witness deported right before trial is a bit concerning."
Although deportation was a possibility in both cases, the victim's were able to explain to the immigration judges the nature of their pending civil actions and the judges delayed their hearings in order to give the plaintiffs time to participate in their suits. "While the plaintiffs may ultimately be deported, I think it's important that people know that lawyers and courts took seriously the fact that they were wronged," says Sanders.
"This drove home the fact that the private bar needed to do something about it," Zetoony says. "Clearly, there's money to be made by notarios who prey upon immigrants who don't understand our complex legal system. The deception is far-ranging, on diverse issues like custody and divorce matters." The civil route to relief is fast and more efficient. The team feels that after performing due diligence, a case can be brought in as little as a month.
"It's imperative to protect due process. Immigrants have rights in America – maybe more than in their home countries. That's what we're all about as attorneys -- due process for our clients, whether you're a plaintiff or a defendant, whether it's criminal or civil," says Zetoony.
Zetoony and Hayden were both surprised that their clients were not seeking financial reward. "When one of our clients got a judgment, she said 'How much do I owe you?'" When they told her nothing, the client wanted to donate the money back to them, so that others could be helped. "To her, it was about putting this person out of business," Hayden says.
The trio is still looking for the right case to bring in D.C. It's clear their work in this arena, which has expanded to involve other lawyers at Bryan Cave, including Peter Hawkins '07, will go on for some time.
Additionally, on behalf of Catholic Charities, they petitioned the FTC with the hope that they can bring wider awareness to the fraud and perhaps influence policy. Although Catholic Charities has asked the FTC to also bring enforcement actions, as Zetoony commented "I suspect they're running into the same difficulty that we ran into. People who are defrauded don't speak English, they're afraid of the system, they've been victimized, and they may or may not still be in the country as a result of the fraud," Zetoony says.
All of those factors create an exceedingly vulnerable population that is unlikely to report abuses and unlikely to find anyone to help. Even in the rare instance when someone is willing to come forward, that person might not be able to figure out what to do.
"David and I used to joke that there's no pro bono work in consumer protection, that we had a hard time finding cases or projects that we could take on," says Hayden. "Now we've gained invaluable experience while litigating cases in the consumer protection arena. It has extended into something much bigger, more important, and much longer lasting. That's how it should work."