Class Notes
Send Us Your News
We welcome submissions for inclusion in Class Notes. Submit online, mail to UVA Lawyer, University of Virginia School of Law, 580 Massie Road, Charlottesville, VA 22903; or fax to 434-296-4838. Please send your submissions by September 15 for inclusion in the next issue.

1940
Mortimer Caplin established the endowment that launched and sustains the annual Mortimer Caplin Conference on the World Economy at the University's Miller Center for Public Affairs, now in its third year. Leading bankers and economists gathered to discuss key global economic questions of our time for "Banking on Central Banks?" at the National Press Club in Washington, D.C. on October 11.
One panel featured four of the world's leading economists, including Charles Goodhart of the London School of Economics, Alice Rivlin of the Brookings Institution, Christina Romer of University of California-Berkeley, and John Taylor of Stanford University. They discussed the role of monetary policy in times of crisis. A second featured central bankers representing the U.S. Federal Reserve Bank, the Bank of England, the People's Bank of China, the Bank of Japan, and the European Central Bank. They reflected on the current financial crisis and gave their candid assessments of the effectiveness of central banking policies through time. The Caplin Conference afforded an opportunity to discuss and further understand how monetary policy influences our economic and political future.
1948
Charles G. Blaine passed away on December 2 in Venice, Fla. Blaine earned his law degree after serving in the U.S. Navy during World War II. He practiced with Phillips Lytle in New York for more than 40 years, where he focused largely on banking and banking regulation. As a managing partner at Phillips Lytle put it, "Charlie was among the most influential partners in our firm's 176-year history … He is fondly remembered for his larger than life personality and his passionate commitment to the success of his clients, the success of his law firm, and the development of the many young lawyers that he trained in the fine art of exceptional lawyering."
Blaine retired from the firm in 1993. He served in a wide range of community roles, including director of the Children's Aid Association, the Legal Aid Bureau, the State Communities Aid Association, the Buffalo Council of World Affairs, the Buffalo Salvation Army, and the Buffalo and Erie County Historical Society.
After retirement, he and his wife, Patricia, divided their time between Buffalo, N.Y., and Venice. They enjoyed traveling together, especially their trips to Europe.

Robert F. Matthews, Jr., died in November at the age of 87. Matthews, a lifelong resident of Shelbyville, Ky., took his law degree after serving in the U.S. Navy for three years during World War II. Matthews began his career in state government in 1948, when he served as a special assistant attorney general for the Department of Revenue for two years.He was named an assistant attorney general in 1955 and was elevated to first assistant attorney general four years later.In 1968 he served Kentucky as Commissioner of Finance and Revenue and from 1964 to 1968 as Attorney General of Kentucky.In 1968 Matthews joined Greenebaum, Barnett, Doll, and Matthews, where he practiced for 30 years before retiring as a senior partner.
1949

Carl Douglas Adams died peacefully in his home the evening of January 30 in Winchester, Va., surrounded by his family. He was 85.
He was born and raised in the heart of Washington D.C., just doors from the home of Frederick Douglass, in Anacostia. His passion for civil rights was born at the University of Virginia, as well as his liberal religious beliefs through his association with the Unitarian Universalist Church.
Adams was a member of the board of trustees of George Mason University from 1983 to 1992, as well as chairman of the advisory board for the Institute for Conflict Analysis and Resolution at George Mason University from 1985 to 1991. He was active for many years with Burgundy Farm Country Day School and the Burgundy Center for Wildlife Studies. He was a member of the Virginia Council on Human Rights and an active member of the Unitarian Universalist Church of the Shenandoah Valley.
His professional life spanned over 60 years in Virginia, from the law practice that he started in 1949 in Annandale, to Winchester, where he was President of Adams-Legge Development Group, a family-owned real estate development firm.
James S. Cremins continues to be active in the Richmond Bar Association. "May 2010 was the first reunion I have missed since 1949," he writes, "but I plan to attend in 2011." He enjoys the scenic drive to Charlottesville to watch Cavalier football, baseball, and basketball.
Frank Warren Swacker's legal drama, Who Murdered Mom?, is now in its second edition. The book, available online or directly from the publisher, James A. Rock & Company, is described by Swacker as "a comic didactic mystery."
1951
Sidney G. Dillon writes that his wife of 62 years, Dorothy, died on September 16. Sidney resides in Gladstone, N.J.
Margaret Gordon Seiler and her husband, Bob, live at Westminster Canterbury, a retirement home in Richmond, Va., where they have many friends and enjoy a range of interesting programs throughout the year.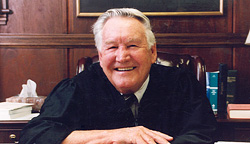 U.S. District Judge Richard L. Williams passed away at his home in Richmond, Va., on February 19. He was the oldest and the longest-serving active judge in a federal district spanning from Alexandria to Norfolk. He worked until the end of his life, and in recent months worked from his house overlooking the James River.
"His decades on the U.S. District Court bench were, in a word, consequential," noted an editorial in the Richmond Times-Dispatch. "A review of his decisions gives little clue to his political leanings, but says much about his dedication to the impartial application of the law."
Williams was born on April 6, 1923, the son of a police officer and farm wife. He enlisted in the Army at the age of 17 and was serving as a signalman at Pearl Harbor when the base was attacked by the Japanese on December 7, 1941. He attended the Law School on the GI Bill and earned his law degree without completing an undergraduate degree.
Williams was a Virginia circuit judge from 1972 to 1976. He practiced as a trial lawyer, representing clients such as General Electric, Aetna, and Westinghouse. He was a founding member of the firm now known as McGuireWoods. In 1980 Judge Williams was appointed by President Jimmy Carter as a U.S. District Judge for the Eastern District of Virginia. He heard a dispute between DuPont and Dutch competitor Akzo N.V. in 1986 over the bulletproof material Kevlar.
In 2003 Williams ruled that Virginia's ban on late-term abortion was unconstitutional, a decision that has been affirmed twice by the 4th U.S. Circuit Court of Appeals. In 2009 he ruled that the State of Virginia violated the voting rights of military personnel and other Americans overseas by sending absentee ballots too late for the votes to be counted in the 2008 election.
Judge Williams is survived by his wife, Eugenia, sons, Greg and Walter, daughters, Gwen Mason and Nancy Davies, nine grandchildren, and three great-grandchildren. The family respectfully suggests that memorial contributions may be made to the Richard L. and Eugenia K. Williams Scholarship Fund at the Law School.
1957
On December 31 Janet L. Blakeman retired from Patterson Belknap, where her practice focused on trusts and estates. "My firm gave me a wonderful retirement party," she writes. "I had been with the firm for almost 43 years!"
Benjamin Allston Moore, Jr., writes that he's still working, but not very hard. "I'm helping grandchildren with prep schools and colleges. Times are tough!"
Myron J. Poliner writes that he is pleased to report that his grandson Ariel graduated from the University of Virginia's School of Architecture in 2009 and his grandson Adam is a third-year student, also in the School of Architecture. Their father Michael '80 and mother Deborah are also UVA graduates.
1959
Shant J. Harootunian has retired with his wife, Louise, to a continuous care facility in the mountains of north Georgia.
James H. Harvell III is president of the Lifelong Learning Society at Virginia's Christopher Newport University, an organization of approximately 500 retired people who take courses and attend lectures at CNU. The society offers more than 50 courses per semester and numerous field trips.