Daniel J. Meador, 1926-2013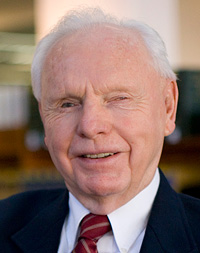 Daniel J. Meador, a renowned University of Virginia law professor known for his work in establishing a new federal appeals courts, died February 9, at age 86 after a short illness.
Meador was known for his work in teaching and for the government, having attained degrees from Auburn, the University of Alabama, and Harvard. He was also known for continuing his work, almost uninterrupted, after he became blind in the late 1970s due to detached retinas. "That would have defeated many, many people. … It was almost like he didn't miss a beat," said F.D.G. Ribble Professor Emeritus Stanley D. Henderson. "It was really marvelous to observe."
Henderson taught contracts to first-year law students, while Meador taught them civil procedure. He called Meador "a splendid man, elegant in style and approach," and praised his sense of humor and his teaching.
"He never took himself too seriously," Henderson said. "He was never grim about things. He was a thoughtful and careful person about what he said and what he did." Meador was born December 7, 1926, is Selma, Ala., and colleagues recalled he carried a Southern accent with him. He served in the U.S. Army during the Korean War, spending time in the artillery and in the Judge Advocate General's Corps. He clerked for Justice Hugo L. Black of the Supreme Court of the United States. After spending time in private practice in Alabama, he came to Virginia in 1957. He was a Fulbright lecturer in England in 1965, and in 1966 he became the dean of the University of Alabama School of Law. In 1970 he returned to the Law School, where he remained until he retired in 1994. He also was founding director of the school's graduate program for judges. He received the Raven Award and the Thomas Jefferson Award, along with numerous other professional recognitions. "Dan Meador lived an extraordinarily full life as a teacher, scholar, dean, public servant, legal reformer, and novelist," wrote Dean Paul G. Mahoney in an email. "He inspired generations of students and even in retirement his intellectual energy and commitment to improving the administration of justice did not fade."
From 1977 to 1979, Meador was an assistant attorney general for the U.S. Department of Justice, where he organized the new Office for Improvements in the Administration of Justice, which developed solutions for problems in federal and state courts.
Among the office's accomplishments was a proposal, which Congress adopted, that joined the U.S. Court of Claims and the U.S. Court of Customs and Patent Appeals, creating the U.S. Court of Appeals for the Federal Circuit.
At the same time, Richard A. Merrill, another Law School colleague of Meador's, was also working for the government in Washington. "Both of us regard those periods [of] legal service to the public as the most important work we did," Merrill said. Merrill also said Meador had a charming sense of humor.
In 1983 Meador spent three months in East Germany, studying the Eastern Bloc country's legal system. He served on a number of boards, and was active well after his retirement from teaching. He served on the board of the Charlottesville unit of Recording for the Blind and Dyslexic, and was an elder at First Presbyterian Church of Charlottesville.
He is survived by his wife, Alice P. Meador of Charlottesville, three children, Barrie Meador Boyd, Anna Meador Palms, and Daniel J. Meador Jr. '92, seven grandchildren, and a brother. His former wife Jan died in 2008. They had been married 52 years. —courtesy of The Daily Progress