FBI Director and Jefferson Medal Recipient Robert Mueller '73 Reflects on Bureau's Transformation After 9/11
By Brian McNeill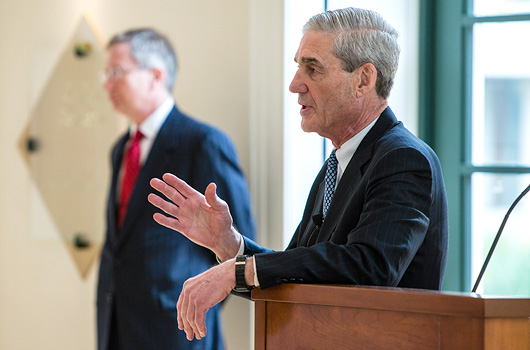 Two or three days after the September 11, 2001, terrorist attacks, FBI Director Robert S. Mueller III '73—who had taken office just days earlier on September 4—was summoned to the White House to deliver his first briefing to President George W. Bush.
Mueller, who says he was "scared to death" and so new to the FBI that he could barely find his office, had prepared extensively to update the president on the FBI's activities in response to the attacks. Agents had established crime scenes at all relevant locations, he told the president, had begun to identify the hijackers and were already concluding that Osama bin Laden and al-Qaida were responsible.
"The president stopped me and said, 'Bob, that's all well and good. That's what I expected the bureau to do. That's what the bureau has been doing well for the last 100 years. What I want to know from you is, what are you doing to prevent the next terrorist attack?'" Mueller recalled in a talk at the Law School. "I felt like a high school kid who had done the wrong homework assignment. I got it wrong."
From that moment, Mueller said, he realized that the FBI could no longer be reactive to crime and terrorism. It had to grow more proactive and overhaul its priorities and capabilities.
"The days after the attacks of September 11 changed the course of the bureau," he said. "National security—that is, preventing terrorist attacks—became our top priority. We shifted 2,000 agents from our criminal programs to national security and we understood that we had to focus on long-term strategic change—enhance our intelligence capabilities, upgrade technology, build strong partnerships, forge strong friendships— both here at home and abroad."
Mueller spoke at the Law School after he was awarded the 2013 Thomas Jefferson Foundation Medal in Law as part of UVA's Founder's Day celebration.
Sponsored jointly by the University and the Thomas Jefferson Foundation, the nonprofit organization that owns and operates Monticello, the Thomas Jefferson Foundation Medals recognize the achievements of those who embrace endeavors in which Jefferson, author of the Declaration of Independence and third U.S. president, excelled and held in high regard, including law, architecture, and leadership.
Mueller, the longest-serving FBI director since J. Edgar Hoover, was appointed by Bush in 2001. FBI directors are limited by law to a single term of no more than 10 years, but Congress extended Mueller's tenure by two years in 2011 at President Barack Obama's request.
Transforming the FBI following 9/11 was no simple task, Mueller said.
"We realized that we could no longer do the drug cases we'd done before, we could no longer do the smaller white-collar criminal cases," he said. "So we took about 1,500 agents from the drug program and put them over in counterterrorism. We took 500 agents doing smaller white-collar criminal cases and put them over [in national security posts]. Were they happy? Not particularly."
Yet Mueller realized that the FBI's mission is not necessarily about what the agents want to do.
"I love doing trials. I love doing bank robberies, drug cases, homicides, as a prosecutor. That's what I thought I was going to be overseeing when I got to the bureau," he said. "Turned out not to be the case. The fact of the matter is, it's not what we want to do, it's what the American people need us to do. What does the president expect, Congress expect, and the American people expect? They expect us to prevent the next terrorist attack."
Traditionally, he said, the FBI's success was determined based on metrics such as the number of arrests and convictions. "Our metric now is one—how many terrorist attacks have occurred in the last 10 to 12 years on the territory of the United States."
Mueller was born in New York City and grew up outside of Philadelphia. He graduated from Princeton University in 1966 and earned a master's degree in international relations from New York University in 1967.
After NYU, Mueller joined the U.S. Marine Corps and served as an officer for three years, leading a rifle platoon of the Third Marine Division in Vietnam. For his service in the Marines, Mueller was awarded the Bronze Star, two Navy Commendation Medals, the Purple Heart, and the Vietnamese Cross of Gallantry.
"The FBI motto is 'Fidelity, Bravery, Integrity.' And Mueller embodies those traits," said Law School Dean Paul G. Mahoney in his introduction. "He has served our nation with distinction for over 40 years as a soldier, lawyer, and public servant. His integrity, dedication, discipline, and humility make him an ideal recipient of the Medal in Law."
Following Mueller's military service, he enrolled at UVA Law, where he served on the Virginia Law Review and earned his law degree. At the time, Mueller recalled, many law schools were not receptive to Vietnam veterans, but UVA welcomed him and others.
"The University was looking for [students with] a range of experiences, understanding that a true legal education is an amalgam of the law and of values, with a goal of preparing its students for service—service to the country, service to Virginia, and service to others," Mueller said.
On his first day of classes at the Law School, Mueller recalled sitting next to a scruffy-looking classmate.
"I still had a Marine Corps haircut and was dressed rather neatly. He, on the other hand, had hair down to his shoulders, a Fu Manchu mustache, was dressed in a grubby T-shirt and shorts, and was not wearing shoes. He never wore shoes," Mueller said. "[Law Professor] John Jeffries and I were in the same class. He knows exactly who I'm talking about."
"It's not me," Jeffries quipped from the audience in Caplin Pavilion.
"I quickly came to find out he was a conscientious objector, not paying much attention in class, and seemed to be there for the ride. At least, that's what I believed until the first grades were posted and he did even better than John Jeffries. They were at the top of the class, while I lingered somewhere in the middle," he said.
That scruffy hippie, he added, went on to become a great friend and a highly successful antitrust lawyer in San Francisco.
Mueller said he was drawn to UVA Law for its ideals, which match what he called three basic tenets for a rewarding professional life in law—integrity, a commitment to the rule of law, and valuing public service.
Uncompromising integrity, he said, is a core value at both the FBI and UVA Law. "As the saying goes, if you have integrity, there is nothing else that matters," he said. "And if you don't have integrity, there is nothing else that matters."
For attorneys and non-attorneys alike, he said, there will be times in which they are tested in ways both small and large. "You may find yourself standing alone against those who you thought were trusted colleagues, you may stand to lose what you have worked for, and the decision will not necessarily be an easy call," he said. "But this institution, Virginia, has prepared its students for such tests. Integrity is a way of life here at this institution."
The rule of law, he said, guides the FBI's belief that it must be objective, fair and apolitical, and that it must respect the privacy and civil liberty implications of its actions.
"We recognize that in the wake of September 11, if we safeguard our civil liberties but leave our country vulnerable to attack, we will have lost. And if we protect our citizens from crime and terrorism but sacrifice our civil rights, we also will have lost. It is not a question of conflict, it is a question of balance."
Mueller reflected on his service in Vietnam, and said it helped fuel his desire to a public servant. "I consider myself fortunate to have survived that tour in Vietnam," he said. "There were many who did not. And perhaps because of that I've always felt compelled to try to give back a little."
He urged the law students in the crowd to find ways to give back, whether through public service or private practice, and to be able to look back on their careers as "time well spent."
"Each of us must determine for ourselves in what way we can best serve others," he said. "Those of you who are students will leave UVA with a firm grasp of not only the law as it stands, [but also] the law as it should be and the law as it could be. And I just ask you to find something that you love doing, some way that you too can contribute, something that will leave you believing that your time has been well spent."
Following his graduation from UVA Law, Mueller worked as a litigator in San Francisco, spent 12 years in U.S. attorney's offices, and then was appointed an assistant U.S. attorney in Boston, where he investigated and prosecuted cases involving financial fraud, terrorism, public corruption, narcotics conspiracy, and international money laundering.
In later years he served as partners in two Boston law firms, was an assistant to U.S. Attorney General Richard L. Thornburgh, led the Justice Department's criminal division, and was appointed U.S. attorney in San Francisco.
As FBI director, Mahoney said, Mueller's service and transformation of the bureau has been nothing short of remarkable.
"He has earned unprecedented bipartisan respect, no easy feat given the high profile and challenging mission of the FBI," he said.
More online: video of Robert Mueller's talk can be found at bit.ly/mueller_medal.