1980s Class Notes
1980

John F. Brenner was named vice president for litigation of C.R. Bard, Inc., a manufacturer of medical, surgical, diagnostic, and patient care devices headquartered in Murray Hill, N.J.

Spence Chubb has opened the Law Office of T. Spence Chubb in Washington, D.C., specializing in intellectual property litigation before the U.S. International Trade Commission and the federal courts.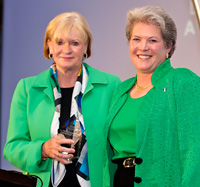 Patricia Hatler (far right), executive vice president and chief legal and governance officer at Nationwide, was honored with the Anastasia D. Kelly Award. The honor is one of the 2014 Transformative Leadership Awards from InsideCounsel magazine and reflects Hatler's steadfast commitment to positively impacting the careers of women in the legal profession. The awards program honors general counsel and law firm partners who have demonstrated a commitment to advancing the economic empowerment of women in law departments and firms.
Hatler "help[s] the women who work with her [and] strives to create a work culture that empowers women to construct the lives they really want. Lives that are personally fulfilling, which contribute to society, that touch others, and have professional accomplishment as defined by each individual," say her colleagues. In her role at Nationwide, Hatler oversees the legal, government relations, ethics, compliance and corporate citizenship functions for the corporation.
Richard J. Pocker
has been appointed to serve on Nevada Attorney General Adam Paul Laxalt's advisory committee for the Office of Military Legal Assistance. He is the administrative partner for the Nevada office of New York–based Boies, Schiller & Flexner.

1981

Donald A. Baer was appointed chair of the board of directors of PBS in October. He has been a member of the board since 2011. He has also been elected to the board of directors of the Meredith Corporation for a three-year term. Baer is worldwide chair and CEO of global public relations and communications for Burson-Marsteller, based in Washington, D.C.

Lindsay R. Barnes Jr. is completing his seventh year as headmaster of Hawaii Preparatory Academy, following nine years as headmaster at the Miller School of Albemarle. He practiced law in Charlottesville from 1981–99 and served on the Charlottesville City Council.

James E. Dorsey received the American Civil Liberties Union of Minnesota Earl Larson Award in November for his commitment to preserving civil liberties. Throughout his career he has represented indigent clients in a wide range of matters including landlord/tenant disputes, juvenile protection, debtor/creditor issues, family law, and contract disputes. He has worked on cases for the ACLU, the ACLU-MN, and the NAACP, and death penalty cases, voting rights cases, and a Guantanamo Bay detainee case.
He is a founding member of Advocates for Human Rights (originally called the International Human Rights Committee) and has worked on human rights issues in China, Uganda, El Salvador, South Africa, Liberia, Mexico, Nicaragua, and Guatemala. He currently serves as conference director for Minnesota 2015: Democracy in a Sustainable Future, which will host nearly 100 democratically elected former heads of state with the goal of working together to solve sustainability challenges.
Dorsey is a shareholder with Fredrikson & Byron in Minneapolis, where he handles a broad range of commercial litigation cases, particularly closely held business disputes.

James P. Rutherfurd has joined Pine Brook, an investment firm specializing in energy and financial services with offices in Houston, Tex., and New York City. As a managing director, Rutherfurd will lead investor relations and communications efforts and will serve on the investment committee. He was previously a partner with 3i Group.
1982

William B. Baker is a partner with the Potomac Law Group, a virtual law firm based in Washington, D.C., and will continue his practice in the areas of postal and privacy law. He was previously with Wiley Rein.



C. Allen Gibson Jr. was elected president of the American College of Construction Lawyers for a one-year term. He served as president-elect in 2014–15. He is construction practice group leader for Womble Carlyle Sandridge & Rice in Charleston, S.C., and represents owners, developers, design professionals, general contractors, subcontractors, suppliers, and sureties.

Edmond M. Ianni chaired and presented at the American Bar Association's webinar on enterprise risk management and insurance last summer. He was joined on the panel by, among others, Dianne P. Salter, executive vice president, insurance for the Jefferson Health System.
1983

Mark A. Bradley was awarded the 2015 George Pendleton Prize by the Society for History in the Federal Government for his book, A Very Principled Boy: The Life of Duncan Lee, Red Spy and Cold Warrior. The award is given for an outstanding major publication on the federal government's history, produced by or for a federal history program. Bradley, a former CIA intelligence officer, is an attorney with the U.S. Department of Justice.



James M. Campbell was elected as a fellow of the International Society of Barristers. He is a shareholder and president of Campbell Campbell Edwards & Conroy in Boston, Mass., where he focuses his practice on civil litigation and the defense of catastrophic product liability, toxic tort, medical device, pharmaceutical, professional liability, and negligence matters.

Mark Davidson was recognized in the 2014 Super Lawyers (business edition) for business and corporate law. He is a partner with Brooks, Pierce, McLendon, Humphrey & Leonard in Greensboro, N.C., and focuses his practice on corporate, tax, and trusts and estates.

Janet A. Napolitano currently serves as the 20th (and first female) president of the University of California, the nation's largest public research university. "It's a privilege to lead it," she writes. She was previously Secretary of Homeland Security.

Jeffrey E. Oleynik was recognized in the 2014 Super Lawyers (business edition) for bankruptcy and business law, in North Carolina Super Lawyers 2015 in bankruptcy law, and listed as one of the legal elite in bankruptcy law and antitrust law in 2015 by Business North Carolina magazine. Oleynik is a partner with Brooks, Pierce, McLendon, Humphrey & Leonard in Greensboro.

Irwin M. Shur was appointed by U.S. Secretary of Commerce Penny Pritzker to a two-year term on the U.S. Manufacturing Council. The council serves as the principal private sector advisory body to the Secretary of Commerce on matters relating to the U.S. manufacturing industry. Shur is vice president, general counsel and secretary for Snap-on Incorporated, an S&P 500 company.

Robert Simmons was appointed executive director of the Council for Children's Rights, one of the largest and most comprehensive advocacy and legal service programs for children in the Southeast. The organization, located in Charlotte, N.C., serves approximately 2,500 at-risk children each year.
Simmons began his pro bono work in Charlotte as a volunteer with the Children's Law Center in 1987, working mainly on cases involving school discipline and special education. He joined the board in 1994 and later served as president. In 2002 he moved to the board of the Council for Children and was president of that organization when it merged with the Children's Law Center to form the Council for Children's Rights. During this time he was also a co-founder, president, and general counsel of the Children and Family Services Center, served as a member of the Charlotte-Mecklenburg County Board of Education, and volunteered in education-related work with the Mecklenburg County Bar.
Simmons is leaving McGuireWoods, where he has been a partner. In taking on his new position he sets aside a 32-year career in commercial real estate. "I am dedicated to improving the lives of children in our community, and the council plays a key role in standing up to protect our most vulnerable children and in speaking up to improve the systems that serve all children," Simmons said.
1984

Mark Wiggs was appointed liaison for religious liberty at the United Nations by the Baptist World Alliance. In that role he will be the primary Baptist presence at the UN. Wiggs is a noted advocate for religious freedom. He is an attorney in Jackson, Miss., and former chair of the Baptist Joint Committee for Religious Liberty in Washington, D.C.
1985

J. Keith Ausbrook joined Guidepost Solutions, a leading security, investigations, and compliance firm in Washington, D.C., as senior managing director. He focuses on the firm's high-profile monitoring and compliance engagements and business development efforts. He was previously general counsel and senior vice president at Civil Defense Solutions.

Lawrence J. Bracken II will receive the Southern Center for Human Rights' 2015 Justice Ally of the Year award in recognition of his commitment to pro bono counsel. He is a partner with Hunton & Williams in Atlanta and New York City, where he focuses his practice on litigation and class action, technology, insurance, environmental, and commercial matters.



Joseph M. Leccese was featured in The American Lawyer cover story "Surge in Sports Megadeals a Boon to Proskauer, Others" in March. Leccese is chairman of Proskauer and co-head of its sports law group. In recent years, with multibillion-dollar deals for national and global media rights making sports law increasingly lucrative, competition for the opportunity to work on new deals has become more intense. "Of all the lawyers laying claim to a piece of the global sports universe," notes the article, "Proskauer's Leccese is the top dealmaker."



Richard H. McAdams published his first book, The Expressive Powers of Law, with Harvard University Press (see In Print). His work explains how law creates compliance through its ability to affect our behavior and inform our beliefs. McAdams is the Bernard D. Meltzer Professor of Law and Aaron Director Research Scholar at the University of Chicago Law School and teaches mainly in the areas of criminal law and procedure.

Jim McDermott was elected chairman of Ball Janik, where he has been a partner for the past 20 years. He heads the litigation and insurance recovery practice groups in Portland, Ore.
1986

Judge Peter H. Beer LL.M. is featured in the cover story, "Beer v. United States: The Case of Article III Judges and the Compensation Clause," in the April/May issue of the Louisiana Bar Journal. In the case, Beer, who serves the Eastern District of Louisiana, and five other federal judges challenged Congress's denial of cost-of-living adjustment raises to the judiciary. As a result, all Article III judges, bankruptcy judges, and U.S. magistrates will receive adjustments promised to them by Congress over 25 years ago.

William Eigner was named to the San Diego Business Journal Best of the Bar list for 2014. Chosen by his peers for this honor, he was referred to as the "go-to" guy for mergers & acquisitions and corporate business. He is a partner with Procopio.
1987


Nanette Beaird is a partner with Gardere in Austin, Tex. Beaird is a government affairs attorney representing national and international clients in all regulated industries before state agencies throughout Texas and beyond. She has extensive experience drafting legislation on behalf of clients.

David L. Dallas Jr. and his wife, Susan, celebrated their 30th wedding anniversary last summer with a trip to Cape Breton, Nova Scotia, and the Gros Morne National Park in Newfoundland. "Cape Breton," he writes, "is similar in beauty to northeastern Maine, while the west coast of Newfoundland reminded us of Alaska. Both are wonderful vacation destinations!"

Calvin W. "Woody" Fowler Jr. was elected president and CEO of Williams Mullen in Richmond, Va. He has served for two years as the practice group chair and 11 years as head of the litigation section, one of the firm's two largest practice groups. Fowler will continue as a practicing litigator.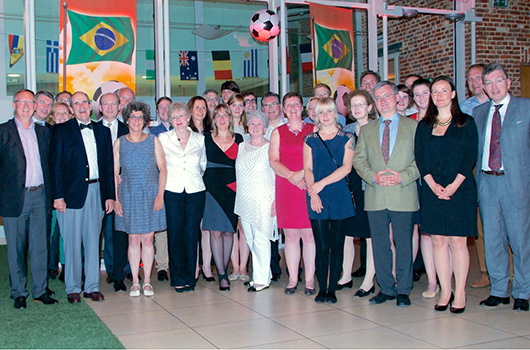 Bart Goossens LL.M. '87 and Christel Vergauwen LL.M. '87 hosted 31 UVA Law alumni and guests who gathered in Ghent, Belgium, for the European alumni reunion last July. A day trip to Ieper enabled everyone to see the area of Flanders, which played a key role in World War I. The reunion also featured a walking tour of Ghent, a formal dinner, and a cruise around the city. The guest speaker for the academic session was Professor Dr. Koen Geens, the federal minister of finance and professor of company law at the KU Leuven. The 2016 reunion is scheduled to take place in Poland. Email lawalumnievents@virginia.edu for more information.


Jesse J. Richardson Jr. is an associate professor and the lead land use attorney for the Land Use and Sustainable Development Law Clinic at the West Virginia University College of Law in Morgantown. In addition to clinical teaching duties, he teaches doctrinal courses in land use and resilience law, and water law. He also conducts research on land use law, water law, and agricultural law. Richardson was previously an associate professor in the urban affairs and planning program at Virginia Tech.

Robert W. Saunders was named chair of the Chapel Hill-Carrboro Chamber of Commerce Board of Directors for 2015. Saunders is a partner with Brooks, Pierce, McLendon, Humphrey & Leonard in Greensboro and Raleigh, N.C., where he has a general corporate and tax practice with a particular focus on tax-exempt organizations, tax-exempt financing, and state and local tax planning.

Richard C. Sullivan Jr. joined Bean, Kinney & Korman as a shareholder in Arlington, Va., where he focuses on commercial litigation. Sullivan was recently elected to represent Virginia's 48th District in the House of Delegates. He was selected for inclusion in Virginia Super Lawyers 2015.

Ben Webster writes, "Twins finally made it to college." Grant is a freshman at Chapman University in Orange and Ethan is a freshman at U.S.C. in Los Angeles, both in California. "Son number three, Keith, is a junior in high school." Ben maintains his practice at Littler Mendelson in Sacramento.

1988

William Berlin has joined Hall, Render, Killian, Heath & Lyman as a shareholder in Washington, D.C. He counsels and defends hospitals, health systems, physicians, and other health care providers in federal and state antitrust enforcement agency investigations and litigates in a range of health care matters. He was previously in private practice and has also served as a senior trial attorney for the U.S. Department of Justice Antitrust Division.


John Cooper has been recognized on the Best Attorneys of America List, and is among only 100 Virginia attorneys to be so honored. Cooper has been re-elected as a district governor from the Virginia Beach/Norfolk area to the Virginia Trial Lawyers Association's Board of Governors, a position he's held since 2012. At the VTLA's recent convention, Cooper was also appointed as co-chair of the fundraising committee. The Virginia Trial Lawyers Association is a trial bar group which boasts thousands of members from across the Commonwealth.
Cooper is a founding partner of Cooper Hurley Injury Lawyers based in Norfolk, Va. He and his wife, Monica, are proud parents of Matthew, a first-year at UVA. John writes that he enjoys his torts-only practice and has regular flashbacks to Professor Ken Abraham's torts class.

Harry M. Johnson III was installed as the 127th president of the Virginia Bar Association at the annual bar meeting in Williamsburg in January. He is a partner with Hunton & Williams in Richmond, where he focuses his practice on environmental litigation and trial work. He has been recognized in Virginia Super Lawyers 2015 in environmental litigation and is listed in Chambers USA 2015 in environmental law.

Jonathan Lowy is listed in Lawdragon magazine as one of its 500 Leading Lawyers in America for 2014-15. He is director of the Brady Center's Legal Action Project, and for the past 17 years has been the main voice for the nation's only law group fighting in the courts to prevent gun violence. Lowy leads a team that works to reform practices in the gun industry, defend "common sense" gun laws, and challenge laws backed by the gun lobby that are threats to citizen safety. He recently established Lawyers for a Safer America, a national team of lawyers and law firms dedicated to working toward a nation free from gun violence.

Wesley G. Marshall was inducted as a fellow of the College of Workers' Compensation Lawyers in March in Naples, Fla., following the organization's seminar and conference. He was also appointed to the Virginia Workers' Compensation Commission by the Virginia General Assembly in 2012.

Jennifer McCammon of Bean, Kinney & Korman in Arlington, Va., was named as a Virginia Rising Star in Super Lawyers, in the area of family law.
Russell S. Thomas has joined the board of directors of Connecture, Inc., a provider of Web-based information systems used to create health insurance marketplaces. He also serves on the board of the eHealth Initiative, a nonprofit based in Washington, D.C., that works to improve the quality, safety, and efficiency of care through the use of information technology. Since 2012 Thomas has served as CEO of Availity, a health care information network based in Jacksonville, Fla.

James Williams received the American Civil Liberties Union's Civil Libertarian Award in November for his trial team's dedication, advocacy, and "superb pro bono work" as cooperating counsel in the groundbreaking Wilbur v. City of Mount Vernon. The suit challenged the public defense system in the cities of Burlington and Mount Vernon in Washington State, where attorneys were taking on 650–1,000 cases each year on a part-time basis.

In 2013 the U.S. District Court in Seattle found that public defense in the two cities was so inadequate it was a "meet and plead" system. The cities are now required to hire a supervisor to make sure that the public defense system meets constitutional standards. The U.S. Department of Justice filed a statement in the case that endorsed workload limits for public defenders—the first time such a statement has ever been filed by the DOJ in a public defense case.

Williams' work on Wilbur also earned him the 2013 Perkins Coie Annual Pro Bono Leadership Award; the 2014 President's Award from the Washington Defender Association; the 2014 Champion for Justice Award by the Washington Association of Criminal Defense Lawyers; and the 2014 Loren Miller Bar Association Social Justice Award.

Williams is listed in Best Lawyers 2015 in commercial litigation. He is a partner in the litigation practice with Perkins Coie in Seattle.
1989

Deborah Platt Majoras, chief legal officer and secretary of Procter & Gamble, was honored with the Mary Ann Hynes Pioneer Award in 2014. The honor is one of the Transformative Leadership Awards from InsideCounsel magazine and is presented to a woman general counsel who has transformed being the "first" into being a catalyst for change. She indelibly raises the bar for attorneys and corporations by consistently demonstrating her dynamic expertise, core values, and ideals that drive unprecedented collaboration, innovation, and achievement to deliver sustainable results.

Stephen H. Price joined Burr & Forman as a partner in Nashville, Tenn., where his practice focuses on complex and commercial litigation, employment law, and intellectual property litigation. He was listed in Best Lawyers 2015 in employment law-management, labor, and employment.