The Citizen-Lawyer: Leadership in State and Local Government
By Cullen Couch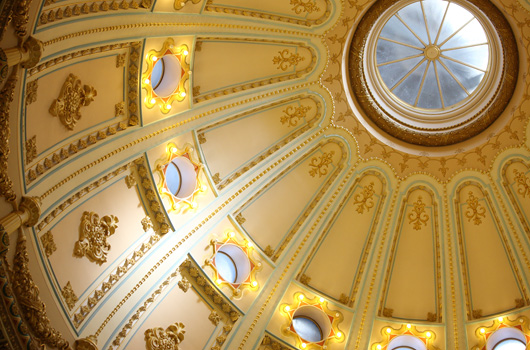 The University of Virginia, especially the Law School, was conceived as a gift to a nation still finding faith in its public institutions. Davison Douglas, in the Journal of Legal Education (2001), noted that Thomas Jefferson had "a sophisticated vision of the role of both lawyers and education in the preservation of America's republican form of government. He believed that the new nation desperately needed virtuous leaders who would place the public interest above their own private interest. Proper education could help develop this needed virtue, Jefferson concluded, particularly among lawyers, who by the nature of their work were well positioned to provide direction and leadership to the new nation." (Leaders in Their Own Words)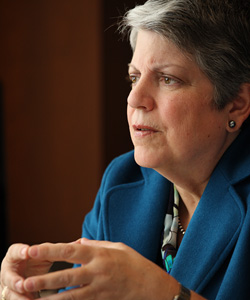 Janet Napolitano '83: "I recognized it was important
to develop my own credibility, to listen and learn,
and then say, 'Okay, I think we ought to be doing
this and this,' and move forward."
Today, the Law School claims graduates in every sphere of public service. Those in Congress, the White House, and federal agencies are well known and familiar. But the laws and policies they advance are felt at the state and local level, where the work of the people actually gets done. These alumni—governors, mayors, county supervisors, public executives—answer to constituents with closely held interests. They are expected to share them, even when they conflict with party politics or the national will. So why do they do it?
"It's the mission," says Janet Napolitano '83, who is now president of the University of California after a long stint as secretary of the Department of Homeland Security and two terms as governor of Arizona. "It's serving people other than yourself. It's why you get out of bed every day even if you've had, as I have just had, two 15-hour days in a row—you get up and you get ready to go again."
For Nancy McFadden '87, chief of staff to California Governor Jerry Brown, it's also about the people. "I have worked with people I greatly respect and whose fundamental values I share," she says. "I think that's what ultimately draws people to public service. Sometimes it's ambition. Sometimes it's just luck. But I think shared values is something that brings people into public service."
The urge to serve
Ryan Coonerty '01, a member of the Santa Cruz County Board of Supervisors and former two-time mayor of the California city, was in high school when the Loma Prieta earthquake destroyed 70% of the downtown. "My dad ran for city council to help rebuild the town and what I saw really humanized the process," he says. "It made me realize that the people making these big decisions about our community are regular people doing their best. They're actively engaged and they're having a huge impact on what this community looks like."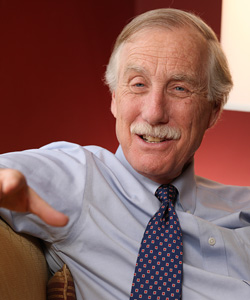 Angus King '69: "If you can explain what you're
doing and why, the politics generally take care of
themselves."
U.S. Senator Angus King '69 (I-ME), was worried about Maine's economy when he was governor of the state during the recession in the early 1990s. He wanted to transfer his private sector experience to government service.
"We were in real trouble," says King, who was governor for two terms. "Maine was at a tipping point and it made sense to have somebody who had a business background try their hand. I used to say I was the only candidate for governor who shopped for workers' comp and went to the DEP for an environmental permit."
"Decisions are made by people in the room at the time, so, if you want change, then you've got to get in the room," says David Toscano '86, minority leader in the Virginia House of Delegates and former mayor of Charlottesville. "I have been fortunate to find my way into many rooms at both the local and state level­ where I have helped make decisions that have a positive impact on people's lives."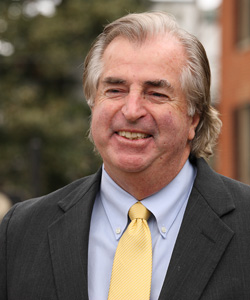 Frank Buck '71: "Part of the reason I went to law
school was my interest in public service. I enjoyed
being involved."
Frank Buck '71, Toscano's law partner and himself a past mayor of Charlottesville, spent many years in Charlottesville civic affairs, hammering nails for Habitat for Humanity, coaching soccer teams, providing leadership to a camp for children with special needs.
"A fair number of people were asking me to run for city council," Buck says, "and I was a product of the Kennedy years—the best and the brightest, and all that. Part of the reason I went to law school was my interest in public service. I enjoyed being involved. All those clichés about getting back more in return for doing it are really true."
When the opportunity for public service presented itself for former Virginia Governor Gerald Baliles '67, he seized it. "I gambled that I could win," he says, "and so I did six years in the legislature, four as attorney general, four as governor, and I was out before I was 50. Then I thought it was time to address the balance sheet of my life."
The move from campaigning to governing
Luis Fortuño '85: "Once I decided the right thing to
do, I would explain why, and then move forward
and not look back."
The day former governor of Puerto Rico Luis Fortuño '85 moved into the governor's mansion, he thanked the kitchen staff and asked them to leave the dishes on the table so his family could clear them. "I wanted to make a point for everyone, including my family, that this was temporary—a great opportunity to serve and transform the lives of many people, but you move on." Fortuño is now a partner at Steptoe & Johnson in Washington, D.C.
For Baliles, the one-term gubernatorial limit in Virginia codified the meaning of "temporary." "In a democracy, the players are not on stage very long. Whether it's four years or eight years, it is a finite period of time," Baliles says. "[The term limit] helped me focus on the importance of taking my plan and recognizing that I had very little time to achieve it."
Napolitano valued her second term. "I must say having only a one-term governorship is problematic in this day and age," she says. "It makes it very difficult to do things. It takes a while to get your arms around the
job of being a governor and to know how to move things forward, what levers need to be pulled, and what things you don't really need to concern yourself with."
Coonerty makes "temporary" the central point of his approach. "One of the things I try not to do is to think about a second term, because if I'm worried about getting re-elected I may not make the decisions I need to make that are in the best interest of the community."
Theories of leadership
For every decision that Fortuño had to make, he tried to listen to everyone and be as fair as possible, but then be decisive. "One thing I always did and always told my cabinet members to do was once you have heard everyone, act," he says. "Once I decided the right thing to do, I would explain why, and then move forward and not look back. That's what I told my cabinet members all the time, 'You will be criticized not for what you do, but for what you don't do.'"
King had a formative experience in his first several months as governor when he had to decide where to site a new bridge. Two communities were lobbying for it.
"I remember having the insight that whatever I decided, I was going to make somebody really angry," he says. "So why not just try to do the right thing that makes the most sense for Maine? That guided my decision-making. If you can explain what you're doing and why, the politics generally take care of themselves. People often come up to me on the street and say, 'I don't agree with everything you do, but you always tell me why you did it.'"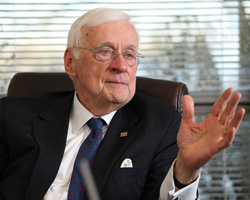 Gerald Baliles '67: "You can't persuade without
educating and you can't educate without preparation."
Baliles has found that introducing major programs works best when you provide context. Once you have that, he says, you have a case to bring people along. "Bill Parcells, who coached two different Super Bowl teams, used to say that the better prepared he felt, the better his players played," says Baliles. "But you can't persuade if you're not prepared. You can't prepare unless you understand the context. That's the way I approached everything."
Baliles also used what he calls the "3P audience": the press, the public, and the politicians. "You think about who's the audience," he says. "They all respond to some of the same stimuli but sometimes you have to change the order in which you do that. If you can't get the political leaders to move, then you go to the press. You go to the press, you get your stories out. Political leaders pay attention. The public gets informed. They create the climate for activity, for action, for success. All of those factors come into play whether one is campaigning or governing."
Baliles likens governing to focusing a camera's lens. "If it's a close-up, you can find a lot of reason to be concerned. But if you pull the camera back, you see life and human nature and government action somewhat differently. And I tend to be an optimist. I think this country has met adversity with determination, complexity with innovation, and I think we'll do it again. I always put things in perspective."
Napolitano strives to avoid the "tyranny of the org chart." Instead, she thinks about how different people should be working together and how to persuade them to buy into the same vision. She adopted this approach after she was appointed by President Clinton to be the U.S. Attorney in Arizona.
"The first thing I've always done is listen," she says. "I learned this lesson when I suddenly came in as the presidential appointee in charge of more than a hundred professionals in the U.S. Attorney's office. Of course, the initial reaction is going to be, 'Who is she, what does she know?' I recognized it was important to develop my own credibility, to listen and learn, and then say, 'Okay, I think we ought to be doing this and this,' and move forward. That's probably the smallest office I've run, but it's really been the same methodology that I have perfected the longer I've done it."
Napolitano also learned quickly that one has to walk away periodically from the demands of public office and recharge. "You have to develop the ability to compartmentalize, to make sure that you live your life even as you're running this large entity, and those are lessons I've learned over time. I don't think I took a day off my first three months as governor. Finally, somebody said, 'We've got to make sure that we protect time for you so you can rest and regenerate.' They actually built that into the schedule. I've realized that's a very important thing to do."
Coonerty found that trying to sell a "fully baked" idea without letting others contribute and build on it doesn't work. "You can't be so rigid with your vision that you don't leave room for other people to contribute. You have to listen. In the campaign, you spend a lot of time talking. In governing, you spend most of your time listening. You have to make a conscious transition."
Best laid plans …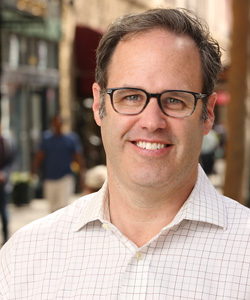 Ryan Coonerty '01: "In the campaign, you spend a
lot of time talking. In governing, you spend most of
your time listening. You have to make a conscious
transition."
A prison riot, a shooting, a natural disaster; the world disrupts every schedule and agenda. Everyone wants a decision,
now
. But one of the arts of governing is timing—knowing when to intervene, when to do something, and when to refrain. Sometimes entering the fray too quickly makes things worse.
Coonerty recalls a Santa Cruz gang killing. As mayor, he received information from the police that the victim had picked a fight with gang members. The local newspaper called him and asked whether he felt if it was too dangerous to go downtown. Coonerty wishes he had answered differently.
"My answer was no," he recalls, "because it
was
safe to be downtown. But the community was rightfully focused on the fact that this young man had just died. They didn't know the back story and they were scared. Their criticism was vicious and immediate; that I didn't care about this child's life or his family. What I needed to do better was understand that not everyone has all the information that I had and that you have to start from a place of sympathy. Eventually the full story came out, and that helped put my initial comments in context."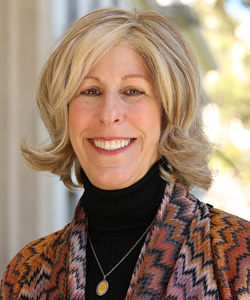 Nancy McFadden '87: "Sometimes the situation
really demands a statement or intervention, but
history is replete with examples where people were
too slow or jumped in too quickly."
"Make sure that you're talking to a lot of different people. That's very important and something that we do here a lot," says McFadden, who was complimented by the Los Angeles Times "for her finesse and shrewd political instincts" as Governor Brown's top aide. Her reputation is supported by experience. "Sometimes the situation really demands a statement or intervention," says McFadden. "But history is replete with examples where people were too slow or jumped in too quickly. You see leaders all the time reacting off the cuff to something without full information and regretting a statement they made. We're pretty cautious about that."

Baliles remembers the G8 Summit being held in Scotland when the London subway bombing occurred. Within minutes, all the G8 leaders were assembled responding to press questions about what happened.

"They probably knew less than the press at that point," he says. "Sometimes we're under too much pressure to react to something instead of anticipating it or reflecting upon what's happened before speaking. But you can't persuade without educating and you can't educate without your preparation. You need time to reflect, which is part of our problem today. We are in a world of 24/7 press coverage. People don't have time to pause."

Fortuño also took care to wait and see. "In the private sector, the quicker you can address something, the better," he says. "But in public service, the passing of days or weeks will often offer you the correct answer to a situation. It's like cooking a stew. You can't just throw everything in and serve it. You have to let it simmer."

Balancing conflicting constituencies

A chief executive can't say yes to everybody or everything. That means disappointing someone.

"It you want to get things through a legislature, you usually have to compromise," says Napolitano. "That can disappoint your supporters. You have to talk with them and explain why and what the constraints were. About 80% or 90% are pretty reasonable about it, but there will always be 10% who are permanently unhappy. You have to be strong enough to understand that and be willing to absorb that disappointment."

Within two months of Coonerty being elected to the Santa Cruz City Council for the first time at 29, one of his most powerful backers told Coonerty that he didn't vote for him to do what Coonerty wanted, he voted for Coonerty to do what he wanted.

"I said, 'No, I'm going to make my own decisions and try to balance your and everyone else's opinion.' Once that happened, it was really freeing to realize that at the end of the day, you're not just a rubber stamp. You have to balance all these different interests and complexities. It was an early and valuable lesson, and the job became a lot more fun."

Though young, Coonerty learned an important lesson. "I once heard that the job of a leader is to disappoint your supporters at a rate they can tolerate, so you always want to be on the boundary pushing policies and pushing your constituents to get to a better place."

Government by the people …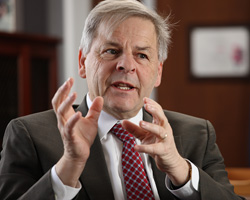 David Toscano '86: "Decisions are made by people
in the room at the time, so, if you want change, then
you've got to get in the room."
Civil servants have jobs to do just like private sector employees. But they are sometimes judged differently because of the nature of their work.

"I understand why the general public has a low opinion of public service and politicians, and even government workers," says McFadden. "Some of it is deserved. Government sometimes is not as customer service oriented as it should be. And there are the headline mistakes that people ascribe to all of government. That's somewhat human nature, but I think for the most part people who go into public service do it because there's something about the purpose that drives them."

Having worked in both government and the private sector, McFadden thinks she is better at both for the experience. "It has enabled me to call people on things," she says. "People in the private sector often love to talk about how terrible government is and how much better it is in corporate America. I don't think the lines are so clear."

King, of Maine, agrees. "I was 50 years old when I came to be governor, and I had a kind of conventional view that many people have about bureaucrats," he says. "Totally changed. These are great people—young, idealistic, passionate, patriotic, smart people who could be making a lot more money in the private sector. There is too much negative stuff about the bureaucrats.
These are good people trying to do the right thing and we don't treat them very well."

Baliles, who was governor of Virginia from 1986 to 1990, makes a similar point. "It's not easy to govern," he says. "There are no simple solutions to most problems. It's messy. It's imperfect. It's fraught with risk."

The reward of service

The payback is seeing your work brought to life in the place you live or in the betterment of institutions that deliver services to people you know.

"The part I like best is the evident real impact, especially in local government," says Coonerty. "You drive down the street and see a park. Chances are you created it or maintain it, so you get to see the fruit of your work every day."

"You can change the lives of so many people," Fortuño says. "In the private sector, I can help people, but it's not the same. In public service, you can truly transform their lives."

"I met this old guy when I was in my 20s," says King, "and he said when you get to be my age, you're going to regret things about your life. See that you regret the things you did, and not the things you didn't do. That's the single most profound piece of advice I've had in my whole life. It's guided me in a number of turning points to err on the side of action."

Toscano enjoys reaching out to people as much as he can, attending events, doing surveys, sending letters, anything to seek feedback "about what my bosses want me to do. I have a pretty good read about what people think in my district, but it's always changing. People are coming and going, so that contact is critically important for me to do my job. And that's what I love to do."

Baliles has always been interested in American culture and how it is organized. "I have a certain intellectual curiosity about things—why is that, how does it work, could it be better? Public life offers the opportunity to change some of those policies, and that appealed to me."

For McFadden, it's exciting to know the morning headlines could drive the day's events. "I love that there's a purpose bigger than the job, as well as those little moments where you're able to do something for someone that but for you might not have happened."
In their own words:
What was your most challenging moment in public service?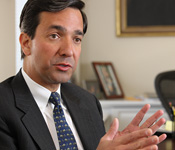 Fortuño: We had a major fire in an oil and gas facility in the bay early one Friday morning. It was next to an expressway which was impassable. I mobilized the state national guard. We brought water from many miles away from the ocean. I even went in with the firemen and women. These tanks could have exploded when we were there.

There were other instances when I was directly involved in breaking up drug cartels that were operating in Puerto Rico. I didn't mind going into very rough neighborhoods wearing a bulletproof vest. My staff, and of course my wife, were not pleased. But you cannot lead from behind. You have to lead from the front, and that's my definition of leadership.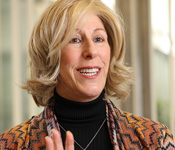 McFadden: In the early days of the Clinton administration, the entire time was challenging. That first year in particular I was at the Justice Department and we didn't have an Attorney General. The first nominee, Zoe Baird, had to withdraw her name. Then Janet Reno was confirmed and we went from that to Waco to Vince Foster's suicide to gays in the military. It was just one thing after another. I worked very closely with the White House and the White House Counsel's office so that was a very challenging start. I learned a lot. I think it definitely made me somebody who's good at dealing with crises.


Napolitano: When I was fairly new as a governor, we had two of our prison correction officers, a man and a woman, taken hostage at our maximum security prison. They got them into a tower in the middle of the prison yard that had been built to be impregnable. And it was impregnable, and was also the storage place for the prison pharmacy and the armory.

We spent two weeks. We had an FBI negotiating team, and we had our own hostage team. The prisoners were already lifers and they started off wanting a plane and a bunch of money. We didn't do that. We didn't negotiate on their convictions. We didn't negotiate on their sentences.

We were using a robot to deliver food to the tower. But one time we delivered the wrong kind of hamburger. We had audio and one of the hostage takers went nuts and he took Lois's hand and he put it down and with a piece of rebar started sawing off her finger. She was screaming and we're telling them to stop, we'll get you the right hamburger, which we did. Thankfully, they didn't saw off her finger.

Something like a prison hostage crisis, not only is it serious in and of itself, but it can destroy a governorship and a career, and there was a lot of pressure on me just to send in the troops and storm the tower, which would've meant our officers, the ones who were being held, would've been dead in a nanosecond.

These guys were so well armed that there likely would've been serious injury or a fatality to anyone storming the tower. And so my position was as long as there's some thread of negotiation going on, we will not storm the tower.

After the first week, they let out the man. They didn't let out the woman until Super Bowl Sunday. I'll always remember this because in the end, we resolved this crisis by delivering a tray with steak dinner and a 6-pack of beer and the guys watched the Super Bowl. After the game, they came out of the tower.

They immediately put the female guard on a gurney and air lifted her to Maricopa County Hospital. The director of corrections, Doris Schriro, and myself met her on the roof as the helicopter landed and she grabbed Doris's hand and said, 'Thank you for not storming the tower. They would've killed me.'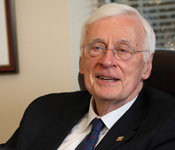 Baliles: The Virginia Tech sports scandal was a story on the front pages and every little dispute got magnified [investigations into the basketball and football programs led to NCAA sanctions in 1987: ed.]. There were lawyers by the thousands and the question was what to do about it and when. I remembered that George Marshall, the great army general and Secretary of State after World War II, used a Harvard commencement address to announce a major doctrine in this country about economic recovery in Europe, the Marshall Plan. I had a commencement invitation to speak at Virginia Tech, the very institution that was the subject of so much negative publicity. And after that commencement ceremony my remarks that drew a bright line between academic preeminence and athletic ambitions became known all across the country as 'The Speech.' It was a high risk occasion where it had to be done with a certain amount of focused attention, especially in that one place, with 30,000 people in Lane Stadium and all the press watching, because nothing had been said from the governor's office to that point, even as pressure built. It was a moment of high risk and high drama, but it was the appropriate time and place.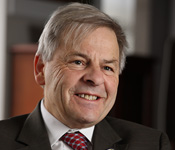 Toscano: When I was mayor [of Charlottesville], we had this debate about whether we were going to open a street across the mall to facilitate bringing in a couple of restaurants, a movie theater, and an ice park to downtown. It was a huge issue and I was right in the middle of it because I was advocating for it. I had some of my best friends up there telling me I was crazy, it was a pedestrian mall and kids would walk across the street and be run over by cars. Now it's been open for 20 years. Nothing's happened and we got all this economic development as a result of opening that street. That was the most difficult thing I had to face when I was mayor.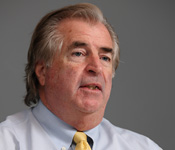 Buck: Getting the Omni deal put together [the building that anchored the Downtown Mall project in Charlottesville in the 1980s: ed.] was probably the most difficult thing. Under the Dillon Rule, we were really pushing the envelope of what was legally permissible. We were involved in lawsuits and people were trying to shut it down. It got to the point where we had to pay a couple of million dollars or the contractors were going to walk off and probably never come back. The city manager and the treasurer and others were saying we can juggle these things, and we're not sure it's 100% proper, but we'll do it if you say go ahead. It'll be your decision. We took the gamble, things turned out all right in court, and we moved forward with our project. It provided not just a building, but a place where activities could take place, giving a whole host of reasons for people to come to the downtown.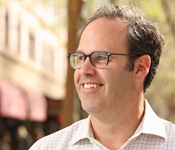 Coonerty: I had a couple of situations where terrible crimes happened, people were angry and scared. One of the things you realize is that the people need a mayor. They just need somebody to step forward in a crisis and say they're in charge and this is the direction we're going to go. That's a really important role to play. At the end of the day, you're the elected official, you need to rise to the occasion.

The second is that when people are angry and scared, part of your job is to absorb the abuse. They're not mad at you, they're mad at the institution, and they're mad at their lack of power. You have to get to the place where you're comfortable with the idea that people have to let loose and your job is to listen and take it. I think it's hard for a lot of people, especially hard on families of politicians.

The events in Ferguson, Missouri, started a national conversation about the militarization of police forces around the country. How is that affecting community relations programs?

Napolitano: I don't think it's a choice between militarizing the police instead of building community relationships. If that happens, that's a false dichotomy. You've got to properly train and have a protocol and know when it's appropriate to bring out the hard stuff, and when it's not. That ought to be rehearsed and exercised and be part of policing, while simultaneously thinking about the community that you're protecting.

What was interesting to me is those communities that stayed calm after Ferguson, even communities with large minority populations—Los Angeles, for example. They tended to be communities where you had strong community policing strategies already in place, where you had a human connection between those wearing the badge and the people they are sworn to protect. They know each other, they understand the neighborhoods. They understand the stresses in a particular neighborhood. They understand who the local leaders are. It can be a minister, it can be the principal of a school.
So, rather than a militarized police response, it's really about that community integration before there's an incident, because there will be incidents.

Fortuño: I was displeased with how the police handled some riots and I called friends who were also executives in the public arena whom I thought were doing a better job and I asked for help. They helped retrain our police force.

Not everyone was happy, of course, but again you've got to do what you think is right. I would even meet with groups of policemen and tell them, 'You are professionals. Any professional—a physician, a lawyer—has to be retrained on a constant basis because circumstances change, so you're no different from a lawyer or a physician.

Coonerty: Policing is obviously one of the most difficult and complex jobs that exists. Overseeing police in a democracy is also difficult but critically important. The best results are when you have community policing that puts police officers out there problem solving with the community. If the job is just about the application of force, neither the community nor the officer on the street will be safe.

McFadden: It is an issue here and it's one I think bears looking at in every jurisdiction. I know our attorney general is taking a lead on it. I know we've worked with our California Highway Patrol, which is the law enforcement group that's under the governor's control, on issues of use of force.

I remember in the Clinton administration one of the things that we created was the Office of Community Policing. It had not existed before and it was one of the things that Bill Clinton felt was very important. He wanted to bring 100,000 cops on the street, and he wanted them to be trained and schooled in community policing. In some places we have really lost that and we're paying the price.
Toscano: Our chief of police—I'll never forget when I first interviewed him—the first thing he said is, 'I believe in the 4th Amendment and I believe in the Constitution and my role is to make sure that while I'm doing my job, I don't violate constitutional rights.' That's a very different attitude than what you might expect from a police chief.

Militarization is an interesting issue because it brings together certain elements of the left and certain elements of the right. There are a lot of people who are very conservative who are worried about too much firepower in the hands of police. There are a lot of people on the left who are worried about that, too. This debate has not really found its way into the state legislature, but it could.

How hard is it to transition from campaigning to governing?

Toscano: The first time I ran I talked about giving a voice to the voiceless, those folks who were economically disadvantaged. But what I found out after I won was there were a lot of people in the city who didn't feel like they had a voice. A lot of them were disadvantaged economically, but some of them weren't. A lot of the business leadership didn't feel like they had much of a voice in the decisions that were affecting their lives.

I realized that in order to have the resources to support social services and help people who are disadvantaged, we had to have an economic base and we had to strengthen that base. That's why I reached out to folks in the business community to try to engage them in redeveloping the city.

Coonerty: When I came into office, there were about a dozen lawsuits between the city and the university, and tensions between the institutions that lasted almost 30 years. It was a poisoned relationship. The problems weren't really getting solved. So, we had a new chancellor and I was a new mayor and we sat down to look at this problem in a different way, its impacts on the community and what we could do together to fix it. We came up with this comprehensive settlement agreement, got rid of all the lawsuits, created a good relationship between the city and the university. Now we're seeing the fruits of that, both in better quality of life and also in partnerships around economic development and spinning research out of the university.