Alums Take Students Through Company Life Cycle
By Kimberly Reich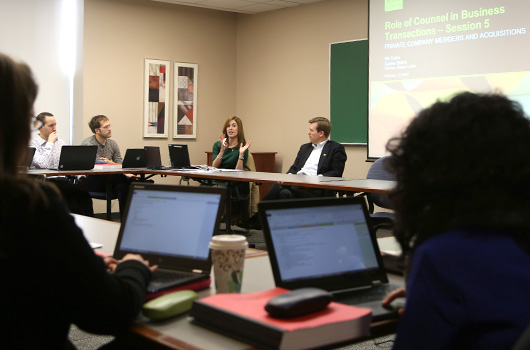 Carine Stoick '99 and Bill Curtin '96 discuss mergers and acquisitions, joint ventures and other alliances.
Several alumni taught a new short course about the role of corporate lawyers in business transactions and how that role evolves throughout the life cycle of a company.

The Role of Counsel in Business Transactions, a one-credit course offered through the John W. Glynn, Jr. Law & Business Program, was taught by Hogan Lovells corporate lawyers Bill Curtin '96, Warren Gorrell '79, and Michael Williams '84 during the spring semester.

The course offers students perspective on what it's like to practice corporate law.
"We hope to give students some of the same training we give our own associates in our in-house program," Williams said.
Students examine actual contracts and corporate documents, Williams said, and learn how to look at the long-range implications of various decisions made in the early stages of a company's development.
The course "makes it much easier for our students to hit the ground running when they have their first opportunities to work on transactions themselves, and hopefully will enable them to make better contributions and good first impressions," Gorrell said.
Williams and Clayton covered the first part of the class: a company's early stages, when the focus is on organizing, financing, and getting the company to market through strategic agreements.
In the next phase of the course, Gorrell and Parrino covered the choices companies face as they consider whether to become a listed company with public stakeholders. They discussed the client's need for advice and guidance when considering the added responsibilities and disclosure that confront a public company.
The final part of the class, which addressed mergers and acquisitions, joint ventures, and other alliances, was taught by Curtin, Stoick, and Osborn.
"My Hogan Lovells partners and I have been looking for an opportunity to offer a course through which we could share with students an appreciation for the corporate law continuum that companies experience in the markets where they do business," Curtin said. "As graduates of the Law School, we've always wanted to do this at Virginia because we have a personal appreciation for the way that the Law School makes learning and teaching such a shared and constructive experience."