Students Working in Public Service Summer Jobs to Receive $357,900 in Grants

By Kimberly Reich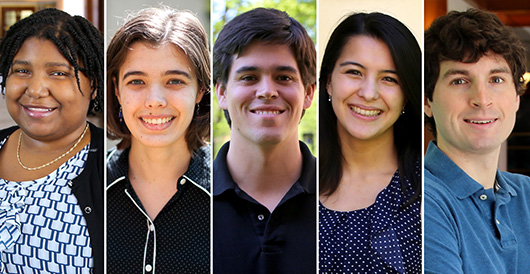 From left, Cherice L. Lawson '16, Kate Perino '16, Alvin Williams '17, Elizabeth Douglas '17, and Justin Wilson '16 are five of the 84 students receiving grants to work in public service this summer.
The Law School and the student-run Public Interest Law Association are funding 84 students who will work in public service this summer through grants totaling $357,900. For the second year in a row, every student who applied and qualified for the funding is receiving a grant.

The PILA grants—$3,500 for first-year students and $6,000 for second-years—offer qualifying students an opportunity to explore a wide range of public service careers, including with the government, nonprofits, legal aid organizations, and prosecutors' and public defenders' offices. The funding is "crucial" for students seeking experience in the public sector, said PILA President Reedy Swanson '16.

He added that the grants also encourage students to recognize the importance of giving back.
"Many people will have their first experience in a public interest position through a PILA grant," Swanson said. "For a lot of people, that can be a life-altering experience. Even if they go into private employment down the line, they will be more active pro bono partners or doing community service projects because they saw how rewarding the work they got to do on their PILA grant was."
Find an in-depth look at where PILA grantee students will work this summer at:
www.law.virginia.edu/html/news/2015_spr/pila.htm
.