Karl Racine '89: New Role, New Goal

From Washington Lawyer, February 2015
Excerpt reprinted by permission.
By David O'Boyle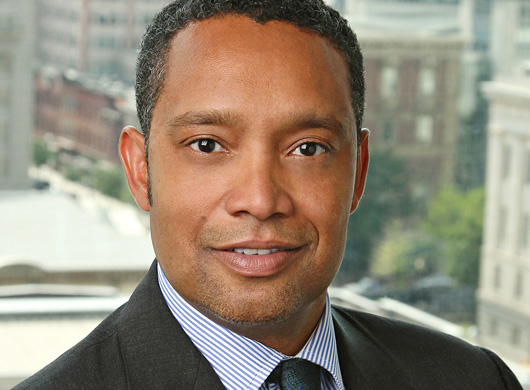 Last fall Karl Racine '89 became the first elected attorney general of the District of Columbia. A native of Haiti who was raised and educated in Washington, D.C., Racine has served as managing partner at Venable and also as associate White House counsel under President Clinton. Washington Lawyer sat down with Racine, who took office in January, to discuss his plans as he settles into his new role in the District of Columbia Office of the Attorney General (OAG).

How did you end up at the University of Virginia School of Law?
You could probably lump me in with many, many of my law school graduate friends who didn't really plan on attending law school, but became interested as the work world appeared. I didn't know what I wanted to do with my life. I certainly knew that politics and the law were extraordinarily important, and I was familiar with history—civil rights, especially—and so I was attracted to law school.

Did you find law school interesting?
Well, in law school one of the activities that the university provided was a whole slew of practical legal clinical courses, which were very interesting. I gravitated to what was called the migrant farmworkers law clinic. There were migrant farmworkers around Albemarle County in Virginia who worked in the apple orchards and did other farming work.

We focused on … making sure that farmworkers had their basic rights, were getting paid consistent with Virginia law, had the same rights to lodging and food that the law provided. I got a very clear indication of the power of the law and the impact it could have on real people's lives.

I was interested in law, I went to law school, and certainly went to law school primarily to use the law to have a positive impact on the lives of real people with real needs.

Professionally, you have worked in both the public and private sectors. Tell us about your experiences in those two areas.
I think it's just one of the magical opportunities that the District of Columbia provides uniquely robust opportunities to work in both the public and private sectors. That is highly encouraged. Not only was it highly encouraged in law school, but certainly highly encouraged at the firm that I began my legal career at, Venable.

I worked at Venable for the first three years of my professional career. I had a tremendous experience. I tried at least three cases. I had a chance to argue before two federal courts of appeal, and I had other excellent experiences because of lawyers who were selfless.

I was encouraged to apply to be either a prosecutor or a public defender. From my own personal sensibilities, and really focusing on the work of providing legal services to the indigent community, it was an easy decision for me to accept the offer to join the Public Defender Service for the District of Columbia.

That was my entrée into public service, government service. It was extraordinary. The Public Defender Service has an excellent reputation. It is the preeminent public defender service in the country. Sure enough, the training that all of the lawyers received was beyond my wildest dreams. I made tremendous friends and had great practical experience in the courtroom. That was an important experience in my life and career.

After that I returned to the private sector. I joined a good friend of mine, Gerry Treanor, who had started a firm with Plato Cacheris. That was an opportunity to continue my work in the criminal area, all the while expanding
my work in a complex civil litigation area.

After that experience, through volunteering in the city I developed personal relationships with lawyers who were at the White House under President Bill Clinton. Sure enough, I got an offer to come and interview for a job as an associate White House counsel. Fortunately, they hired me. That was a return to public practice. Again, I thoroughly enjoyed it.

You might remember, those times were challenging, difficult, uncertain, and even unprecedented with regard to the impeachment of the president. There were numerous independent counsel investigations of the administration. I was part of a group of lawyers who defended the president, the first lady, and the White House staff regarding those investigations. It was an immense learning experience and an opportunity to develop lifelong relationships with friends.

What inspired you to run for attorney general for
the District of Columbia?
I am a lifelong Washingtonian. As I have just recounted, I've had an extraordinary set of circumstances and experiences with great teachers, great coaches, great mentors, and great guides who were lawyers, and I have a passion for public service. The opportunity to serve in the D.C. government in my chosen vocation was what attracted me to the position.

I also have a healthy respect for the institutions in the District, particularly the Office of the Attorney General and the hard work that it does on behalf of the citizens of the District.

How would you describe the campaign process?
Well, the campaign process was a wild ride. It was like getting on a rollercoaster for the first time: It was exciting, there were people all around, there were ups and downs, there were thrilling moments, and there were moments where I just wanted to get off.

As someone who has never run for office before, it was an experience that, after a few bumps and bruises and stumbles, I took to. I enjoyed the process of campaigning, getting out there and meeting people, and trying as best as I could to explain what OAG does and how it's relevant to their lives.

What was easily more important than my doing the talking was just listening to the concerns of the citizens of the District: Ward 1, Ward 8, Ward 3, Ward 7. I found that to be extraordinarily meaningful.

It was a privilege to work so hard with so many people. We had young people, folks who were in high school and college and law school, volunteering for our campaign. We had older folks, some were paid and most were not, who volunteered for the campaign. And then we had a group of inspiring seniors who were quite active. Being a part of that broad coalition for the good of the District was one of the most meaningful experiences that I've ever had in my life.

Running the campaign was extraordinarily enjoyable. The rollercoaster ride was, at the end of the day, full of joy.

This was the first time the District of Columbia had ever elected an attorney general. Was voter participation in the election what you expected?
I didn't know what to expect, so I relied on the judgment and the experience of the political people in our campaign. It was pretty much the consensus view that the turnout would be low, and that the interest in particular in this new office and the new attorney general would also be low.

The folks who know politics estimated the turnout would be in a range of 50,000 to 70,000, but the final turnout for our election was about 165,000. So, as it turned out, folks were interested and engaged. They came out to vote in very high numbers. I think that's a credit to all of the candidates who all ran spirited campaigns. At times it was quite tough out there with such worthy opponents.

You fielded a transition team to coordinate your move. How did the transition go?
The transition went well. We were led by two transition co-chairs, eminent lawyers and fantastic citizens of the District of Columbia: Pauline Schneider, of counsel at Ballard Spahr and a former D.C. Bar president; and Natalie O. Ludaway, managing member at Leftwich & Ludaway.

In addition to focusing on the priorities of our administration, we had tremendous assistance internally from our colleagues at OAG, the great lawyers and staff who are already here. They brought me up to speed on the work of the office, the challenges of certain areas, and where we might use more resources.

Former [mayor-appointed—ed.] attorney general Irvin Nathan has been invested in a smooth transition. Following Irv's lead, the office has been extraordinarily welcoming.

How do you plan to improve engagement with D.C. citizens?
That's another outgrowth of the office being independent [from the mayor's office­—ed.]. Whereas before when the office was not independent, I think the office did a good job of communicating what it was doing and how it impacted the lives of the citizens of the District of Columbia, but the office kind of reported through the mayor.

It was clear to us in the campaign that the citizens want to hear directly from the attorney general's office as to its work and how [it] might have a positive impact on their lives.

Another initiative that we have is to ramp up our efforts in regards to community outreach. We're going to establish an office of community outreach where we fulfill our very important function of not only serving as counsel to the agencies, but also serving the people's needs. That's going to be a major change of emphasis in this new world of the independent, elected attorney general.