Establishment of Chairs Honors Special Couple
Creation of the David and Mary Harrison Distinguished Professorships ensures the Law School's pre-eminence in teaching and scholarship. In the ensuing pages, you will read about the three professors who are the first holders of these chairs. Here we provide a brief glimpse of the couple the chairs honor. In November of 1997, one of David and Mary Harrison's daughters, Marjorie Harrison Webb, described her parents and their life in the following comments delivered at the dedication of the David A. Harrison III Law Grounds.
We are a very fortunate family. We are privileged to be sitting in front of this impeccably designed building, surrounded by the subtle but inspired David A. Harrison Law Grounds. The quiet, elegant nature of the design actually reflects more of my mother's personality than my father's, but it is a wonderful expression of their vision and their passion for every facet of the University.
A few weeks ago, when Ted Turner said that his huge gift to the UN was, and I quote, "A wake-up call to the rich people so they would give their fair share," I thought to myself—my parents' alarm bell had rung loud and clear, many years before.
A school has a life, a journey of its own. It grows brick-by-brick, professor-by-professor, and for those who follow such things, ranking by U.S. News & World Report. Today I'm here to talk about my father's journey. His has been an 81-year journey from Hopewell to Alexandria, to Charlottesville, where he resided at Miss Sally Hamilton's, St. Anthony's Hall, to, and I quote him, "A horrible apartment I would as soon forget," probably found for him by Cabell Maddox or his other lifelong friend, Tyler Wilson. To the Range, the Lawn, to Long Island, and finally, back to Hopewell. He has lived in a simple frame house, followed by a sprawling brick house, back to a simple farm house, and finally, and I use the term advisedly, to a fantasy house. His current house, heroic in proportion, is a culmination of all his dreams and memories, collected throughout his lifetime. It's a little Jefferson, a little Charleston, and a lot Cecil B. DeMille. It is his personal statement and he has had the time of his life designing it.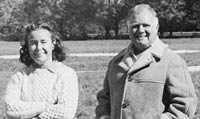 The Harrisons in the mid-1980s (courtesy of UVA Alumni Association)
In covering David Harrison and his bountiful generosity over the years, we have written much about Mr. Harrison's life and career, but little about his wife, Mary. This was not an oversight. Although she was always a very private person, chronic illness prevented her from engaging in the active life she had once enjoyed. Born February 24, 1924, Mary Frances Anderson graduated from the Brearly School and Finch College, both in New York. She married David on February 21, 1944 in Old Brookville, NY, where they both lived until moving to their Virginia plantation at Flowerdew Hundred in 1987. A voracious reader, Mrs. Harrison was a long distance swimmer, an accomplished rider, and an expert backgammon player and crossword puzzler. She loved travel, loved to laugh, and raised her children with warmth and gentleness. Her daughter, Marjorie Harrison Webb, put it simply: "All who knew her loved her." Mrs. Harrison died in 1990 after suffering from Parkinson's disease for the last 13 years of her life. She was 66.
I mentioned his dreams, and they are plentiful. He plants his gardens according to these dreams. He mixes color and plant material and arranges them in a precise design, and then, he sits back and waits patiently while they mature. The plantings evolve into something much greater than the sum of simple parts. My father and my mother did the same with the five of us. We were exposed to the best life could offer—the finest education, incredible travel, lifelong encouragement, warmth, and security. Then they patiently sat back and watched us mature into what we would become.
While growing up it was impossible not to be impressed with my father's boundless optimism. He was convinced that life was great and would only get better. Nothing dampened his spirits, even when deeply disturbing events occurred …. All of this unbridled enthusiasm is a gift to all who know him. And it colors his thoughts and his plans for the future. All of you here today are witness to his unique view of life. His every day sayings, sort of a "Not-So-Poor David's Almanac," all embody his spirit. How many times have we heard, "an investment in happiness," "better to be lucky than good," and, "yesterday was good, today was better, but just wait until tomorrow." These sentiments explain my parents' extraordinary investment in this university and this law school. It's a place where the youth of this country are taught theory and practice by the finest legal minds. And then, they are left to mature into what they will become. It has been an investment in the future of this country, thus making it the happiest of investments.
In 1941, his final year in law school, my father took a tort course that was taught by Dean Ribble. On the final exam, he received a score of 96. And the Dean remarked the paper had been an excellent one, but the spelling had been so terrible he was forced to take off a few points. My father went to see Dean Ribble and told him that when he went to work at a firm, he'd have a secretary to catch all of his mistakes, so the misspelling shouldn't count against him. Dean Ribble was not convinced—his grade stood.
Today, as we sit here, surrounded by all that he has helped this Law School accomplish, let us stand and give him an A+ in concept, theory, execution, and above all, optimism.