Asia
Many alumni of the University of Virginia School of Law who have traveled to Asian countries for work have found long and lasting careers. We talked to six alumni working in Asia to gather their work experiences and tips for students and graduates on how to succeed there.
The UVA Law Network is an occasional series on careers for graduates. The school's 20,000 graduates are located in 50 states and more than 60 foreign countries.
 
Advice from Alumni in Asia
170+ Alumni
Leaders in Asia
Hyung Ahn '98
Retired Partner, Linklaters, Singapore
Jeffrey A. Blount '83
Principal, MacauLand Developments, Hong Kong
Brett D. Braude '94
Co-Founder and Senior Advisor, Intelligence Macau, Hong Kong
C. Peabody Hutton '77
Retired Partner & General Counsel, Orion Partners, Hong Kong
Mimi Hutton '79
Of Counsel, Withers, Hong Kong
Brent E. Jones '07
Senior Director of Investigations, Asia Pacific and Japan, Hewlett Packard Enterprise, Singapore
Mathew E. Lewis '98
Partner, Morgan Lewis, Shanghai
Hiromitsu Miyakawa LL.M. '02
Partner in Charge Tokyo, Jones Day, Tokyo
Yoshikazu Noma LL.M. '03
Partner, TMI Associates, Tokyo
Steven R. Okun '91
Senior Advisor, McLarty Associates, Singapore
Eduardo Ramos-Gomez LL.M. '85
Partner, Duane Morris & Selvam, Singapore
Gregory Salathé '93
Partner, General Counsel, PAG, Hong Kong
Christopher Seaver '85
Managing Partner, Aeterra Capital Partners, Hong Kong
Thomas Tarala '93
Partner, Hogan Lovells, Hong Kong
Barrye L. Wall '81
Partner, White & Case, Singapore
Stephen T. Yandle '72
Vice Dean Emeritus, Peking University School of Transnational Law, Shenzhen, China
Top Locations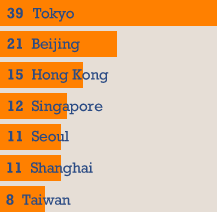 Senior Advisor, McLarty Associates, Singapore
"Engaging different cultures with respect is not an option — it is essential. Being multicultural can be learned, but a person must understand that they need to learn it."
---

Eduardo Ramos-Gomez LL.M. 
'
85
Partner, Duane Morris & Selvam, Singapore
"Be global. Think of yourself and the United States only as a humble contributor to an international symphony."
---

Retired Partner, Linklaters, Singapore
"If you are going to have a long-term career in Asia, it really helps to keep an open mind and be willing to adapt, as circumstances will change."
---

Mimi Hutton '79
Of Counsel, Withers, Hong Kong
"The work is never boring, and when you can get some time off, the social life and travel opportunities are great."
---
"The Asia practice is diverse and interesting, both geographically and substantively."
---

Co-Founder and Senior Advisor
, Intelligence Macau, Hong Kong
"People are very busy in this sector, and will value your intelligence, diligence and competence, but you may have to be assertive and just fly over and throw yourself in, rather than wait for a formal recruiting process."