Atlanta
As the 10th-largest economy in the country and the fourth-most popular headquarters location for Fortune 500 companies, Atlanta is home to more than 500 alumni of the University of Virginia School of Law. We talked to alumni working about working in "The A" to gather their work experiences and tips for students and graduates on how to succeed there.
The UVA Law Network is an occasional series on careers for graduates. The school's 20,000 graduates are located in 50 states and more than 60 foreign countries.
 
Advice from Alumni in Atlanta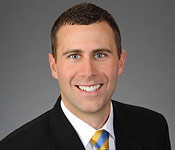 Nicholas E. Brown '14
General Counsel, Atlanta Falcons, AMB Group
---
How did UVA Law prepare you for your practice or career choices?
This is a difficult question because I simply don't know where to begin. Attending UVA Law completely changed my life — both personally and professionally. The culture of collegiality, kindness and cooperation helped me become a more well-rounded person. The challenging coursework pushed me to expand my interpretation of the law to see legal issues from many sides. But more than anything else, UVA opened doors that allowed me to pursue my dreams. The market knows what UVA Law grads bring to the table — they're smart, hard-working, socially capable, good teammates and (ultimately) great lawyers. Having UVA Law on your resume isn't simply an impressive name, it's a signal to future employers that you embody many of the characteristics they're seeking in a candidate.
Do you have any advice for new UVA Law grads wanting to work in Atlanta?
This may seem like an obvious (and potentially unsatisfying) answer, but focus on going somewhere that will help you become the best lawyer you can be. Don't simply pick a firm or company because of the name on the building — think strategically about your long-term goals and go somewhere that will equip you with the skills to help you get there. Someone gave me that advice when I was a younger lawyer and with each passing year the advice becomes more sound. If you commit to first becoming a great lawyer then everything else will fall into place.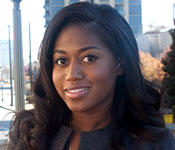 Theresa Clark '13
Shareholder, Greenberg Traurig
---
How did UVA Law prepare you for your practice or career choices?
I was a first-generation college graduate and law student when I enrolled at UVA Law. I clearly had an interest in practicing law, but beyond that, I didn't have much of an idea about what kind of lawyer I wanted to be. I had vague interests in business law and real estate, but I certainly didn't imagine that I'd become a real estate finance attorney. It was our amazing Career Services team, personable professors, collegial classmates and very kind alumni who helped me shape those interests into a career at a firm and in a practice area that I truly love. I practiced at the federal government immediately after law school, and when I was ready to make a lateral move, Career Services and UVA Law alumni were once again there to supplement my new work experience with their guidance and professional experiences. With a UVA Law education and the UVA Law network, I transitioned from public practice to private practice with the utmost confidence that with continued hard work, I'd be able to succeed in any environment. And I had the added benefit of working with and learning from a great attorney and a UVA Law alum who would become a mentor to me.
UVA also prepared me through the challenging and interesting coursework and unique research opportunities. I must say that it was pretty cool — albeit nerve-wracking — to be working in a commercial mortgage-backed securities real estate finance practice as the risk-retention rules that I researched as a 1L research assistant at UVA were now being implemented in the very deals that I was working on for clients.
Do you have any advice for new UVA Law grads wanting to work in Atlanta?
It's been my experience that Atlanta loves UVA Law grads, so don't be deterred by a lack of ties to the city. Firms want great students who want to be here. I had no ties to Atlanta, and other than a few other UVA Law classmates, I didn't know anyone else when I moved to the city. The fondness that UVA Law grads hold for the Law School and for Charlottesville is a shared one and it certainly facilitates the establishment of a professional network in Atlanta. If you have the opportunity, I recommend participating in UVA Law's Atlanta Day. Maybe I'll see you there!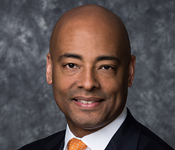 Arnold Evans '96
Managing Director, JPMorgan Chase
---
How did UVA Law prepare you for your practice or career?
As a graduate who has never practiced law, it would be quite easy to assume that my Law School experience did very little for me. To the contrary, there are two big ideas that I walked away with and that have served me well throughout my career.
First, and I would say uniquely connected to the Law School's culture, it reinforced my sense of what collaborative success can and should look like. That dynamic is required for long-term success in the corporate world. It's critical to solving most complex problems which today require increasingly broad teams of specialists. And it's absent in so many executives who lack our educational experience and remain are singularly focused on individual success.
Second, it gave me a greater sense of objectivity. I've often told people that any good law school teaches you that there is a "best argument" for each side of an issue. Simply put, you will increase your chances of success if you understand what the "other side" (and there is always an other side) is thinking and are prepared to address them. I definitely gained an appreciation of this idea from my Law School experience.
Finally, I am now and have consistently been engaged with lawyers on a regular basis. The core understanding that I gained from my UVA Law experience gave me a strong basis for confidently and effectively negotiating well-defined issues while achieving my client's (or organization's) objectives.
Terrica Redfield Ganzy '02
Executive Director, Southern Center for Human Rights
---
How did UVA Law prepare you for your practice or career choices?
UVA Law gave me opportunities. Opportunities to be my full self and be supported and rewarded for doing so. Opportunities to explore my passions and envision my role in creating the change I wanted to see. Opportunities to meet leaders in my area of interest who would continue to support and guide my career. Rob Lee '92 of the Virginia Capital Representation Resource Center introduced me to the horrors of capital punishment and hooked me on the idea that I could help create change. I met Christina Swarns at a [Black Law Students Association] event and she served as a mentor who helped guide me through my early years as a capital defense attorney. Professor Kim Forde-Mazrui's Race in the Law class ignited a fire in me. The Loan Forgiveness Program made it financially viable for me to choose to follow my passion. I could go on and on about the professors who encouraged me, the students who supported me, the environment that allowed me to find my path and take it. In sum, however, I found my passion at UVA Law, and I haven't turned back since. Thank you, UVA Law, for encouraging me to live my life on purpose!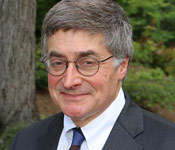 Sheffield Hale '85
President and CEO, Atlanta History Center
---
How did UVA Law prepare you for your practice or career?
The Law School culture of cooperation, not zero-sum competition, is a good model to follow in your career with colleagues. From fellow associates and partners, to executives in an in-house position, if you can take that as your baseline approach, not only will you be more successful but you may actually live longer and better serve your clients. I think the UVA background gives you the perspective and talent to spot less-toxic places to practice and a strategy for improving the culture wherever you land.
Do you have any advice for new UVA Law grads wanting to work in Atlanta?
In the interview process, do two things — research the firms and if possible the people interviewing you and their particular practice (without being a stalker) and show that you are being deliberate and why you may be specifically interested in that firm in particular and Atlanta in general. Ask questions tailored to that firm and Atlanta that show your thoughtfulness and preparation. The second thing I would do is talk to the associates you meet and others who may have left the firm to get a feel for its culture. You may have had the experience when you were applying for law schools of asking graduates of various schools about their experience. Almost invariably — except with respect to UVA Law — I suspect you got some variant of "I endured" or "I got through it." A UVA grad's eyes would start to dance, the body language was different and how much they enjoyed the school would be apparent. Now don't ever expect anything quite that obvious with a law firm, but it is important to talk if possible to as many people as practical. Once at a firm for the summer, the key is to pick the practice area that is ascendant in the firm (if possible) AND has the right culture within the firm. The importance of who you work for and with on a daily basis cannot be overstated.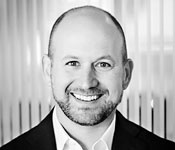 Lee Kolber '06
Senior Counsel, Granite Holdings
---
Do you have any advice for new UVA Law grads wanting to work in Atlanta?
It is a dynamic time in Atlanta. The city has grown like crazy over the last two decades, opportunities abound and everybody is from somewhere. They may not admit it but even with all the growth, firms (especially Big Law) still like to see students with some connection to Atlanta. A summer associate position or internship in the city goes a long way to locking down a job, but even without that, having a thoughtful reason for Atlanta as a career destination other than nice weather is a good plan. I wouldn't lead with the Falcons Super Bowl run last year turning you into a fan for life. It's still too soon. ...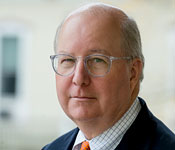 James A. Pardo '79
Retired Senior Partner, King & Spalding
---
How did UVA Law prepare you for your practice or career choices?
The Law School tends to be comprised of incredibly gifted and talented students from varied and diverse backgrounds who, notwithstanding a wide range of options, elect through a fairly rigorous process of self-selection to spend their law school experience with others who share a common set of core values. As a result, the Law School has long been known to graduate young professionals who have a thorough grounding in the basics of legal education and the ability to think through complex problems critically. But just as importantly, Virginia's graduates are the "complete package" — well-rounded individuals with strong people skills who are capable of achieving success through a combination of congeniality, cooperation and a high degree of emotional intelligence.
Do you have any advice for new UVA Law grads wanting to work in Atlanta?
Atlanta is not unlike other large city legal markets — with the possible exception of its high concentration of Virginia Law alumni. Do your homework and think through what you are looking for beyond a paycheck. Consider the pluses and minuses of large firm practice, boutique firms in the areas of both litigation and transactions, in-house opportunities at both public companies and not-for-profits, and public service opportunities. Make a plan for three, five and 10 years out, and then chart a path for yourself — remembering (as one former Law School professor would tell students before their first set of exams) "that what got you here will get you through."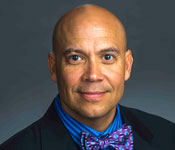 Timothy Phillips '97
Chief Legal and Risk Officer, American Cancer Society Inc.
---
How did UVA Law prepare you for your practice or career choices?
My experience at UVA Law taught me the value of servant leadership. The community ethos upon which the Law School is founded promotes and encourages a shared vision of service. I have put that vision into action: at the personal level through my dedication to my faith and family life, at the community level through my pro bono efforts, at the client level through a persistent pursuit of excellence, and at the professional level through bar and other association leadership efforts.
Do you have any advice for new UVA Law grads wanting to work in Atlanta?
Don't forget where you came from. Put what you have learned — not just academically — to work to serve your clients and your community.
500+ Alumni
Leaders in Atlanta
Sameer Asher '08
Assistant General Counsel, Cox Enterprises
Sarah R. Borders '88
Partner, King & Spalding
William H. Brewster '87
Partner, Kilpatrick Townsend
Althea Broughton '91
Partner, Co-Chair Real Estate Practices Group and Housing Team, Arnall Golden Gregory
Everette L. Doffermyre Jr. '73
Managing Partner, Doffermyre Shields Canfield & Knowles
Susan Edlein '95
Chief Judge, Fulton County State Court 
Arnold Evans '96
Managing Director, JPMorgan Chase
Bill Fryer '74
Managing Principal, Iron Tree Capital
Terrica Redfield Ganzy '02
Executive Director, Southern Center for Human Rights
Sheffield Hale '85
President and Chief Executive Officer, Atlanta History Center 
Elizabeth Finn Johnson '87
Of Counsel, Atlanta Volunteer Lawyers Foundation; Retired Senior Counsel, Employee Relations at The Coca-Cola Company
Benjamin P. Keane '06
Partner, Dentons
Lee Kolber '06
Senior Counsel, Granite Holdings
James A. Pardo '79
Retired Senior Partner, King & Spalding 
Timothy Phillips '97
Chief Legal and Risk Officer, American Cancer Society Inc.
Louise Sams '85
Retired Executive Vice President and General Counsel, Turner Broadcasting System
Douglas Towns '92
Vice President and General Counsel, Guardian Pharmacy 
Keith Townsend '99
Partner, King & Spalding
Michael C. Wu '92
Chief Legal Officer, L Brands, Bath and Body Works
Top Employers

James A. Pardo '79
Retired Senior Partner, King & Spalding
"Make a plan for three, five and 10 years out, and then chart a path for yourself."
---

Timothy Phillips '97
Chief Legal and Risk Officer, American Cancer Society Inc.
"The community ethos upon which the Law School is founded promotes and encourages a shared vision of service."
---

Arnold Evans '96
Managing Director, JPMorgan Chase
"[My experience at UVA Law] reinforced my sense of what collaborative success can and should look like."
---

Terrica Redfield Ganzy '02
Executive Director, Southern Center for Human Rights
"I found my passion at UVA Law, and I haven't turned back since."
---

Nicholas E. Brown '14
General Counsel, Atlanta Falcons, AMB Group
"Focus on going somewhere that will help you become the best lawyer you can be."