Boston
Boston is a hotbed for alumni leadership in the legal industry.
More than 330 alumni are located in the greater Boston area on LinkedIn, including managing partners in three firms, leaders in finance and key positions at Harvard. We talked to some of our Boston alumni to gather their work experiences and tips for students and graduates on how to succeed there.
The UVA Law Network is an occasional series on careers for graduates. The school's 20,000 graduates are located in 50 states and more than 60 foreign countries.
 
Advice from Alumni
330+ Alumni
Leaders in Boston
BIG LAW
Alfred Browne '94
Partner in Charge of Cooley's Boston Office
Charles Cheever '95
Co-Managing Partner, Choate
Susan Murley '86
Co-Managing Partner, WilmerHale
Higher Education
Christine Hughes '81
Vice President and General Counsel, Emerson College
Robert Iuliano '86
General Counsel, Harvard University
Gloria Cordes Larson '77
President, Bentley University
James Ryan '92
Dean, Harvard Graduate School of Education; President-Elect, University of Virginia
Top Employers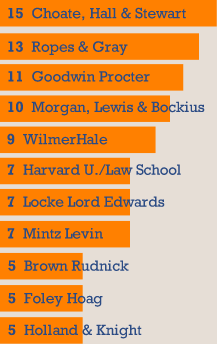 As of March 31, 2015

Ruthie Ma Swilling '03
Senior Intellectual Property Counsel for Raytheon Co.
"It was during my fourth year working for a big law firm in Boston that I decided to assess 'Where is this ladder heading?' and made the choice to switch to an in-house position."
---

Tim Palmer '83
Managing Director, Charlesbank Capital Partners
"In private equity, there are myriad legal issues in every diligence process and every purchase and sale or investment structuring challenge — I have a toolkit for thinking about those things that has been invaluable."
---

Managing Partner, Rose, Chinitz & Rose
"Grads seeking work in Boston need to network, identify the partners in law firms who went to Virginia, email their resumes and interest, and be persistent."
---

Public Defender, Committee for Public Counsel Services
"As a public defender, I am advocating for my clients in court almost every day — making bail arguments, requesting discovery, arguing motions, cross-examining witnesses, and having jury trials. There is no question in my mind that Virginia Law trained me for this job."
---

Senior Vice President, Brown Brothers Harriman
"There are more UVA lawyers than you might suspect in Boston, and we will all find time to speak with a Virginia Law student interested in working here."
---

Neil McKittrick '87
Shareholder, Ogeltree Deakins
"In the new legal market, networking is more important than ever."