Chicago
Chicago includes about 200 University of Virginia School of Law alumni among its ranks, including partners at prominent firms, general counsel at businesses and entrepreneurs, among others. We talked to several alumni to gather their work experiences and tips for students and graduates on how to succeed there.
The UVA Law Network is an occasional series on careers for graduates. The school's 20,000 graduates are located in 50 states and more than 60 foreign countries.
 
Advice from Alumni in Chicago
200+ Alumni
Leaders in Chicago
Douglas Bouton '10 
President and Chief Operating Officer, Halo Top Creamery
Andrew Boutros '01 
National Co-Chair, White Collar, Internal Investigations and False Claims Team, Seyfarth Shaw
Bruce R. Braun '89 
Partner, Sidley Austin
Marisa Bryce '93 
CEO and Co-Founder, ConversePoint
Robert G. Byron '76 
Chairman and Co-Founder, Blue Vista Companies
Eva Chess '85 
Vice President, Communications and Marketing, American College of Healthcare Executives
Mareile B. Cusack '85 
Senior Vice President and General Counsel, Ariel Investments
Karen Owen Gibbs '92
Partner, McDermott Will & Emery
Todd C. Jacobs '89 
Managing Partner, Shook, Hardy & Bacon
Kenneth P. Kansa '99 
Partner, Sidley Austin
Ronald L. Marmer '77 
General Counsel, 
Chicago Board of Education
Andrew McGuire '99 
Deputy General Counsel,
Caterpillar Inc.
Paula J. Morency '80 
Franchise and Distribution Client Service Team Leader and Partner, Schiff Hardin
Allegra Rossotti Nethery '95 
Pro Bono and Philanthrophy Partner, Seyfarth Shaw
James E. Pfander '82 
Owen L. Coon Professor of Law, Northwestern University Pritzker School of Law
Katherine Monahan Rohrbaugh '07 
Litigation Counsel, Kraft Heinz Company
Brenda Russell '87 
Director, Pricewaterhouse Coopers
Lee Anne Russo '80 
Partner, Jones Day
David Saunders '07
Partner, Jenner & Block
Paul Stroka '05
Director of Legal Solutions, Pangea3, Thomson Reuters Legal Managed Services
Mark B. Tresnowski '86 
Managing Director and General Counsel, Madison Dearborn Partners
Top Employers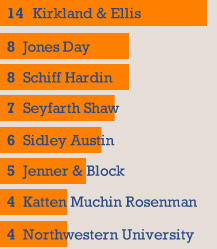 Director of Legal Solutions, Pangea3, Thomson Reuters Legal Managed Services
"UVA Law offers a unique combination of a first-rate legal education and an engaging environment in which law students can form deep-rooted personal — and later, professional — bonds."
---

Deputy General Counsel, Caterpillar Inc.
"Over the years, I have really come to appreciate the basic foundation of legal thinking and problem-solving I obtained at UVA."
---

Owen L. Coon Professor of Law, Northwestern University
"I credit UVA for sparking my interest in law, in history, and in the surprisingly rewarding details of federal jurisdiction and government accountability, the subjects to which I've devoted much of my intellectual energy."
---

President and Chief Operating Officer, Halo Top Creamery
"I think the people are what make UVA Law so special, enjoyable and distinguishable from other law school experiences."
---

Partner, McDermott Will & Emery
"As I've progressed in my career, the softer skills have been highly important. I credit UVA with preparing me to help my clients navigate opportunities and challenges from a 360-degree perspective."
---

Managing Partner, Shook, Hardy & Bacon
"Many cases we handle do not have straightforward answers, and new subject matters arise daily. It's within these gray areas that I appreciate how UVA Law teaches students to think through complex questions."