Dallas-Fort Worth
University of Virginia School of Law alumni are attracted to Dallas and Fort Worth, the fourth-largest metropolitan area in the United States with a population of more than 7 million people, for its mix of legal practice opportunities. Businesses have been relocating to Texas, one alum notes, due to the state's appealing tax laws, which fuels related fields and in-house counsel positions.
We asked several of the more than 270 alumni based in the area about their experiences and advice for those looking to work there. Many also praised the work-life balance available in the Lone Star state. (Also see our Houston network)
The UVA Law Network is an occasional series on careers for graduates. The school's 20,000 graduates are located in 50 states and more than 60 foreign countries.
Advice from Alumni in Dallas-Fort Worth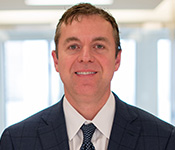 Chris Akin '95
Partner, Lynn Pinker Cox & Hurst
---
How did UVA Law prepare you for your practice or career choices? 
I not only received the highest-quality legal education at the Law School, but my experience there also has positively impacted my career in ways that I never would have imagined at the time. I very much enjoyed my experience, with the talent and enthusiasm of faculty and the collegial environment among students providing an inspiration for the type of people I hoped to associate with in my career. From the inception of my career, I learned to value an intellectually stimulating and collegial environment, and I believe that foundation enabled me to make better career choices and find more enjoyment in my career.
I also have benefited greatly from the success of my law school classmates and the Law School's alumni network. I kept in touch with my classmate Trey Cox, which led to a great opportunity seven years ago to join his firm. In addition, our alumni group in the Dallas-Fort Worth area includes truly outstanding and well-liked lawyers. I have had the pleasure of getting to know many of them, and those relationships have been great on both a personal and a professional level.
Do you have any advice for new UVA Law grads wanting to work in Dallas-Fort Worth?
We have a very enthusiastic and impressive group of alumni in the area. It is never too early to make an effort to get to know them. I recently attended a UVA Law luncheon in Dallas, and the attendees included several students who had received offers of admission and were deciding whether to accept. If I could go back to the Law School, I would attend alumni gatherings and make a proactive effort to take alumni to lunch and get to know them. We have so many people here with a real passion for the Law School and a willingness to help others. Those efforts may or may not pay immediate dividends, but I have been amazed at how such efforts have a way of paying off over time (and sometimes in very unexpected ways).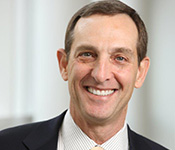 James. J. Lee '76
Senior Partner, Vinson & Elkins
---
How did UVA Law prepare you for your practice or career choices?
In several ways. First, by attending a law school with a national reputation, I was able to find employment in Houston at a time (the mid-1970s) when it was extremely difficult for out-of-state residents to do so. It became apparent immediately, which has been confirmed frequently over my 40 years of practice, that the excellent and practical legal education I received at Virginia had prepared me to compete favorably at any level. I believe that training, and UVA's excellent reputation, allowed me to practice at a small firm initially, followed by a regional firm, and ultimately a large national/international firm.
Do you have any advice for new UVA Law grads wanting to work in Dallas-Fort Worth?
The Dallas-Fort Worth metroplex offers the chance to combine a sophisticated law practice with an excellent quality of life and affordability. The area continues to grow by leaps and bounds. Corporate relocations are commonplace here due to Texas' favorable tax environment and DFW's location in the middle of the United States, allowing for easy travel to both coasts.
UVA Law grads wishing to work with regional and large law firms with offices in the area should take advantage of on-Grounds recruiting, as most firms here visit UVA. Due to the wide-open and entrepreneurial bent of DFW, however, direct contact with potential employers who do not visit the school is welcome and often leads to employment. We have a 'can-do' attitude here, so demonstrating that you are a self-starter who is looking for opportunity will take you a long way. Be prepared to explain why you want to be in Texas, as you will surely be asked.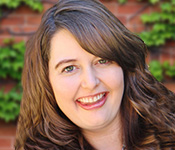 Colleen Higgins Schultz '06
Senior Counsel, Labor & Employment, Texas Instruments
---
How did UVA Law prepare you for your practice or career choices? 
I took advantage of the wide variety of course offerings to try out many areas of law to see what piqued my interest. I discovered that I really loved labor and employment law, and UVA Law offered so many L&E classes that I was able to load up on them. When I started at a law firm, having targeted knowledge in my practice area was incredibly helpful to hitting the ground running. More generally, I credit my outstanding professors for sharpening my critical thinking and creative problem-solving skills.
Do you have any advice for new UVA Law grads wanting to work in Dallas-Fort Worth?
The Dallas-Fort Worth legal market is very welcoming to UVA Law grads and there are ever-expanding opportunities at firms and in-house as more and more large companies relocate to the area. DFW metroplex alumni are willing sources of information and job tips, and we have regular networking events — please join us, and don't be shy about reaching out for help or advice.
As a non-native Texan, I would recommend that anyone not from the area show respect for the Lone Star state (and Dallas/Fort Worth) while interviewing. Texas pride is a real thing!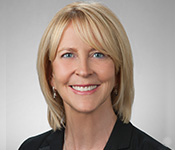 Joan S. Sostek '82
Of Counsel, Jackson Walker
---
How did UVA Law prepare you for your practice or career choices?
Education is a perpetually growing aspect of our lives — it certainly doesn't end once J.D. is added to your name. Beyond the excellent caliber of the professors and classes, which are second to none, the more unique, lasting benefit I gained from UVA Law was an overall life-impacting educational experience.
Learning to think critically and expansively in an environment of very challenging work, but also an environment of honor, safe collaboration, friendship and even downright fun at times, gave me the confidence and tools to move to a new state and navigate my law firm (as the only female attorney starting in 1982) and the legal profession, achieving partner status at the earliest possible time.
While remaining at the same law firm my entire career as transactional attorney, I have continuously branched out into myriad professional, civic, and personal associations and affiliations throughout this period. A sharp mind and legal knowledge is only the starting point. Knowing how to work and create value with a team, colleagues senior and junior to you, clients, opposing counsel, committee members, community leaders and volunteers, and school and alumni groups — this is the skillset UVA Law cultivated in me that has outlasted each revision to the UCC and Property Code. With pride I respond that I'm a UVA Law School graduate, and I sense an elevated level of trust and respect afforded me when giving that response. My UVA Law experience continues to prepare me to rise to those expectations in both in my practice and other aspects of life.
Do you have any advice for new UVA Law grads wanting to work in Dallas-Fort Worth?
Come on down! And don't be afraid to follow a gut feeling. I had lived all around the country, but never anywhere close to Texas, yet I came on my own straight from UVA Law based on the positive can-do attitude of my law firm and Dallas. As a young attorney without connections or many other female colleagues in 1982, the meritocracy I sensed in Dallas was quite inviting. The Dallas-Fort Worth area has grown tremendously since then, yet it remains a terrific place to practice law, for both native Texans and newcomers.
While I was not considering long-term lifestyle when I came, the Dallas-Fort Worth area has also turned out to be a great place to live and raise a family. We have a strong UVA Alumni Association, and UVA graduates are highly regarded and able to quickly rise in anything from non-profit boards to local politics. Often other alum friends and I remark on the similarity of work ethic and spirit found in Dallas-Fort Worth and UVA Law. In both settings, you will find an atmosphere of hard work and desire for success, and in both you will find lawyers living a more healthy and well-rounded lifestyle.
270+ Alumni
Leaders in Dallas-Fort Worth
Chris Akin '95 
Partner, Lynn Pinker Cox & Hurst
Stephen E. Fox '87
Partner, Sheppard Mullin
Dustin Gunderson '06 
Senior Vice President and General Counsel, SRS Distribution
James J. Lee '76 
Senior Partner, Vinson & Elkins
M. Jaya McClure '06
Vice President and Corporate Counsel, Goldman Sachs
John H. McDowell Jr. '82 
Partner, Koning Rubarts
Tracy Preston '91 
Executive Vice President and Chief Legal Officer, Hanesbrands
Christopher Ray '95 
Retired Partner, NGP Energy Capital Management
Colleen Higgins Schultz '06 
Senior Counsel, Labor & Employment, Texas Instruments
Tim Skipworth '91
Retired Vice President, American Airlines
Joan S. Sostek '82 
Of Counsel, Jackson Walker
Frank E. Stevenson II '80
Partner, Locke Lord; President-elect, State Bar of Texas
Todd Wagner '86 
CEO, 2929 Entertainment
Top Employers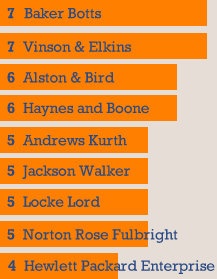 Colleen Higgins Schultz 
'
06
Senior Counsel, Labor & Employment, Texas Instruments
"As a non-native Texan, I would recommend that anyone not from the area show respect for the Lone Star state (and Dallas-Fort Worth) while interviewing. Texas pride is a real thing!"
---

Of Counsel, Jackson Walker
"Knowing how to work and create value with a team, colleagues senior and junior to you, clients, opposing counsel, committee members, community leaders and volunteers, and school and alumni groups — this is the skillset UVA Law cultivated in me that has outlasted each revision to the UCC and Property Code."
---

Senior Partner, Vinson & Elkins
"We have a 'can-do' attitude here [in Texas], so demonstrating that you are a self-starter who is looking for opportunity will take you a long way."
---

Partner, Lynn Pinker Cox & Hurst
"From the inception of my career, I learned to value an intellectually stimulating and collegial environment, and I believe that foundation enabled me to make better career choices and find more enjoyment in my career."