Dallas-Fort Worth
University of Virginia School of Law alumni are attracted to Dallas and Fort Worth, the fourth-largest metropolitan area in the United States with a population of more than 7 million people, for its mix of legal practice opportunities. Businesses have been relocating to Texas, one alum notes, due to the state's appealing tax laws, which fuels related fields and in-house counsel positions.
We asked several of the more than 270 alumni based in the area about their experiences and advice for those looking to work there. Many also praised the work-life balance available in the Lone Star state. (Also see our Houston network)
The UVA Law Network is an occasional series on careers for graduates. The school's 20,000 graduates are located in 50 states and more than 60 foreign countries.
270+ Alumni
Leaders in Dallas-Fort Worth
Chris Akin '95 
Partner, Lynn Pinker Cox & Hurst
Mary Balthrop '10
Secretary and General Counsel, Dallas Museum of Art
James E. Coleman Jr. '51
Senior Counsel, Founding Member, Carrington Coleman
Jim Flegle '77
Partner, Loewinsohn Flegle Deary
Lawrence L. Foust '78 LL.M. '80 
Chief Legal Officer and General Counsel, Children's Health System of Texas
Stephen E. Fox '87
Shareholder, Polsinelli
Dustin Gunderson '06 
Senior Counsel, GameStop
James J. Lee '76 
Partner, Vinson & Elkins
M. Jaya McClure '06
Vice President and Corporate Counsel, Prudential Capital Group
John H. McDowell Jr. '82 
Partner, Andrews Kurth
Tracy Preston '91 
Senior Vice President and General Counsel, Neiman Marcus Group
Christopher Ray '95 
 Senior Managing Director and Counsel, Natural Gas Partners
Colleen Higgins Schultz '06 
Senior Counsel, Labor & Employment, Texas Instruments
Tim Skipworth '91
Vice President, American Airlines
Joan S. Sostek '82 
Of Counsel, Jackson Walker
Frank E. Stevenson II '80
Partner, Locke Lord; President-elect, State Bar of Texas
Todd Wagner '86 
CEO, 2929 Entertainment
Top Employers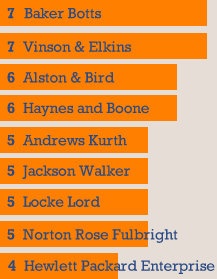 As of April 5, 2016

Colleen Higgins Schultz 
'
06
Senior Counsel, Labor & Employment, Texas Instruments
"As a non-native Texan, I would recommend that anyone not from the area show respect for the Lone Star state (and Dallas-Fort Worth) while interviewing. Texas pride is a real thing!"
---

Of Counsel, Jackson Walker
"Knowing how to work and create value with a team, colleagues senior and junior to you, clients, opposing counsel, committee members, community leaders and volunteers, and school and alumni groups — this is the skillset UVA Law cultivated in me that has outlasted each revision to the UCC and Property Code."
---

"We have a 'can-do' attitude here [in Texas], so demonstrating that you are a self-starter who is looking for opportunity will take you a long way."
---

Partner, Loewinsohn Flegle Deary
"There is a further 'how' that UVA Law provides — and that is, a sense of right and wrong. A sense of moral compass, of fidelity to the law and to our society."
---

Partner, Lynn Pinker Cox & Hurst
"From the inception of my career, I learned to value an intellectually stimulating and collegial environment, and I believe that foundation enabled me to make better career choices and find more enjoyment in my career."