Houston
Houston, the home of the global energy market, is a popular landing place for University of Virginia School of Law alumni interested in the energy business, but the metro area of nearly 7 million people offers many opportunities to attorneys.
More than 240 alumni are based in Houston, according to LinkedIn and Law School Foundation records. We talked to several to gather their work experiences and tips for students and graduates on how to succeed there. (Also see our Dallas-Fort Worth network)
The UVA Law Network is an occasional series on careers for graduates. The school's 20,000 graduates are located in 50 states and more than 60 foreign countries.

Advice from Alumni in Houston
240+ Alumni
Leaders in Houston
John C. Ale '79
Senior Vice President, General Counsel and Secretary, Southwestern Energy
Bruce Bilger '77
Chairman and Head of Global Energy, Lazard Freres & Co.
Nathan Cherry '07
Vice President, Goldman Sachs
Patrick Conlon '83
Coordinator Investigations and Compliance Litigation, Exxon Mobil
Kurt L. Davis Jr. '09
Assistant Vice President, Barclays Capital
Dennis Duffy '82
Partner, BakerHostetler
Tull R. Florey '95
Partner, Baker Botts
George Gerachis '83
Partner, Vinson & Elkins
Maria Kim '02
General Counsel, Exxon Mobil
Sarah Morgan '04
Partner, Vinson & Elkins
Greg Nelson '81
Partner, Paul Hastings
Kerry Notestine '83
Shareholder, Littler Mendelson
M. Catherine Ozdogan '94
Partner, Latham & Watkins
Philip Peacock '03
Vice President and General Counsel, Western Gas Partners
Kwame Satchell '94
Supervising Counsel, Financial and Commercial Services Group, Chevron USA
John Sinders '79
Managing Director, Jefferies & Co.
Ann Stephens '94
Senior Legal Counsel, Shell
Carolyn Tillman '84
Managing Counsel, Occidental Petroleum
Top Employers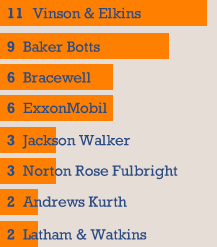 As of April 5, 2016

Shareholder, Littler Mendelson
"Networking can lead to great opportunities in boutique firms, particularly in litigation, employment, IP and similar specialties."
---

Partner, Simpson Thacher & Bartlett
"UVA Law emphasized that people, community and quality work matter."
---
Associate, Ahmad, Zavitsanos, Anaipakos, Alavi & Mensing
"UVA Law's network and reputation open doors. That fact helped me land my first position, and it is rare for a month to pass without meeting a new client, opposing counsel, judge, etc., with a UVA connection."
---

"I took a great short course at UVA on oil and gas, which was a wonderful way to learn to 'talk the talk' of energy speak. It has made a big difference, working in Houston."
---

Senior Vice President, General Counsel and Secretary, Southwestern Energy
"The Law School taught me how to think with dispassionate logic while passionately caring about ethics and the quality of my work."
---

Assistant Vice President, Barclays Capital
"Employers know UVA Law in Houston, in the U.S. and beyond the borders of the U.S."