New York
With more than 1,850 alumni, the New York City metro area has the second-highest number of graduates of the University of Virginia School of Law, and in recent years is often the most common place alumni start their careers. Considering the school's strength in law and business, it's no surprise that one of the world's centers for business and transactional law has become a magnet for alumni, and a place where grads hold an impressive array of jobs, including in public service. We talked to several alumni to gather their work experiences and tips for students and graduates on how to succeed there.
The UVA Law Network is an occasional series on careers for graduates. The school's 20,000 graduates are located in 50 states and more than 60 foreign countries.
 
Advice from Alumni in New York
1,850+ Alumni
Leaders in New York
Carol Amon '71 
Senior Judge, U.S. District Court, Eastern District of New York
Anthony Della Pietra Jr. '85 
Managing Director, Citi Holdings, Citigroup
Rosetta Ellis-Pilie '99 
Vice President, Talent Development & Negotiations, ESPN
Thomas Ferree '02
Senior Vice President of Legal, National Hockey League
Lisa Friel '83 
Special Counsel for Investigations, National Football League
Grace Fu '09
General Counsel, KAYAK and Open Table
Janice Johnston '95 
Executive Producer, ABC's "20/20"
Peter Kaufman '78 
President, Gordian Group
Catherine Keating '87 
CEO, BNY Mellon Wealth Management
Roger Kimmel '71
Former Vice Chairman, Rothschild
Joseph Leccese '85 
Chairman Emeritus, Proskauer Rose
Stephen Malone '97
Vice President Legal, Employment & Corporate Affairs, Fox Corporation
Theodore Mathas '92
Chairman and Retired CEO, New York Life Insurance
Thomas Ostertag '81
Retired Senior Vice President, Major League Baseball
Patrick Quinn '88
Managing Partner, Cadwalader
Dasha Smith '98 
Executive Vice President and Chief Administrative Officer, National Football League
J. Leonard Teti '05
Tax Partner, Cravath, Swaine & Moore
Robert Zack '75
Retired Counsel, Dechert
Top Employers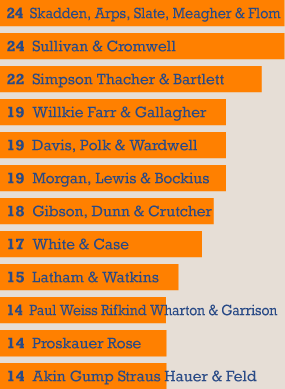 Assistant General Counsel, Ipsos
"On a semi-regular basis, I find out that not only does a certain area of a law exist, but that it's practiced at an extremely high level in New York City."
---
Senior Judge, U.S. District Court, Eastern District of New York
"Participating in Moot Court and serving on the Moot Court Board taught me to focus on critical issues and craft cogent and persuasive arguments."
---
Tax Partner, Cravath, Swaine & Moore
"Be ready to see lots of things you haven't seen before in law school, and bring with you a sense of curiosity and willingness to learn what you don't know."
---

Executive Producer, ABC's "20/20"
"The practice of dissecting a problem, thinking of all sides to a story and then being able to share that with others, is a daily exercise."
---

Special Counsel for Investigations, National Football League
"UVA Law is unique in fostering an environment of teamwork and trust, both of which are so important to be successful in today's world."