San Francisco Bay Area
It's a hotbed for the tech industry and business — the San Francisco Bay Area is also a region where University of Virginia School of Law alumni have thrived.
More than 375 alumni are located in the Bay Area, according to LinkedIn, including general counsel at Google and Netflix; in-house counsel at Apple, Yahoo and Chevron; entrepreneurs and the dean of Stanford Law School. We talked to some of our Northern California alumni to gather their work experiences and tips for students and graduates on how to succeed there.
The UVA Law Network is an occasional series on careers for graduates. The school's 20,000 graduates are located in 50 states and more than 60 foreign countries.
 
Advice from Bay Area Alumni
375+ Alumni
Leaders in San Francisco and Silicon Valley
T.J. Angioletti '92 
Chief IP Officer, Netflix
Mark Brazeal '93
Chief Legal Officer, Broadcom
David Burke '93
Co-founder and former CEO, Makena Capital Management
Sean Cameron '06
In-House Counsel, Apple
Gary Gansle '98
Senior Counsel, Perkins Coie
Angie Hankins '98 
Director of Intellectual Property, Samsung Strategy & Innovation Center
Erin Hawthornthwaite '97
Director, Legal, Google
Christopher Kearney '85
Partner, Keker, Van Nest & Peters
David Hyman '93
General Counsel, Netflix
R. Hewitt Pate '87
General Counsel, Chevron
Brian Powers '74
Chairman Emeritus,
Hellman & Friedman
Joseph Saveri '87
Antitrust and Class Action 
Trial Attorney, 
Joseph Saveri Law Firm
Wilma Wallace '89
Vice President, 
General Counsel, REI
HIGHER EDUCATION
Jay Mitchell '83
Director, Organizations and Transactions Clinic, Stanford Law School
Janet Napolitano '83
Professor of Public Policy, University of California, Berkeley
Janet Norris '76
Senior Counsel, Office of the General Counsel, University of California
Lucy Ricca '06
Fellow, Center on the Legal Profession, Stanford Law School
George Triantis LL.M. '86
Charles J. Meyers Professor of Law and Business, Stanford Law School
Top Employers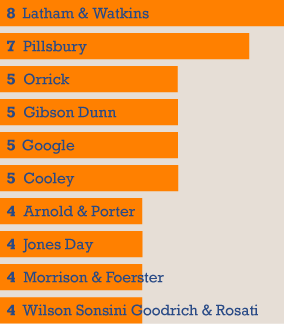 As of March 31, 2021

Amy Lincoln '02
Senior Counsel, Environmental and Safety Law Group, Chevron
"To this day, when I say to other lawyers, 'I loved law school,' they have one of two reactions: They either look at me like I'm crazy or they say, 'Oh, you must have gone to Virginia.'"
---

Gary Gansle '98
Senior Counsel, Perkins Coie
"The people at UVA (students, faculty and administration) are what has been a TRUE game-changer for my career. ... It is a network of people who WANT to help each other succeed, and it cannot be beat."
---

Bradley Handler '95
Co-Founder and Chairman, Inspirato; eBay's first lawyer
"[At UVA Law,] usually class participation was the start of a conversation and not an opportunity to demonstrate the 'right' or 'wrong' answer. Understanding a continuum of outcomes is an important part of any career."
---

David Hyman '93
"Be flexible. Northern California is full of entrepreneurs and rapid change. Be willing to take on new challenges and explore new areas of legal practice while at the same time bringing some level of knowledge and expertise to the position."
---

Nicholas Jellins '82
Founding Member, The Jellins Group
"New UVA Law graduates seeking to begin practice in Northern California should confidently espouse their heritage of Southern courtesy gained through their experience at the University."
---

Jay Mitchell '83
Professor of Law and Director, Organizations and Transactions Clinic, Stanford Law School
"A great thing is that there is such variety and volume in the legal practice and among potential employers generally; you might be on a product team in a startup, you might run a nonprofit (there are lots of them), or you might be in a major firm doing Pacific Rim M&A. All kinds of things to explore out here, and the UVA Law experience will prepare you well."
---

Shanti Ariker '95
Senior Vice President, General Counsel, Zendesk
"The market is really good right now, but cyclical. Try to get an internship out here if you can during school so you will have contacts. Reach out to alumni who can help you. Do pro bono, as that builds your skills."
---
Michael Purdy '06
"There's something terrifying yet exhilarating about performing in front of people. If you embrace it and get good at it, whether you're arguing in a courtroom or speaking to a board of directors, it gives you the confidence to take some risks in your career, because you know you can be at your best when the pressure is on."